Welcome to the $5K Formula System review!
Today we are going to see something different from anything we have ever seen…
…according to this product's sales video of course.
You are probably wondering if you can make money online with this product and I'm here to find out the truth for you.
I can already reveal that the product wasn't as mindblowing as the sales video made it look.
Read on and I'll show what you can expect from this product.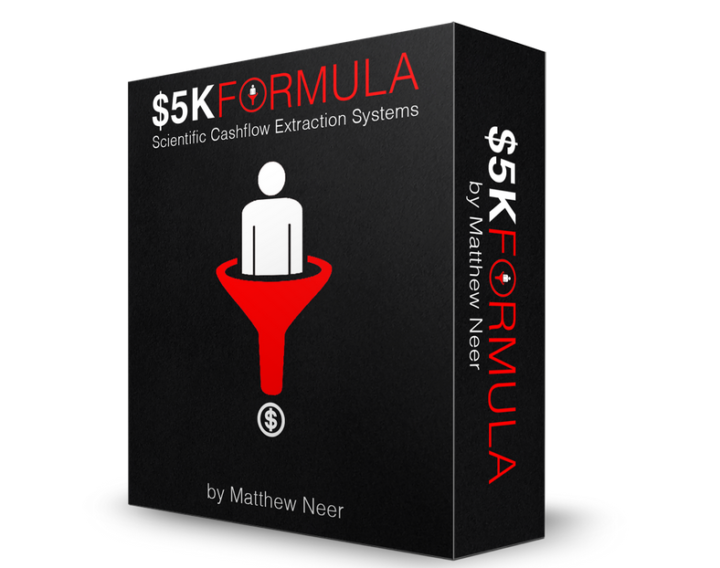 ---
$5K Formula System Review Summary
Product Name: $5K Formula System
Owners: Matthew Neer
Product Type: Affiliate Marketing / Email Marketing
Price: $39.99 + expensive upsells
Summary: $5K Formula System is 3 years old training course that has been redesigned and re-launched in 2019. The main training course teaches how to set up a prebuilt sales funnel that promotes the product itself with email marketing. Your job is to fuel that sales funnel with paid traffic and hope for sales. The product is not a good option for beginners because you are not building a reliable asset for yourself and to be efficient you require marketing experience.
Rating: 4/10
Recommended: No
---
What Is $5K Formula System?
$5K Formula System is a series of training videos that guide you to set up a prebuilt sales funnel and how to lead traffic into that funnel to make money.
The money is made using the affiliate marketing business model where you promote products to customers and from every successful sale you earn a commission.
The training teaches you to set up the sales funnel in a way that actually promotes the product itself. After the funnel is ready to receive traffic, you need to buy traffic using paid ads. This is just another additional cost that was left unmentioned.
This product was originally released in 2015 and now it has been redesigned for a relaunch in January 2019.
The creator of this product is Matthew Neer and he seems to be good friends with Jamie Lewis who also makes similar products. I believe they help each other behind the scenes since the marketing tactics on their products are rather similar.
Not long ago, I reviewed one of Jamie's product called Profit Injector.
What Is A Sales Funnel?
Since this product is based around sales funnels, I think it's necessary to explain what the term means;
The goal of a sales funnel is to attract people from a specific target audience and transform them into paying customers by solving a problem they have.
This is often done by following these principles:
Awareness Stage – People are made aware of a solution to the problem they are facing. Reaching the target audience can be achieved with a website, email signups, social media, advertising and many more.
How $5K Formula System raises awareness: Target audience is reached by sending mass emails to people who want a solution to their monetary problems
Interest Stage – Keeping people interested in the offer can be done by showing facts, stats or telling relatable stories.
How $5K Formula System raises interest: The owner tells compelling stories about how he makes tons of cash using this product.
Desire Stage – After the audience has seen the good and bad sides of the offer, it's time to build desire and opportunities to flip the customers into a buying-mode
How $5K Formula System raises desire: The owner tells you can copy the same method and make similar money.
Action Stage – The final stage calls the customer for action and the end result is a successful purchase.
Closer Look At $5K Formula System
Now we know this product is about affiliate marketing and sales funnels. So what is it really offering and can a system like this even make you money?
Here's what I will be covering next:
What do you get?
How does the system work?
How much does it really cost?
Who benefits from the $5K Formula System?
What Do You Get With The $5K Formula System?
The front-end price gives you the following:
The 5-step training process to set up the funnel
Video training on how to get traffic to your funnel
One premade email capture page
The rest of the content is locked behind paywalls and I will get back to this further below.
How Does The $5K Formula System Work?
First I'll go through the funnel setup process and show you all the surprises that were conveniently left out from the sales page.
Setting up the funnel:
Step 1: Signing up for an email autoresponder and ClickBank
The first thing they tell you is to sign up for an autoresponder called "Get Response".
If you don't know what an autoresponder is, basically it enables you to build an email list and then automatically send emails to those people on your list.
The first surprise here is that Get Response is not free as you need to pay $15 every month to keep using it.
Next, you have to sign up for ClickBank which is completely free to join.
ClickBank is a marketplace for digital products and it is also the place that will pay commissions for you when you successfully promote the products.
Step 2: Integrating Get Response with your email capture page
This is simply a piece of code you copy from the email autoresponder and paste it to a text box found in the $5K Formula guide page.
After doing so, you can collect people's email addresses automatically when they input their email address to the email capture page.
When you drive traffic to your email capture page and people sign up, you can then start sending email promotions to them and hope for sales.
Step 3: Get your ClickBank affiliate link
This section tells how you can grab your unique ClickBank affiliate link that you can use to promote different products and earn money.
They seem to only show you how to get an affiliate link for the $5K Formula System. I guess the idea here is that they want you to only promote the product itself when starting out.
Step 4: Tracking your links with Clickmagick
This whole $5K Formula System revolves mainly around buying traffic so they show you how to track those link clicks you buy. This is to ensure you get what you pay for.
A product called Clickmagick is used to perform this task and surprisingly it costs money for you.
I checked and the cheapest option was $12 per month but you need to pay it annually so it's $144 every year.
Step 5: Getting traffic
The last part is getting traffic to your funnel with solo ads.
The method they offer you is called "Profit Pumping Traffic Stream" and it costs you $20/mo and guarantees 100 clicks to your email capture page.
The important note here is that it doesn't guarantee sales.
That's how the 5-step funnel setup process works and after you have done it, you can look at the other traffic obtaining methods they have training on.
At this point, it shouldn't come as a surprise that most of those methods also cost money.
How Much Does $5K Formula System Really Cost?
I hope you have noticed that this is not so cheap method after all.
The sales page sure gave a different impression and left out important details.
Let's do some math.
The initial product price: $39.99
Email autoresponder: $15/mo
Link tracker: $144/yr
Solo ads: $19.95/mo
Suddenly we have a product that actually costs $219 for it to work properly.
Sure you could argue that Get Response and Linkmagick both have a small free trial but eventually, you have to pay for them and you are not guaranteed to cover the costs with your possible sales.
Are There Upsells With $5K Formula System?
Yes, both upsells and downsells.
Here's the complete price structure:
Webinars include 12 additional training videos where Matthew Neer teaches different marketing subjects. Each webinar is around 1-3 hours long.
Pages, in this case, mean different email capture pages. You only get one when you buy the product but there are additional 11 if you want to pay for them.
License Rights lets you advertise the whole system as your own and this way you will get 100% commissions from every sale compared to the initial 50%.
If you want to fully unlock this product including the autoresponder and link tracking:
We are looking at a price tag of $858 and that's not counting the additional costs required to constantly run ads.
Who Benefits From The $5K Formula System?
At least the owner since every new member is guided to buy traffic and promote the product itself.
But from a customer standpoint? Someone who wants to get into email marketing could get something off the training.
Having said that, I don't recommend a product like this for beginners because of multiple reasons. I will elaborate on this later and offer a better alternative.
Pros Of $5K Formula System
#1 – A System Like This Can Work
You can most definitely make money this way but if you want to reach earnings anywhere near what Matthew Neer claims to make, you would need a unique approach and prior experience.
As a beginner, you don't have that luxury because you probably have no idea what you are doing and what you should do differently.
Currently, thousands of people are using those same capture page templates and pre-written email forms. If you wanted to make any decent money, you would have to stand out from the rest and create your own capture pages and write your own emails.
That is obviously a hard task for a beginner thus why I don't recommend it.
#2 – Decent Resource
The training you get with the front-end price is a decent start point for email marketing but all the more advanced stuff is in the webinars and those are locked behind paywalls.
You could find equivalent information for free in email marketing blogs if you look hard enough.
Cons Of $5K Formula System
#1 – You Don't Own The System
This is by far my biggest concern for beginners who are looking to get started with this opportunity.
Why? You can't rely on a system like this because you don't own the assets.
What I mean is that the elements to making money using this product are not in your control.
You don't own the capture pages, pre-written emails, website, and hosting. You have no control over them.
Imagine if you were relying on this system to bring in full-time income and you didn't have any other job. Next, something happens to this product and it disappears overnight leaving you with no income sources. With a snap of fingers, you fall under the bridge without clothes.
That's why it is extremely important for beginners to build their own assets they can rely on for years to come.
Your own asset is not going to disappear overnight and you have full control over it.
#2 – You Lack The Learning Process
Everything in this product is fed to you with a spoon and you don't learn much that way.
It resembles a product that appeals to people who want a shortcut to online riches but I can shatter that image by saying that there are no shortcuts to online success.
My opinion on this is that you need to learn the process from start to finish if you want to make a full-time income online.
Even if you hopped on this product with zero experience and everything is done for you. The cold fact is that you are most likely going to only make cents because you lack the experience.
#3 – Additional Costs
I'm not a fan of how you need to pay absurd amounts to unlock the whole product.
It's not a fun experience to pay for a product and then realize you need to pay for ten additional things.
It's often the case with similar products that there is no mention of additional costs and once you give them your pinky, they will suck in your whole hand and soul after that.
My point is that there are way cheaper alternatives out there with better training.
#4 – Unethical Marketing Tactics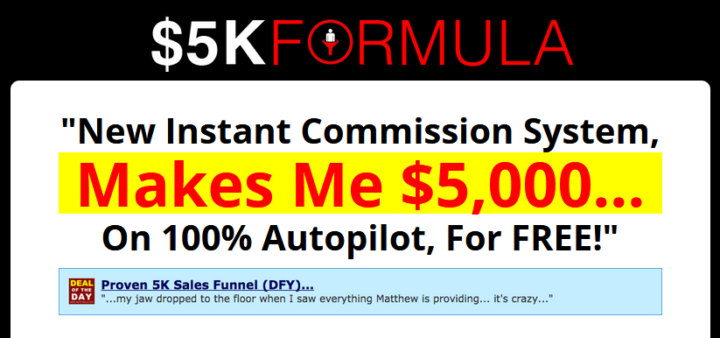 Lots of misleading words are used on the sales page to give you a false impression.
Just to clarify, I don't mind the use of these words as long as they hold true in the product.
Here are some examples of what was used:
100% autopilot
FREE
Instant
Easy
Done for you
Secret to success
Different from anything you have ever seen before
To be honest, hardly any of these words represent the actual product.
#5 – The Owner Treats You Like An ATM
This image speaks pretty much for itself.

Customers are treated like his personal ATM that just spits out money whenever he wants.
If you haven't realized yet, this product itself is his sales funnel and he is treating you like an ATM.
Is $5K Formula System A Scam?
The product is not a scam because you receive a prebuilt funnel and training to set it up.
However, lots of important details are left unmentioned on the sales page and most claims of this product are misleading.
Once you buy access to the member's area, you will find out that you need to pay more to unlock the rest of the content.
I don't recommend this product for beginners because they are likely to fail without prior experience.
Build Your Own Profit-Generating Asset Instead
I'm assuming you want to make some money online since you are reading this review.
If you are a beginner and want to make a full-time income from online sources, you are way better off creating your own asset instead of relying on other people's work.
Yes, it's going to require some work on your part but that's how every online business works.