Welcome to the Auto Chat Profits review!
Chatbots have been around for many years but have they finally evolved enough to be effective salespersons?
Auto Chat Profits is a product that comes with such a robot and they claim you can make some serious cash with their software.
This raises questions if a robot salesperson is convincing enough to convert visitors into buying customers.
I've seen some awesome ways to use chatbots in business but this one didn't live up to the expectations as well as I hoped.
Read on and I'll show you why.
---
Auto Chat Profits Review Summary
Product Name: Auto Chat Profits
Owners: Unknown
Product Type: Affiliate Marketing, Chatbot Software
Price: $37 + upsells
Summary: Auto Chat Profits is a system that provides you with a "done-for-you" website and an integrated chatbot that promotes Clickbank products to visitors. If the visitor buys something through your links, you and the software owner will earn a commission. The idea is to set and forget the software while you reap the daily rewards but systems like this rarely live up to the expectations. A big negative side to this deal is that you don't own any part of the business and thus you run a risk of losing everything overnight.
Rating: 1/10
Recommended: No
---
What Is Auto Chat Profits?
Auto Chat Profits is a product that comes with a "done-for-you" website and integrated chat robot that tries to sell digital products to website visitors.
The product was launched in January 2019 and the owners are unknown. All we know is that the spokesperson in the sales video is Samantha Smith which is not even her real name.

As you can see, they have disclosed that it's a pen name.
In the sales video they want to partner up with you but it's a bit hard to establish any trust since you are dealing with unknown names and faces.
Maybe there is something wrong with the product and they don't want to take responsibility for it.
Let's find out.
Closer Look At Auto Chat Profits
There are already some common red flags with this product but let's take a closer look at how this whole system works.
The business model used within Auto Chat Profits is called affiliate marketing which is a great way to earn money and it is the same model that I also use to make passive income online.
Affiliate marketing is a process, where you as an affiliate promote other people's products and earn a commission from every successful sale.
However, there are good and bad ways to utilize this business model and Auto Chat Profits tends to lean towards the bad side and I'll soon tell you why.
Setting Up The Software
When you get the license for the software, you will be guided through three steps to set up the system.
Step 1: Clickbank Setup – First you need to create an account for an affiliate network called Clickbank which has all the products to promote. After creating the account, you will enter your user nickname to the Auto Chat Profits software to connect the two.
Step 2: Domain Setup – Next up is the creation of your website which the software handles automatically. The software recommends domain names for you to choose from.
These domains are actually subdomains, so you do not own the website after registering which is a huge disadvantage. These subdomains also have ".live" extensions which are cheap and not as trusted as ".com" sites.
Step 3: Email Service Setup – Finally you need to sign up to an autoresponder system for your future email campaigns which are meant to drive traffic to your site.
Now you have the "website" up but in reality, I wouldn't call it a fully functional website. Your website consists of just one single landing page with a bot talking to the visitors.
All other meaningful content is absent and your site is one big sales promotion.
One way you are supposed to gain visitors to your site is called solo ads and the software has some training on that.
Solo ads are a way to gain visitors to your site by paying someone with a huge email list to promote your offer to their list. You have probably seen those "male enhancement" offers in your email box — you can thank solo ads for those.
It's not an efficient way to obtain quality traffic for your site and you can quickly burn lots of money by doing this. Think when was the last time you clicked one of those sketchy emails from some random dude. I personally always throw them to the trash bin immediately without second-guessing.
The same will likely happen if you'd try to promote your chatbot site with solo ads.
How Does The Auto Chat Profits Work?
In a nutshell, the process for making money with this software goes like this:
A visitor comes to your site from an email offer.
The robot starts engaging with the visitor and promotes products based on user interaction.
The robot also tries to collect the visitor's email for future promotions.
If the user decides to buy the product through your link, you and the software owner will earn a commission.
How Much Does Auto Chat Profits Really Cost?
As you sign up for the advertised free license, you will be instantly hit up with a fee of $37 to cover the hosting costs for your website.
After the initial price of $37, you will face multiple upsells down the line.
Here is the upsell structure for this product in its fullest:

As you can see, it's not as "free" as you might have thought at first.
Who Is The Auto Chat Profits For?
The product is advertised for beginners and those who have failed at making money online before.
My opinion is that you are set for further failure by relying on this software. I don't believe it is a great tool for beginners or anyone else looking to make money online.
Based on previous negative sides and the upcoming ones, I can't recommend this product for anyone.
I will further explain my stance below in the cons section.
Pros Of Auto Chat Profits
#1 –  Refund Policy
There is a 60-day guaranteed money back policy since it is a Clickbank product, so that's great news.
#2 – Affiliate Marketing Is A Legit Business Model
It is possible to make great money with affiliate marketing and you could get a couple of sales granted you dedicate lots of time to this product.
However, there are just way better and less risky options to make money with affiliate marketing than this product.
Cons Of Auto Chat Profits
#1 – The Robot Salesperson
To be successful in affiliate marketing you need to establish trust between you and the audience.
An emotionless robot just can't achieve that well enough and it will negatively impact the sales opportunities
How would you feel if you entered a real-life shop and there would be a robot pestering you into buying different products?
Maybe this will change in the future but for now, it is just a bad option to consider.
#2 – You Don't Own The Business
This is a huge one because you don't own:
The website
The robot
The content
The email list
Have you thought what would happen to your business if the product suddenly shuts down?
Yes, you will lose everything overnight and you are left naked on the streets.
Not good.
You don't have any control over the business and this makes it an unreliable source of income.
On top of that, you have to share the affiliate commissions with the software owner. It's a much better idea to build something of your own so you can keep 100% of the money.
#3 – Unknown Owner
The fact that we have no idea who is behind the whole scene is a big red flag and means there are issues with the product.
No trust is established between the software owners, affiliates or customers.
It's sketchy.
#4 – Fake Income Proof
The income proof shown in the sales video is fake because the numbers shown are made by selling products as a vendor and not by using their own software.
Here you can see the image where vendor sales are shown and not affiliate ones.
Here is another image where the dates shown are from 2013 and it most likely means the whole "proof" is just a big fluff and empty promises.
This product was supposed to be brand new and something that has never been seen before.
Income from 2013 doesn't sound very recent to me.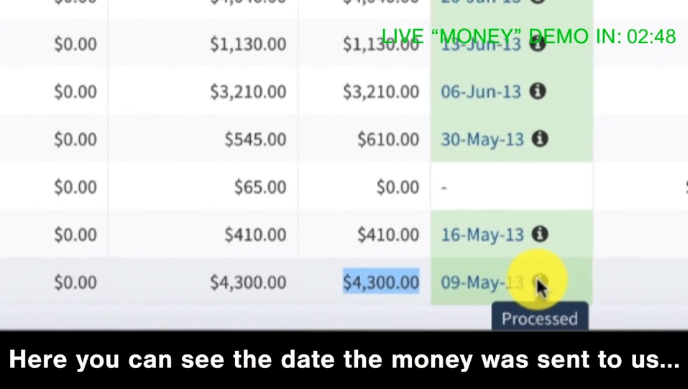 #5 – Unrealistic Claims
The whole sales page gives you the impression that it's easy and simple to make money with their software but I don't agree with this at all.
They say that you need insider secrets to make money online but I can confidently say that there are no secrets to making money online.
All you need is hard work, consistency, and patience to succeed.
You can't buy any shortcuts like this product to skip the hard work required.
Is Auto Chat Profits A Scam?
Auto Chat Profits is not a scam but the product is disappointing.
I don't recommend it because the money-making method is not efficient and you are not providing any value to the customer. The chatbot is only trying to chase a sale out of the customer.
The website you get with the product is just one landing page without any meaningful content and it looks rather spammy, to be honest. Not good for sales.
The product's initial sales page also uses marketing tricks that are extremely misleading and unethical.
I would look somewhere else if you want to make money online.
Consider My Way Of Earning Online
If you are serious about working from home and making money online, you should consider my way of doing it.
The method requires real effort but that's how it is with every online business.
You'll also completely own your business unlike in this product and you keep all the affiliate commissions to yourself.
If that is something you find interesting, check out this free to get started affiliate training course that I highly credit for teaching me the necessary skills to run my online business.
I'll leave you to it.