Looking to make some extra cash playing online bingo?
You may have heard about Bingo Smash, a popular app claiming to offer real money winnings.
This article dives into the truth behind this claim, helping you decide if it's worth your time and energy.
Intrigued? Let's find out more!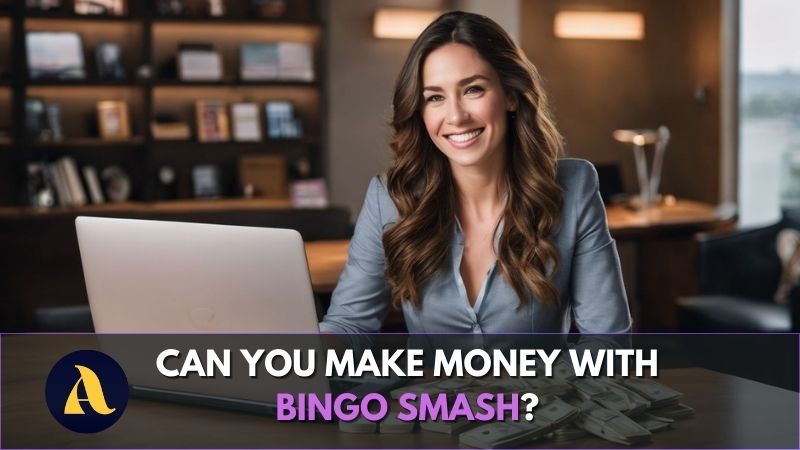 Key Takeaways
Bingo Smash is a popular app that claims to offer real money winnings through online bingo games.
Users can earn cash, cards, and gems on Bingo Smash which can supposedly later be exchanged for real cash prizes.
However, many users have reported difficulties in cashing out their earnings, raising concerns about the legitimacy of the app.
All the reviews of this app are hidden on Google Play which raises suspicions.
Overview of Bingo Smash and How It Works
What is Bingo Smash?
Bingo Smash is a popular mobile game that allows users to play online bingo. Taking the classic game of bingo and infusing it with modern technology, this app brings the excitement directly to your smartphone.
Players can participate in real-time multiplayer bingo games against others from around the world, striving to earn gems and cash. These earned rewards can later be exchanged for real cash prizes.
While it's advertised as an opportunity for users to win real money, actual earnings vary widely among players. There's also the potential for losing money because the game heavily encourages you to deposit money to attend multiplayer games.
The promise of cash prizes has led Bingo Smash to be a topic of discussion among gaming and gambling communities alike.
How Does Bingo Smash Work (In A Nutshell)
To summarize the process, here's how it goes:
Download the Bingo Smash app from Google Play
Install the app on your mobile device.
Open the app and create an account using an email address or social media account.
Complete any additional registration requirements, such as age verification.
Once registered, log in to your account using your chosen credentials.
Explore the available bingo games and select one to play.
Purchase virtual coins or tickets to participate in the game.
Mark off numbers as they are called out during gameplay.
Keep playing and aim to complete winning patterns on your bingo card.
If you win, your earnings will be added to your account balance.
Is Bingo Smash Legit?
Let's take a closer look at Bingo Smash to determine if it is a legitimate way to make money.
User Experiences and Testimonials
Many users have shared their experiences and testimonials about Bingo Smash, shedding light on its legitimacy as a money-making platform.
Some users have reported that they were unable to cash out their earnings despite reaching the minimum threshold.
This raises concerns about the app's credibility and suspicions of it being a scam.
While some users have enjoyed playing online bingo games on Bingo Smash, earning real money seems to come with limitations and uncertainties.
For example, there doesn't seem to be a clear statement when these payouts are done (if at all).
Another major red flag is that all the reviews of the app on Google Play are hidden by the developer.
Are they just hiding all the bad experiences? Most likely. If it was a legit and loved app, they wouldn't have to hide what their users are saying about them.
Payout and Cash Out Process
You'll need to reach a minimum threshold of $10 to cash out your earnings on Bingo Smash.
Once you've met this requirement, you can request a withdrawal through the app.
But how long this takes is not clear which is another rather big red flag.
There's also this "Bonus Cash" you earn from games and you don't actually get to keep it if you try to withdraw it. You'll simply receive a message saying "Upon withdrawal, all bonus cash will be deducted from your balance. Use them to win more real cash first!".
So you end up thinking you've actually earned something from the games, but in the end, you can't even get paid this money which you thought you rightfully earned.
On top of this, there are large processing fees associated with withdrawing your real money.
If your withdrawal amount of $10 or less, you have to pay $1.50 in processing fees. That's quite a lot concerning how little you can earn by playing this game.
Overall, the Bingo Smash operates on a "legit ground" but it's not something I'd recommend you spend money on.
Pros and Cons of Bingo Smash
Advantages of Bingo Smash
Well, if I had to list some positives about Bingo Smash, one is that it could be a good way to pass time during commuting (as long as you don't spend any money on it).
There are free multiplayer games on this app you can attend without spending money and those could be fun for bingo enthusiasts.
Disadvantages and Limitations of Bingo Smash
Bingo Smash may sound like an enticing way to earn money, but you should be aware of its disadvantages and limitations.
One major drawback is that the app has been deemed illegitimate by many users, making it next to impossible for users to cash out any earnings they may accumulate.
This can be quite frustrating for those hoping to make real cash from playing this mobile game.
The game also involves gambling since you have to spend money to attend some of the game rooms.
So yes, you can even lose your money by playing this game.
Overall, it's a rather cash-grabby and unethical game in my honest opinion.
Final Verdict and Alternatives To Bingo Smash
After thoroughly reviewing Bingo Smash and considering important factors such as user experiences, payout process, and security measures;
It's clear that Bingo Smash is not a legitimate platform for earning money.
Many users have reported difficulties in cashing out their earnings with some even suspecting the app to be a total scam.
You should exercise caution when using any Bingo app or similar platforms that promise real cash winnings as most of them are not legit opportunities for earning money.
For example, this gaming app reminds me of Bubble Cash and Solitaire Smash which are almost identical in how they operate.
Instead, you should consider exploring other reputable and established apps that have positive reviews and transparent cash-out processes such as Swagbucks.
Remember to always research and read reviews before trusting any money-making app.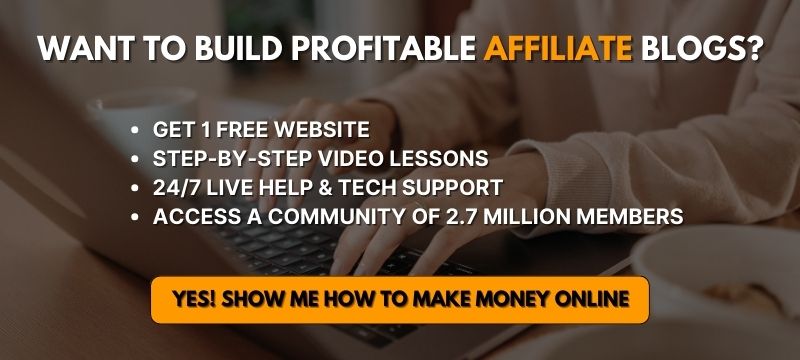 Want To Start Profitable Affiliate Blogs (& Make Money)?
If you want to earn dollars instead of pennies, I recommend starting a real online business.
Building simple affiliate blogs around your hobbies is one way to do this.
In short, you write helpful content on your blog and earn through display ads and affiliate links. Your blog is online 24/7 so it earns you money even when you don't actively work on it.
If this sparked your interest, I'd like to invite you to the same platform where I learned all the ropes myself:
Start building your affiliate blogs for free.
It comes with everything you need to succeed (how-to tutorials, tools, hosting, 24/7 support, and more) and of course, 2.7 million helpful affiliates who are ready to help you.
With some helping hands and dedication, you can be well on your way to earning affiliate commissions.
Make sure to check it out before you go.