Welcome to my BTCsurveys review.
Cryptocurrencies are rising in popularity and this has created a wave of new platforms where you can earn this magical new currency.
A fresh site called BTCsurveys is one of them and their opportunities allow you to earn none other than the most famous cryptocurrency called Bitcoin.
If you're looking whether this platform is worth it or not, that's exactly what I'm about to show you and also:

What it is (& how does it work)
How can you get started with BTCsurveys
How much money can you make with BTCsurveys
Is BTCsurveys a legit crypto survey site? (yes, so far)
Are you interested in knowing how to earn some bitcoins and turn them into cash? Keep reading.
At the bottom of this post, I'll also give you a (better) alternative to making money online which I personally use to earn passive income every day.
Let's crack open this cryptocurrency opportunity.
This is my BTCsurveys review.
BTCsurveys Review Summary
Free To Join
Earning Potential

Payment Systems

User Experience

Amount Of Surveys
Can You Make Money With BTCsurveys?
Earn Bitcoin Cryptocurrency by filling surveys
Simple & easy to get started
Available in 53 countries
A fun way to earn some side-cash (at best)
There are more profitable ways to earn online.
What Is BTCsurveys?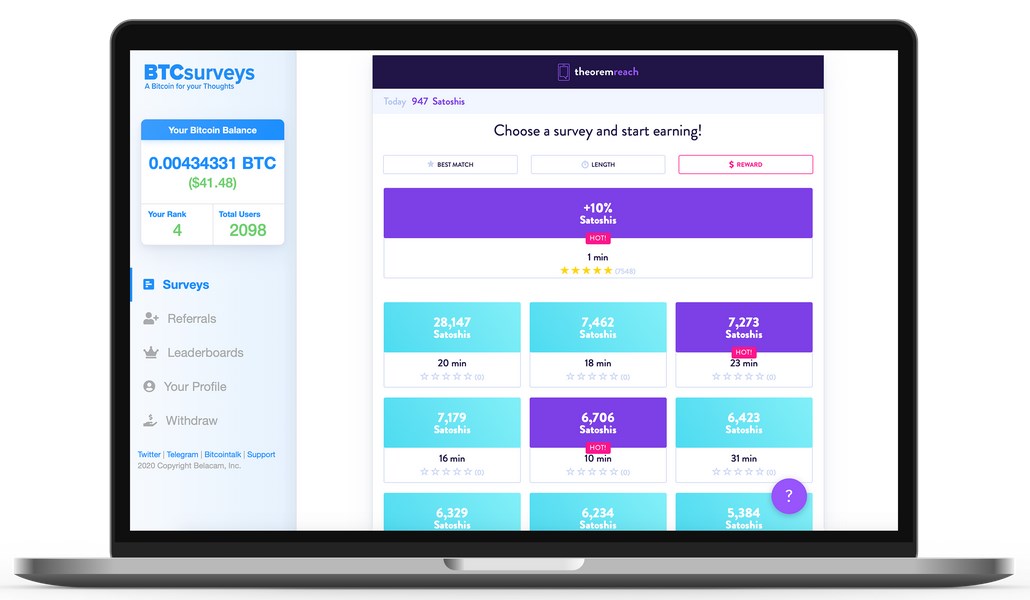 BTCsurveys is a cryptocurrency survey site where you can earn bitcoins by filling simple surveys.
The site is very fresh as it was launched in January 2020 but despite being so new, it has been received well by its users and is constantly growing in popularity.
BTCsurveys is created by Marx Tyler who is the CEO of Belacam Inc. which is part of another company called The Ambia Fund LLC.
I have to immediately say that the design on this site is spot on! Very clean and good looking.
The Goal Of BTCsurveys According To The Owners
BTCsurveys has set some ambitious and respectable goals for the site and here's one of them.
Our end goal (& it might take a year or two to get there) is building out BTCsurveys to the point where anyone can earn an hourly rate that is competitive to their own home country.
They also further clarified that;
American users would consistently earn $10/h and
Users in developing countries at least $2 – $5 per hour etc.
To top it off, they said there is plenty of work required to get there but that's their end goal.
Something that was also mentioned is that they try to build BTCsurveys in a way that fixes what Swagbucks —a competing survey site —  is missing.
One example being that BTCsurveys is available for 53 countries while Swagbucks is only for 11 countries.
How To Get Started With BTCsurveys?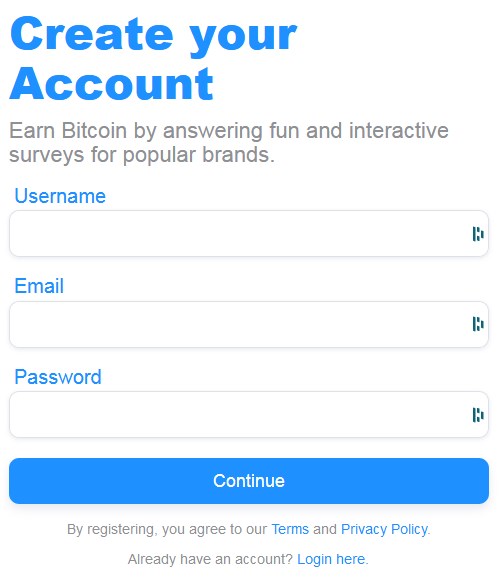 Getting started with BTCsurveys is quite easy and only takes a few minutes.
First, you need to register with your email address and then you need to enter your phone number for verification purposes.
The phone number is used to identify your country so the platform can suggest eligible surveys that are specific to your country.
Another reason for the SMS verification is that it partly prevents people from using VPNs to access another country's survey selection and it helps with solving such situations if someone happens to use those methods.
The market research companies don't pay to BTCsurveys if their users are not legit so I fully understand the reasons behind SMS verification but most people are not confident giving such personal information to a fresh and rather unknown company.
I can imagine this turning some customers away unless they implement another way to verify your account.
With that said, once you are done verifying the account, you are ready to start filling surveys.
How Much Can You Earn With BTCsurveys?
In BTCsurveys you get rewarded Satoshis for completing surveys.
Satoshis are the smallest unit of Bitcoin.
Just like USD and Euro have "cents" — Satoshis are the "cents" of Bitcoin.
How many satoshis can you then earn in BTCsurveys?
This will vary greatly depending on your country. The states have the most earning opportunity when it comes to surveys in any similar rewards site out there.
In the states, the earnings can be as high as $8 – $10 per hour of survey taking and everywhere else you can expect to make less than that.
For me (living in Finland), there were 3 available surveys and they all rewarded roughly 10,000 satoshis which amount to $0.910 each.
I was a bit disappointed though because I wasn't eligible for any of the 3 surveys and now I don't have any to complete. At least, I got 565 satoshis as a partial reward which I'll explain soon.
Apparently, this is a common occurrence for people completing surveys outside the states and there's not much you can do about it except to wait for the next day.
It's still a fresh site though, and hopefully, there will eventually be more surveys available from different market research companies.
Partial Reward System
This is a neat system inside BTCsurveys.
If you happen to get cut out in the middle of filling a survey — as it happened to me — you will still get rewarded some satoshis.
This is beneficial especially for 3rd-world countries because what I've read; cutting out happens more frequently for them and this way they at least get compensated something for their efforts.
It's not much but a nice system to have in place.
BTCsurveys Referral Program
BTCsurveys just like most other rewards sites has launched their own referral program which adds another way to earn on top of filling surveys.
If you invite other people to sign up with BTCsurveys, you will earn a 10% commission from their earnings for a lifetime.
It's a good system to attract new users to the platform and the existing users can earn some passive income by promoting the opportunity.
The 10-20% commissions seem to be standard for many referral programs on survey sites.
Still, 10% is rather low and doesn't make promoting BTCsurveys very appealing for publishers since there are some more popular rewards sites offering up to 50% commissions.
Maybe they can eventually increase the commission rates when the platform gains more users and credibility.
How Does The BTCsurveys Payment System Work?
Since we are dealing with cryptocurrencies here, you'll need a crypto wallet to store your Bitcoins.
Fortunately, it's easy to create one and Coinbase offers one for free.
When you want to cash out your earnings, you simply enter your crypto wallet's "address" and the amount you want to withdraw.
Your withdrawal is processed within 48 hours which is nice and pretty fast compared to some other survey sites.
Many have said that they have received their earnings in under 24 hours.
Something worth mentioning; it used to be that there was no minimum cashout threshold in BTCsurveys but they changed that recently.
Now you have to complete surveys until you have .001 BTC which is equal to 100,000 Satoshis = $9.091 before you can cash out your earnings.

Pros & Cons Of BTCsurveys
PRO: Promising Site & Simple Way To Earn
BTCsurveys is still a new site but it's very promising so far.
The cryptocurrency rewards bring a nice aspect to earning money since Bitcoin's worth fluctuates constantly and this could increase (or decrease) the value of your wallet considerably over time.
It's a fast and simple way to jump in and earn some cryptocurrency.
PRO: Partial Reward System
I really like that you get compensated even if something goes wrong in the middle of the survey as it happened to me.
I wish more rewards sites would implement a system like this to avoid frustration.
PRO: Available In Most Countries

BTCsurveys is available in 53 countries worldwide and this is beneficial especially for people living in lower-income countries where it can earn significant supplement income for families.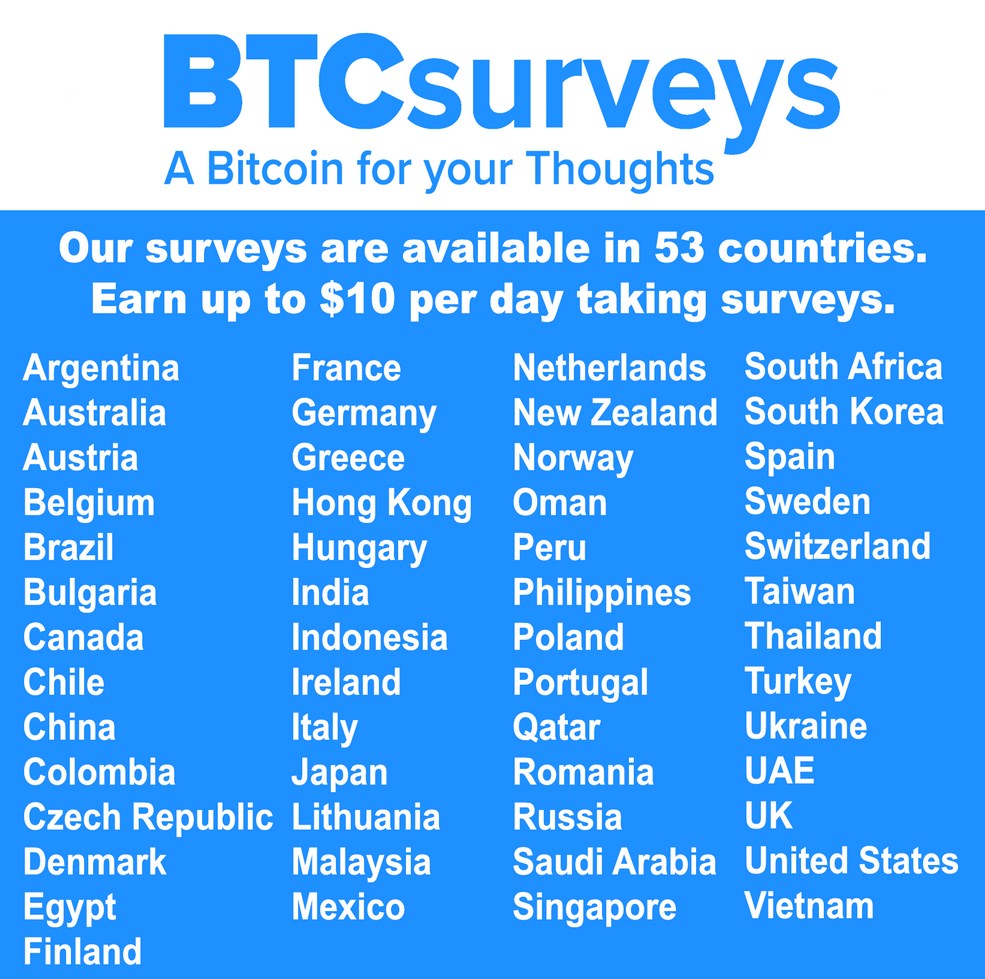 CON: Lack Of Surveys
This is very dependent on where you live and what kind of background you have.
It can be either a hit or miss whether you have an abundance of surveys available or just 3 like I had (that I couldn't even complete).
Also, one survey for me looked like it was put through Google Translator and the end result was completely butchered Finnish language. I wish I could just select the language to be English but I think BTCsurveys can't do anything about that.
CON: Low Paying Referral Program
You won't earn much from 10% commissions when one survey on average pays you less than a dollar.
I hope they can increase the commission rates in the future so people would see this as a better opportunity to promote for the masses.
CON: Low Earning Potential
This is a con of every rewards site out there and not just limited to BTCsurveys.
Rewards sites just don't pay that much and it's supplement cash at best.
This becomes an even greater problem when you are not from the states and have limited surveys available making you sign up for multiple different rewards sites in hopes to fill enough surveys.
Can You Make Money With BTCsurveys?
Most definitely, but it's side-cash at best and not a full-time or even a part-time income.
BTCsurveys is a fresh platform and the company is known to pay out the earnings typically in under 24 hours which is nice and fast compared to many competing sites.
I have personally used rewards sites a lot in the past but these days I don't see them as the right opportunity for me for the sheer amount of time you have to spend to just earn cents.
It's a grind at best and you most likely have to sign up for multiple different rewards sites to get a meaningful supply of surveys to complete which again is frustrating.
The owner of BTCsurveys summarized it well "It's a fun way to earn some side-cash".
If you're looking to make dollars instead of cents, I suggest you start looking for different opportunities that pay more.
A Better Business Opportunity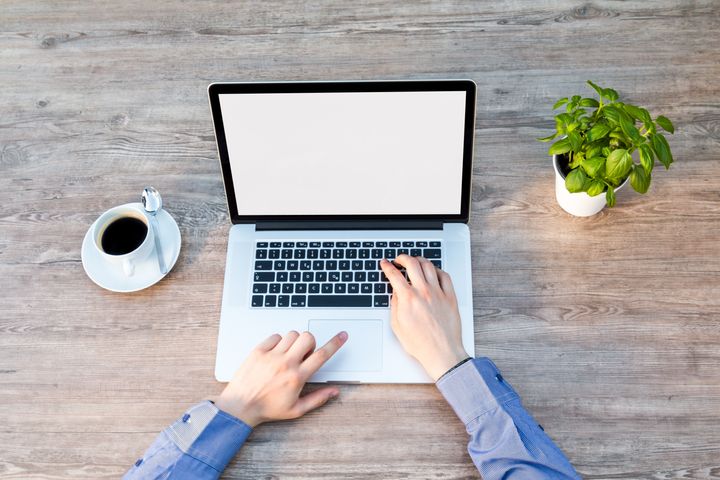 Now before you head out and signup for BTCsurveys and start earning cents, let me tell you about how I make money online — it's not by filling surveys though.
I earn money online by doing affiliate marketing.
It may sound complicated but it's actually not.
There's a bit of a learning curve but it has the potential to make you full-time passive income in the coming months and after that, you wouldn't have to struggle with surveys anymore.
In case you are interested, I recommend checking out this free 10-day affiliate marketing video course which teaches you everything necessary about affiliate marketing.
I've been a member of the same course for over 2 years and I highly credit it for teaching me the necessary stuff about running an online business.
Closing Words
Thanks for reading my BTCsurveys review and I hope you found it helpful.
Making money online is not hard when you know what you are doing and let's hope you'll find the perfect system for you.
If you have questions, I'd be happy to answer them below.
Talk to you later.