Welcome to my Bulletproof Profits review!
Bulletproof Profits is a new opportunity to make money online and they claim you can start making up to $3750 today with just 7 simple clicks.
It's not the first time I hear something similar so I'm going to check out if it holds true or not.
Before we continue, I want to say that I'm not associated with Bulletproof Profits in any way, so you are going to get my honest opinion.
Read on, and I'll show you what this product is all about and why it's not as great as it seems.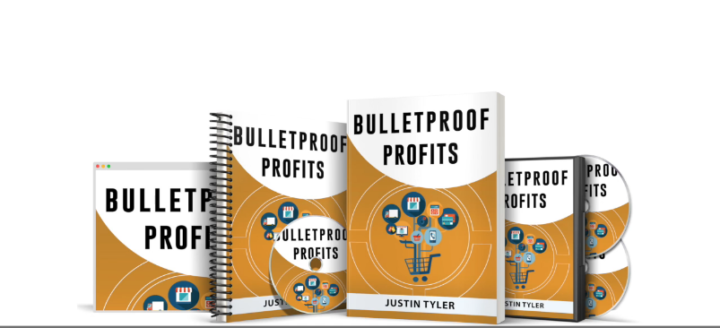 Bulletproof Profits Review Summary
Product Name: Bulletproof Profits
Owners: "Justin Tyler"
Product Type: Making money with Amazon
Price: $9 + upsells
Summary: Bulletproof Profits is supposed to be a "done-for-you" system to make money easily and without hassle. In reality, the product is just an outdated and general overview of how to make money with Amazon FBA and also as an Amazon Affiliate. The sales page is filled with fake testimonials, unrealistic income claims, and fake guarantees to make money.
Rating: 1/10
Recommended: No
What Is Bulletproof Profits?
The product claims to be a "done-for-you" system that allows anyone to start making money online easily and quickly without hassle.
It was launched in February 2019, so it is a rather new product at the time of writing this review.
The owner is supposedly called "Justin Tyler" but I believe this is just a pen name as you'll soon learn why.
I faced multiple red flags during my review, so I don't think the actual owner wants to be associated with this product at all.
People who make products like this, often want to stay anonymous so they can keep creating similar products in the future. I've seen it again and again.
Closer Look At Bulletproof Profits

Judging by the sales video you are tapping into this secret online goldmine that can make you up to $2000 per day but to be honest, there isn't any "secret" in this product. This is just a way to get you more sucked in the sales funnel.
The training itself introduces you to a couple of different ways to make money with Amazon. To be more specific, these methods are:
Making money with Amazon FBA
Making money as an Amazon affiliate
Amazon FBA means selling your own products in Amazon's marketplace and Amazon will handle all the package deliveries and customer service for you. All you need to do is deliver your products to the nearest Amazon fulfillment center and manage the product pages.
In case you don't know; it's recommended to have at least $5000 to get properly started with the Amazon FBA method.
The second method is much better but you won't get far with the guides in this product.
Making money as an Amazon affiliate means promoting other people's products and earning a commission from every successful sale. This business model is also called affiliate marketing which I've personally done for over 2 years.
It's a good way to earn money online but the training doesn't give you enough over-the-shoulder support to succeed as a beginner. The testimonials — which btw are fake — give you the impression that you can make absolute bank in your first months of doing it but it's not true.
In fact, most people never even make their first sale with affiliate marketing because it actually takes effort to see results.
Moving on…
There is also a small bonus strategy section that shows you a way to find physical items to sell at a higher price on Amazon. You are guided to check local auctions and stores to find these items to sell.
The last section is called Wealth Hypnosis which contains some "positive mindset" videos to watch. Being successful in life is all about the mindset but to be honest, you'll find better videos on YouTube for free.
The Truth About Bulletproof Profits
The training provided in this product is not enough to make you 4-figure income in your first week like they want you to believe.
You won't get the desired results because the "training" is barely an overview of how it is possible to make money with these methods.
This is not a good option for beginners due to how little hand-holding there is to this training.
The training is also outdated and leaves important details unmentioned. Not good.
Are There Upsells With Bulletproof Profits?
Yes, after paying the initial price of $9 you will face two additional upsells and they are called Bulletproof Profit Turbo ($197) and Bulletproof Paydays ($145).
Judging by the quality of the initial training, these additional courses are not worth investing in.
The small entry price of $9 is just a bait to get you in and then they want you to invest huge money to unlock the rest of the training.
Who Is The Bulletproof Profits For?
I wouldn't recommend this training to anyone since there are just way better up-to-date alternatives available — even for free.
Pros Of Bulletproof Profits
#1 – Refund Policy
Since this product is listed in the Clickbank, you are given a 60-day guaranteed money back which comes handy in this case.
#2 – It's Possible To Make Money With Amazon
Making great income with Amazon is possible as I have done that myself but this product does not teach you the required ropes to be successful with it.
I will leave you a link below where you can learn to make money with Amazon and on top of that the training is free to get started.
Cons Of Bulletproof Profits
#1 – Unrealistic Claims
The income claims this product makes are absurd and all over the place.
"Done-for-you system that allows anyone to start making money online easily and quickly without any hassle."
I've seen enough "done-for-you" systems over the years and also having tested them I can certainly say the majority of them are not worth it and this one is not an exception.
Auto Chat Profits and Easy Cash Club are quite similar to Bulletproof Profits in a sense that they promise a "done-for-you" system that won't deliver like promised.
#2 – Fake Testimonials
It's not a big surprise that the "product users" in the sales video are paid actors from Fiverr.
There were some familiar faces I recognized and this probably won't be the last time I see these folks doing fake testimonials for a product.
I think at this point it's obvious that the "income proofs" are as fake as they get and you most likely won't be earning similar sums by following the instructions in this product.
On top of that, the sales page has a Facebook Live feed which is not "live" at all and just a crappy copy imitating Facebook's appearance.
The pictures used in the live feed are bought from websites like Shutterstock and the names used are just made up.
#3 – Upsells
"Pay just $9 and you'll easily make $2,000 per day, $14,000 per week or $50,000 per month."
This statement couldn't be more misleading as you will need to pay more than $9 to get the full product and you definitely won't be making those figures easily.
While they are possible to achieve in the online world, it often takes years to reach such income levels.
To get the full product you need to pay around $360 which is absurd for the value you get out of this.
The $9 is there only to suck you in for bigger money investments.
#4 – Unethical Marketing Tactics
"Start generating up to $3,750 a day! GUARANTEED"
It's quite bold to make statements like this and then say something completely opposite.
Below you can see how their guarantees aren't even backed up by their earnings disclaimer.

Pretty unethical way to market your product by guaranteeing something you actually can't do.
Is Bulletproof Profits A Scam?
When phrases like "100% make money guarantee" are thrown around and on the next page it's stated that there is no guarantee to make money, even I start to lean towards calling this a scam.
However, you still get a product in exchange for your money, so it's not 100% scam but pretty close to one when taking account all the intentional faking that went to the sales page.
What I can say for certain is that you definitely won't be making $3750 today with 7 simple clicks.
I can imagine the product being a big disappointment for someone who actually got excited from all the hype in the sales video.
I can't recommend this product to anyone.
Consider My Bulletproof Method Of Earning Online
I also started my online business journey with Amazon but I couldn't have made it work without proper step-by-step instructions and community support. Those two are the key elements every beginner needs when starting out.
Most people struggle with making money online because they either don't have the proper guidance or they quit too early. Sometimes it's both.
If you are interested in making money online, I suggest you take a peek inside this free to join affiliate training course which I highly credit for teaching me the necessary skills to run my online business.
Thanks for reading my Bulletproof Profits review.
Talk soon.