Thanks for dropping by to read my Earn2Flex Review!
Lately, I've been on a streak where I review these so-called "#1 influencer marketing networks" that promise you the moon but leave a sour taste in your mouth.
Today we have another candidate named Earn2Flex, and I have to say I can already taste the sour from the name alone.
But let's not jump to the conclusions just yet.
In this post, I'm going to show you whether Earn2Flex is a legit way to make money online or if it's just a scam that is not worth your time.
Today you will learn the following:
What is it all about
Is Earn2Flex legit?
Problems that I encountered
Can you make any money using it
How does the site really work
And as always, I want to show you how I personally make money online every day, sounds good?
Let's see what Earn2Flex has in store for us.
Earn2Flex Review Summary
$0
Is Earn2Flex Legit?
Earn2Flex belongs to a known influencer marketing scam circle where they create the same platform under many domain names. Earn2Flex is not legit, and I do not recommend joining because your personal information might be at risk.
Users are not getting paid
The owner is unknown
The site uses fake payment proofs
They lie about their past.
What Is Earn2Flex?
Just like the dozen similar sites that I have reviewed, Earn2Flex is also calling themselves the #1 influencer network to make money online.
How all these sites work is that you are supposed to share your referral link on social media, and you earn whenever someone joins the platform. In Earn2Flex, you can also get paid to download apps and complete surveys.
Surprisingly, the earning rates for tasks are more realistic when compared to other similar sites, but they are still way too good to be true for a few reasons.
Here are the earning rates:
$5 for every person who signs up
$1 for every click on your referral link
$5 per app installed (3 available)
$10 for YouTube, Facebook, TikTok, and Instagram posts
At first sight, this looks good on paper and is somewhat believable, but it is actually not.
First of all, Earn2Flex is a free platform to join, and there are zero paid services inside that would enable such high commissions to be paid for the users.
If someone would do every task on the list, that would be totaling around $60 per single user.
That's an awful lot of money to pay for what work? A couple of social media posts. How does this benefit Earn2Flex monetarily? They are only getting more users that also have to be paid $60 or more.
Where does Earn2Flex get the money to pay for its users?
There is more to this scheme than what meets the eye.
Let's have a look at how legit Earn2Flex really is.
Is Earn2Flex Legit?
The truth to be told; Earn2Flex is not legit.
These so-called "#1 influencer networks" — which there are hundreds of — are simply luring people to join the platform for their own gain.
They promise huge payouts for little work, and this kind of talk resonates with people who are financially in a tough spot.
Another target audience for them are teenagers who probably don't know what they are getting into. Just take a look at these tags users are supposed to include when they post a promotional YouTube video:
It is probably hard to see so let me type some of the tags:
"kids earn money online"
"kids earn cash online"
"make money as a teen"
"jobs for teens"
"teen online jobs"
Just think of how unethical it is to target teenagers with over-tuned income claims.
I haven't said it yet, but here it goes:
Earn2Flex belongs to a scam circle that is known for not paying when users are requesting their payments.
So far every "#1 influencer marketing network" that I have reviewed is following the same scam formula.
How it works is that they create the same platform with different domain names, and that means it is almost impossible to bring down the scam network.
When one site goes down, 50 more are running the same scam.
Here are some of the scams belonging to the same network:
In the rest of the post, I want to show you some proof of how unethically these platforms operate and scam people.
Red Flags Of Earn2Flex
#1 – The Domain Age
When you see someone call themselves #1 influencer network, you'd think they have been around for many years to achieve such a title.
Surely, Earn2Flex mentions that they have been around since 2016, but would you be surprised if it was a lie?

Well, that's what it is — a big lie.
Let's take look at this image that shows the age of their domain.

As you can see, Earn2Flex is created in 2020 and is only around 5 months old at the time of writing this.
And that is only the first lie, there's plenty more.
#2 – Unknown Owner
Whenever I have reviewed a product that has unknown owner, 95% times it has been a scam or the product has had some major flaws.
If Earn2Flex truly was the #1 influencer network, surely the owner would not be afraid to introduce him/herself after creating such a popular platform.
Since the owner is unknown, there is something wrong with the platform that the owner does not want to be associated with.
I've already said it, but the reason why the owner does not want to show the face is because Earn2Flex does not pay the users.
#3 – Fake Payment Proofs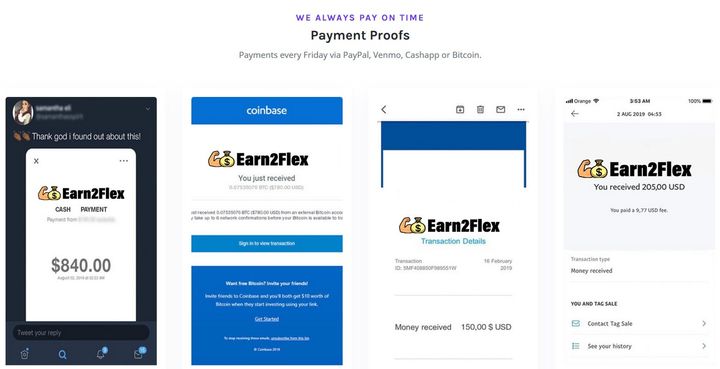 When there is one lie, there is always another.
And this one is about the fake payment proofs.
Yes, they are all fake.
Just like in the other similar platforms that have called themselves "#1 influencer network". They simply cycle these fake income proofs from one to another.
Remember how I showed you the domain age of Earn2Flex and how it was only 5 months old?
When you take a look at these "payment proofs", you can see how they are all from 2019, meaning they are all fake.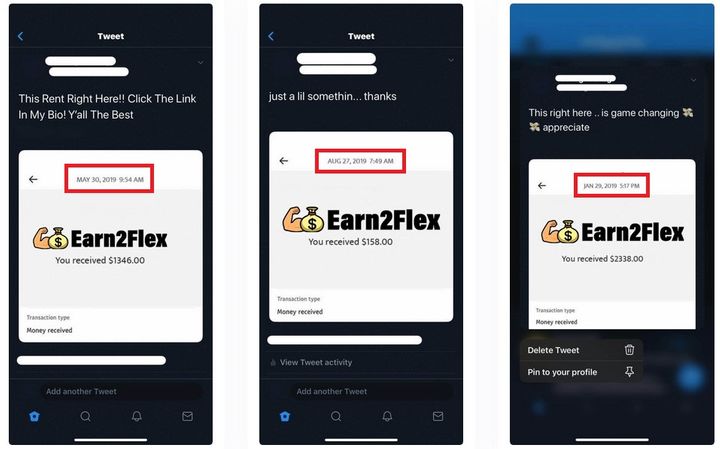 These fake payment proofs are there only to encourage people to join. Not many people actually check how legit they are.
#4 – The "#1 Influencer Network" Scam
There's a ridiculous amount of these #1 influencer network scams out there, so I wanted to show you some images of them.
Pretty much all of them have the same promises:
"#1 influencer marketing network"
"Earn $200-$500 today"
"Earn $10-$30 for every friend invite"
Here are some of them listed:
CashForShare
JustEarn
KashTree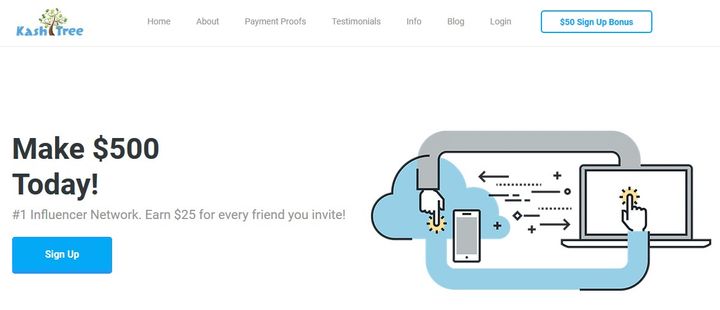 JustOG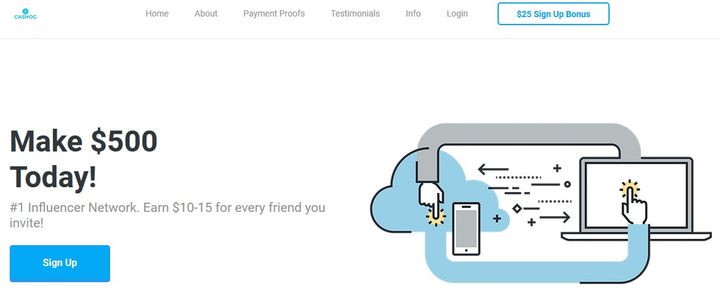 Tap2Earn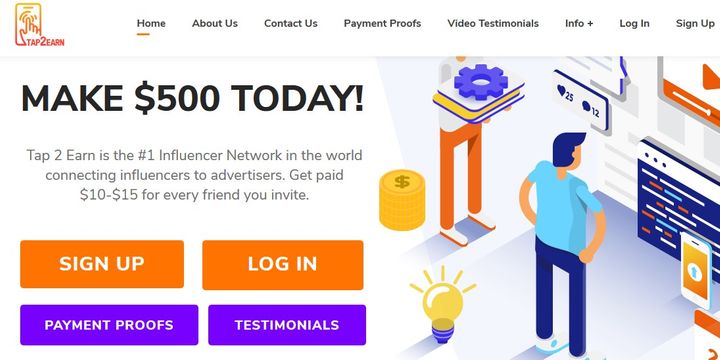 Click4Kash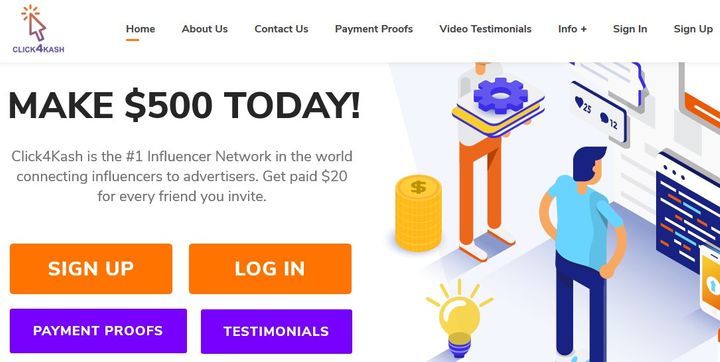 Tap2Cash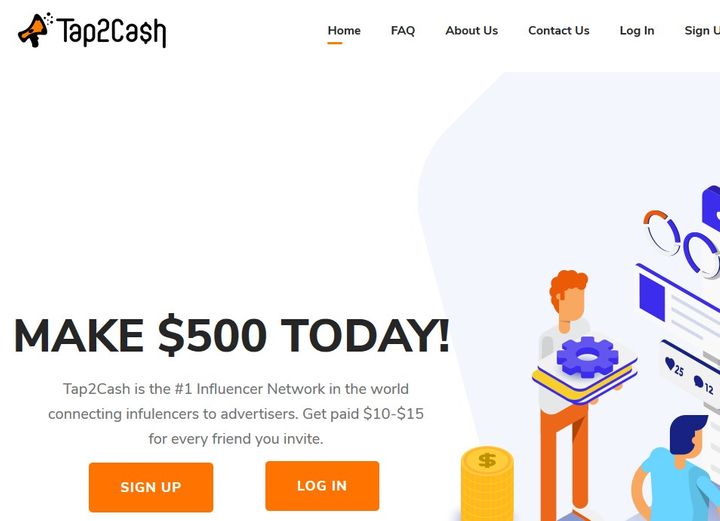 Can You Make Any Money With Earn2Flex?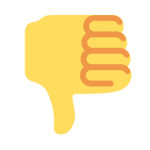 You can't make any money with Earn2Flex because they won't pay you.
When you try to cashout your earnings, you are placed into a 30-day manual review process, and at the end of it, your request will be declined or postponed indefinitely.
They are basically accusing you of fraudulent activity and therefore decline your cashout request. They do this even if you didn't cheat at all.
It's 30-days because they are hoping you will forget the whole cashout request and just move on.
Pretty unethical if you ask me.
How Does Earn2Flex Really Work?
You might be wondering why are they doing this, and how are they benefiting from it?
It's all about making money for the owner.
Let me explain how the scam works:
Step 01- Traffic
The first step is to lure people into joining the platform by promising huge payouts for little work.
This obviously raises interest among people who are financially in a tough spot.
Once people join, then the users are instructed to promote Earn2Flex in social media platforms for a commission of $10 for every friend referred.
The users are basically advertising the platform for free in hopes of earning something in return — which doesn't happen.
Since the income claims are so absurd, it causes a lot of interest among people, and in the image below, you can see how big heights a scam like this can reach: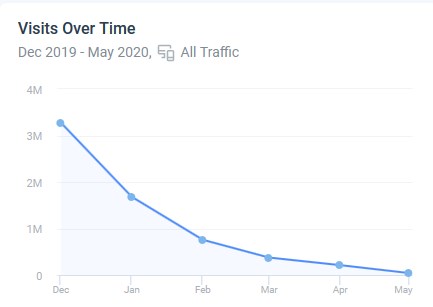 That's close to 3.3M monthly pageviews, and many potential people scammed.
Next, I'll explain how Earn2Flex makes money with all this traffic.
Step 02 – Making Money With The Traffic
One way Earn2Flex makes money with all this traffic is banner advertisements on the website.
When people click on those ads, the owner makes money.
If you have 3.3M visitors per month like one of these sites had, that can amount to a pretty big pile of cash already.
The second method is the offer wall inside Earn2Flex, where you can download apps.

These apps are provided by 3rd-party market research companies, and whenever a user downloads one of these apps, the market research companies will pay Earn2Flex.
In any legit rewards site, you would receive part of those profits, but Earn2Flex keeps all the profit for themselves by not paying their members.
It's a sad truth, but people who join Earn2Flex or other sites belonging to this scam network are working and advertising these scams for free without receiving anything in return.
Learn How I make Money Online
There's definitely a lot of scams and fluff that does not work when it comes to making money online, but fortunately, there are legit options available.
I promised to show you how I personally make money online every day with a method that's actually legit.
I do something called affiliate marketing.
It's an easy and cheap way to start making money online, and if you have good work ethics you can even earn a full-time income from it.
If this is something that interests you, I suggest you take a look at this 10-day video training course that will teach you everything necessary about making money with affiliate marketing.
It's completely free to join.
It is also the same course that I started with a few years back without any prior experience in affiliate marketing, and I highly recommend it.
Thanks for reading my Earn2Flex Review.
If you have any questions feel free to comment, and I'll gladly answer them.
Talk soon.