Welcome to my Fast Profits Online review!
Earning money online is absolutely possible for everyone but can you generate fast profits like this product's name suggests?
If you are looking to make $1182 on your first day as a beginner like that old man below, then I have some bad news for you;
It's not going to happen.
I see unrealistic income claims like this every day on similar products but let's take a look if this one has anything of value to offer.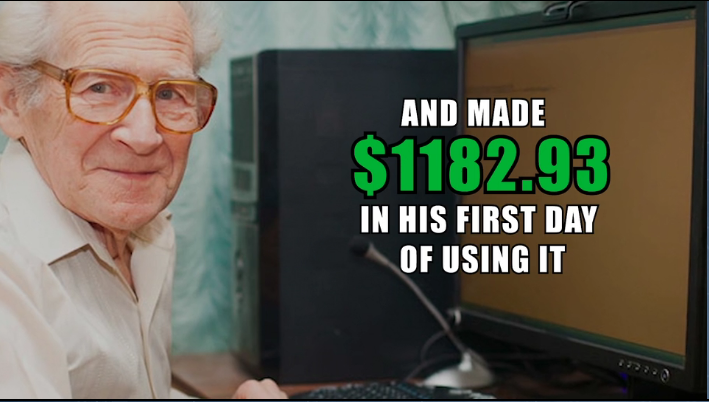 ---
Fast Profits Online Review Summary
Product Name: Fast Profits Online
Owners: "Michael Carson"
Product Type: eCommerce, Dropshipping
Price: $37 + upsells
Best For?: No one
Summary: Fast Profits Online says that you can make up to $1700 per day by using a weird "trick". After paying the initial price you'll be guided to a rollercoaster of upsells and downsells, ultimately leading to a PDF-file and videos containing a very basic introduction to making money with eCommerce. The sales page is only selling dreams of fast profits accompanied by fake testimonials and unknown owners.
Rating: 1/10
Recommended: No
---
What Is Fast Profits Online?
Fast Profits Online is a product that offers to reveal you a weird "trick" on how to earn up to $1700 per day.
It seems appealing at first but there are many red flags as we dig in further.
The program was launched in November 2018 and is founded by a guy called "Michael Carson".
Now we already get to the shady part of this product because Michael Carson is just a pen name and the picture of the owner is a paid stock photo, meaning it's fake.

If you can't advertise a product with your own face, that often means something fishy and shady is going on behind the scenes.
Closer Look At Fast Profits Online
Let's get into closer details next and talk about the costs and how the system works.
How Much Does Fast Profits Online Cost?
The starting cost of this system is $1 and after a week you'll be automatically billed for $37. After paying you'll be guided to a rollercoaster of upsells and downsells before you get access to the actual product.
The first upsell is a platinum version for $197 and if you don't want it, the price magically drops to $97.
The second upsell is called "leverage profits trick" and this also costs $197.
The whole package costs over $400 and it doesn't even end here.
You'll soon find out why.
How Does The Fast Profit Online Work?
So after that overwhelming promotion train, you finally get access to the product and you will be presented with a 28-page PDF-file and a couple of short video guides.
These files are about making money with eCommerce, to be more specific, it's about the dropshipping model which I've personally also used to make money online.
Sadly the guides inside are just a very basic introduction to eCommerce and surprisingly do not contain any mindblowing trick to make you rich.
The sales pitch was very focused on you making absolute bank and extremely fast but this is not the case here.
There is no trick inside the product.
Dropshipping is a legit business model but just like every other online business, this one also requires work, testing, failing, adjusting, and patience before you start seeing any success.
This business also relies on getting traffic through paid ads, and when starting out it's recommended to have around $1000 budget to test what works and what doesn't.
As you can imagine, it's not the cheapest way to start an online business and definitely not the best option for complete newbies. As a beginner, chances are that you will burn up $1000 for ads pretty fast without any significant returns.
Been there done that.
Fast Profits Online gave the impression that you can make money very effortlessly and quickly but none of these important details or additional costs were mentioned before spending actual money.
All of the information and much more can be found for free in any decent dropshipping blog or YouTube.
There is no reason to pay astronomical sums for information like this.
Who Is Fast Profits Online For?
I wouldn't recommend this to anyone because the whole product is luring you to swipe your credit card in exchange for information that can be easily found for free.
Pros Of Fast Profits Online
If there would be more pros to this system, I would be more than willing to list them but as you can see, I had a hard time finding any.
#1 – Refund Policy
The only positive side of this product is the guaranteed money back for 60 days.
We can only thank ClickBank for that.
Cons Of Fast Profits Online
#1 – Fake Testimonials
Most, if not all of the product users in the sales video are paid actors from a website called Fiverr. A place where freelancers can sell their services like these testimonials.
Fake testimonials are a big red flag for any product and most of the time indicates the "income proofs" are not real.
Here's a picture of a paid actor from the sales video and his offered service in Fiverr.
The website also had a banner of famous brands like Forbes, NBC, and Entrepreneur to establish trust but I'm certain that none of these listed companies support or acknowledge this product.
#2 – Unknown Owner
My guess is that the owner wants to keep his identity a secret so he/she can keep creating more similar products in the future.
It's not the first time I'd see it happen.
It's a sad cycle because people — especially elderly — actually fall for these kinds of products and the unknown owner can just repeat the cycle over and over.
#3 – Unrealistic Income Claims
It's a common practice for products like this to sell dreams of big cash stacks and how you can make money on the first day.
This is not how it works in the online world and it's almost impossible for complete beginners to make money on their first day.
It's entirely possible to make $1700 a day but that requires an established brand and to get there you will need time.
#4 – Multiple Upsells
I guess the price of $37 is not too bad but the upsells are ridiculous.
If you were to buy everything, the total cost would be over $400 which is an absolute steal for the information it provides.
When I got started with dropshipping, all I needed was free blogs and YouTube to get all the necessary information.
Is Fast Profits Online A Scam?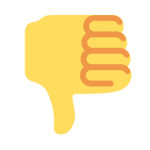 In a sense, it is not a scam because you get "something" for your money, but if you look at all the misleading advertising, fake testimonials, unknown owner, and multiple upsells, it sure feels like one.
There are just way better options out there than this and that's why I can't recommend it to anyone.
With these details, I will leave it up to you if you want to call this a scam or not.
Do Completely Opposite What Was Instructed In The Video
Making money online is possible for everyone but you need to throw those expectations of quick riches to the trash bin.
There are no shortcuts to big profits in online business but they are achievable for everyone given enough time.
If you want to build an asset for yourself that actually pays for years to come, then I would recommend none other than this amazing online course that is free to get started.
It's the same one I used when I was a complete beginner.
I'll leave you to it.