Today we're going to review a product that claims you can earn up to $2000 per day with their "world's first-ever done for you affiliate profit system".
I've heard that one before but maybe this is something different.
The sales video seems very convincing but is it realistic to make lots of money without any effort?
In this review, you'll find out if any of the "seemingly good" claims are true and most importantly;
Is Az Formula a scam?
I can already hint that there was something fishy that I didn't expect at all.
Ready to get started?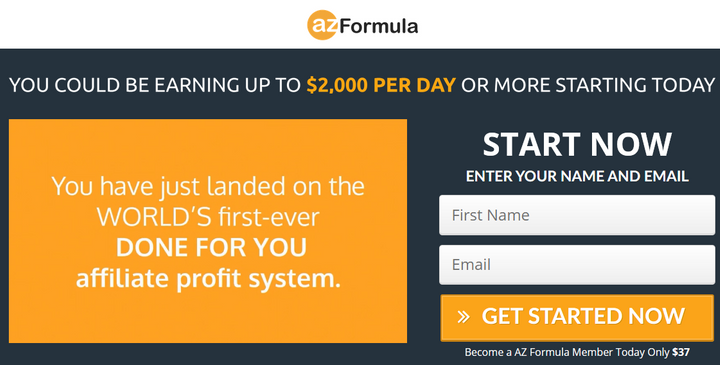 ---
Az Formula Review Summary
Product Name: Az Formula
Owners: "Steven Cook"
Product Type: Affiliate Marketing Guide on Amazon Associates
Price: $37 + two upsells totaling $494
Summary: Az Formula is an Amazon affiliate marketing guide that is most likely stolen from Techtage.com and sold under this product's name. You also get an eCommerce theme that doesn't fit the affiliate marketing concept that is taught in this course. This product has many red flags and doesn't give you the promised results.
Rating: 1/10
Recommended: No
---
What Is Az Formula?
Az Formula is a ClickBank product that is supposed to be an automated "one-click" system to make money online.
The sales video also said that this product has made 142 ordinary people over $10,000 every single week, which I find hard to believe after researching this product.
The whole sales video has some contradicting information that makes me question if the creator has any idea what he is trying to sell.
At first, he is presenting his "affiliate profit" system which is presumably referring to affiliate marketing but soon enough he is talking about eCommerce which relates to a completely different business model.
I run both affiliate marketing and eCommerce businesses and even I have a hard time understanding what I'm watching here.
Anyways, this sales pitch had multiple red flags and one of them is the fact that you have no idea what the actual product is by watching the sales video.
It's a common sign when you are dealing with a fishy product.
Overall, this product has similar red flags with these products I have reviewed in the past:
Closer Look At Az Formula
Next, I'm going to show you what kind of material the actual product contains and if it has any value in helping you make money online.
What I found was disappointing and I think I also found the main reason for that.
Let's first see what's inside.
What Do You Get With Az Formula?
What you get is definitely not a system that automatically makes you money with "one-click" as such systems do not exist.
Otherwise, we would all be millionaires already.
So, it's not a big surprise that this secret system is just a bunch of PDF-files without any proper instructions.
The Website
First, you get a website theme which is actually an eCommerce theme rather than one designed for affiliate marketing.
This eCommerce theme is designed in a way that people can make transactions just like in any online store but the actual training is about affiliate marketing which requires none of those features.
Then you get some basic tutorials on how to set up the site and manage the pages.
The Amazon Affiliate Guide
After setting up the website you get to download a PDF file called Az Formula Main Guide which is 40-pages long and has useful information about Amazon affiliate niche websites.
This is the only piece of material in this product that contains any kind of meaningful value for beginners.
It's not an instruction guide to make money but it could be an eye-opening read for someone new to affiliate marketing.
Is it worth the $37?
Well, no because you can find this same guide for free on one particular website which I will talk about soon.
A Bonus eBook
As a bonus, you will get an eBook called Amazon Affiliate Blueprint and it's a boring 48-page guide about setting up your Amazon Associates account.
You can buy the same eBook for $10 in Amazon Kindle so it's not anything amazing.
Creating an Amazon Associates account is not rocket science, you can trust me on that.
Are There Upsells With Az Formula?
You face upsells as soon as you pay the starting price of $37 and you don't even get to see the product before these jump on your face with big "buy now" buttons.
You can see the price structure below:

As you can see there is $494 worth of upsells and most likely they are just additional PDF-files without much value.
Yesterday I was reviewing another similar product and the $197 upsell contained the same $10 eBook that comes as a bonus in this product. This is the common quality you can expect from these upsells.
The Truth About Az Formula
The main guide is pretty comprehensive and informative compared to the rest of the material you get but that's for a good reason.
The reason why this is the only valuable piece of content is that it's most likely stolen.
Yup, you can find the same guide from word to word in Techtage.com.
There are two options here:
Someone stole the guide and is now selling it under Az Formula.
The owner of Techtage is selling low-quality products in ClickBank
It's more likely that someone stole the guide because the owner of Techtage is a somewhat reputable person judging by the testimonials.
Who knows what is really going on behind the scenes.
What I know for certain is that this product is not some magical solution to make money with a push of a button.
This is not even a "system" like it was advertised, it's just a collection of guides explaining concepts.
Two important aspects are missing completely;
There are no step-by-step instructions or a community which both are essential for beginners to become successful in affiliate marketing.
The Red Flags Of Az Formula
#1 – 15 Minutes Of Work Per Day
There are no such money-making "systems" that would require only 15 minutes of work per day. This is not how online businesses work.
Whatever business model you choose, you are going to need to put some real work hours behind if you want to make money.
It's a business after all.
#2 – Sales Video Doesn't Show The Product
I see this almost every time I do a review on a ClickBank product and it's a sure-proof sign of a low-quality product.
There is always something wrong with the product if the sales video doesn't show what it is and how it works.
That's why they always concentrate on showing you fancy cars and luxury lifestyle to draw your attention away from the actual product.
#3 – Fake Testimonials And Owner
The people praising the product in the sales video are hired actors from Fiverr.
It's hard to tell the difference if you are new to products like this but I review these every day and I can tell you that I have seen every one of those actors in other sales videos.
And since the testimonials are fake, so is the photo of the owner.
You can find this picture on Shutterstock and it's a sign that this whole product is based on lies.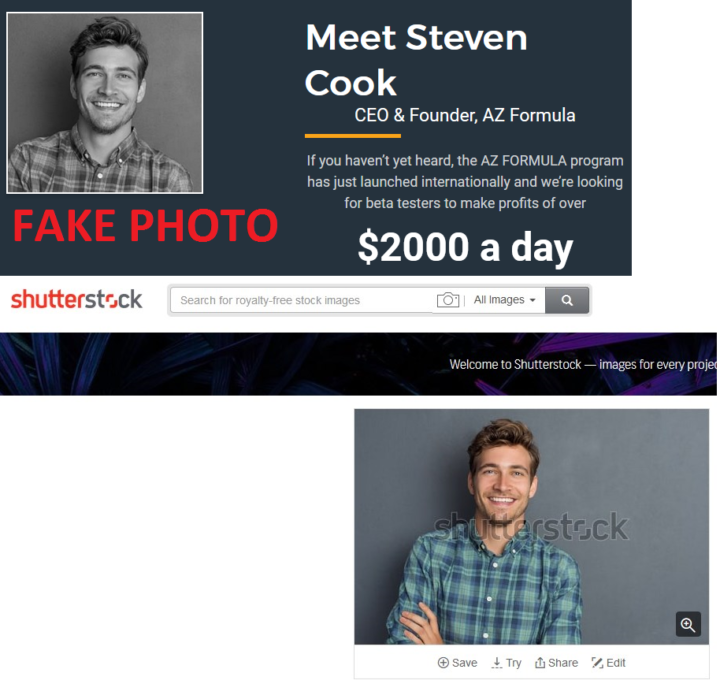 #4 – Fast Money Claims
Making fast money online as a beginner is not realistic because you lack the necessary skills.
It usually takes months before you start seeing any kind of results and anyone who promises fast profits is most likely deceiving you.
Even if a professional marketer would start an affiliate marketing website, It would take a good chunk of time before it would see any results.
That's just how most online businesses work.
#5 – Deceptive Marketing Tactics
This whole product is deceptive but for the sake of an example, I'm going to use the member limits.
The whole talk about being able to take in 10 new people only is BS because this is a ClickBank product and they don't have limits of how many copies they can sell.
It's just a way to raise urgency in the customer — a common marketing tactic.
Is Az Formula A Scam?
Yes, in my opinion, this product operates like a scam.
You were promised an "automated done-for-you system" to make numbers like $10,000 per week but you only get a PDF-file explaining a concept.
On top of that, you can find this same PDF-file for free in Techtage.com which makes me believe it is stolen and sold under the name of Az Formula.
You also get an "affiliate" theme with this product but it's actually an eCommerce store theme which makes no sense.
All the training is about affiliate marketing so why would you give an eCommerce theme for your customers? This further makes me think that the owner is just clueless and stole the material.
This product is full of red flags and lies so I recommend you stay away from Az Formula.
Learn From A Legit Source
Products like these rarely equip you with enough information to make any money but it doesn't have to be that way.
If you are new to making money online, you will need proper step-by-step instructions and a supportive community where you can ask questions if you get stuck.
You too can start learning the ropes of affiliate marketing in this amazing training platform that is free to join.
It has beginner-friendly step-by-step instructions and thousands of other similar minded people ready to help you.
You can also get my personal support for free on the platform and ask me anything about this business for free.
Thanks for reading my review and let's see on the other side.
Talk soon.