Does CB Wealth really have the potential to help you earn up to $25k in the first 30 days?
The offer might sound tempting to someone new to the vast world of "make money online" products but in reality, it's way too good to be true.
In the online space, the words "lots of money", "easily", and "fast" never go well together.
Anyways, let's see what this product has to offer and find out is CB Wealth a scam or not.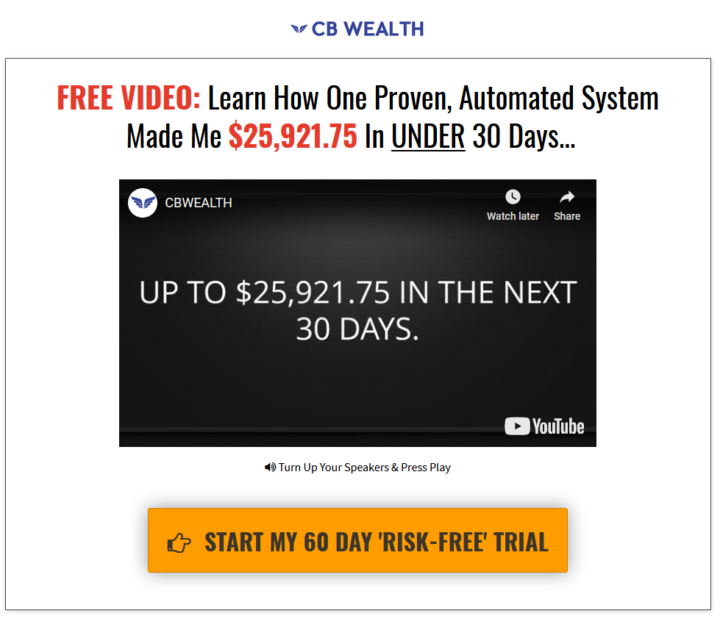 ---
CB Wealth Review Summary
Product Name: CB Wealth
Owners: "James Robertson"
Product Type: Affiliate Marketing Course
Price: $37 + upsells totaling up to $471
Summary: CB Wealth is an affiliate marketing course teaching you how to get started promoting products as an affiliate with ClickBank and Amazon. The training is very basic and lacks proper step-by-step instructions and support group which are essential for beginners. It's hard if not impossible to make the advertised money sums by following this training and you are completely under the creator's mercy because you don't own the business you practice in this training.
Rating: 2/10
Recommended: No
---
What Is CB Wealth?
CB Wealth is an affiliate marketing course on ClickBank teaching you how to make money online with the following methods:
ClickBank affiliate
Amazon affiliate
Amazon FBA (Fulfillment-by-Amazon)
The course was created in February 2019 by "James Robertson" who is allegedly a writer, researcher, and online business expert.
Funnily I have seen those same titles in the same exact order in a similar ClickBank product sales video that ended up being a rather low-quality product but who knows maybe it's just a coincidence.
Those titles are just one reason why I believe James Robertson is just a pen name, other reasons being that there isn't any information or pictures related to him and the product. James Robertson seems to be just a name on the paper.
Also, the sales video used tactics I have seen many times in other shady products. The emphasis was on selling you a dream and what you want to hear rather than telling you about the product.
I have reviewed fairly similar products in the past:
Closer Look At CB Wealth

CB Wealth teaches you affiliate marketing which is a business model where you promote products made by other people and earn commissions for each successful sale.
It's a fun and good way to make money online but requires some real work to make it work.
Additionally, you need proper step-by-step instructions and a support group if you are new to affiliate marketing.
Unfortunately, this product lacks both.
What Do You Get With CB Wealth?
Once you pay $37 you get access to the member's area which contains a bunch of PDF-files and some video training.
Most of the video training is only 1-3 minutes long so I wouldn't call those very comprehensive guides.
And I can already tell you that there is not $1500 worth of bonus content like it was advertised in the sales video.
At first glance, it might look like extensive training but most of the content is premade material to use in your "business". Keep in mind that hundreds of other members are using the same material in their effort to make money.
Just so you know; copying someone else's work to make money rarely works.
CB Wealth Course
This course teaches you the basics of promoting ClickBank products as an affiliate.
Part 1 – CB Wealth Course:
Lesson 1: Intro
Lesson 2: Cheatsheet
Lesson 3: Mind Map
Lesson 4: Resource Report
Lesson 5: Ready-Made Sales Page
Lesson 6: Sales Video
Lesson 7: Legal Pages
Lesson 8: Graphics
Lesson 9: Articles
Lesson 10: Banners
Lesson 11: Email Swipes
Part 2 – CB Wealth Video Training:
Video 1: Introduction Video
Video 2: How winning ClickBank Marketers choose niches
Video 3: How do 3-layer conversion systems work for ClickBank marketing
Video 4: ClickBank marketing overview
Video 5: How to select a niche product to promote
Video 6: How to get your niche target keywords
Video 7: Quora answer marketing
Video 8: Comment on blog posts that use Facebook comment
Video 9: Forum marketing
Video 10: Automated twitter marketing
Video 11: Automated Facebook marketing
Video 12: Conclusion
Part 3 – CB Wealth Website:
Part 4 – CB Wealth Audio:
Lesson 1: Audio
Lesson 2: Website
Lesson 3: Graphics
CB Wealth 1.0
This is the second course of this product and here you learn how the Amazon affiliate program works and the last part has one PDF about Amazon FBA which is about selling your own products.
Part 1 – CB wealth AZ
Lesson 1: CB Wealth method 1.0
Lesson 2: Cheatsheet
Lesson 3: Mind map
Lesson 4: Resource report
Lesson 5: Sales page & thank you page
Lesson 6: Sales videos
Lesson 7: Legal pages
Part 2 – CB Wealth CPA
Lesson 1: CPA
Lesson 2: CPA advanced
Part 3 – CB wealth traffic course
Lesson 1: Traffic course
Lesson 2: Checklist
Lesson 3: Resource cheat sheet
Part 4 – Cb wealth FBA
Are There Upsells With CB Wealth?
There are three upsells after the initial price and below you can see the price structure: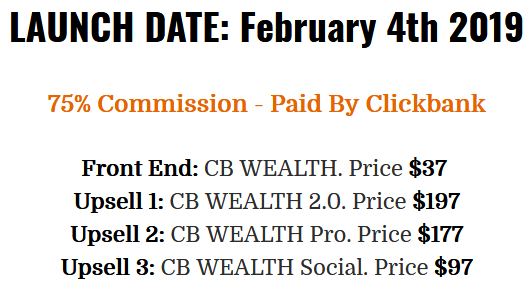 With these upsells you get more PDFs and training videos about:
Marketing in Instagram, YouTube, Facebook, Snapchat, and Twitter
Getting traffic to your site
Building an email list
Bing Ads
If you wanted to unlock the full product you would have to pay over $500 to do so.
Are the upsells worth the money? No, they are ridiculously overpriced for the value they offer.
You are only going to get more of those short videos and PDF's with basic information.
To be honest, most of that information can be found for free in any decent marketing blog.
How Does The CB Wealth Work?
So you have two major options here and in my opinion, they are equally bad.
The first one is the ClickBank affiliate route and here you are supposed to set up a website that is hosted on CB Wealth's own servers. All the needed content is premade and you are only required to "plug-and-play" everything.
Next, you are supposed to get traffic to the website by answering people's questions in forums and Quora and leaving a link to your website in the post. This is called referral traffic and in my opinion, it's not the most optimal way to get traffic. Most forums and people do not like it when you go out and self-promote.
Twitter, Facebook and paid ads are also used to drive traffic but some of the training is behind paywalls.
Once you have the traffic coming to "your" website and they click on your unique affiliate link leading to the actual product page and buy the product, you then earn a commission and money is made.
The Amazon affiliate option follows the same route as above but the affiliate links lead to Amazon product pages rather than ClickBank ones.
It's Not As Easy As It Sounds
My problem with these methods is that you are using the same material on your website what hundreds of other people are using. This doesn't make you stand out from the crowd and earning money this way is extremely hard.
You can't just make money by pressuring people to click on your affiliate links. They are real people after all and you need to establish trust before they buy through your links.
Regurgitated content doesn't work on affiliate marketing.
Another important matter is that you don't own any part of the business and you don't learn anything by copying someone else.
Since the materials and websites are owned by CB Wealth, you run the risk of losing everything overnight and you can't do anything about it. I have seen that products like this do not last very long and some of them disappear after 2 months.
And to be honest, CB Wealth doesn't teach you enough to become successful.
In the sales video, they said that this product has what you need to get started and that's about right.
FBA (Fulfilment-By-Amazon)
The third money-making method was supposed to be Amazon's FBA which is a way to sell your own products and Amazon handles all the shipping and customer service. You would only have to deliver your products to the nearest Amazon fulfillment center.
Since there's only 1 PDF file explaining the process I can already guess what it is because I have seen similar guides before.
Most likely they want you to buy stuff from your local store and sell it for a higher price on Amazon and that's it.
I guess it's a good option if you live near a fulfillment center — most people don't.
The Red Flags Of CB Wealth
#1 – Unrealistic Income Expectations
I wouldn't be surprised if a beginner made zero cents with these instructions because they lack proper step-by-step guidance and support.
At least you are not going to make $25k in the first 30 days that's for sure.
These sales videos use big numbers because that's what the customer wants to hear and it appeals to specific target audiences who are desperately looking to make money.
Money sums like that are possible with affiliate marketing but only when you have established a solid brand.
#2 – The Income Testimonials Lack Real Proof
The income testimonials in the sales video were just numbers and names on the screen which doesn't prove anything.
Considering the quality of the training, I don't believe beginners can achieve similar results as the sales video showed.
Sometimes these product creators go as far as paying for a spokesperson on Fiverr to craft a fake testimonial to use on the sales video so this wouldn't be the first fake income testimonial out there.
#3 – Deceptive Marketing Tactics
The fact that you have no idea what the product is before you pay is a big red flag.
This is a common tactic to cover up for a low-quality product. The way they do this is by selling a dream what you could achieve if you buy this product rather than presenting the actual product.
There was also a mention of no hidden fees but to unlock the full product you need to pay over $500 and that is a hidden fee in my opinion.
Another deceptive tactic was when he said that these memberships will sell out very soon which is not true at all. ClickBank products do not have sell limits and it's a digital product after all so it can't run out of stock.
#4 – Unknown Owner
We have no idea who the actual product creator is because the spokesperson is most likely hired and there is no other information about the owner.
This happens to be very common with some of the low-quality ClickBank products out there.
Some product creators want to stay anonymous so they can keep creating low-quality products whose sole purpose is to get your credit card out.
Is CB Wealth A Scam?
No, it's not a scam since it gives you what you need to get started in affiliate marketing.
However, a guide on getting started is not enough to make you any significant money and definitely not $25k in the first 30 days.
This product lacks proper step-by-step instructions and a support group where you can ask for help if you get stuck.
Both are essential to success and they are missing.
The product has low entry-cost but to unlock the full product you need to pay $471 and the value you get for that price is not enough.
Overall, I don't recommend this product and the way it teaches you affiliate marketing because there are better and cheaper alternatives with greater results.
Affiliate Marketing The Right Way
CB Wealth is right about one thing and it's the fact that the affiliate marketing industry is growing bigger every year and that means more money opportunities for affiliates.
Affiliate marketing is a legit business model and it's possible to make some serious cash but it requires some effort, patience, and consistency on your part before you see any return.
Also, it has never been easier to start an online business than now because managing your own website has become something everyone can do without coding knowledge.
That's why it's important to create your very own asset that you have full control over and you don't have to worry about losing your business overnight.
I personally started my affiliate marketing online business without any prior experience but I got this far only because I had the best training and support group out there.
This training platform I used is free to join and you get your very own website running on the first day already!
You learn all the essentials before you even have to pay for further training. This is the right way as you can judge by yourself if the training is worth paying for.
Thanks for reading my review and I'll leave you to it.