Without a doubt…
Traffic is the golden elixir that you must have before you can even hope to make any affiliate commissions.
That's why I'm all ears when it comes to new traffic acquisition methods, and as you might have guessed — Commission Blaster is offering us exactly that.
I'm a big fan of affiliate marketing, and you too probably want to know if this product is worth getting so let's find out.
In this Commission Blaster review, you'll learn:
What is Commission Blaster
How does it work (& is it true what they're saying)?
Are there hidden costs?
Can you make any money with their methods?
Is it even legit to begin with?
I have to admit, I wasn't too impressed with what I saw inside Commission Blaster so I also want to show you an alternative if you decide this product is not for you.
Also, I'm not affiliated with Commission Blaster (unlike many other reviewers) so you can expect my real opinion.
Let's see a quick summary before we dive into the review.
Commission Blaster Review Summary
$27 + $598
Earning Potential

User Experience

Ease Of Use
Commission Blaster TLDR;
A system with pre-made campaigns that you're supposed to share on "secret" social media platforms (FB, Pinterest, Reddit, etc) to get traffic and earn commissions
Hyped sales page
Exaggerated income claims
Expensive upsells ($598 in total)
Ineffective traffic method (& will likely get you banned)
You're expected to sign up to 30 social media platforms
What Is Commission Blaster?
Commission Blaster is a system that comes with pre-made & customizable "ad campaigns" that you are supposed to share on "secret" social media platforms to earn affiliate commissions.
Sounds great on paper but…
In reality, these "secret" social media platforms are Facebook, Twitter, Pinterest, Reddit, etc, and you can expect to get banned if you post direct affiliate links to any of them.
The product is allegedly created by some dudes called Chris X, Rich W, and Vivek G, but the product is actually sold by someone called Richard Williams on WarriorPlus (a place I don't recommend buying anything from).
In other words, Commission Blaster is made by a serial product creator and his 19 products have an average rating of 2.5 out of 5 stars.
Overall, this product reminds me of other low-quality products like Passive Profit Pages, Beast Funnels, and Affiliate Bots 2.0 (which is also created by "Chris X").
How Much Does It Really Cost?
You can get access to the base product with $27 (or $12 if you try to exit the site) which is supposed to be a discounted price of the original $997 tag.
Although, I'm pretty sure the product has never been sold at that price.
Oh, and the "price increase" timer is fake and just resets when it hits zero or when you refresh the site.
After you buy the product, there are 6 more upsells and downsells before you get access to the member's area (this is never a good sign).
Downselling means they're trying to offer you the same upsell but with a lower price.
Here's what the upsells are called:
Unlimited Edition $29
300x Edition $39
Autopilot Edition $39
Done-For-You Edition $197
Reseller Edition $197
Mega Bundle Edition $97
In total, there are $598 worth of upsells.
Are they worth it?
If the quality is anything like the base product, I would stay away from them.
One good thing is that there's a 30-day money-back guarantee (not 60 like the sales page says) if you start regretting the purchase.
How Does Commission Blaster Work?
For starters, this product is for those who are already familiar with affiliate marketing as you need a ClickBank account (which is free to create).
If you're a beginner who just wants to earn some money; this product won't teach you how to get started (for that you can go here).
Let's start with a small summary of how this is supposed to work.
You choose a niche from a list
You select a ClickBank product to promote from a list (or insert any link to share)
You create an ad from pre-made headlines, CTA's & images related to your niche
You now have an image ad that has your affiliate/website link
You are given a list of social media platforms to sign up & where you can share your ad.
And no, this has nothing to do with buying paid ads.
You are simply creating a regular social media "post" that happens to look like an ad and contains your affiliate/website link.
Step 01: Choose a niche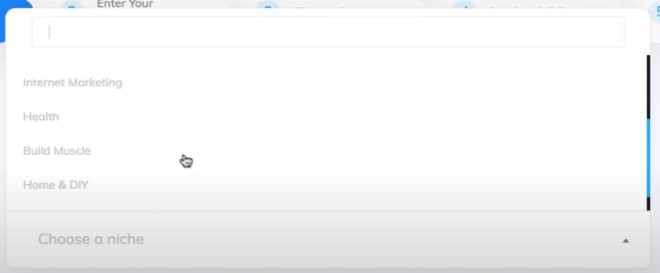 In the first step, you have to choose a "niche" from 8 options:
Dieting
Make Money
Affiliate
Internet Marketing
Health
Build Muscle
Home & DIY
Pets
Every niche has its own pre-made ad headlines, call-to-actions, and images.
I can't help but mention that some of these are not even "niches".
Most of them are industries and there's a big difference.
Imagine if you were in a dog-related niche and you bought this product to get more traffic. You'd then select the "Pets" niche from the list and all the ad material would be for cats.
That's how messed up this is.
Step 02: Select a product or any link to promote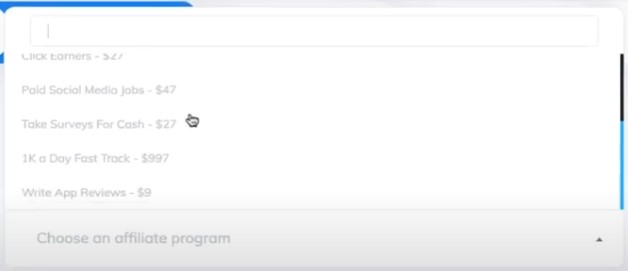 Once you've selected your niche, you have to either:
Select a ClickBank affiliate program from a list or
Enter a custom URL you want to promote
Basically, when you sign up for Commission Blaster you have to insert your ClickBank ID in the settings for the first method to work.
It means your ClickBank affiliate links are automatically inserted into the ads (depending on what affiliate program you select from the list).
Step 03: Create an ad
Next, you have to build the ad itself that gets shared across social media.
As I said, you can build the ad from pre-made headlines, CTA's, and images:

Every niche has around 2-4 images you can choose from.
And you can bet everyone and their mom are using the same text & images in their ads so yours won't be anything unique (unless you edit it manually).
Step 04: Preview & edit
Here you can upload your own image or edit the ad text before you start sharing it on social media.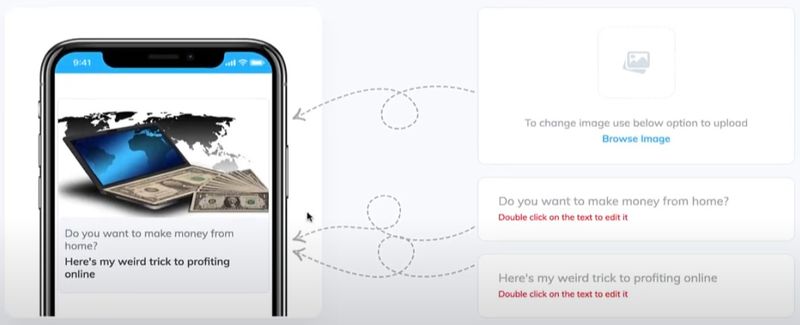 Step 05: Share on social media
The last step is to sign up to all 30 social media platforms and get bann… uh start sharing your ad so you can totally make tons of sales.
And here I thought it'd only take 1 click as they advertised.
That's the whole method in a nutshell.
Let me now tell you what I think about this mind-blowing system.
Can You Make Any Money With This Method?
Where to even start…
There are so many problems with this method.
Let's start by addressing some claims on the sales page:
"Blast any link or website with instant free buyer traffic which instantly turns into real commissions".
The problem here is that people don't go to social media with the intention of buying stuff. They go there to chill.
Sure, you can find buyers on social media, but your ad copy needs to be better than what the pre-made ones are.
This method also inserts direct affiliate links into your ad image and you'll 100% get banned for doing that on most social media platforms.
And since these are not even real paid ads — they are not going to have any meaningful reach unless you already have an audience to promote for (& if you had one, you wouldn't need to use systems like this).
"Click one button to share your website or affiliate link to 30 secret traffic sources with over 2.5 billion buyers".
Most of the traffic sources were not secrets (FB, Pinterest, Whatsapp, etc), and if there were lesser-known ones they wouldn't have enough traffic to be relevant.
And I'll repeat, social media users are primarily not buyers.
Imagine if some random dude sent you a spammy image ad with a few words, would your first reaction be "oh dayuumn, this is something I have to buy" heck no, you'd probably just ignore and report the person lol.
You need to create 30 social media accounts
It's stupid and unnecessary — and it certainly doesn't happen with 1 click.
Can you make any money with this method?
This whole system works only if you have an audience already.
As I said earlier, creating an account and posting your ad image to your profile is not going to magically reach "2.5 billion buyers".
With good luck, some random Bob will see your post and that's it.
Is Commission Blaster A Scam?
In my opinion, the only thing worth any money in this product are the pre-made headlines & call-to-actions.
And to be honest, I would not even pay $12 for those (which is the discounted price of this product)
I'd love to call this product a scam, but you do get a little value for your money so I can't do that.
Here's a summary of this product:
Hyped sales page
Exaggerated income claims
Expensive upsells ($598)
Ineffective traffic method (& you'll get banned if you use affiliate links)
You're expected to sign up to 30 social media platforms
Commission Blaster is also created by a serial product creator who probably doesn't even remember creating this product.
I recommend staying away from this product.
How To Make Affiliate Marketing Work
It's entirely possible for you to make great money online with affiliate marketing and I'd like to show you how.
I have been doing it since 2018 using legitimate tactics and that's how I've managed to make this into a sustainable long-term business.
If you too want to do it ethically by helping people, I can recommend none other than this free 10-day video training course that has everything you need to succeed.
It's the same course I got started with and I highly credit it for everything.
Thanks for reading my Commission Blaster review.
Talk soon.