Have you ever wanted to earn money using social media?
A platform called KashTree is claiming that you can make up to $500 a day with social media by just inviting your friends to their platform.
Now, that's something I've heard many times before and I'm going to find out whether KashTree is a scam or a legit opportunity that's worth your time and effort.
In this KashTree review you'll learn:
What KashTree is (& how it works)
Can you make any money
How do the payments work
Is KashTree a scam
I'll also give you a better alternative to making money online at the end of this post, alright?
I have to say that I encountered several questionable things while looking into this platform.
Ready to find out?
KashTree Review Summary
$0
Earning Potential

Payment Systems

User Experience

Amount Of Offers
Is KashTree A Scam?
Earn money by inviting friends & completing surveys
Users are reporting not receiving their money
The privacy policy is almost empty & they are likely selling user data to 3rd-parties
The site is constantly created under different domain name to avoid being brought down
KashTree is not worth joining since it is a scam.
What is KashTree?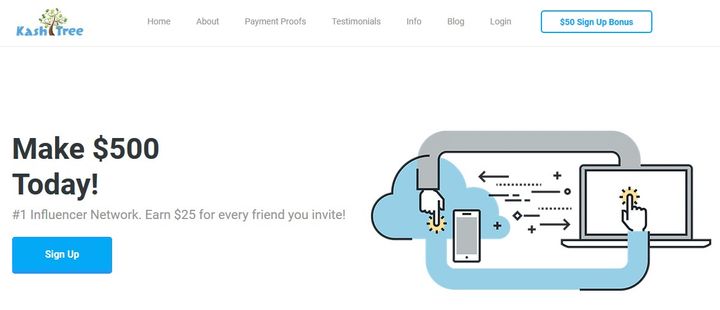 KashTree is an influencer marketing network that allegedly allows its users to earn money by inviting their friends into the platform with a referral program. KashTree also has 3 one-time surveys available for its users which are supposed to reward $40 each.
So, who's behind the site?
We have no idea who the owner is and there's very little information about the background of the site. This is never good news.
The first contradiction already is that the "about page" says they've been founded in 2015 but when you actually check the domain age you can see that it was registered on August 11th of 2019.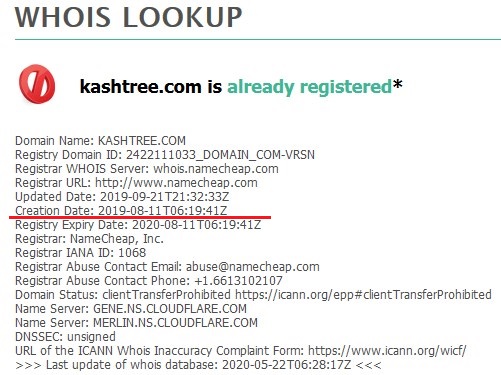 So, at the time of writing this, the site is around 9 months old.
At first, I thought maybe they were operating under a different domain name in the past but the more likely explanation is that they just want to appear more authoritative and experienced than they are.
Surprisingly, both ended up being true.
I've pretty much figured out the scheme behind this site and next I'll go through my findings.
How Does KashTree Work & What's Inside?
The main carrot on the stick is that you are supposed to earn $25 for every friend you invite to the platform and $2 for every click on your referral link.
On top of that, you get a $50 sign-up bonus when you first create your account.
Doesn't that sound a bit too good to be true? Well, yes because that's what it is.
The numbers alone are the first huge red flag.
If they were actually paying those sums, I can tell you this system would be abused like no tomorrow. I wonder where they pull all the money to pay the users…
So, what's inside once you sign-up?
The dashboard has different sections for different social media platforms where you can post pre-written promotional messages to your social media feed. You are supposed to do this to attract new members to join the platform.
Here are the social media platforms available where you are supposed to share your referral link:
Whatsapp
Facebook
Twitter
Instagram
And YouTube
You also get some unethical promotional images with exaggerated income claims to lure people into joining KashTree.
Just like this one below: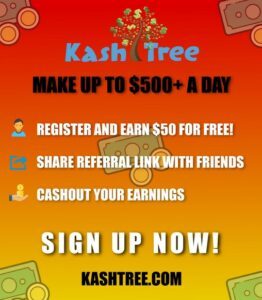 Additionally, there is a task wall typical to many "rewards sites" where you can complete surveys to earn money. In KashTree there are 3 surveys available and they are supposed to reward you $40 each but these are no doubt fake.
How so?
Anyone who has done surveys knows that most surveys pay you cents instead of dollars. And from my experience, surveys that reward you $10 or more, often require you to spend money or a significant amount of time in the process to get the reward.
To be honest, I wouldn't be surprised if the $40 are just edited there to lure people into completing them since KashTree earns money when you do so.
And I have good reasons to believe you won't get your $40 and here's why…
How Do Payments Work In KashTree?
There are currently 4 payment options available:
PayPal
Bitcoin
Cash App
Mailed Check
The minimum cash out seems to be $200 but their member's faq on the other hand states that there is no minimum cash out. Quite a contradiction to have…
Now, all this doesn't even really matter because you are likely not going to get paid anyway.
Yeah, you heard right.
A huge amount of people who have tried to cash out their "earnings" get declined and they never receive their money.
This is because once you cash out, you are placed into a 30-day manual review process where they check if you have abused the system with fake clicks and sign-ups.
Most, if not all people are declined and accused of abusing the system. Even if they weren't.
This has to do with their so-called "NET30 Schedule" which they "recently" introduced because people have allegedly been abusing the referral link system with fake clicks and referrals.
They have this quite amusing sob story how 150,000 new users crashed their business and they lost 1.7 million because they had to pay the users for fake stats.
Now, I don't believe even one word from that announcement and it looks like they are just using it as an excuse to not pay their users the money they have earned.
Can You Make Any Money With KashTree?
KashTree sure promises huge payouts and there is no denying that when you look at the numbers.
But none of it matters when you are not going to get paid.
Most people have said that your earnings number sure gets higher upon completing tasks but they have never received their money when they tried to cashout.
And it's understandable since this seems too good to be true (which it is).
Additionally, the potential earnings are not even realistic when you compare them to any similar legit rewards sites such as Swagbucks and Surveyjunkies.
Is KashTree Legit And Worth Joining?
No, I don't think KashTree is legit or worth your time.
The majority of people have reported bad experiences of not receiving their promised money.
The site also has many flaws and huge red flags which I'll be going through next.
Red Flags Of KashTree
#1 – Unrealistic Income Claims
There's not a single platform on this planet that will pay you $25 for inviting friends and $2 per referral link click.
KashTree mainly generates revenue from advertising and when people complete those three available one-time surveys. The site is currently pulling around 67k visitors per month and I can tell you that's not even nearly enough traffic to cover the costs of what they are offering for new members.
Some people have also mentioned that KashTree is most likely selling your data since their privacy policy is almost empty.
#2 – Unfinished Site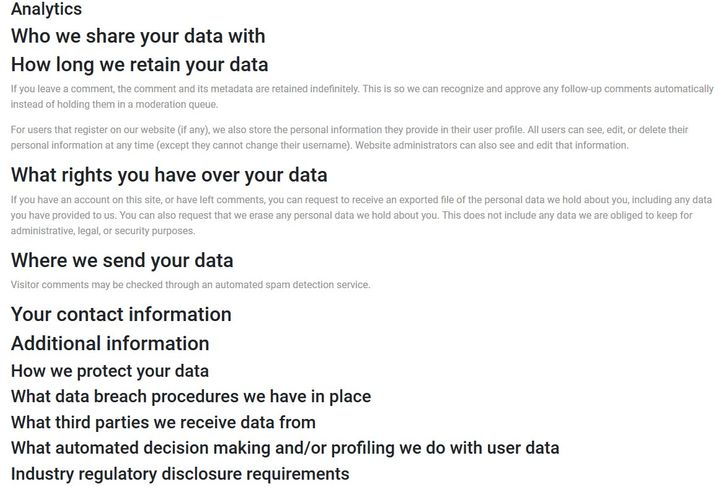 When you take a look at the site, it's very empty, almost like it's created in a couple of hours without much effort.
The same phrases are repeated on multiple pages.
Even the privacy policy is not filled as you can see.
Doesn't really help with the credibility, does it?
#3 – Fake Testimonials
I wouldn't be surprised if these testimonials were all fake. It's something I see in every scam product.
They typically order these testimonials from places like Fiverr where people will record themselves saying how much they have made using this service. It's simply unethical and I see it way too much when reviewing products.
Also, when you look at the comments on these testimonials, they are filled with people calling KashTree a scam because they haven't received their money.
#4 – KashTree Is Just Another Rehashed Site
Now, this probably the biggest reveal and it's pretty safe to assume KashTree is just a blatant scam.
The owner of KashTree simply creates the same platform under different domain names so they can keep scamming people over and over again.
Here are some of the different domain names I found with the same concept as KashTree:
Kids Have Money
CashOG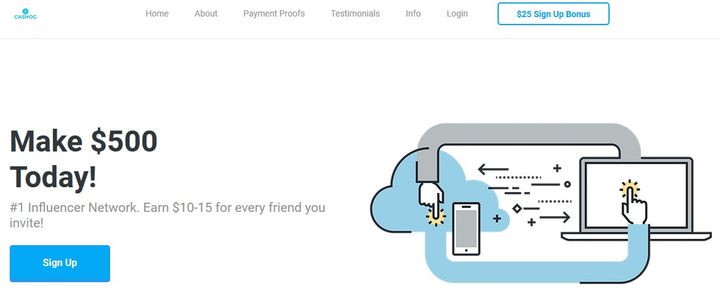 ShareCash

Some of these sites are already brought down but they can still be viewed with the Internet Wayback Machine.
If this doesn't ring the scam bell in your head I don't know what else to add.
Is KashTree A Scam?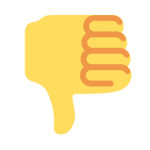 Yes, it's safe to assume KashTree is a scam.
Too many people have reported not receiving their money and there are multiple red flags typical to scam products.
The biggest red flag is that the site is constantly recreated under different domain names to avoid getting brought down.
Many people have also mentioned that the site is simply collecting and selling user data to make money for themselves. I wouldn't be surprised if this is true since their privacy policy is almost empty.
I recommend staying away from KashTree and start looking for legit ways to make money.
A Legit Alternative For Making Money Online
The great thing about the Internet is that there's plenty of legit ways to make money online that also pay well for your efforts.
I personally do something called affiliate marketing and it's something anyone can do.
I create small websites that pay me every month without much attention from me once the work is done.
If this is something that interests you, I suggest you take a look at this free 10-day video training course. It has everything you need to know to make money with affiliate marketing and I highly credit that course for teaching me everything necessary about running my online business.
Thanks again for reading my KashTree review.
Talk soon.