Welcome to read my PaidLeaf Review! I'm glad you made it here.
PaidLeaf is promising that you can make $500 in a single day, and you are probably wondering if this could be true.
It is definitely a lot of money and sounds quite tempting.
But what if it's a scam? Is PaidLeaf legit?
That is what I am going to reveal in this review, so keep reading to find out if this opportunity is as good as it sounds.
You will learn the following:
What is it?
Is PaidLeaf legit?
Problems that I encountered
Can you make any money
How does PaidLeaf really work
I'm assuming you are also looking to make money from the comfort of your home, so I want to show you how I personally make money online that allows me to do just that, alright?
Let's see what this earning opportunity is all about.
PaidLeaf Review Summary
$0
Earning Potential

Payment Systems

User Experience

Time For Money
Is PaidLeaf Legit?
PaidLeaf is not legit because it belongs to a wide scam network. I do not recommend joining since your personal information might be at risk.
Users are not getting paid
The owner is unknown
Payment proofs are faked
Video testimonials are paid actors
They are lying about their founding date
Possible data harvesting & selling
What Is PaidLeaf?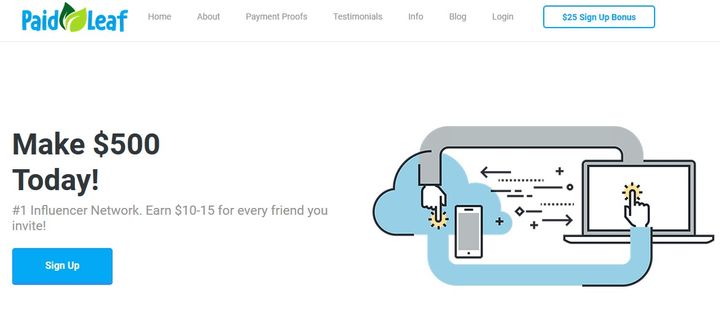 According to PaidLeaf — they are the number one influencer network to make money online with social media.
The idea is to share your referral link on social media, and when people join through your links, you would get compensated $10-$15 for each person.
You also get paid for creating promotional content on social media, and by completing simple tasks like downloading apps and filling surveys.
This makes PaidLeaf a GPT-site (Get-Paid-To).
The earning rates for different tasks look like this:
$10 for every person who joins & $2 for every click on your link
$30 per task completed
$10-$50 per promotional post on YouTube, Instagram, Facebook, and Twitter
$25 signup bonus
It sure seems like an easy way to make money. Rather generous rates I have to say.
If you would compare these for some of the most popular rewards sites out there like SurveyJunkies, for example, they are only paying $1.50 per referral signup.
The most common signup rates for referrals in any legit site are between $1-$3, so it seems a bit weird that PaidLeaf can pay so much more than their competition.
Something to note is that PaidLeaf is free to join, and there are no paid services inside.
It makes me think where are they getting all the money to pay for such high commissions?
Is PaidLeaf Legit?
PaidLeaf seems to offer a lot of money for little to none work, and I see how appealing this might seem to someone who is having money problems.
Who wouldn't like to earn $500 in a single day doing nothing? I would for sure.
But since I already know what it takes to make money online, I know it is not realistic what they are offering here.
What PaidLeaf is doing here is that they are trying to appeal to a specific audience that is in need for fast and easy money — which by the way is never realistic if we are talking about earning online.
They have all these huge income promises, testimonials, and payment proofs in place to convince you that this is real.
Sadly, it is not real.
I have reviewed a ton of similar websites offering such promises, and they never deliver.
You've probably heard this but…
If something seems too good to be true, it often is.
This also is the case with PaidLeaf.
When you take a closer look at the site, you start noticing small hints that not everything is as legit as it might seem at first.
I have gathered a list of problems proving that PaidLeaf is not a real earning opportunity, and in fact, is just a big scam.
See the list for yourself, and decide how legit PaidLeaf really is.
Red Flags Of PaidLeaf
#1 – The Website Age

PaidLeaf is saying that they are founded in 2015, and that is a pretty easy thing to check if it's actually true.
We can use a simple domain age checker to see when the site is created.
Here, have a look:

As you can see, the founding date is just a lie.
They are just 10 months old, at the time of writing this.
Pretty big achievement to become the #1 influencer network in just 10 months.
Anyways, the lies are not going to end here. There's more to come.
#2 – Faked Payment Proofs
Now that we know the site is only 10 months old, we can take a look at some of their "payment proofs".
Pay attention to the dates:
These payment proofs are from a time when the whole PaifLeaf didn't even exist yet.
So much for the credibility of those.
This usually happens with every bad product I review. When you find one lie, you'll find 10 more.
#3 – Faked Testimonials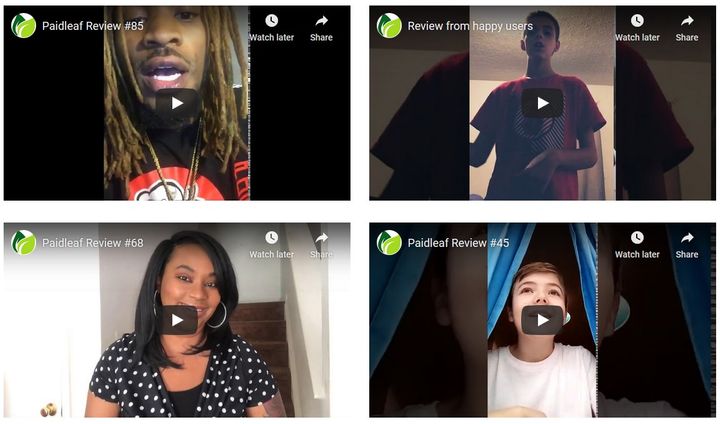 You would think video testimonials made by real people have some valid credibility to them, but even this doesn't hold true these days.
What these scammy sites are doing is that they are ordering fake testimonials from marketplaces like Fiverr.
Here you can see how people are ready to record testimonials in exchange for money.
A rather unethical tactic that is widely used.
#4 – No Idea Who The Owner Is
Every time I'm reviewing a bad product, the owner is nowhere to be seen.
When you take any popular site like Amazon or Facebook, you 100% know who is behind creating those sites.
How come PaidLeaf is the so-called #1 influencer network in the world, and we have no idea who is behind it?
The simple answer is that it is a scam.
If this really was such a popular and legit platform, the owner would proudly introduce him/herself to everyone. It would add to the credibility.
But what's happening here is that the creator is staying hidden so he/she can keep creating scam products in the future without being caught.
#5 – Unfinished Privacy Policy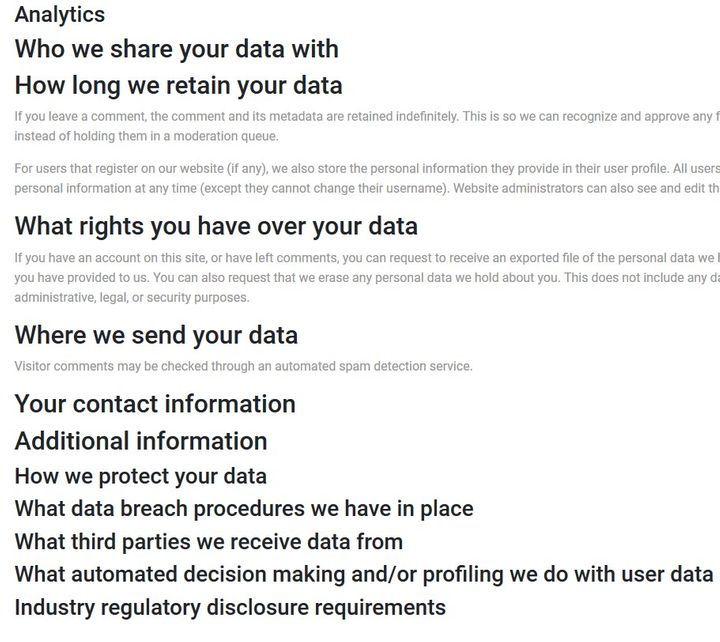 Small things matter when it comes to authenticity.
Since this is turning out to be a full-blown scam, and even the privacy policy is unfinished, we can expect this site to harvest and sell our personal information to 3rd-parties.
They clearly don't care about your privacy.
#6 – People Are Not Getting Paid
Now, this is the main reason why I'm calling this a scam.
Up to 26/ 37 of those reported reviews — which are only a fraction of the users — are all saying how they have not received their money.
You can see some angry users who have reported their bad experiences to TrustPilot: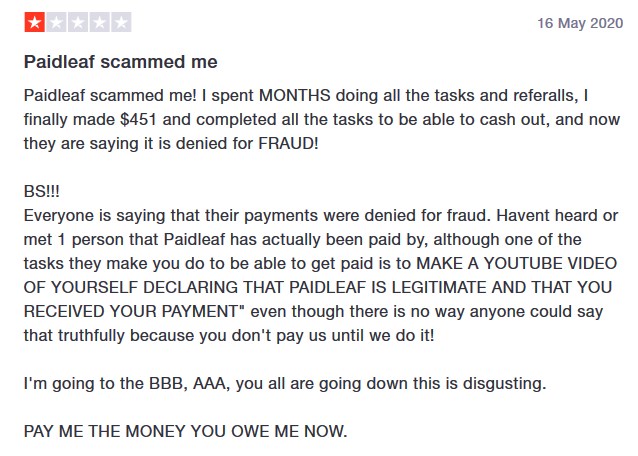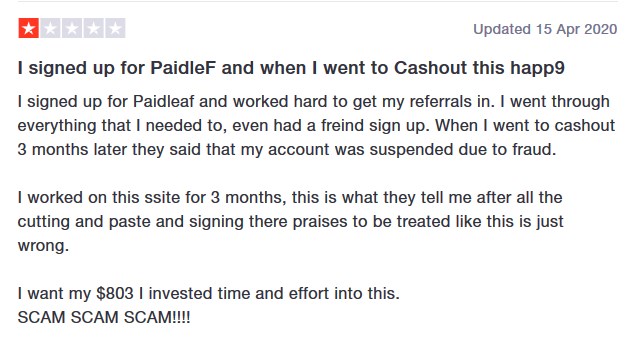 I will explain this whole hassle in more detail further down this review.
#7 – Non-existent Online Presence
The bottom of their page has social media icons that should lead to their profiles, but they are simply decorations.
They only lead to the about page on their site.
This is just another way to seem more authentic than they are.
Any legit platform would have social media profiles set up correctly.
#8 – PaidLeaf Is A Clone Site
I have to say that this is not the first time I see this same influencer network scam.
Just recently I have reviewed a bunch of them, and they all seem to belong to the same scam network where they create the same platform under many domain names.
All these sites are running the same scam:
PaidLeaf is just one of the many sites running this scam. There are 10-30 or maybe even more clone sites with the exact same income claims and other nonsense.
What do you mean by clone sites?
To give you an idea of how these sites look, here are some clones of PaidLeaf: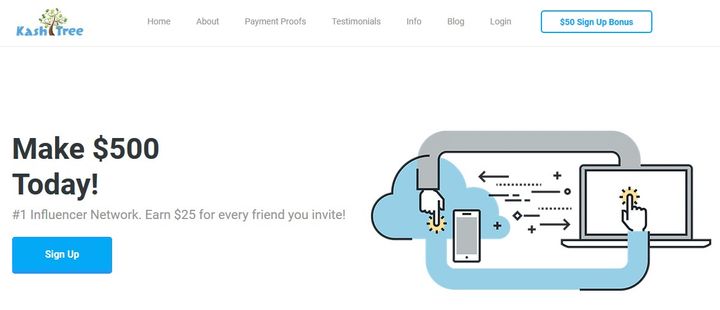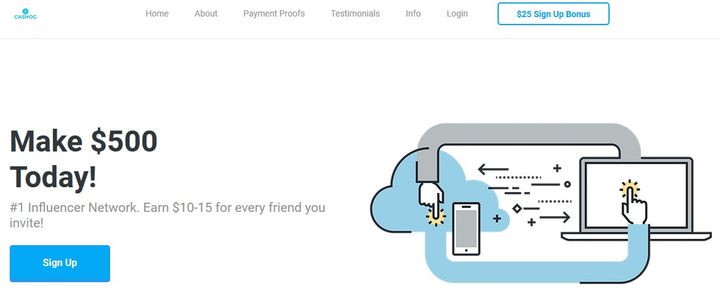 They are all the same site running the same scam.
And they all are known for not paying their users.
How Does PaidLeaf Really Work?
You might be thinking what is the point of scamming people like this?
The motive is obviously to make money — not for the user, but for the owner.
I know how this scam works so I can explain it to you.
It all starts from the unrealistic income claims. Their only purpose is to attract people to join the platform.
Remember how you are promised $10 for every friend you refer to the platform?
That is simply a tactic to get people to advertise PaifLeaf on social media for free. And it works because it causes a lot of attention when someone is promising a lot of money for little work.
People want to see if it's real, so they join.
So, how does the owner make money from all this traffic?
Advertisements
PaidLeaf has a few advertisements on its site, and whenever people click on these ads, the owner is making a few cents per click.
It might not sound a lot, but when you have thousands of people coming in every day, it adds up to a lot. Especially, if you have 20 similar sites running the same scam.
The Offer Wall
There is an offer wall inside PaidLeaf where you can complete tasks for money.
Here's how it looks:

These tasks are provided by market research companies.
Whenever a user completes one of these tasks, the market research companies are paying PaidLeaf.
This way of earning is also called CPA-marketing (Cost-Per-Action).
Normally, in any legit rewards site, you would receive a small amount of the profits that go to the site owner, but since PaidLeaf is a scam, they are keeping all the money for themselves.
Data Harvesting & Selling
Since this site has an unfinished privacy policy, and what I have seen from the other clone sites — it is highly likely that this site is collecting your personal information and selling it to 3rd-parties.
What makes this even more concerning is that they are most likely including your password, bank account number, and other sensitive information if you've provided that information to the site.
What To Do If You've Already Created An Account?
In case you have already created an account to PaidLeaf, I recommend you login and delete/change your personal information from the account settings area.
And if you have been using the same password to log in to PaidLeaf and other services, I suggest you immediately change your password on every platform.
Otherwise, you are risking losing your account to hijackers.
Can You Make Money With PaidLeaf?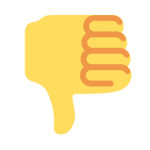 I understand how tempting this kind of sites are with their promises of money.
But the truth is that you can't make any money with PaidLeaf because they are not paying their users.
If you have completed any of the tasks inside PaidLeaf, you might have noticed that your earnings number is definitely going up, but this doesn't mean much when you are not going to get paid.
The problems start when you try to cash out your earnings.
You are placed into a 30-day manual review process, where your account is checked for any fraudulent activity. Even if you didn't cheat the system, your payout request will be denied or postponed indefinitely.
That's how it is for every member who has tried to get paid.
The only reason there is a "30-day review process" is that the person would forget that he/she even tried to cash out the earnings. It also gives the site more time to lure in people before the scam is revealed.
Do This To Earn Legit Money Online
There are many scams out there like PaidLeaf but, fortunately, I know a few sites where you can make legit money online.
If you want to make some side-cash (at best) then I would recommend these rewards sites:
But if you want to make a potential full-time income, then you need to start an online business.
If that sounds interesting to you, then I can suggest none other than this free 7-day affiliate training course that will get you started.
Thanks again for reading my PaidLeaf review, and I hope it was helpful.
If you have comments, you can leave them below, and I'll gladly answer them.
I'll leave you to it.