Today I stumbled upon this "survey site" that looks fine on the surface but after investigating for a while, I found out that something fishy is going on here.
I have my suspicions about what is going on with the site and I'm going to reveal them in this Smart Dollars Club "review".
Let's see if Smart Dollars Club is a scam or something else.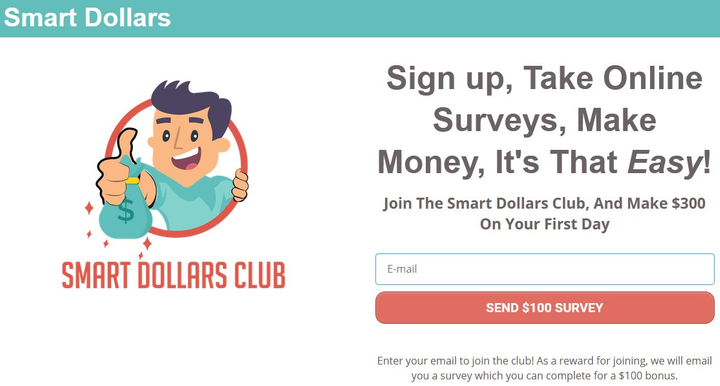 What Is Smart Dollars Club?
Tough question because I'm not sure.
Their site is just one landing page where they "promise" to email you a $100 survey if you enter your email address to their sign-up form.
In addition to that — they guarantee that you can make $300 every day with paid surveys, exclusive deals, and part-time work offers.
I have been in the "make money online" space long enough to know that you are not going to make that kind of money daily by filling mere surveys.
It's the first red flag that I encountered.

What's alarming is that newcomers who want to make money online — most likely see this as a good opportunity since the landing page looks visually pretty legit.
Let's find out what happens when you enter your email.
What Do You Get With Smart Dollars Club?
Now obviously — I wasn't expecting to earn the advertised sums with this "product" but I wanted to see what's on the other side so I decided to use my spam email instead.
I entered my email and was greeted with a thank you page that informed my $100 survey is on the way and I should check my email.
Well there I was sitting patiently and waiting for something to pop up in my email but nothing came. I got bored of waiting and decided to use my other throwaway email just to be sure.
After 15 minutes — It finally arrived at my initial email and I was greeted with this email: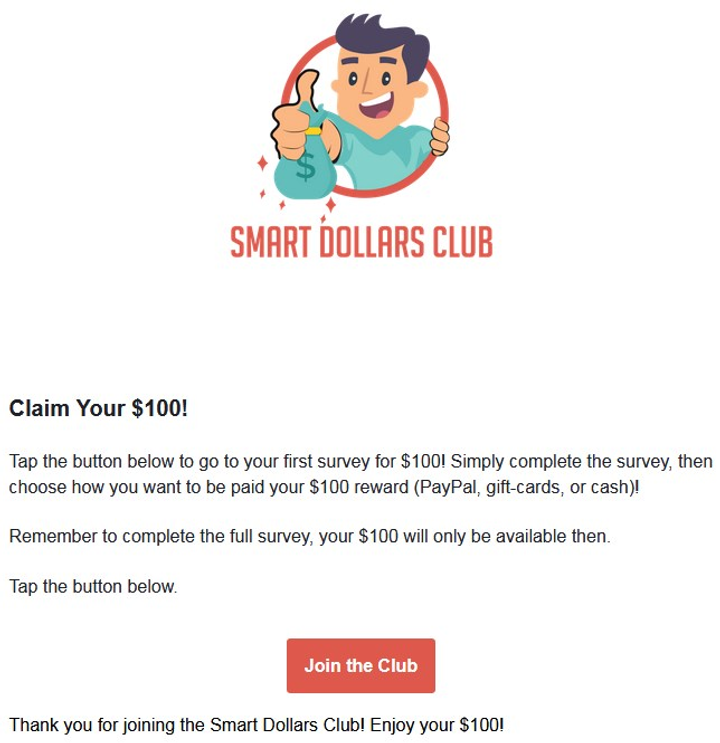 I clicked on "Join the club" and what do I get? A white blank page.
I even disabled all my browser extensions that could block the page but I had no luck getting it to work.
Just a blank page.
What a letdown, I didn't get my $100 — not a big surprise though.
How Does The Smart Dollars Club Actually Work?
I believe the Smart Dollars Club landing page is used for 3 different purposes and they all benefit the owner.
Email Lists:
When you enter your email to the sign-up form and join the club — your email address is collected for future advertising.
The owner can send affiliate offers to the email list and earn money if someone buys the product through unique affiliate links. This business model is also called affiliate marketing.
I'm sure you have seen those emails promising to double the length of your manhood — that's what you'll get if you enter your email.
Solo Ads:
This is also related to email lists.
Solo ads are a way to advertise your affiliate offers on other people's email lists so the Smart Dollars Club's owner can "rent" the email list for other people to use in return for money.
The end result is still the same; you'll get bombarded with spam email.
Cost-Per-Lead:
While the link in my email box didn't work properly, I could see that it was an affiliate link, meaning the owner makes money from the actions I take on the destination page.
Since I only got a white blank page when I tried to join the club, I investigated other people's experiences and got a clearer picture of the "scam".
When you follow the link in your email, you'll be redirected to ZenSurveys where you are supposed to fill in personal information to get qualified for the surveys.
Once you fill the info and proceed, there'll be no surveys available.
Now, this is the shady part because they have already collected a whole lot of personal information about you and in return you get nothing.
The Smart Dollars Club owner, however, makes money when you fill in your personal information at ZenSurveys — this advertising model is called cost-per-lead (CPL).
It's a lose-lose situation.
Your email gets filled with spam
Your personal information is sold to 3rd-parties
You are the only one who doesn't make money in this deal
I think the consensus here is that Smart Dollars Club is only a big scam made to benefit the owner.
Is Smart Dollars Club A Scam?
Yes, Smart Dollars Club is a scam.
You simply don't gain anything by joining this "opportunity" — only the owner benefits from this by collecting your email address and getting paid when you fill personal information at ZenSurveys.
There are no surveys for you to complete.
I recommend staying away from this "product" because you won't get your $100 and your personal information will be sold to 3rd-parties.
The fact that the site doesn't have any privacy policy or terms of service pages means they are doing something fishy behind the scenes — most likely selling your info.
There are plenty of legit alternatives to choose from which I will show you next.
Here are some alternatives to consider:
Smart Dollars Club Alternatives
SurveyJunkie – A popular survey site where you can share your opinion on different products and earn points. One point equals one cent.
Swagbucks – One of the most popular survey sites where you play games and watch videos to earn money.
Toluna – You can earn gift card rewards by taking surveys and playing games. Available in most countries.
Are Survey Sites Worth it?
I can say for sure that at least the Smart Dollars Club is not worth your time.
The ones I listed above are legit and trusted survey sites and they can help you earn some beer money for the weekend.
Yep, you are not going to become rich by filling out surveys even though many of these sites promise huge payouts (hint: Smart Dollars Club).
I'm not a big fan of survey sites because of:
Small Payouts
Most survey sites pay you cents and not dollars.
I have seen survey sites advertising premium surveys that pay you up to $50 but they have always been empty hype.
Some time ago I read a case study where a guy did surveys for 30 days straight and only earned $250 at the end of the month — So yeah, it's not something you can do to earn a full-time income.
He also mentioned that he didn't see a single high paying premium survey during that time.
Lots of Competition
Another problem with surveys is that lots of people are doing them and there is a limited amount of surveys to be completed.
The market is somewhat oversaturated because of this and surveys that pay well are hard to find.
I believe this is going to become worse as time goes since more and more people are getting access to the Internet and they learn that you can make money by filling surveys.
$250 per month from surveys is still a good amount in some developing countries.
Geographical Restrictions
There are ways around this but it's really hard to find any good surveys outside the US.
Back in the days when I still did surveys — I frequently got hit by the geographical restrictions saying that I'm not eligible to take the survey.
This often happened after I had already spent time filling out the survey and pressed "send". Really eats you up from inside when you realize you just wasted time.
There's just way more opportunity for the people in the US when it comes to surveys.
Try Affiliate Marketing Instead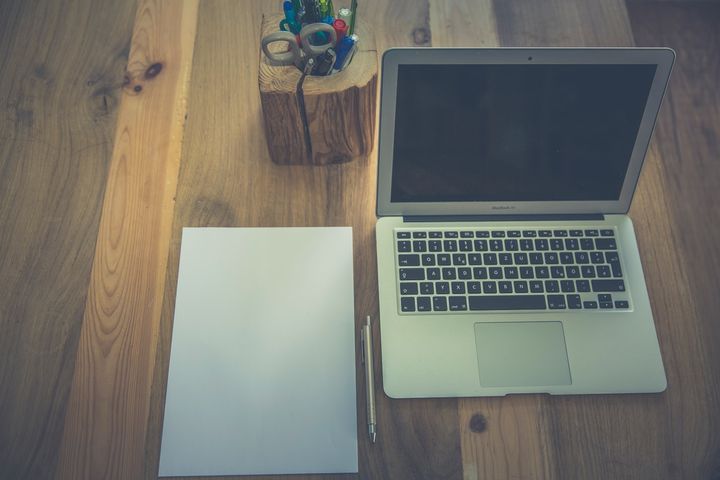 Since you are looking for information about Smart Dollars Club, I'm sure you are looking to make some money online.
Back then I used to think that surveys are the only way to make money online which by the way is not true in the slightest.
Surveys are only a side-hustle for making some pocket change and you'll never achieve the big money by doing them. In my view, these sites don't offer you business opportunities — they offer you a boring job.
To make life-changing money you need to start an online business.
Only business can net you any meaningful income in the online space and while it sounds complicated — it's actually not.
I had no idea how to run an online business when I started but I learned fast because I had good training and a community where I could ask for help.
The way I run my online business is that I create affiliate websites that run 24/7 and they make me money passively.
Obviously, it takes time to build one from scratch but I would rather spend 6 months creating a profitable website than fill surveys to earn pennies.
After all, the earning potential of a website is unlimited compared to the pennies you get from surveys.
If this is something that interests you; you can take a look at my Wealthy Affiliate review where I show you how it's done.
Wealthy Affiliate is the training course where I learned to build my online business as a complete beginner and over 2,000,000 students are doing the exact same thing; building their own affiliate websites.
The best of all? It's free to join!
The Final Words Of My Smart Dollars Club Review
To be honest, there wasn't much to review about Smart Dollars Club because the site didn't work but at least you learned how "products" like this can try to take advantage of your personal information.
Hopefully, you found better money-making alternatives from my recommendations.
Thanks again for reading my review.
Talk to you later.