Recently, I have been looking into influencer marketing networks that promise huge payouts for their users.
Tap2Earn is one of them, and they are claiming that you can make $500 in a single day by inviting your friends to the platform.
These claims are often too good to be true, so today I'm going to reveal whether Tap2Earn is a scam or a legit opportunity.
In this post, you'll be learning:
What is Tap2Earn
How does it really work
Can you make any money
Is Tap2Earn a scam
I also want to show you a better alternative to making money online that I personally use to make money from home each and every day, alright?
Let's start.
Tap2Earn Review Summary
$0
Earning Potential

Payment Systems

User Experience

Time For Money
Is Tap2Earn Legit?
No, Tap2Earn belongs to a scam network that has been running since 2015 and is still ongoing. They repeatedly create the same platform under different domain names to avoid being brought down.
None of the users are receiving their money when they have requested a cashout.
The support is not responding to any messages.
 It's also possible that this site is collecting & selling user data to 3rd-parties.
What Is Tap2Earn?
Tap2Earn is supposed to be an influencer marketing network where you can earn $500 just by inviting enough friends to the platform.
Why did I say "supposed" you might ask?
I'll get straight to the point and tell you that Tap2Earn belongs to a wide scam network that is known for not paying their users.
I have all the reasons to believe this and I'll show you my proof.
Let's start with showing the domain name registration date:
Tap2Earn is claiming they've been around since 2015 but in the above image, you can see the domain name is registered in 2019 meaning it's only 9 months old at the time of writing this.
I have already reviewed a few sites from this scam network and they all say the same starting date so it's entirely possible that this scam has been running since 2015 and is still ongoing.
Here are some of the sites that belong to the same scam network:
How Does Tap2Earn Really Work?
The incentive to join Tap2Earn is the huge payouts they promise and how you can get $10-$15 for every friend you invite. They also have offers which "reward" $30 per offer but you won't receive your money from these either.
Huge income claims like that definitely attract people to join but how does Tap2Earn benefit from all this?
Let me explain.
When people join the platform, users will most likely complete the $30 offers as it seems easy money for them. The market research companies (who provide the offers) then pay Tap2Earn when users complete the offers.
Since Tap2Earn is getting a lot of traffic to their site, they are making lots of money when people complete these offers.
The ugly downside is that Tap2Earn is keeping all the received money from market research companies for themselves, and not paying the users the portion that rightfully belongs to them.
How Do They Keep Getting More Users Then?
The referral program that promises you $10-$15 per invited friend acts simply as a way to get more people into the platform which makes Tap2Earn more money.
This is why the income claims are so absurd that people would want to join when they see an invitation link in their social media feed (Facebook for example).
Here you can see what the traffic graph looks like at the peak: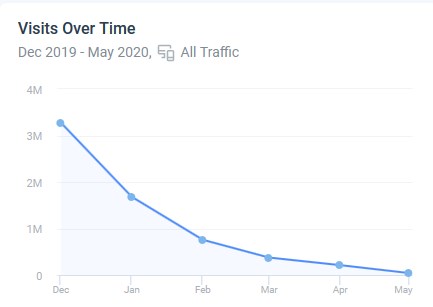 That's close to 3.3M monthly visits at the peak and when the scam is revealed, you can see how the traffic drops like a cat's tail.
I also wouldn't be surprised if this site is collecting & selling your data to 3rd-parties so it's not a good idea to insert your real information if you try this platform yourself.
Can You Make Money With Tap2Earn?
When you do any kind of action on the site that rewards you with money, your earned money numbers sure seem to get higher.
The problems start when you try to cash out these earnings.
You are placed into a manual review process which takes a minimum of 1-month and in the end, you are disqualified for fraudulent activity and won't receive your money.
This is the case with every member who has tried to cash out their money.
If you try to contact the support, you won't receive any answer. Nothing.
So, no, you can't make money with Tap2Earn.
Red Flags Of Tap2Earn
#1 – Exaggerated Income Claims

I can tell you right now that there is not a single platform online that lets you earn $500 on the first day you join.
Getting paid $10-$15 per invited friend is also not realistic since the platform is free to join and there are not any paid services inside that would allow for such commissions.
And the $30 offers are ridiculous as well. If you take a look at any legit rewards site like SurveyJunkies or Swagbucks, most of their offers are paying $1 on average.
I have done some offers/surveys in the past, and I've never encountered a $30 premium offer during my time, and most likely never will.
#2 – Fake Testimonials
The site also has video testimonials where people are telling how much money they've made and something like this can really look legit if you've never encountered many scams online.
However, the truth is that all these people are paid actors from marketplaces like Fiverr where people are willing to record testimonials for money.
I've seen so many of these in my time that it's kinda funny because I recognize some of the faces in those testimonials.
#3 – User Reports
Let's take a look at the YouTube comment section on these fake testimonials and you can see how most people are asking where their money is.
There are also comments mentioning how the support is not answering at all.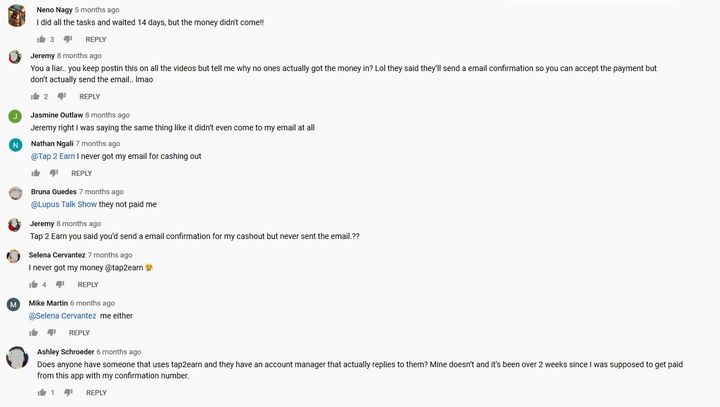 When you see the same type of comments everywhere, you know there's something wrong with the platform.
#4 – The Scam Network
How this scam works is that they are creating the same platform under many different domain names. This means they can keep running the scam for a long period.
Even if one site gets brought down, 50 other sites are running the same scam.
Here I have listed some of the scam sites that are the same platform with a different name:
KashTree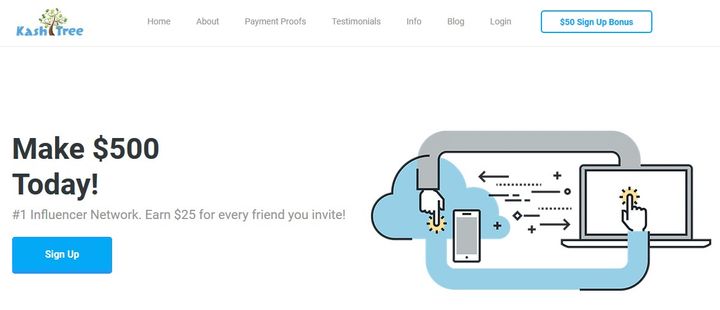 CashOG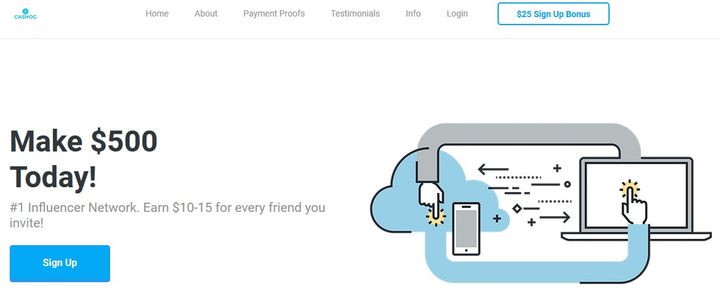 Click4Kash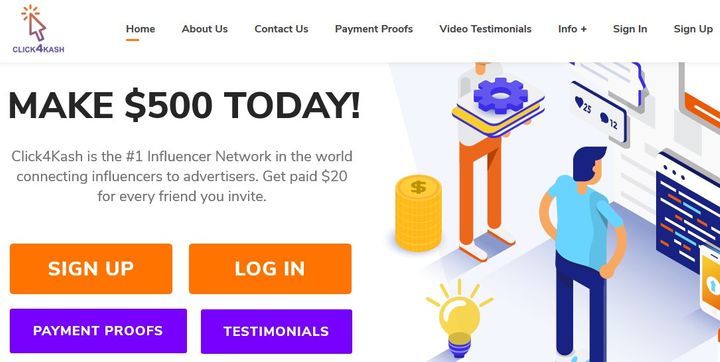 Tap2Earn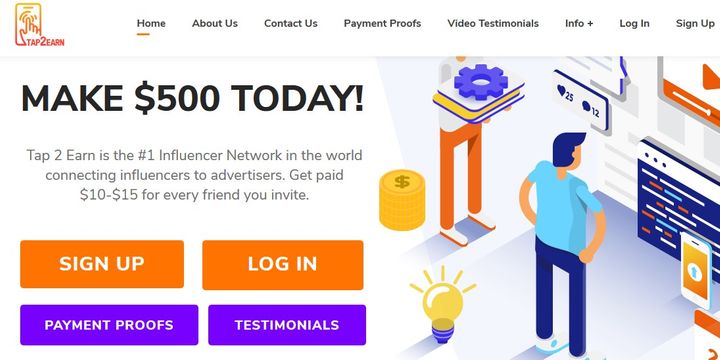 Kids Have Money
Is Tap2Earn A Scam?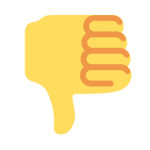 Tap2Earn belongs to a scam network that has likely been running since 2015 and is still ongoing. They repeatedly create the same platform under different domain names to avoid being brought down.
The site looks fine on the surface but none of the users are receiving their money when they have requested a cashout.
The support is also not responding to any of the messages.
It's also possible that this site is collecting and selling user data to 3rd-parties.
So, is Tap2earn legit and worth joining?
It's safe to say that Tap2Earn is not legit or worth joining if you value your time and personal information.
Do This To Earn Legit Money Online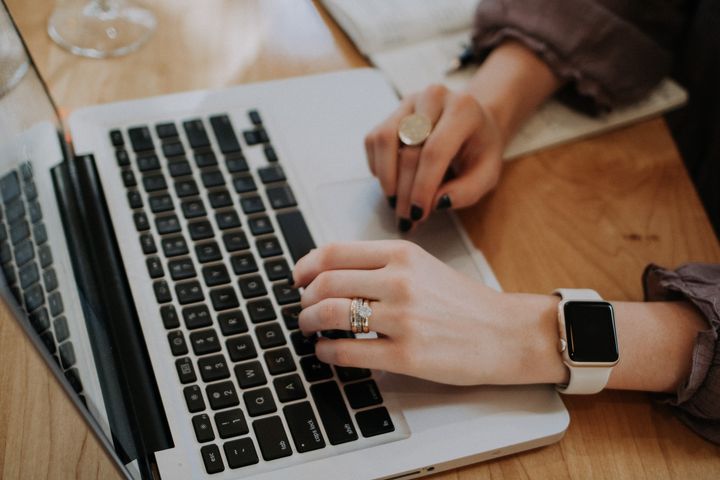 I hate it when I have to review scams like this one but fortunately, there are plenty of legit ways to earn money online.
The way I do money online is with affiliate marketing.
It's easy and cheap to get started and it has the potential to make you a full-time income if you commit to it.
I suggest you take a look at this free 10-day video training course. It's the same course I highly credit for teaching me everything necessary about making money with affiliate marketing.
Tap2Earn Review: Closing Words
I hope my Tap2Earn review was helpful and you learned something useful today.
There are many ways to make money online and it's best to do your research before-hand since there are so many scams out there.
If you have any questions feel free to ask and I'll gladly answer them.
Talk soon.