Welcome to my Lootcoins review.
Lately, I've been looking into many new rewards sites that are rising in popularity.
Lootcoins is one such website that allows users to earn cash by completing various tasks & offers.
Today I'll be reviewing whether Lootcoins is worth joining or not, and you'll also find out;
What it is (& How it works)
How to get started with Lootcoins
What opportunities does it have available
Pros & cons of Lootcoins
How much can you really make with Lootcoins
If you want to find out how to collect points and earn cash, keep reading.
One more thing; I'll also give you a better-paying alternative at the end of this post that I personally use to make passive income every day. Alright?
Let's find out what this opportunity is all about.
This is my Lootcoins review.
Lootcoins Review Summary
Free To Join
Earning Potential

Payment Systems

User Experience

Amount Of Offers
Is Lootcoins Worth Joining?
Earn rewards by completing various offers & tasks
Easy & fast to get started
Lots of offers available
You can earn some side-cash (not a lot)
There are better-paying alternatives available
What Is Lootcoins?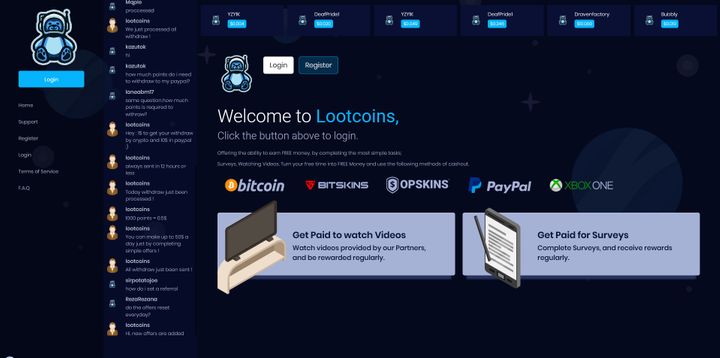 Lootcoins is a rather new GPT-site (Get-Paid-To) where you can complete various offers and tasks to earn points which you can then turn into PayPal cash, cryptocurrencies, or gift cards.
As I said, this site is quite fresh as it was (most likely) launched in June 2019 and it is currently gaining new users at a steady pace.
I'm saying "most likely" because the site doesn't have an about page that would explain the origins of the site so I'm relying on my handy 3rd-party tools.
Not much is known about the owner except the site has French origins and the majority of users also seem to be from France.
With that said, the branding of the site is very customized and clean looking so the owner is clearly putting some effort into the project.
How To Get Started With Lootcoins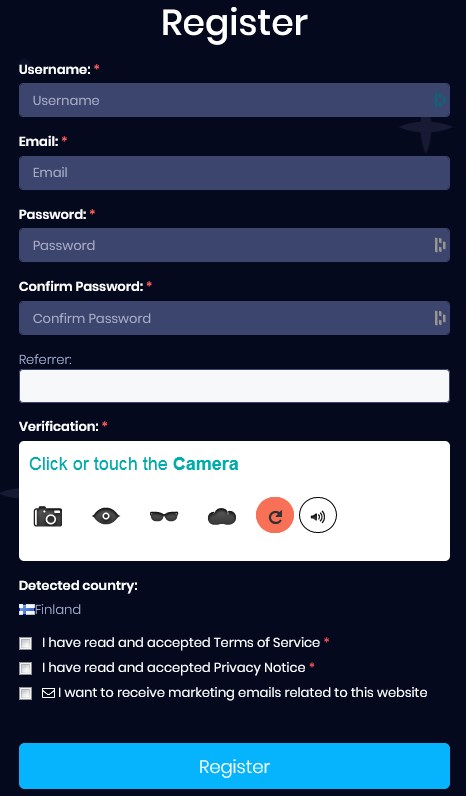 Getting started with Lootcoins is easy & fast just like with most rewards sites the registering takes only a few minutes.
You can also sign up with Twitter or Facebook which is a nice addition and streamlines the process.
Although, at the time of writing this, the Facebook signup method doesn't work and just re-directs to the main page.

After you have registered and finished verifying your account through an email activation link — you are now ready to start earning cash.
What's Available On Lootcoins?
Next, I'll go through what kind of offers and tasks are available on Lootcoins and how many points you can expect to earn per finished task.
Currently, 1000 points are equal to $0.50
These tasks can earn you anywhere between 10-20000 points depending on the difficulty and time requirement of the task.
Most tasks are in the range of 100-1000 points and the higher paying ones — most of the time — require you to invest money to earn points making them worthless if you want to earn money.
8 Different Offer Providers
The offer wall inside Lootcoins is quite comprehensive.
It has 8 different offer providers with their own set of tasks to complete and these tasks are replenished every day with new ones.
These tasks include:
Completing surveys
Downloading apps
Registering for trials
Answering quizzes
Watching videos, and much more.
The Lootcoins Dice Game
Lootcoins also has an interesting concept where you can play a dice game and bet your earnings to win (or lose) cash.
The way it works is that you choose the amount to bet and then you choose to roll either high or low.
Anything over 50 is high and anything below 49.5 is low.
For example; if you choose to roll high and the dice hits 78 — you'll win.
The current multiplier is 1.818 so you almost double your bet if you happen to win.
So far I haven't seen other rewards sites implementing a system like this so it's a nice addition to have.
The Referral Program Of Lootcoins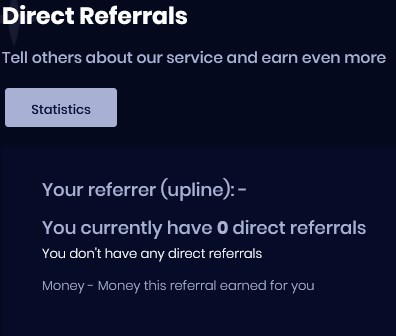 Lootcoins also has its own referral program which means you can invite other people to join and you'll earn part of their earnings for a lifetime.
Referral programs add another way to earn on top of completing offers and the money earned this way is passive income.
However, the Lootcoins referral program is lackluster because there is no mention of how big commissions you earn from your referrals.
There's zero information regarding the referral program, just nothing.
What's the carrot on the stick if you don't even know the commission rates or will you even get rewarded for inviting others? I don't know the answer.
Some parts of the site are rather unfinished and I'll touch on this further below.
How Much Can You Really Make With Lootcoins?
This is where it gets a bit unethical.
The owner of Lootcoins is making this opportunity seem better than it actually is in hopes of attracting new users to the platform.
I'm talking about unrealistic income claims.

Earning $50 a day with offers is not realistic. If that was true, rewards sites would be a full-time income option for people living in developed countries.
So far, I haven't heard of a single person who makes a full-time income from rewards sites and I've read plenty of case studies from people trying to achieve just that.
Let's put this into a perspective; to reach $50 you need to collect 100 000 points.
I just spent 10 minutes completing a quiz that would've rewarded me 70 points but I didn't earn a single point because I answered one of the questions wrong.
What I'm trying to say is that earning points is not as seamless as you might think. It's a hard grind at best and sometimes you don't even get compensated for your time. And higher paying offers cost you money or require multiple days of action before you even earn the points.
Here's another claim taken from the email you receive after signing up:

I'll just get straight to the point and say that the average you can make with rewards sites is roughly $2-5 per hour or $200-300 a month, and to achieve that you need to spend more than just 3 hours a day.
How Does The Lootcoins Cashout System Work?
In Lootcoins you can cash out your earnings in multiple different ways.
If you want pure cash, you should use the PayPal option. For every transaction, you have to pay a fee of $0.29 + 3.4% which is typical to PayPal.
The minimum withdrawal amount is $10 — and the maximum is $50 which I find a bit weird and I can't figure out why there is a max limit.
You can also withdraw funds in cryptocurrencies and there is currently one currency option and that is Ethereum. The front page shows Bitcoin but that's not an option here apparently.
You also need a crypto wallet if you want to use this method. The minimum withdrawal amount is $1 and the fees are $0.100 + 0.50% per transaction.
The last method is exchanging your points for gift cards.
Currently, there are gift cards for Xbox and PSN — the PSN gift cards being for French people only and the Xbox ones are for North America and Europe (the UK not included).
You can select between $10 or $20 gift cards.
Pros & Cons Of Lootcoins
PRO: Easy To Get Started
It's easy & fast to get started with Lootcoins. It takes just a few minutes and you are ready to start earning cents.
Another plus is the fact that this opportunity is available worldwide. You can expect to find an abundance of offers no matter where you live.
PRO: Multiple Offer Providers
I like how there are 8 different offer providers and not just one.
This is beneficial because users don't have to register with multiple different GPT-sites in hopes of finding new offers to complete.
They can just use one centralized place to find enough offers that are constantly replenished.
PRO: Fast Cashouts
On top of having 3 different ways to cash out your earnings, you can expect to receive your money relatively fast.
Typically under 24 hours when you request a cashout.
However, this could change in the future if Lootcoins increases in popularity and gains a bigger user base.
CON: Needs More Credibility

In my eyes, Lootcoins has minor credibility & trust issues.
The owner of Lootcoins doesn't speak English very well and this raises understandable trust issues. The site has broken English in some places and the emails you receive are a bit hard to digest.
The site itself is also unfinished in some parts. Here's one example representing the user rankings.

Many pages are just empty with zero information, for example, the FAQ page.
The privacy policy page is also missing completely and that should definitely be in place before you start handling monetary transactions.
There is no about page and we have no information about the owner what so ever.
The site simply lacks trust.
CON: Unrealistic Income Claims

Earning $50 per day or $400-600 a month with 3 hours per day is a stretch in my opinion.
I don't like how this opportunity is presented better than it actually is.
The more realistic numbers with an opportunity like this are roughly $2-5 per hour or $200-300 a month.
Is It Worth Joining Lootcoins?
Lootcoins is a typical rewards site among others.
You can expect to make some side-cash but nowhere near the mentioned sums of $50 per day or $400-600 a month with just 3 hours per day.
The site itself is rather unfinished in some parts which raises credibility and trust issues but so far the owner has paid the users when they have requested cashouts.
Something worth mentioning is that this site has no privacy policies set in place and they are handling monetary transactions. They also don't have an about page and we have no idea who is running the site.
Lootcoins is worth joining for someone looking to make some beer money for the weekend. If you want to earn dollars instead of cents, I suggest you start looking for better opportunities.
A Better Way To Make Money Online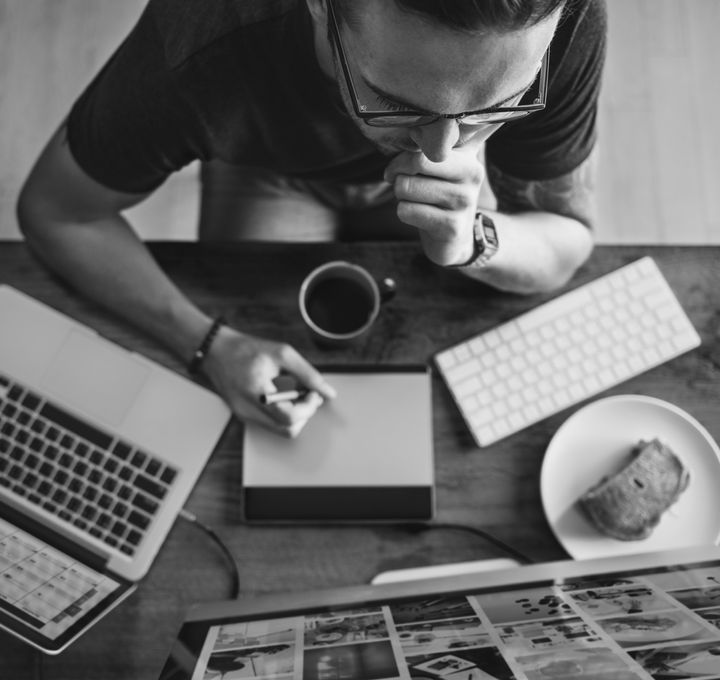 Before you head out and sign up with Lootcoins, I want to show you the better paying alternative that I mentioned at the start of this post.
In the past, I used rewards sites to earn money online but I got tired of them because the earning potential just isn't there.
These days I do something called affiliate marketing which pays much more than rewards sites.
I have a 10-day free video training course that teaches you everything necessary about affiliate marketing. Check it out if you are also tired of earning just cents and not dollars, it's worth it.
It has the potential to earn you full-time income and not just some weekend beer money.
Closing Words
Thanks for reading my Lootcoins review and hopefully it answered some of your questions.
Let's hope you find the perfect money-making system for you.
If you have any questions, I'd be happy to answer them down below.
I'll leave you to it.