I'm a big fan of passive income.
That's one reason why I decided to do this Passive Profit Pages review.
Another reason is that they claim you can use a "secret method" to;
"make incredible money online with minimal work each day".
I've heard that many times before (& you might have as well) so you probably want to know if that is true, right?
Well, keep reading this review and you'll find out.
Btw, I'm not affiliated with Passive Profit Pages. I'm just someone who likes to review these money-making opportunities and help people get started with something that legitimately works.
Let's get started.
Passive Profit Pages Review Summary
$17 + $1392
Earning Potential

User Experience

Ease Of Use
Passive Profit Pages TLDR;
Low-quality "done-for-you" websites with video & PDF training
Broken training links
Expensive upsells (up to $1392)
Faked income testimonials
Low earning potential
What Is Passive Profit Pages?
Passive Profit Pages is yet another "done-for-you" web page builder bundled with video & PDF training (some of which is yet to come or has broken links).
This product is supposed to help you make money online with affiliate marketing by promoting products on ClickBank.
Affiliate marketing is a great way to make money online, but the way it's taught within the product is not going to get you far (& I'll show you why).
On the sales page, they also claim "you could make up to $1000 in online commissions today", and as great as that sounds; I can guarantee it's not going to happen.
Not with this product, nor any other — especially if you're new to online businesses.
Of course, it's possible to earn that much in a single day online, but you're going to need some skills and upfront work to make it happen.
How Does Passive Profit Pages Work?
The first step is to become a ClickBank affiliate (which is free) to get access to a wide range of digital products which you could promote with your affiliate links.
Once you've created an account, you have to insert your ClickBank ID into a form (inside Passive Profit Pages) and your affiliate links for different products will be automatically added to your "soon-to-be-made" websites.
Next, you have to choose from 5 ready-made caricature "niche" websites:
Guitar
Home biz
Acne
Debt free
Affiliate
These websites come with a few done-for-you articles (which are rather generic) and some links and banners.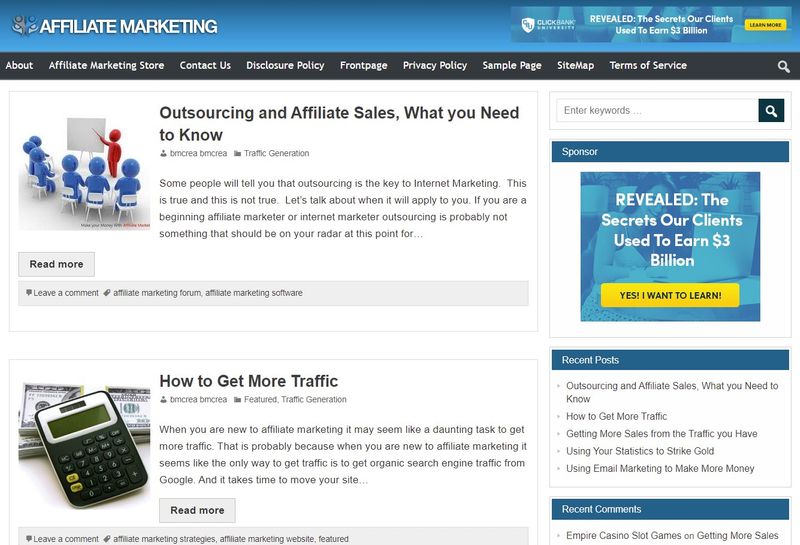 I have to say these websites look like they're straight from the early 2000s and the navigation bar has many broken links, but anyways…
After choosing one, you need to select a subdomain name for your website.
The problem is that their second-level domain (SLD) is called "myketoslim.net" and there are no other options.
This means even if you choose to build the "Acne" website, your website name would be "yourwebsitename.myketoslim.net".
Acne has nothing to do with the keto diet, and your potential customers would be extremely confused if they saw that.
Once you hit build, you have to wait 8 hours for them to confirm the creation of your website (which is damn slow).
Another reviewer mentioned they had to wait 16 hours for them to reply, so it's probably safe to say earning $1000 in your first 24 hours is not going to happen.
How are you supposed to make money with this method?
Your website has banner ads and this is where your ClickBank affiliate links are inserted:
As you can see, the banner is damn ridiculous as well.
When visitors would click those links and buy the product behind your link, you would earn a commission (part of the profits). This is affiliate marketing in a nutshell.
But how would you get visitors?
Well, the training on Passive Profit Pages tells you to buy something called solo ads from Udimi.
In short, you pay someone with a big email list and they'll mention your website link when they send an email to their list.
Does it work?
Most of the time, no.
I (& many others) regard solo ads as low-quality traffic which doesn't convert to customers very well (unless your offer and targeting are on point).
You can ask yourself; how often do you open the spam email you get (viagra & enlargement pills, etc) and click the links inside? This is basically solo ads in a nutshell.
Here are some more problems with using this method…
3 Problems Of Using "Done-For-You" Websites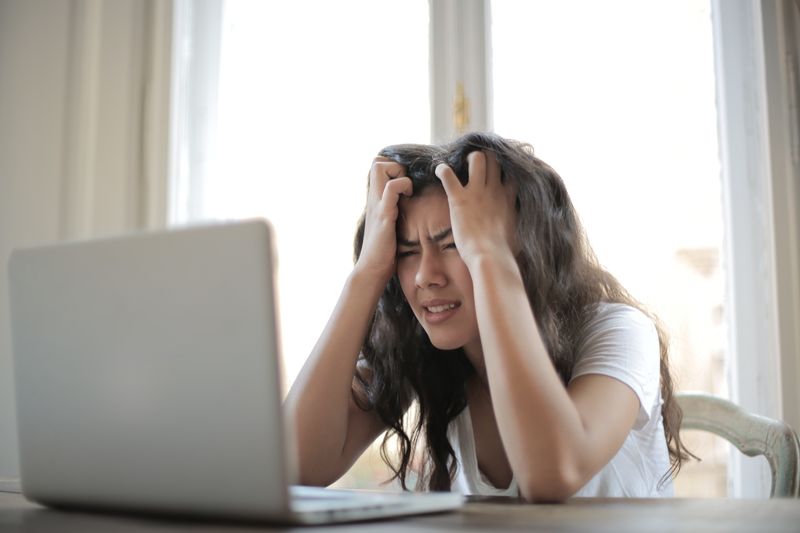 Duplicate Sites Can't Rank On Google
Even though the websites come with a bunch of articles, they are not going to help you because the articles can't rank on search engines (& bring traffic).
Why?
Everyone who builds their website within Passive Profit Pages is going to use the same pre-made websites with the same content.
This is duplicate content in Google's eyes and they don't like sites like that.
You Have To Spend Money To Get Traffic
Since you can't use Google to get organic traffic to your website, you are left with paid traffic or sharing your website link through other mediums such as social media or creating content on YouTube.
Paid traffic I don't recommend for beginners because you'll very likely only lose money if you lack the skills.
Sharing your (spammy-looking) website on social media will very likely get you banned unless you know how to provide value in your messages.
You could create YouTube videos and link to your website and make some sales, but let's be real here — you could do that without the website and insert affiliate links straight to your video description.
Lacking Customizability
The ready-made websites just aren't unique and they lack so much customizability.
You have no control over the content, site layout, plugins, hosting, or anything really.
You don't even "own" the websites. Your "business" is basically at the mercy of whoever is running Passive Profit Pages.
It's not fun trying to promote a clone website which everyone and their mom are also promoting. It just doesn't work.
3 Red Flags Of Passive Profit Pages
Sales Video Doesn't Show The Product
I see this with every low-quality product I've reviewed.
Whenever a sales video doesn't show the product and instead focuses on selling you the dream — I already know what to expect.
And so far it has never been anything good.
Hyped Up Income Claims
The income claims are very hyped and pretty much unrealistic.
No one is going to make $1000 on their first day of any business especially if you're a beginner.
It doesn't matter what you do for money, it's going to require you to have some sort of skills.
Fake Testimonials & Income Proofs
I blew some air out of my nose when I saw this guy in the video: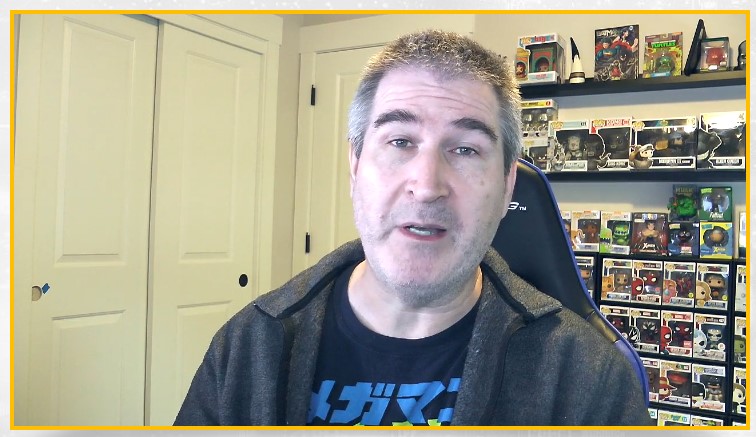 It's funny because I have seen this guy in so many sales videos when reviewing these questionable products.
The guy is actually a paid actor from a gig marketplace called Fiverr:
So yeah, in my humble opinion I believe the income testimonials are fake (& many other things as well).
How Much Does It Really Cost?
Now, "Bill" mentions in the sales video how there are no hidden fees or repeat costs, and while that may be true — it's still a play with words;
There are multiple upsells after the initial $17 cost totaling up to $1,392.
Are they worth it?
If they are anything like what you get with the $17, I wouldn't have high hopes for the more expensive parts.
I would stay away.
Can You Make Money With Passive Profit Pages?
If you're an experienced marketer, you could make some money with the method.
But if I'm completely honest with you — no experienced marketer would ever run their "business" on something like this.
For starters, you don't own the "business" and the owner of Passive Profit Pages could shut you down overnight (or they could shut down).
How about beginners? Can they make money with this?
I'm afraid this is not something I would recommend for beginners.
The chances of beginners making money with this method are slim to none.
Even some of the PDF training links are broken on their site so you wouldn't be able to access them.
Your biggest problem would be getting traffic to your website and without traffic — you can't make sales.
The only feasible way to get traffic to this type of website is paid traffic which I would never recommend to beginners (because you can easily lose money).
Even if you used paid traffic, you'd struggle to get sales because there is so little customizability that you wouldn't even be able to craft a relevant offer for your visitors.
The affiliate links are mainly promoted on banner ads on these websites which is not going to get you far.
Fortunately, there are so many better options for making money with affiliate marketing which I'd like to show you at the end of this post.
Is Passive Profit Pages a Scam?
You do get some value for your money and it might even spark inspiration in you to make money online — but;
While I can't say it's a total scam, I can (in my humble opinion) call it a generic low-quality product which you should stay away from.
It's supposed to be a "done-for-you" business, but ironically it's far from it.
Here are some things you can expect:
Broken training links
Expensive upsells
Faked income testimonials
Bad money-making method (IMO)
& much more.
That sums Passive Profit Pages well.
Who knows what else they are lying about.
Passive Profit Pages reminds me of similar hyped up programs:
If I were you and wanted to make money online, I would choose something else.
See How I Make Money Online
If you already tried Passive Profit Pages and couldn't make it work; it wasn't your fault.
The way they "teach" you to make money would be hard for anyone to succeed in my opinion.
It's completely possible for you to make good money online, but it requires proper training and patience.
If you'd like to give it another shot, I can recommend this free 10-day video training course that I've used since 2018 to make money online with affiliate marketing.
It still works after all these years and it will work in the future.
Thanks for reading my Passive Profit Pages review.
I'll leave you to it.