Welcome to my Private Cash Sites review!
You are probably wondering if you can really make 3 to 5 figures a day with these simple "done-for-you businesses" as this product advertises.
Many products in the make money online space talk about easy and fast income but the reality is often disappointing.
Let's put Private Cash Sites to the pedestal and see how it fares.
I have done some research and you certainly could make some money but there are major downsides which make this product not as great as it seems.
Ready to get started?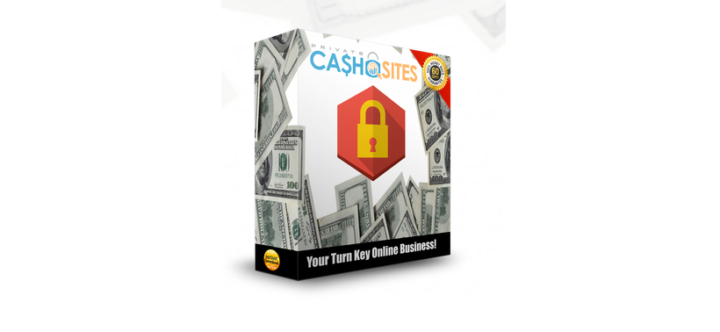 ---
Private Cash Sites Review Summary
Product Name: Private Cash Sites
Owners: Triad Excel Team
Product Type: Affiliate Marketing
Price: $47 + $147 upsell + $19.95 Platinum Club + 3rd-party software and paid ads cost
Summary: Private Cash Sites provide you with 3 done-for-you "businesses" but in reality, these are just 3 landing pages that you can use to drive traffic for your affiliate offers. The training teaches you to set up a landing page and how to obtain traffic using free and paid ads. You need to sign up for 3rd-party software like ClickFunnels and Linkmagick and both of these have monthly costs. I don't recommend the product for beginners.
Rating: 2/10
Recommended: No
---
What Is Private Cash Sites?
Private Cash Sites is advertised to be a "brand new" way to make money online using the affiliate marketing business model.
(The "brand new" method inside is actually old and used concept)
The sales page also promises you 3 done-for-you businesses that are ready to easily generate 3 to 5 figures a day.
These "businesses" are not as great as they sound and I'll tell you soon why.

The course launched in November 2018 and is made by Triad Excel Team who is responsible for a similar product launch called Explode My Payday.
I have reviewed that product and it wasn't good.
It's common for these product creators to make multiple similar courses under a different name and sell them on ClickBank and have affiliates promote the product.
That's why it's important to take the income proofs in the sales video with a grain of salt since they could potentially be earnings from selling the actual product as a vendor and not using the product itself.
What is Affiliate Marketing?
I'll briefly explain the term if you don't know what it means:
Affiliate marketing is a business model where you promote other people's products and if someone buys the product through your unique links, you will then earn a small portion of the profits.
The same business model is used in this particular training course to make money.
Closer Look At Private Cash Sites

So far we know the Private Cash Sites is about affiliate marketing but what is it really offering and is it possible to make any significant income using this system?
What Do You Get With Private Cash Sites?
The starting price gives you access to the following modules:
Around 15 training videos that are 1-5 minutes long, one being 20 minutes
Access to 3 done-for-you businesses = 3 premade landing pages to capture emails
Customer support
Once you are inside, you are offered a chance to join the platinum club for $19.95 and it gives you the following:
Weekly updates on everything "make money"
Insider tips, directly from 7 figure marketers
Weekly Private Cash Sites updates
Faster servers for your online business
Then there is a "Ninja" upgrade which costs $147 which gives you more training on different marketing aspects and some motivational self-improvement guides.
How Does Private Cash Sites Work?
The idea is to set up a simple landing page that promises to show the visitor a way to make lots of money (just like this product's sales video) in exchange for their name and email address.
After filling the form, the visitor is taken to a product page through your unique affiliate link and if the visitor decides to buy the product, you earn a commission.
The idea of collecting email addresses is to build an email list so you can send future product promotions to make even more money.
For a system like this to work properly, you need to feed that landing page lots of traffic to make any money.
Unfortunately, products like this never mention that you need to heavily invest in paid traffic to make this kind of system worthwhile. When complete beginner touches paid traffic methods for the first time, the result is usually an empty wallet and teary eyes.
The affiliate marketing business model itself is a legit way to make money and I personally use the same model to monetize my websites.
However, my way of using the model differs greatly from Private Cash Sites and doesn't require heavy monetary investment on my part which is a huge advantage.
Although you can make money using this product's system, I would argue it's not the best way to get started as a beginner.
The thing with affiliate marketing is that you need to build trust with your audience to make sales and that is challenging to achieve with email promotions and a single landing page only.
How Much Does Private Cash Sites Really Cost?
This isn't the first time I see a sales video saying "no hidden costs or anything else to buy" but in the end, you need to spend a fortune to get full benefits of a product.
This product isn't much different since there are additional costs that were not mentioned in the sales page.
I'll give you an idea of what you can expect to spend using this system:
The initial product price $47
Platinum club $19.95
Ninja upgrade $147
ClickFunnels membership $97/mo
Clickmagick link tracking $144/yr
And since this product is emphasizing on paid traffic you can expect to burn hundreds of dollars on solo ad costs without any guarantee of sales.
I'll leave it up to you to decide if this is something you want to invest in but just so you know: there are way cheaper alternatives out there.
Are there upsells with Private Cash Sites?
Yes, the price structure can be seen below:

The picture doesn't show it but there's a third downsell for $7 after the $17.
In my opinion, it's a bit desperate move to drop the price 3 times down to $7 and it makes you think if the actual training is even worth looking into if the owner doesn't care how much you pay for it.
Another perspective would be that the owner only wants you to swipe the credit card, no matter the cost.
Who Is The Private Cash Sites For?
Someone who wants to get into a simple landing page and email marketing business could get something out of this training as long as they have a cash stack to spend on traffic.
With that said, I wouldn't recommend this to beginners as there isn't enough hand-holding and the risks are rather high because of the costs.
Pros Of Private Cash Sites
#1 – ClickBank's Refund Policy
ClickBank gives you a 60-days money-back guarantee which is nice but remember that it applies only to the product and not the additional 3rd-party costs inside.
#2 – Cheap Price
When you try to leave the page 3 times the price drops down to $7 and it's pretty affordable training at that point.
But that's only to see what's inside because the system itself requires more money to work properly.
Cons Of Private Cash Sites
#1 – A Landing Page Is Not A Business
I don't regard a mere landing page as its own "business".
Landing pages are part of a larger online business but not enough as their own to be called a "business".
My perspective on this: When the sales page promised you 3 done-for-you businesses and they ended up being landing pages, it's the same as if someone sold you a "done-for-you" pizza but in the end you only got ingredients to make the pizza.
#2 – You Won't Gain Trust Of The Audience
Gaining the trust of your audience in affiliate marketing is essential if you want to make any money.
That is extremely hard to do with a simple landing page or an email message and that's why almost every successful affiliate marketer has their own website where they can talk to their audience.
#3 – You Are Not Serving Your Audience
Your job as an affiliate marketer is to serve your audience and promote products that benefit your audience.
The problem with systems like this is that they never teach you which products are good to promote and HOW to promote.
The emphasis seems to be always on what converts the best and what grows your own wallet the most.
Just to clarify, the best converting product doesn't mean the product is good.
I personally would never build an email list just to promote ClickBank products because they are generally low-quality and that equals lots of refunds. This system wants you to do exactly that.
#4 – Done-For-You Systems
When everything is automatically fed to you with a silver spoon you never learn anything and what's more alarming is that you don't own anything.
Your "business" is completely on other people's mercy and if they disappear one day, so does your business.
Many ClickBank products which offer done-for-you systems only last for a couple of months so it's just not worth to rely on other people's work.
This is why you should consider a website like I have because no one can take away this asset from me and I'm in full control of what happens next.
#5 – Misleading Claims
There were many… but I will touch only some of them.
First of all, what Private Cash Sites teaches is not a brand new way like it was advertised. Making money with landing pages and email marketing is a very old concept.
The sales video portrayed affiliate marketing becoming harder and harder over the last few years with many barriers to entry.
This is not true and actually is quite the opposite.
It has never been easier to get into affiliate marketing than now because of all the free resources online.
This also caught my eye:
"In affiliate marketing, someone else has already done the work and you just have to make the sales."
I don't know who came up with something like this but you can't just snap your fingers and make sales. Making sales requires work.
There was also a mention of a daily limit of 10 members but this is just a way to raise urgency in the customer's mind. ClickBank products do not have member limits so it's just an unethical marketing tactic.
And to be honest, I think it's a bit far stretched to think you can easily achieve 3 to 5 figures a day with a system like this especially if you are a beginner.
Is Private Cash Sites A Scam?
It's not a scam because you get training to set up your pre-made landing page which can make money as long as you know what you are doing.
However, the sales page is very misleading and practices unethical marketing methods like promising easy money and no hidden costs.
In reality, you need to pay several hundred for 3rd-party software and solo ads to take advantage of what is taught inside this product.
That's why I don't recommend this product and especially not for beginners.
---
Similar products that I have reviewed in the past:
The Beginner-Friendly Method Of Affiliate Marketing
The way I do affiliate marketing doesn't require you to pay those ridiculous sums for paid traffic and multiple 3rd-party software.
This beginner-friendly method is the same training platform that I used to build my own online business from scratch as a complete newbie.
You will also learn the same email list building strategies like in this product but they are only a part of your larger online business like they should be.
The training teaches you to build your site in a way that attracts free traffic from search engines so people will be coming to you instead of you constantly chasing the people with ads and emails.
(A good example of this free traffic method in action is how you found this post.)
Just to be clear, I'm not portraying this as a fast and easy way to make money like 90% of other products do. You need to be ready to put some effort into this and that's how every online business works.
The best part of this is that you can start for free and get your website running without opening your wallet at all. That will give you some real insight into the training if it's the real deal or not.
You can join the training platform here.
Thanks for reading the review and hopefully we'll see on the other side.