Welcome to my Prizat review.
If you've been thinking about joining Prizat, you most likely want to know first if it's a legit site before spending your precious time on it.
Luckily for you, that's exactly what we are going to find out today.
In this post, you will also learn:
What is Prizat (& how do you get started)
What's available inside
How do you get paid?
Are there any complaints?
Some pros and cons (& is it worth joining?)
If you want to learn how to earn some points and then exchange them into gift cards or money, keep reading.
I am also going to show you how I personally make money online with a method that pays a lot more than GPT-sites.
Let's see what Prizat is all about.
Earning Potential

Payment Systems

User Experience

Amount Of Task Providers
Prizat TLDR;
Complete offers and exchange points for gift cards or cash
Fast payment processing (under 24h)
19 Different gift cards to choose from
Grammar errors and other irrelevancies lower the credibility
Only five offer walls available (only three worked)
Low earning potential (there are better options out there)
What Is Prizat?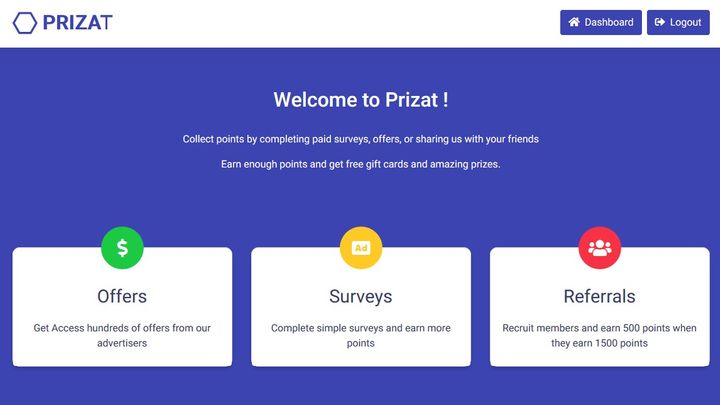 Prizat is a GPT-site (get-paid-to) where you can collect points by completing paid surveys, offers, and inviting your friends to the platform.
Once you have collected enough points, you can then redeem them for gift cards or even cash.
The site is fairly new, a bit over one-year-old as you can see below.

Small and new sites often have the benefit of fast payment processing, but they also come with the risk of losing your points if one day the owner decides to shut down the project.
And talking about the owner, we have no idea who it is, and that's quite typical to new GPT-sites, at least what I have noticed. All that I could gather is that Prizat is made by someone speaking the Arabic language.
Most of the user base also seems to be from countries where Arabic is spoken. The site can be used in English though. There are both English and Arabic versions of the site available.
I mention this because there are a quite bit of grammar errors and other irrelevancies which bring some credibility issues but more about that later.
And if you want a quick answer whether Prizat is legit or not; yes, it is legit so far and people have received their payments typically in under 24 hours.
How Do You Get Started With Prizat?
Getting started with Prizat is fast just like with most GPT-sites.
You simply enter the following information as seen below: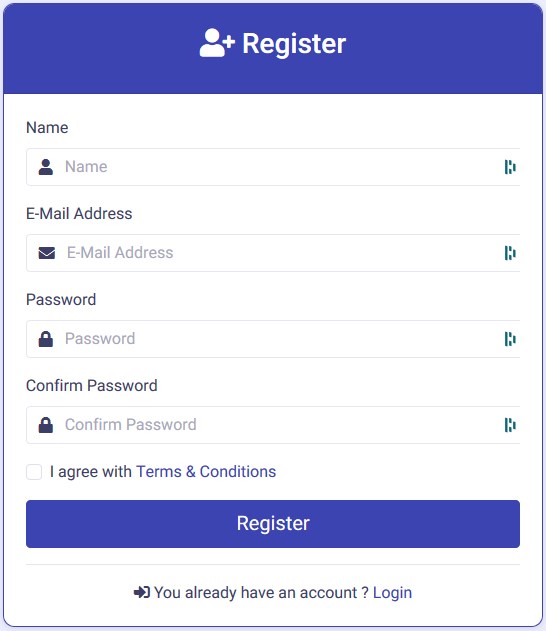 Once you click register, you are immediately inside and ready to start collecting points.
I was a bit surprised though because there was no email confirmation at all. Usually, it is required before you can cash out your earnings but apparently not this time.
What's Available On Prizat?
In terms of earning opportunities, there isn't much, and I was expecting a bit more to be honest.
Prizat only has a few offer walls available. No dedicated survey providers at all even though the front page states there would be surveys.
Sure, one of the offer walls has 3 surveys available but it's not the same as a dedicated survey provider with a wide selection.
Also, normally I would tell you how much a specific amount of points is worth in real life money but apparently, the points aren't tied to any specific number. The point cost of the prizes seems to be completely pulled out of a magician's hat. More about that later.
Anyways, next I'm going to go through what little there is and how many points you can expect to earn from these methods.
The Offer Walls
In case you don't know what offer walls are, here it is explained briefly:
Offer walls have a wide variety of tasks that you can complete for points. These tasks can include anything from completing surveys, installing mobile phone apps, watching videos with ads, trying out free trials of products, and even gambling.
Prizat has five offer walls available and each offer wall has 10-50 tasks to complete for points.
Only three of those offer walls loaded up for me though.
I recognize most of these offer walls and they are known to be reputable brands that can also be found in some of the most popular GPT-sites.
The amount of points you can earn from these tasks can range anywhere between 7-10,000 points.
Typically the more points it rewards, the more time consuming the task is.
There are also risks in those tasks that reward lots of points.
From my experience, anything that rewards more than 4,000 points usually requires you to spend money to earn points.
And if you are doing tasks that include free trials, you should always remember to cancel those trials before they run out. There's a good chance they start charging you monthly afterwards and that means you can basically lose the value of your points that you've gathered so far.
YouTube Channel Subscription
You can earn easy 100 points when you subscribe to the YouTube channel that is shown on the same page as the offer walls.

Now, you would think this channel is Prizat's official YouTube channel with awesome content about this site but you are up for a disappointment.
This is the channel waiting for you behind the link:
It's a completely irrelevant YouTube channel with no content on it.
Is this the owner's own personal YouTube channel or what? I can only guess the thought process behind this.
At least you earn 100 points for subscribing to it.
The Referral Program
Prizat also has its own "referral program" if you could call it that. It basically allows users to earn points in a passive way when people join through your referral link and they earn points.
Now, I have to say this is the worst explained referral program I have encountered so far.
The only information you get about the earning rates is this and it's on the front-page:
Do you only earn this once or every time the referral reaches that threshold? I don't know man.
I guess it is better than not having a referral program at all.
How Can You Get Paid In Prizat?
The prize selection in Prizat is surprisingly large. There are 19 different rewards you can choose from once you have enough points.
Most of them are gift cards for the most popular services online, but you can also exchange your points for PayPal credits if you prefer cash.
You can see the reward selection below:
The payment processing time is also under 24 hours which is nice and fast. Some other GPT-sites can take up to a week to process the payments.
Now, probably the most confusing part is how many points you require for different prizes because they are all slightly different.
In almost every other GPT-site you can put a specific value on the number of points you have. For example, 1000 points being equal to $1 but that's not the case with Prizat.
You just have to see where you get the most value out of your points.
Are There Any Customer Complaints?
I couldn't find any major complaints.
Probably one reason for that is that the site is pretty new and there isn't a huge user base yet.
All the user feedback was also in Arabic so I had to do some Google translating to figure out what they were saying.
One that stood out was some guy who hadn't received his prize after 48 hours.
I wouldn't be worried though. Many things could have caused that and one complaint is not enough to form any decisive conclusions. Also, people were replying to that comment that they had received their rewards on time.
Pros & Cons Of Prizat
PRO: Many Rewards Available
There is a good selection of 19 different rewards to choose from.
These include gift cards to some of the most popular brands out there and if gift cards aren't your thing, you can get PayPal credits as well.
You can also recharge your prepaid sim-card with some of the rewards if you live in Saudi Arabia.
PRO: Easy To Get Started & Available Worldwide
Getting started with Prizat takes less than a minute, so it's quite easy to hop in if you are interested in earning gift cards (or cash).
The opportunity is available worldwide but there may be limitations in the offer walls depending on where you live.
For example, some countries do not necessarily have as many tasks available as people living in the US.
PRO: Fast Payment Processing
Payments are typically processed in under 24 hours, so you don't have to wait very long to get a hold of your prizes.
It's definitely a luxury of smaller GPT-sites to get fast processing.
I have seen some sites taking up to a week to process payments.
CON: Small Typos Affecting The Credibility
There are quite many grammar errors on the site and they definitely eat up some credibility.
It's somewhat understandable though since the owner is most likely not a native English speaker. The site is in English and Arabic languages after all.
Typos still cause minor trust issues, at least for me.
CON: Irrelevant YouTube Channel
To be honest, I don't understand the thought process here at all.
You can earn 100 points by subscribing to a completely random, irrelevant, and empty YouTube channel.
In my eyes, this just lowers the overall credibility and quality of the site.
CON: Not Enough Earning Opportunities
Five offer walls with only three of them working are not enough.
Prizat definitely suffers from a lack of earning opportunities. When a GPT-site doesn't have enough offer walls, people usually sign up for another GPT-site to supplement their income.
There are similar rewards sites out there that have enough earning opportunities so their users don't have to leave the site.
What is the point of signing up to Prizat if there are way better alternatives? Prizat doesn't offer anything exclusive that would make it appealing to make the switch.
Is It Worth Joining Prizat?
I was expecting a bit more from Prizat.
There simply isn't enough offer providers to make it an appealing choice when there are other rewards sites with 10x the amount of offers available.
Just five offer walls are not going to cut it. Two of them didn't even work for me.
The only reason I can see someone preferring this site is if there is a gift card that's not available in any other GPT-site as a reward.
The overall quality of the site is also somewhat lacking. There are many typos, missing information, irrelevant actions like subscribing to some random YouTube channel (that has zero content) for points.
I think it is fair to say that Prizat is just a small project for whoever is running it. It works for the most part but there are just so many better options out there.
A Better Paying Alternative
Another problem I personally have with rewards sites is that the earning potential is absurdly low and the earning process can get super grindy and boring.
That's why I want to show you some better alternatives for making money online.
If you still want to make some side-cash (at best), I would use these instead of Prizat:
Those are some of the most popular rewards sites out there right now.
On the other hand, if you want to do something that has the potential to earn you a full-time income, then you need to start an online business.
This beginner-friendly 10-day video training course has been my top recommendation for the past 2 years, and it is free to join! It is the same course I started with and I highly credit it for teaching me the ropes of running an online business.
Thanks again for reading my Prizat review, and I hope you found it helpful.
Feel free to ask questions below, and I'll answer them.
I'll leave you to it.