Welcome to the Silk Road Effect review!
This product makes some really bold statements by guaranteeing that you will be a millionaire within 12 months from now on.
I have a hard time believing that but I'm going to review this product anyways to see what is it about.
Let's see what this product has in store for us and if you can even make money by following this training.
---
Silk Road Effect Review Summary
Product Name: Silk Road Effect
Owners: "Steven Jenkins"
Product Type: Dropshipping
Price: $9
Summary: Silk Road Effect is an overview introduction to eCommerce and dropshipping. The material inside is short, rehashed and outdated without proper step-by-step instructions. This product doesn't help you make money and I don't recommend it.
Rating: 1/10
Recommended: No
---
What Is Silk Road Effect?
The sales video starts with a bold claim to make you a millionaire within 12 months from now on and after that, the salesperson proceeds to preach about "ancient silk road secrets" that you are not supposed to know.
The video pretty much had every aspect what can be found from most low-quality "make money online" products these days:
Don't have to work for money
Terrible secrets you are not supposed to know
This is not like any ordinary business
Easy and fast method
A cherry on top is the fact that by watching the sales video you have no idea what the actual product is about.
Silk Road Effect was launched in February 2019 by "Steven Jenkins" and I wouldn't be surprised if this was just a pen name. This happens to be the case with many low-quality ClickBank products.
So what is Silk Road Effect actually teaching?
This product and the "terrible secret" you are not supposed to know is about eCommerce and more specifically Dropshipping.
A business model that I also use to make money online.
It's a legitimate way to make money online but just like every other business, dropshipping requires lots of work and some upfront capital to get started.
Here this genius dude has posted his dropshipping "income proof" to impress you.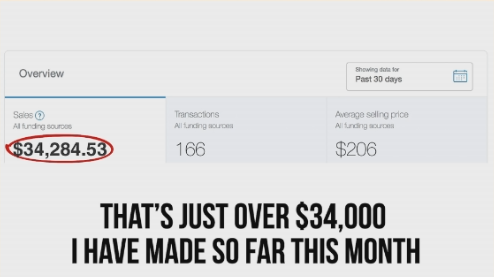 Just like in every other dropshipping guide, this one also forgot to mention that this $34k is not net profit.
It's revenue.
We have no way of knowing how much he spent on expenses like paid ads and actually buying the products for the customers.
If we calculate a generous 30% profit margin for that $34k revenue, we get a net profit of around $10k.
$10k profit is still a good amount but it's nowhere near $34k per month.
So far, this product operates very similarly to these two dropshipping guides:
Closer Look At Silk Road Effect
Judging by the contradicting sales video this product doesn't seem very impressive but could the product inside be something else?
So far, we know this product is about dropshipping but does it have any value to offer and could it help you make money?
What Do You Get With Silk Road Effect?
Not much.
You get one 3-pages long PDF explaining what is eCommerce and 10 short videos explaining roughly the same.
This didn't really come as a surprise but the videos are 3 years old and mostly rehashed information squeezed into a "new product".
The information is outdated and you could find better training for free around the web.
Personally, I have a hard time calling this "training" since it's just an overview of things and lacking step-by-step instructions.
Videos:
What Is E-Commerce And Why You Should Take Notice
An introduction to E-Commerce Business Models
Creating Your Online Store
Creating Your Online Store
Creating A Shopify Site
Creating A Woocommerce Store
Designing A Store That Will Sell
Ways to Generate More Sales With Pricing And Persuasive Writing
Marketing Your E-Commerce Store
Starting Your E-Commerce Business
How Much Does Silk Road Effect Really Cost?
Those $9 you have to pay for the PDF and videos are just the beginning of higher costs.
After joining you will be offered to buy a Silk Road Deluxe Club for $197 which gives you 2 eBooks called:
Would you be surprised if I told you that these are available for a total of $15 in Amazon Kindle?
The second upsell is called Marco Polo Secret and it goes for $197 and surprise surprise it contains one eBook called Dropshipping 101 which also sells for $3 in Amazon Kindle.
Also, if you are planning to set up a Shopify store you can expect to pay at least $29/month for their cheapest membership plan. Paid ads are another investment and it's good to have around $500-1000 to test the grounds.
The Truth About Silk Road Effect
At this point, it feels like there was a bigger budget spent on the sales video than the training itself.
The training is also lacking important details and step-by-step instructions to the point where I wouldn't even call it training.
It's better for research purposes than training because I doubt anyone has ever made a single cent using this product's material.
The upsells really give you the impression that the owner is only interested in your wallet rather than your success.
The Red Flags Of Silk Road Effect
#1 – Sales Video Doesn't Describe The Product
This is a common tactic used to draw attention away from a low-quality product.
The sales videos often sell you a dream of earning money fast without working and how you are going to become rich using the product.
You often see this coupled with absurd income claims and how you can get similar results on the same day if you buy now.
#2 – Unrealistic Results
Everything that you were promised in the sales video was just fluff because the training itself doesn't have any proper step-by-step instructions that would lead to any kind of results.
I think it's safe to assume that you are not going to be a millionaire within 12 months by following this "training".
Dropshipping can get you there for sure but this training doesn't equip you with the necessities to succeed.
#3 – Deceptive Marketing Tactics
The lack of describing the product in the sales video was one deceptive tactic but there were many more.
Another was to create a sense of urgency by saying that this page will be up for a short time and how there is room for 20 new members only.
That's not true because this is a ClickBank product meaning there are no limits to how many people can buy the product.
#4 – Unknown Owner
Most of the time an unknown owner without a picture is a red flag in the "make money online"-industry.
This product is no exception and the owner probably wants to stay anonymous so he can create similar products in the future.
Wouldn't be the first time I see that happen.
Is Silk Road Effect A Scam?
Well, I feel the urge to call this a scam but since you get a low-quality product in return for your money, it's not 100% scam.
The training is short, rehashed and outdated without proper step-by-step instructions and I would call it more like a general overview rather than training.
I doubt you would make even a single cent if you were a beginner following this training and that's why I can't recommend this to anyone.
Also, it's ridiculous how the owner is trying to sell you $3-10 kindle books for $400.
I don't recommend this product.
Try This Instead
Since you are most likely looking for ways to make money online, I have an alternative for you to consider.
Affiliate marketing is somewhat similar to the dropshipping but it has smaller starting costs and you don't have to deal with customer service.
Both business models operate using a website which is something anyone can manage these days without coding knowledge.
It's true that these business models can make you lots of money but you need to actually work for it. It's definitely a long-term project but so is every online business out there.
I personally started with affiliate marketing without any prior experience to online businesses and I would say the training and support are the most important aspects that shape your outcome.
The training course I used is free to join and you will have your very own website running on the first day already. I highly credit this course for teaching me the necessary skills that I have today.
Thanks for reading my review and I'll leave you to it.