Today I'm going to show you how to pick the perfect domain name for your affiliate website.
Why should you listen to my advice?
I run multiple affiliate websites and I've made pretty much every mistake there is to make when it comes to domain names.
In a nutshell, I've become a master of knowing what not to do.
Even this website (affiliatist.com) has undergone 2 domain name changes. 🤦‍♂️
So after reading this guide, you'll know:
How to avoid common domain name mistakes
The rules I follow when choosing a domain name
How to easily come up with 100's of domain names
Where (& how) I buy my domain names.
I hope my guide will save you from future regrets so you don't have to spend money on rebranding (been there done that)!
Let's dive in.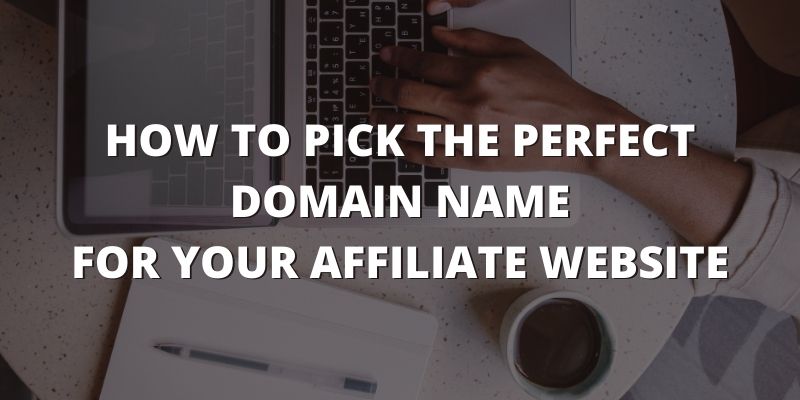 How To Come Up With A Domain Name For Your Affiliate Website
Before we start, I want to emphasize something.
Don't get paralyzed by the amount of advice I'm going to give you (& don't let it stop you from starting).
They are just tips.
So don't lose your sleep if you don't follow something to the tee.
You can also find a summary at the end of this post.
Here are the main topics we're going to cover:
4 Things to avoid when choosing a domain name
Should you include keywords in your domain name
What TLD (top-level domain) to use for your domain name
Coming up with catchy domain name ideas using generators
Where (& how) to purchase a domain name.
4 Things To Avoid When Choosing Your Domain Name
01 – Avoid Confusion In Your Domain Name
For starters, your domain name should (preferably) be related to your niche.
It gives a hint to the reader of what your website is about.
They will know what to expect.
Example: This website (affiliatist.com) is about affiliate websites so you can see the slight connection.
Also, your domain name represents your brand;
So it should be easy to remember and easy to type.
Otherwise, growing your brand will be harder because it simply won't stick to people's minds. It would also be harder to sell the brand if that's your goal.
Which one do you think would be a better domain name choice?
"grilladvisor.com" vs "bestoutdoorgrillreviews.com".
The answer is the first one.
Shorter domain names like that are harder to find but trust me, there are plenty of brandable "2-word" names like that once you start brainstorming a bit (I'll also show you how to find them later).
Also, here's an easy way to test if your domain name is memorable;
Do you think your mom could find it if you said your website name over the phone? (Test it, I'm serious haha).
Now that you know your domain name should be:
Related to your niche (preferably),
Easy to remember,
& Easy to type…
You may start thinking;
But how do you craft a domain name like that?
Let me show you.
Here are the 5 rules I follow when crafting a brandable domain name:
No numbers
No hyphens
Avoid double letters
Shorter the better
Catchy if possible
And here are some practical examples:
No Numbers – "101dogtricks.com"
People won't know if your domain name is typed in letters or numerals.
It's not the end of the world if you have numbers in your domain but I have stayed away from them for the sake of simplicity.
No Hyphens – "101–dog–tricks.com"
Hyphens cause unnecessary confusion when you explain to people how your domain is spelled (& it looks unprofessional IMO).
In Google's eyes, hyphens are also a minor spam factor, but it won't stop you from ranking. I know a few authority websites using them.
Avoid Double Letters – "101cattricks.com"
Again, double letters may cause confusion.
People may ask: "Is it catricks.com or cattricks.com?"
Shorter The Better – "dogtricks.com" vs "bestdogtricksforbulldogs.com"
As you can see, shorter domain names are much easier to remember.
And they make for better brand names.
Catchy If Possible (Say your domain name out loud)
Most of my horrible domain names would have never seen daylight if I had said them out loud before I purchased them.
That's probably the best advice I can give you. Say it out loud.
You'll immediately know if it's good or bad.
Now you know how to avoid confusion in your domain name, so let's move over to another important topic.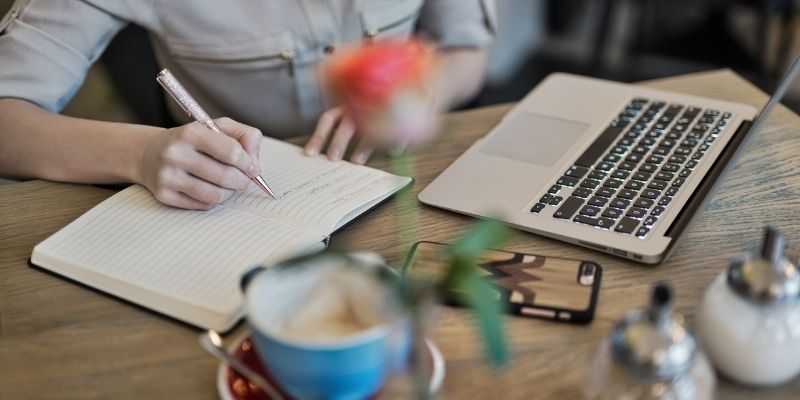 02 – Avoid Restricting Your Content
Your domain name should not restrict your content.
You'll want your domain name to be broad (unlike your niche).
Here's what I mean:
Let's say you want to make a website about golf balls.
I wouldn't name the website "golfballs.com".
What?? It's a perfect 2-word domain name?!?
So, what's the reason?
At some point, you may run out of things to say about golf balls.
And then if you expanded your site to be about other golf stuff (e.g. golf carts, golf drivers). Not only would it be annoying to you, but your visitors may also be confused and think your site is only about golf balls.
The solution to this?
Rather than using "golfballs.com", I would name the website "golf.com" or something similar but broader.
Being broader allows you to expand to different topics in the future.
Another even more simplified example…
You want to make a website about dogs.
Instead of naming your website "dogs.com", I would do "pets.com".
This way you can expand to cats and other animals in the future.
Note: You can obviously talk about cats even if your domain name is "dogs.com". It's up to you if you want to follow the previous advice. Just think long-term about what your website could be in 5-10 years.
03 – Avoid Brand Names (Unless It's Your Own Brand)
Don't use someone else's brand or product name in your domain name.
It's an easy way to get sued.
For example: "[product name]reviews.com" or "youtubestudioguides.com"
As a side note, I wouldn't recommend creating affiliate websites around a single product either. Find a target audience first, then products.
How can you avoid using someone else's brand name accidentally?
Aside from using common sense, I always check the Global Brand Database before I buy a domain name.
Simply insert your domain name (without ".com") in the "text" field and see if anything pops up.
Even if some trademarks would appear, it's not "game over" yet.
You need to evaluate if they would take legal action against you. For example, if it's some random company from North Korea, I wouldn't be too worried.
Here's what I usually do;
First, I check what country they are from and then I check if they have a website.
If their website is "authoritative" and their domain name has the same branded words as your domain, I would probably find another domain name.
Example:
Their domain name: microsoft.com
Your domain name: microsoftware.com
It's just not worth the risk and there are plenty of other domain names.
And of course, all this really only matters if your website becomes popular.
04 – Avoid Used Domain Names With Spammy History
It's possible that someone has used a domain name in the past and let it expire.
The problem about this is that you never know if they've used some unethical black hat SEO tactics or PBN's and now the domain is penalized and blacklisted by Google.
For example, affiliatist.com was owned by someone before me and I'm a bit worried, to be honest. So far everything seems good.
How can you check if someone has used your domain name before?
Before you purchase any domain, check if it has been used before with the Wayback Machine.
If used before, see what kind of website it was and how trustworthy it looked.
Next, check the backlink history and see if there are any suspicious-looking websites (adult-related, spammy, etc.) linking to your potential domain name.
Some people take it so far that they won't buy a domain name if it has been used. They only buy fresh domain names.
And it definitely gives you some peace of mind knowing it hasn't been ruined.
It's up to you.
Should You Include Keywords In Your Domain Name?
Back in the day, it was popular to use "Exact Match Domains" (EMD).
Basically, if you found a good keyword with good traffic stats, you'd then buy a domain with those exact keywords.
And most of the time these included product names (which I mentioned to avoid earlier).
For example: "Blender9000review.com"
It allowed the website to rank high in Google without much effort on content creation; it made people a lot of money.
However, it came to an end after a Google update in 2012, and nowadays EMD's carry very little SEO benefit.
The bottom line is that you don't really benefit a lot from including keywords in your domain name anymore. Personally, I would rather choose a unique & branded domain name.
What TLD Should You Use For Your Domain Name?
TLD stands for top-level domain and it's simply the extension of your domain.
Here are the ones you're probably most familiar with:
(.com)mercial
(.org)anization
(.net)work
& many more.
Does it matter what TLD you use for your domain name?
Yes, I recommend only choosing the ".com" extension for affiliate websites.
And for most other "types" of websites as well.
Why?
It's the most trusted extension among people and trust is what matters most when it comes to affiliate websites.
They also "indirectly" rank better on Google because of the trust factor.
People would rather click on a website ending ".com" than ".xyz".
But if I was seriously forced to choose something else than ".com" I would go with ".org".
You may be thinking of that because you found a cool domain name but the ".com" was already taken so you figured could use another extension. My advice would be to just find another domain name with ".com".
Should You Buy A Premium Domain Name?
When you're searching for domain name ideas, you might come across domain names with a price tag of $1,000 or more.
You may be thinking if it's worth buying a name like that because it's just what you wanted for your website name.
My answer would be no – don't buy a premium domain name, especially if you're just getting started and want to build your first website.
It's just not worth it to throw a grand or two at a domain name when you may have not earned a single cent with websites yet.
Trust me, there are other great names available (with normal prices) even though it may not feel like it. You just need to keep searching.
I almost bought a premium domain name myself when I was just getting started and thank god I didn't. Thinking back, it wasn't even a good domain name and I ended up ditching that niche eventually.
I just didn't have the experience at that time to tell better and you may not have either if you're new to websites.
Get a "normal" domain name.
Coming Up With Catchy Domain Name Ideas Using Generators
Brainstorming a domain name is tough sometimes!
That's why I personally use generators for coming up with good domain name ideas.
I have found most of my domain names using these generators:
NB: I don't buy domain names through these services!
I only look for ideas and then purchase the domains elsewhere (I'll tell you where soon).
How these generators work is that you insert a keyword related to your niche and they will spit out hundreds of available domain name ideas.
They are really handy if you're struggling with ideas!
I highly recommend trying them out and they're free as well.
Where To Purchase A Domain Name?
Now that you know my tips for picking domain names and how to find a domain name using generators, you're probably wondering;
Where do you actually go and buy a domain name?
There are dozens of places to buy them, but what I've always used are:
What I like most about NameCheap is that they're not trying to upsell you a bunch of useless features along with your domain name.
They also take privacy very seriously and provide free domain privacy with every domain purchase. Basically, people can't see your personal information that's connected to the domain name.
Wealthy Affiliate is another awesome service and they provide much more than just domain names. If you are creating affiliate websites, you will save a ton of money by using their services instead.
Here's a small comparison of just the domain services:
How To Purchase A Domain Name?
Purchasing a domain name is a fairly simple process and very similar to buying stuff from online stores.
Here's the tutorial for purchasing a domain name through WA.
And below you can watch a tutorial for NameCheap:
Picking The Perfect Domain Name Summarized
Avoid confusion in your domain name

No numbers
No hyphens
Avoid double letters
Shorter the better

Catchy if possible (say it out loud)
Avoid brand names you don't own
Avoid used domain names with spammy history
Pick a broad domain name that doesn't restrict your content
Only use ".com" as your TLD (preferably)
Don't buy an expensive premium domain name
Closing Words
There you have it.
You should now have a good idea of how to go about picking your domain name and what potential mistakes you should avoid.
So, do you have an idea for your next domain name?
Or did you learn something new?
Either way, let me know in the comments below if you have questions or if I forgot to cover something.
And if you need help building out your affiliate website, you can sign up for this free 7-day affiliate training course!
Talk soon.