Are you looking for a lucrative way to earn passive income using cryptocurrency exchange platforms?
The Binance Affiliate Program could be your game-changer with its enticing commission rates.
Today, we're going to take a closer look at this program.
In this review, you're going to learn:
What is the Binance affiliate program
What are some of the ways to earn commissions
Ways to promote this affiliate program
How much they pay for affiliates
& Some pros and cons you should know about
After this review, you should have a good understanding if this affiliate program is the right one for you.
Ready? Let's get started!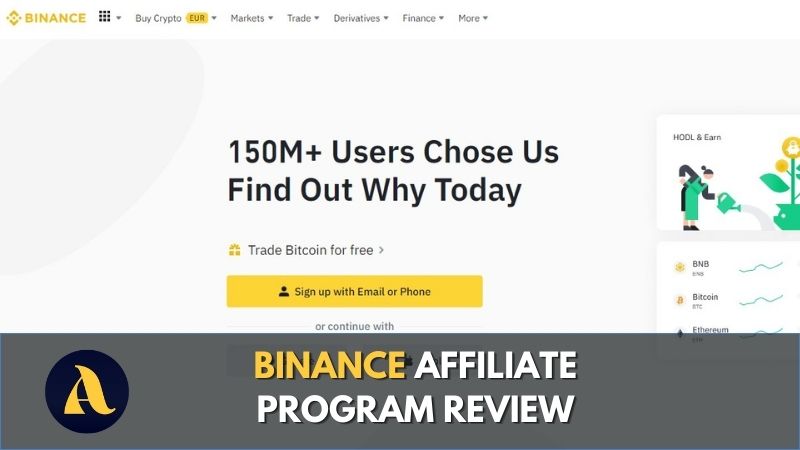 Overview of the Binance Affiliate Program
The Binance Affiliate Program offers individuals the opportunity to earn commissions by referring users to the popular cryptocurrency exchange platform.
How Can You Earn With Binance?
The Binance Affiliate Program lets you earn money when people use your affiliate link to sign up for Binance and start trading.
The program gives up to 50% off of their fees back to you.
If the person you refer trades a lot or has high fees, you could make significant commissions each month from just one person. The more people that use your link and trade on Binance, the more money you can earn.
This program works for anyone who can share their affiliate link online – on blogs, websites, or social media. Even though there are some rules about who can join, most people will be able to take part.
Who Can Join The Binance Affiliate Program?
For starters, you need to have a registered account on the Binance cryptocurrency exchange platform.
Next, you need to fit one of the following categories:
Individuals

Minimum 5,000 followers on one or more social media platforms

Crypto Communities

500+ Members on one or more community groups

Business/Organization

More than 2,000 users on your platform
Or 5,000+ daily visits on a market analysis platform, industry media platform, crypto fund, or aggregate trading platform.
How to Become a Binance Affiliate
First, sign up for the Binance Affiliate Program on their affiliate page. Fill out all the details in the form given and wait for your approval notice. Once you are part of the program, you get a special Binance Affiliate link.
This is your tool to earn extra money. Use this link to invite people to join Binance and trade on it. Each time they do, you earn money!
Add Your Referral Link to Relevant Content
To maximize your earnings with the Binance Affiliate Program, you need to add your referral link to relevant content.
This means integrating your affiliate link into articles, blog posts, videos, or social media posts that are related to cryptocurrencies, trading, or finance.
By doing this, you can increase the chances of someone clicking on your link and signing up for Binance through your referral.
When adding your referral link to relevant content, make sure it blends naturally with the overall message and provides value to the reader. You can share personal experiences and insights about using Binance or highlight specific features that might be attractive to potential users.
Remember that transparency is key – let people know that you will earn a commission if they sign up through your link.
How Much Does The Binance Affiliate Program Pay?
In this section, we will go through the commission structure of the Binance Affiliate Program.
Read more to uncover all the details!
Commission Structure
The Binance Affiliate Program has a unique and profitable commission structure that allows affiliates to earn in multiple ways.
| Commission type | Rate | Details |
| --- | --- | --- |
| Spot Commissions | 41-50% | Affiliates can earn up to 50% commission on the spot trading fees generated by their referred users. This rate was initially set in Bitcoin but has since been adjusted. |
| Futures Commissions | 30% | – |
| Binance Pool Commissions | 30% | – |
| Monthly Bonuses | Up to $72,000 | Apart from the referral commission, affiliates can also earn up to $72,000 in bonuses per month based on qualified trades conducted by their referrals. |
This well-structured commission system, combined with relatively low trading fees and a wide selection of cryptocurrencies makes Binance an attractive option for affiliates.
They key to maximizing your earnings with Binance is to refer high-quality leads who have the capacity to invest lots of money. When your referrals invest a lot or trade daily, you have the potential to earn higher commissions.
How Can You Promote Binance?
So, what are some ways to promote Binance?
Well, one proven way is to create helpful content around Binance.
You can showcase the different benefits of using Binance and you can teach people how to trade using the platform.
This gives you an opportunity to plug in your affiliate link and maybe you can offer some sign-up bonuses to entice people to take action.
If you already have an audience somewhere, promoting Binance becomes much easier. But if not, don't worry. There are various methods you can use to start building that audience.
Let's explore some ways to grow an audience and promote Binance to them:
Websites
Creating a website around cryptocurrencies is a great way to promote Binance.
You can use content marketing and search engine optimization (SEO) to drive organic traffic to your website and share your affiliate links. This means creating helpful blog posts about Binance or cryptocurrencies in general.
You can create valuable content around Binance's features or other topics that would interest crypto investors.
YouTube
YouTube is another powerful platform for promoting Binance and I know many people who do it this way.
The benefit of YouTube is that you can show first-hand how to sign up and start trading on Binance or how to use other features inside the platform.
Within the video description and during the video itself, you can mention and include your Binance affiliate links.
Social Media
When used correctly, social media can be lucrative in promoting affiliate products like Binance.
Share valuable information, engage with your followers, and establish trust and credibility. You can add your affiliate links to your social media profiles, or directly pitch the affiliate offers to your followers through direct messages (DMs).
Pros & Cons Of The Binance Affiliate Program
Benefits
The Binance Affiliate Program offers several benefits for participants.
These include:
High Referral Commission: Affiliates can earn 40-50% in referral commission on trading fees. This allows for high earning potential.
Bonuses: Participants have the opportunity to receive bonuses with up to $72,000 available per month on qualified trades.
Wide Selection of Cryptocurrencies: Binance offers a diverse range of cryptocurrencies giving affiliates the opportunity to promote popular and emerging coins.
Low Trading Fees: Binance has relatively low trading fees compared to other cryptocurrency exchanges.
Marketing Tools: Binance provides affiliates with marketing tools such as banners and referral links to help promote their affiliate partnership.
Passive Income Potential: Affiliates have the chance to earn passive income by referring users to Binance and earning commissions on their trading activities.
Industry-Leading Platform: As one of the top cryptocurrency exchanges globally, promoting Binance offers affiliates the chance to align themselves with a trusted industry leader.
Drawbacks
Despite its many benefits, Binance also has some drawbacks that potential affiliates should consider:
Competitive market: The cryptocurrency affiliate marketing space is highly competitive. Affiliates need to put in extra effort to stand out and attract referrals.
Limited payment options: The program primarily pays commissions in cryptocurrencies like Bitcoin (BTC), which may not be preferred by all affiliates.
Potential volatility: As with any investment in cryptocurrencies, there is a risk of market volatility, which could impact referral earnings.
Controversial Topic: Crypto still has a stigma around it. For example, many search engines don't allow you to promote crypto offers using PPC.
Conclusion
The Binance Affiliate Program offers a great opportunity to earn passive income by referring users to the popular cryptocurrency exchange. With up to 50% referral commission and bonuses of up to $72,000 per month, it's a lucrative program for those interested in affiliate marketing.
While there may be some drawbacks like competitive market and the stigma around crypto, overall, the Binance Affiliate Program provides an attractive option for earning commissions and boosting your income potential when you find the right channels to promote it.
Now, if you want to build a website around promoting Binance, look no further;
Start building your affiliate website for free.
It comes with step-by-step training, website hosting, SEO tools, and a community of like-minded affiliates to help you build, manage, and scale your affiliate website.
I'll leave you to it.