If you're looking to make money promoting cricket gear, look no further.
Thanks to affiliate marketing, cricket enthusiasts can now turn their passion into a profit-making venture.
In this post, I've compiled a list of the top 5 cricket affiliate programs you can promote to earn affiliate commissions.
Whether you're a blogger, influencer, or just a cricket fan with an engaged audience, these programs can be a lucrative addition to supplement your income.
Let's step into the world of cricket.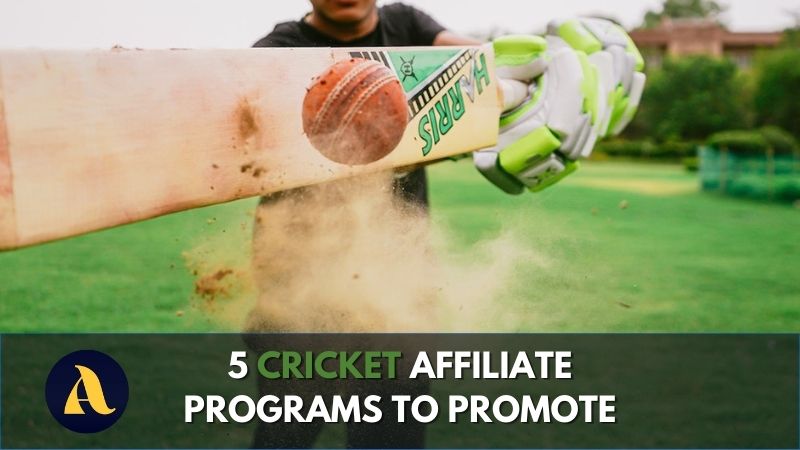 5 Cricket Affiliate Programs To Promote
Village Cricket Co.
Wombat Cricket
UK Ball Machines
BatFast
Amazon
Village Cricket Co.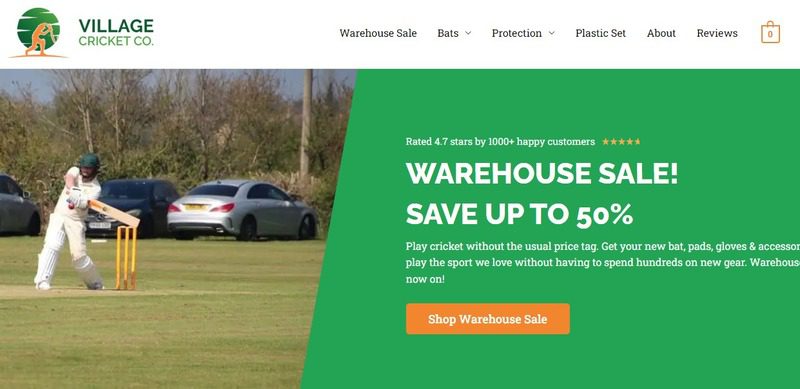 Village Cricket Co. sells cricket equipment online. They have cricket bats, balls, pads, gloves, and guards for adults and children. The store was founded by two cricket players (Freddie & George) who wanted to make high-quality equipment more accessible.
You can join Village Cricket's affiliate program to start promoting their products and earning commissions. They offer a straightforward 10% commission on all sales you refer through your website or blog. Simply fill out the contact form on their site to apply.
If you have an audience interested in cricket, their affiliate program is worth considering since a 10% commission rate is really good for physical products. In addition to the base commission, affiliates can earn bonuses for meeting performance targets.
Your referrals also benefit from Village Cricket's international shipping options. This means you can promote this brand to global audiences, giving you a wider reach.
Joining is easy and free. All you need is an internet presence and readers interested in cricket equipment.
Commission Rate: 10%
Cookie Duration: –
Affiliate Network: In-house?
Wombat Cricket
Wombat Cricket is a UK-based company that handcrafts high-quality cricket equipment. All of their cricket bats are individually handmade by master batmaker Harry Solomon, who has decades of experience creating bats for elite cricketers.
You can promote Wombat Cricket's products through their affiliate program hosted on Adtraction. As an affiliate, you will earn a commission for each sale referred through your website or blog.
Unfortunately, Wombat Cricket only offers shipping to customers within the UK, so your audience must reside there in order to make sales.
While no information is available on commission rates, Wombat Cricket's custom-made cricket bats and exclusive focus on UK customers could be appealing to affiliates with a British audience interested in high-end cricket equipment.
By joining their affiliate program, you have an opportunity to introduce your readers to handcrafted cricket bats made by a true master bat maker.
To apply for Wombat Cricket's affiliate program, you will need to create an account through Adtraction's platform. Keep in mind that international sales will not be possible due to Wombat Cricket's UK-only shipping.
Commission Rate: –
Cookie Duration: –
Affiliate Network: Adtraction
UK Ball Machines
UK Ball Machines specializes in selling high-quality ball machines for cricket and other sports online. Their website offers a selection of ball machines for squash, racketball, and cricket.
As a UK-based company, they can ship their products to customers within the United Kingdom and Europe. Their in-house affiliate program pays affiliates a 5% commission on each sale referred through your website or blog.
These ball machines are priced at ~£600, so each sale has the potential to earn you around £30 in commissions.
If you have a UK or European audience interested in cricket or tennis training equipment, this affiliate program offers a straightforward way to earn money by promoting their ball machines and accessories.
To join the affiliate program, simply create an affiliate account on UK Ball Machines' website. Once approved, you'll receive a unique affiliate link to promote. Each time a customer reaches UK Ball Machines through your link and makes a purchase, you'll earn a 5% commission on that sale.
Commission Rate: 5%
Cookie Duration: –
Affiliate Network: In-house
BatFast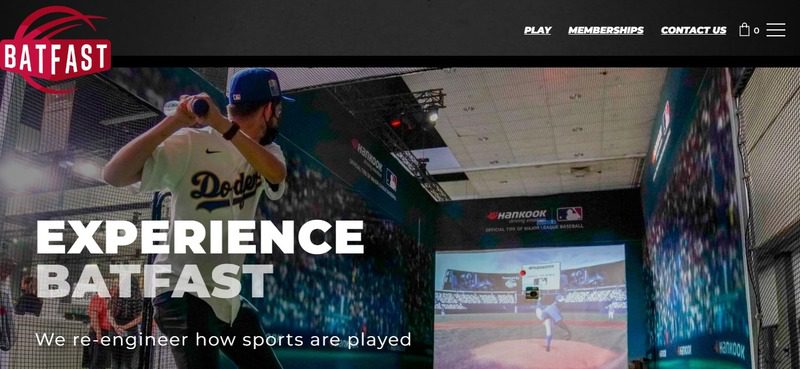 BatFast rents cricket batting simulators and operates a membership service for practicing during off-seasons. Founded in 2016 by two childhood friends, BatFast aims to make cricket accessible and fun for players of all ages and skill levels.
Customers can rent time in one of BatFast's simulators to practice and improve their cricket batting skills.
Now, promoting this brand is more suited for a "local" affiliate business since this is not an online store. As an affiliate, you can earn commission through BatFast's in-house affiliate program in two ways.
First, by referring customers who rent a cricket batting simulator, you'll earn a 10% commission. Second, you can earn a percentage of the booking amount when customers attend one of BatFast's cricket experience events through your referral.
If you have a local audience in the UK interested in cricket, BatFast's affiliate program offers an opportunity to earn money by introducing customers to their cricket batting simulators and experience events. However, due to the nature of their business, earning commissions will likely require in-person promotion to local customers.
To join the affiliate program, simply fill out the contact form on BatFast's website. Once approved, you'll receive a unique affiliate link to promote to local customers. Any simulator sales or event bookings referred by you will then earn you 10% commission.
Commission Rate: 10%
Cookie Duration: –
Affiliate Network: In-house
Amazon

Amazon is well known as an online store that sells almost anything you can think of, including cricket equipment and apparel.
Through Amazon's affiliate program, you can earn 3% commissions for referring customers who purchase cricket-related products on Amazon.
Here are some highlights of Amazon's affiliate program:
24-hour cookie duration, meaning you'll earn a commission even if customers take a day to make a purchase after clicking your link.
You'll receive credit for any other cricket or non-cricket items in customers' shopping carts at checkout.
Amazon's trustworthy brand and reputation give your affiliate links more credibility with potential customers.
The commissions of 3% may not sound much, but since people also do random shopping on Amazon, you'll get surprise bumps in your commissions once in a while (which makes it worth it).
The Amazon affiliate program is open to bloggers and websites worldwide. To apply, simply create an account through the Amazon Associates website. Once approved, you'll receive links to promote to your audience.
Commission Rate: 3%
Cookie Duration: 24 hours
Affiliate Network: In-house
How To Start A Cricket Affiliate Website
If you want to start your very own cricket affiliate website that makes money promoting products from the brands above (& and with other means), below is how you can get started;
Start building your cricket affiliate website.
It comes with step-by-step training, website hosting, SEO tools, and a community of like-minded affiliates to help you build, manage, and scale your affiliate website.
Check it out before you go.