The electric bike industry has been enjoying strong growth over the years.
This provides a golden opportunity to take advantage of this trending niche if you want to promote these bikes as an affiliate.
In this post, I'll shed light on some of the top eBike affiliate programs you can join and promote to earn generous commissions. You can promote these programs on your blog, YouTube channel, social media accounts, or any other platform where you have an engaged audience.
I will also leave you with a resource at the end if you want to build your very own money-making eBike affiliate website.
Let's hop on the saddle.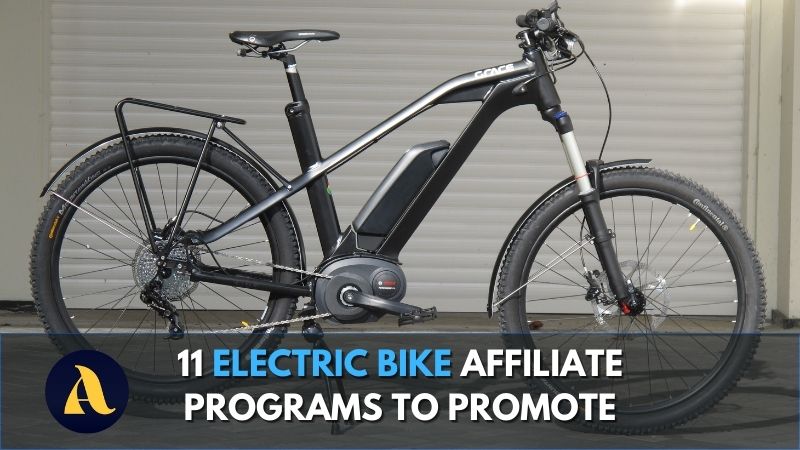 11 eBike Affiliate Programs To Promote
Trek Bikes
Juiced Bikes
Electric Bike Company
VIVI
Velotric
TENWAYS
Aventon
ST3IKE
Tesgo
Flyer
C3strom
Trek Bikes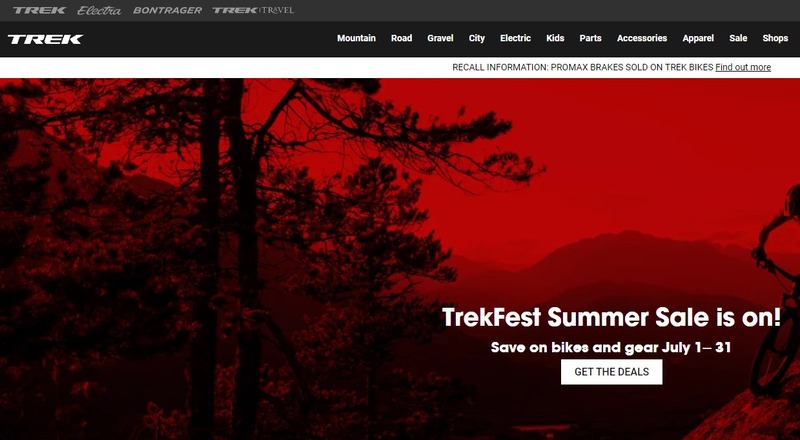 Trek Bikes is an American bicycle company founded in 1976 that sells premium eBikes and traditional bicycles. Their eBikes are some of the most advanced on the market, featuring powerful motors, long-range batteries, and sleek designs.
Trek pays affiliates between 4% and 8% commission for each sale referred through their affiliate program hosted on AvantLink. You can get credited for up to 30 days after a visitor clicks through your link and decides to buy within that timeframe.
Trek's high-end electric bikes have average order values of over $500 and some of the bikes cost over $10,000, so if you can drive just a few sales each month, you could earn decent side income.
For example, promoting one of their Domane SL 5's with a $3,500 price tag and a 6% commission rate would earn you $210 for each sale.
Trek only ships products to U.S. addresses, so your audience needs to be in the United States for the sales to complete. However, if that describes your readers, Trek's premium eBikes and generous affiliate commissions could be a great fit for boosting your revenue.
Commission Rate: 4-8%
Cookie Duration: 30 days
Affiliate Network: AvantLink
Juiced Bikes
Juiced Bikes sells affordable yet powerful electric bikes. Founded in 2009, their mission is to make e-mobility accessible to all through their high-performance yet reasonably priced e-bikes.
Their e-bikes range from $999 to $3,499 in price and they feature fat tire, commuter, and off-road bike styles among many others. All their products ship for free within the contiguous United States.
If you have an audience in the U.S. interested in affordable e-bikes, Juiced Bikes' affiliate program could be a good fit. Their program on AvantLink offers 3% to 4% commission on referred sales.
With their average order values ranging from $1,499 to $3,499 for electric bikes, affiliates can earn a decent income even though the commission rates are not the highest.
For example, if you sell one CrossCurrent X at $1800 and 4% commission rates, your cut would be $72 for each sale.
While the commission rates are slightly lower than some competitors, the free shipping and affordable yet high-quality product options make Juiced Bikes a viable option for affiliates targeting budget-conscious U.S. consumers interested in e-bikes.
If that describes your audience, their affiliate program is worth considering.
Commission Rate: 3-4%
Cookie Duration: 30 days
Affiliate Network: AvantLink
Electric Bike Company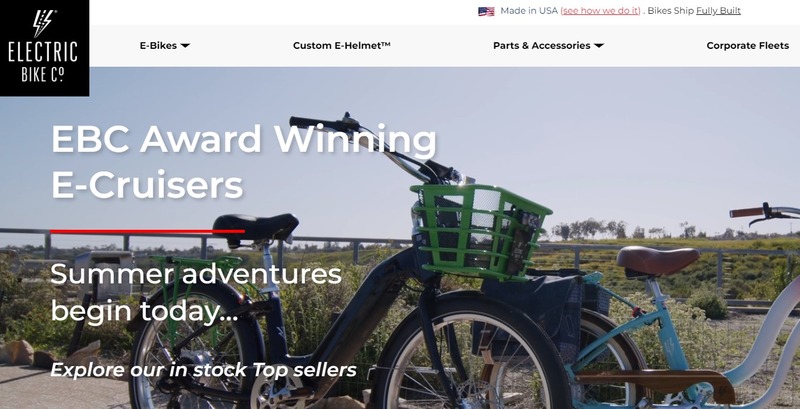 Founded in 2014, Electric Bike Company specializes in stylish beach cruiser-style electric bikes. Their mission is to provide customers the best electric cruiser bikes at affordable prices.
They offer a variety of electric cruiser bikes in the $1,200 to $2,900 price range. Their streamlined yet vintage-inspired designs set them apart in the e-bike market.
For affiliates, Electric Bike Company stands out for their generous program. They offer a higher-than-average 10% commission rate through AvantLink and a 30-day cookie duration.
With average e-bike order values between $2,000 and $2,500, each sale could earn you around $200 to $250 in commissions – significantly more than most competitors.
What's more, they ship to most international destinations and this means you can promote their cruiser e-bikes to a global audience. This wider reach gives you more opportunities for referrals and commissions.
If your audience has an interest in stylish yet affordable electric cruiser bikes, Electric Bike Company's high commissions, global shipping, and distinctive product offerings make them a top choice for boosting your affiliate income.
Commission Rate: 10%
Cookie Duration: 30 days
Affiliate Network: AvantLink
VIVI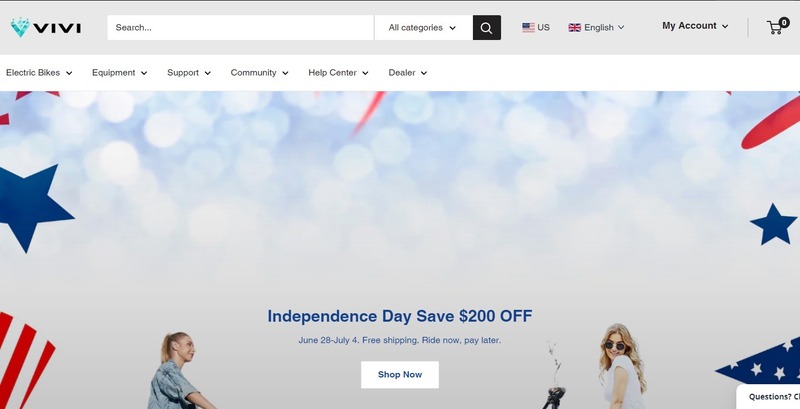 VIVI sells premium electric bikes designed for convenience and portability. Founded in 2015, the company aims to make high-quality e-bikes that are easy to store and transport.
Their e-bike models feature compact yet powerful lithium-ion batteries and many of them have folding frames that allow the bikes to fold in half. The bikes ship within the United States only, so your audience must reside in the U.S. to make sales.
VIVI's affiliate program offers you competitive commission rates of up to 10% through UpPromote and GoAffPro with a 30-day cookie duration.
The 10% rate is higher than most competitors and it makes VIVI an attractive option for affiliates.
So if you have a US-based audience interested in compact electric bikes, VIVI's premium e-bikes and above-average affiliate commissions could be a great fit for you.
Commission Rate: 10%
Cookie Duration: 30 days
Affiliate Network: UpPromote & GoAffPro
Velotric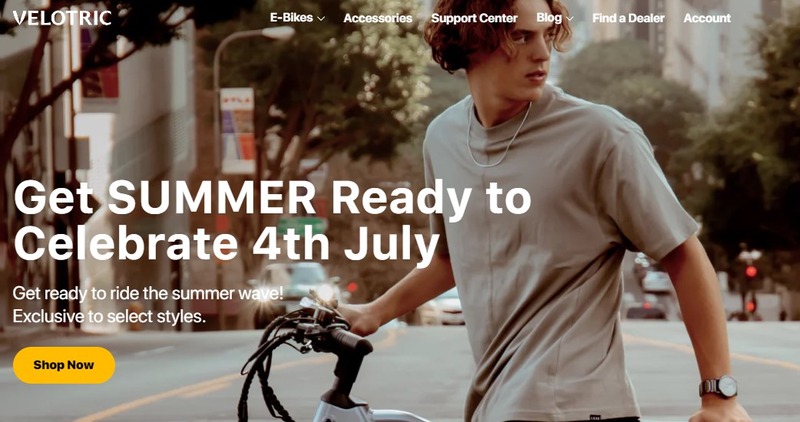 Velotric sells affordable yet durable electric bikes designed for everyday commuting. Their e-bikes range in price from $1,300 to $1,800 and feature fat tires and powerful motors for all-terrain riding.
Velotric ships their e-bikes to all addresses within the continental United States. This means your audience must reside in the US to make sales.
For affiliates, Velotric's program on AvantLink offers a standard 3% commission on referred sales.
While the commission rate is on the lower end, the affordability and everyday practicality of Velotric's e-bike options make them a good fit for many audiences.
Commission Rate: 3%
Cookie Duration: 30 days
Affiliate Network: AvantLink
TENWAYS
TENWAYS sells stylish and customizable electric bikes created for urban riders. Founded in 2021 following a successful crowdfunding campaign, TENWAYS aims to produce electric bikes that are as fashionable as they are functional.
They currently only ship their e-bikes within Europe. This means your audience must reside in a European country in order to purchase from TENWAYS.
For affiliates, they offer two choices: an in-house program providing 3-6% commission and another through the AWIN network. Cookie duration is the standard 30 days.
Overall, TENWAYS' European shipping, young brand image, and customizable electric bikes could be a good fit for affiliates with audiences in EU countries looking for fashion-forward mobility solutions.
Commission Rate: 3-6%
Cookie Duration: 30 days
Affiliate Network: In-house affiliate program
Aventon
Aventon is an e-bike brand that sells innovative and stylish electric bicycles. Founded in 2013, Aventon offers a collection of premium e-bikes designed for city riding and commuting.
Aventon ships their bikes free within the United States for orders over $100, and they arrive fully assembled and ready to ride right out of the box.
Their affiliate program pays a 4% commission on all referred sales. Joining is simple and free – just sign up through AvantLink which you can find on their affiliate page.
If you have an audience of e-bike enthusiasts in the US, promoting Aventon's high-quality yet affordable electric bicycles could earn you a decent income in the right hands.
Commission Rate: 4%
Cookie Duration: 30 days
Affiliate Network: AvantLink
ST3IKE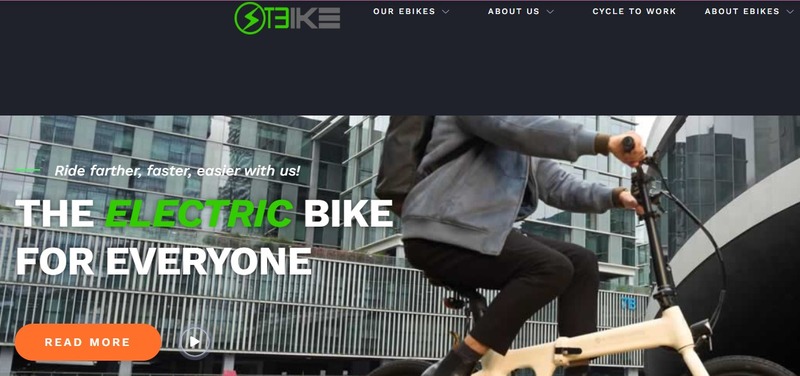 ST3IKE is an online store offering electric bicycles (& biking accessories) from 12 different brands.
By becoming a ST3IKE affiliate, you have the opportunity to earn up to a hefty 10% commission on any sales. The appealing factor lies in their 90-day cookie length which allows sufficient time for customers to complete their purchases (with the affiliate being credited for the sale).
If you were to promote an eBike priced between £900 to £1,900, you'd earn a commission ranging from £90 to £190 on each successful conversion. And considering how their average sale racks up to £1,500, the potential of earning through ST3IKE's affiliate program becomes pretty attractive.
Commission Rate: 10%
Cookie Duration: 90 days
Affiliate Network: In-house affiliate program
Tesgo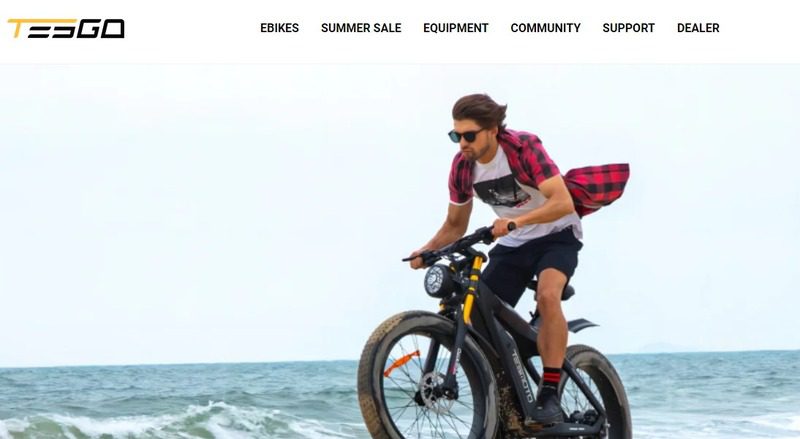 Tesgo offers a selection of top-rated eBikes representing the perfect blend of style, performance, and advanced technology. Tesgo ensures each of their eBikes delivers the perfect ride for anyone whether commuting, exploring trails, or just enjoying a relaxed ride.
They offer free shipping across the contiguous USA, and as far as I could gather, they don't offer shipping across the pond. Therefore, it's best to stick to US audiences if you want to promote this brand.
Instead of percentage-based commissions, Tesgo affiliates can earn a $50 flat-rate commission for each sale. They offer a standard 30-day cookie length.
Commission Rate: $50 flat-rate
Cookie Duration: 30 days
Affiliate Network: GoAffPro
Flyer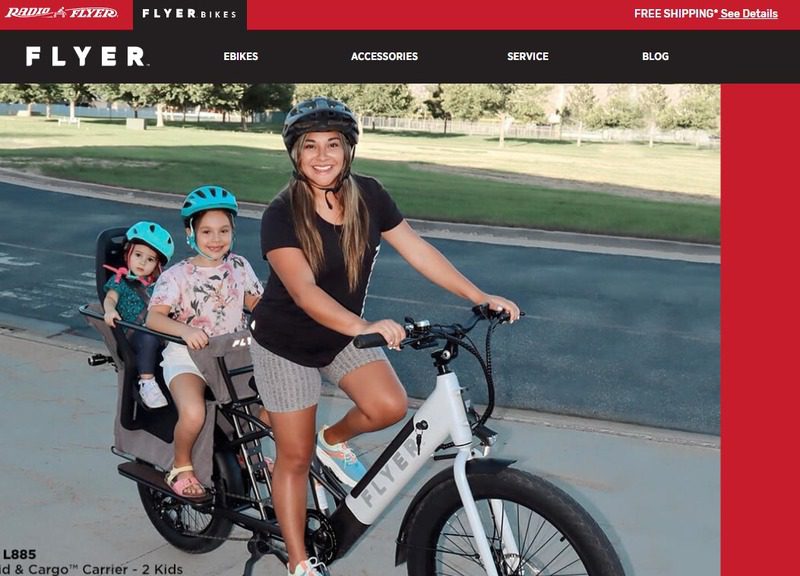 Flyer makes stylish and affordable electric bikes that are perfect for city riding. Their e-bikes are designed to be fun, easy to use, and accessible to a wide range of riders.
Flyer is part of the iconic Radio Flyer brand that has been making children's wagons and scooters for over 100 years.
Flyer e-bikes start at $1,700 and they offer 8 models to choose from. All their bikes come with features like a throttle, removable battery, and up to 40-mile range. Flyer offers free shipping within the contiguous United States.
The Flyer affiliate program pays a commission rate of 3-5% on all referred sales made through your unique affiliate link. The program is hosted on AvantLink making it easy to join and track your earnings. Cookies last for 30 days.
If you have an audience interested in affordable yet high-quality electric bikes, promoting Flyer's e-bikes is a great opportunity. The simple yet stylish designs will appeal to many riders looking for an easy-to-use commuter e-bike.
Commission Rate: 3-5%
Cookie Duration: 30 days
Affiliate Network: AvantLink
C3strom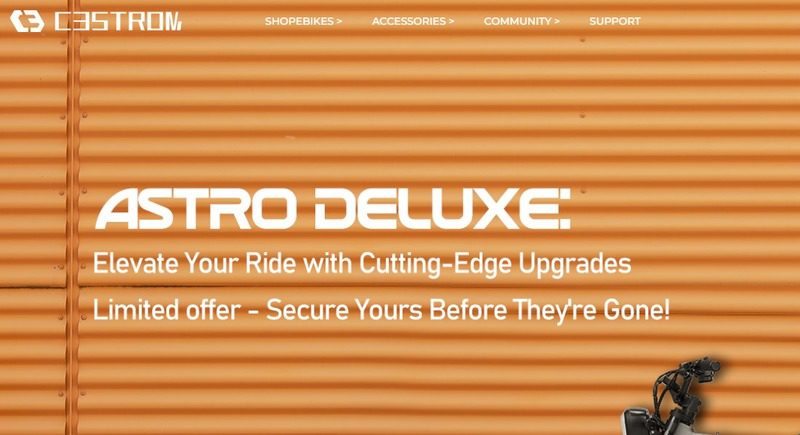 C3strom sells high-quality electric bikes you'll love riding. Founded in 2020 by avid cyclists, they craft eBikes to the highest standards using durable aluminum frames, powerful motors, and long-lasting batteries.
C3STROM offers an in-house affiliate program where influencers and website owners can earn up to 5% commission. By joining the program, you'll get a unique tracking link to promote their products. Whenever someone buys through your link within 30 days, you'll receive a percentage of the sale.
They ship free to customers in the contiguous USA. So your readers and followers based in the lower 48 states can take advantage of free shipping when purchasing through your affiliate link.
Overall, their affiliate program is a good option for those looking to promote premium electric bikes and earn a decent commission in the process. Just apply through their website to get started.
Commission Rate: 5%
Cookie Duration: 30 days
Affiliate Network: In-house affiliate program
How To Start An eBike Affiliate Website
With these above-mentioned affiliate programs, you're well on your way to earning commissions as an affiliate.
But if you want more guidance on how this is done (properly), I have a helpful resource for you.
Start building your eBike affiliate website here.
On the other side is an all-inclusive platform that provides training, website hosting, SEO tools, and a community of like-minded affiliates to help you build, manage, and scale your "soon-to-be" affiliate website.
You'd do well to check it out before you go.