Are you looking to explore the paranormal while making money out of it?
If so, I've gathered 5 of the best ghost-hunting affiliate programs for you to promote on your blog, YouTube, or social media.
Now, there aren't too many programs to choose from in this niche, unfortunately.
But the good thing is that you only need 1 program to make great money. Rest assured, there are great options on this list.
This niche is also rather underserved and up for grabs for anyone looking to build an affiliate blog.
At the end of this post, you'll find a free guide if you want to do just that.
Without further ado; Below you can find a list of brands offering everything from ghost-hunting equipment to paranormal online courses.
Ready to find out more? Let's get started.
5 Ghost Hunting Affiliate Programs To Promote
GhostStop
SpiritShack
Paralearning
Paranormal Gift Shop
Amazon Associates
GhostStop
GhostStop was established in 2006 by Shawn Porter and they manufacture and sell ghost-hunting equipment for paranormal investigators.
Some of this equipment includes:
EMF meters
TriField meters
EVP recorders
Full spectrum cameras
Infrared & Nightvision IR lights, and more.
A fun fact is that they've supplied ghost-hunting equipment for many popular tv shows such as Ghost Hunters, Ghost Adventures, Kindred Spirits, and many more.
They are the pioneers in this field with a great track record, making this brand a solid choice for affiliates to promote. With their worldwide shipping, you can also promote this brand to global audiences which is great.
You can join their affiliate program by filling out an application at the Refersion platform which handles all the payments, tracking, & reporting for affiliates.
Once you get accepted, you gain access to promotional material such as banners to use in your campaigns. You can also negotiate better commission rates later if you perform well.
5% Commissions
10-Day Cookie Length
SpiritShack
SpiritShack is a UK-based online store that manufactures and sells ghost-hunting equipment. It was founded by Sam Ashford in 2019, and so far they've served more than 20,000 customers.
Some of their products include:
Voice recorders
Thermal imaging cameras
EMF/EDI meters
Vibration sensors
Spirit boxes, and much more.
Their products have been used in various TV shows in the UK such as Ghosts of Britain, The Paranormal Files, and Haunted Finders, to name a few.
Some great aspects of promoting SpiritShack are their worldwide shipping (so you can promote to global audiences) and 10% commission rates which are decent for physical products.
If you want to become an affiliate for this brand, you need to send a message through their contact form.
10% Commissions
Cookie Length: –
Paralearning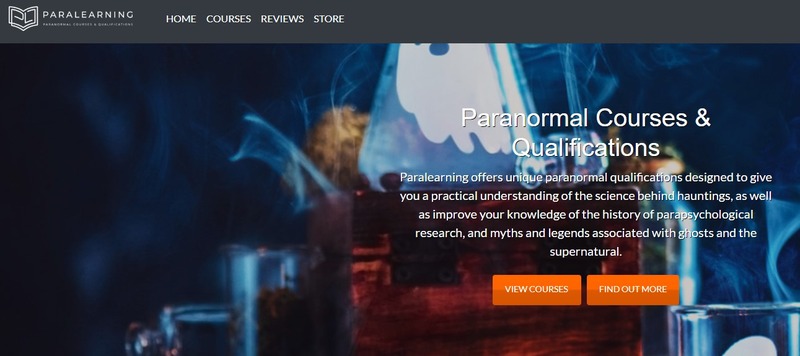 Paralearning offers online courses and qualifications to help people learn more about the paranormal.
These courses range from practical ghost hunting to capturing and analyzing electronic voice phenomenons.
At the moment, there are 5 courses and you can get access to them all with a $70 one-off payment. If bought individually, they'd cost $42 per course.
You can earn 10% commissions (as an affiliate) by referring people to these courses. If they buy the one-off deal, you'll earn $7 commission per sale.
In my view, the commission rates are a bit on the lower side for your typical digital products, but then again, this is probably the only brand (with an affiliate program) offering courses on the paranormal.
To promote this brand, you simply need to register an affiliate account on their website and wait to get approved.
10% Commissions
Cookie Length: –
Paranormal Gift Shop
Paranormal Gift Shop is a Canada-based online store established by Jim and Phil.
They sell clothing for men and women (T-shirts, long sleeves, hoodies, & caps) and various paranormal-related stickers.
They offer shipping only within the US so as an affiliate, you should only promote this brand to people living in the states. Otherwise, you may have a hard time getting sales.
The minimum payout is $100 and the payments are done through PayPal.
5-20% Commissions
Cookie Length: –
Amazon Associates

Amazon Associates is the affiliate program of the popular Amazon marketplace.
Since there aren't too many Ghost Hunting affiliate programs out there, Amazon is a solid choice due to their massive product selection.
Another big factor with Amazon is that people trust buying from there, and you'll surely notice this in your sales as well.
Amazon doesn't pay the highest commissions, but a small bonus is that you'll get credited for other items in the customer's cart, which can boost your sales occasionally.
3% Commissions
1-Day Cookie Length
How To Start A Ghost Hunting Affiliate Website
If you already have an audience waiting somewhere, you probably already know what to do next with the brands I listed above.
But if you're entirely new to affiliate marketing, and you'd want to see how to make money with these ghost-hunting affiliate programs, then I have a detailed guide just for you;
Start building your ghost-hunting affiliate website for free.
It outlines every step you need to take to succeed and also comes with a helpful community if you get stuck.
Make sure to check it out before you go!