As someone who runs websites, I don't think a day goes by without me using software for visual content.
So today, I've researched and gathered 10 affiliate programs from popular brands all related to graphic design.
If you're creating content for websites, YouTube, social media (or anything of the sort), you can join these programs and make some great money in the process.
The benefit of promoting software (in general) is that many of them pay recurring commissions, and once people learn the software; they tend to stay as customers for long periods (allowing you to reap commissions for the whole duration).
Without further ado;
Below you can find a list of graphic design affiliate programs and I'm sure you're already familiar with some of them.
10 Graphic Design Affiliate Programs To Promote
Canva
Adobe
Magix
Visme
Colorcinch
Snappa
PixTeller
Shutterstock
Easil
Stencil
Canva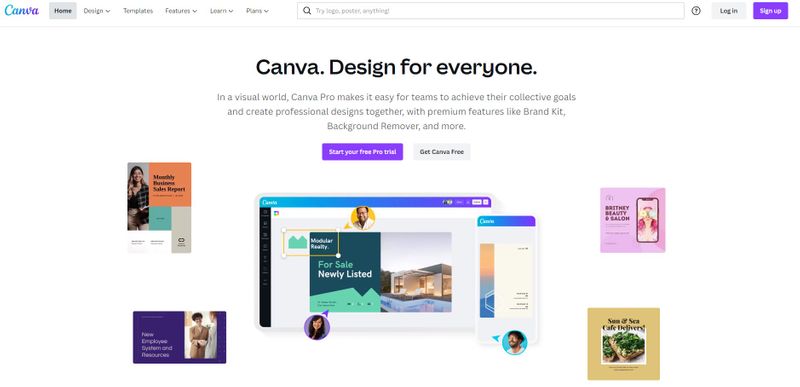 Straight off the bat, we're starting with perhaps my favorite tool.
Canva was launched in 2013 and is an online design & publishing tool for beginners and pros alike.
You can use their easy drag & drop interface to create social media posts, infographics, t-shirt prints, logos, and much more. Even some basic video editing is possible.
Canva works with a broad range of industries and it comes with a huge template gallery with free & paid graphics. You can do a lot with just the free version of Canva which is great for getting people to try it out (through your affiliate links).
Canva has 3 pricing plans:
Free
Pro ($109.99/year or $11.99/month)
Enterprise ($27/month per person, minimum 25 people)
As an affiliate, you can earn up to $36 commissions by enrolling people to join the "Pro" plan.
The affiliate program is free to join and it's implemented on the Impact Radius network which provides support, tracking & reporting.
You can get paid through PayPal or e-transfer.
Commissions: up to $36 per pro subscriber
30-Day Cookie Length
Adobe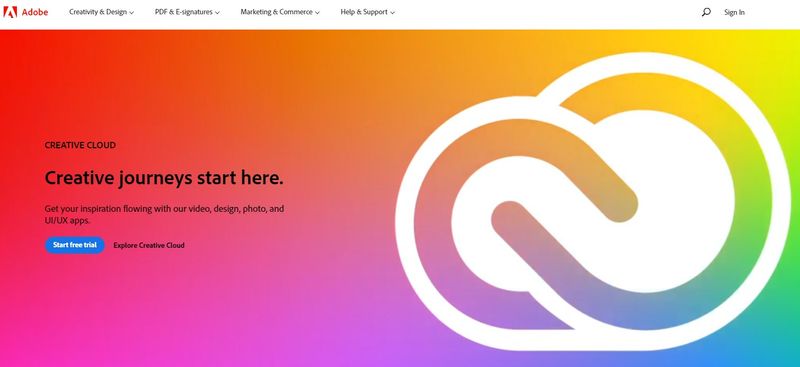 Adobe is probably the most well-known brand on this list and they have quite an extensive list of products you can start promoting such as:
Adobe Stock
Adobe Creative Cloud
Adobe Document Cloud
The "Creative Cloud" is their subscription service where you get access to all the popular design apps such as Photoshop, Illustrator, InDesign, Premiere Pro & and many more.
You can promote individual apps or the "All Apps" plan that goes for $54.99/month. With their affiliate program, you can earn an 85% commission on the first subscription month, so your cut would be $46.7 per sale.
They have slightly different commission structures for different products and subscription methods so make sure to check out the affiliate page for more detailed info.
When you apply to become an affiliate it takes 3-5 business days to get accepted. Once you're in, they'll provide you with promotional material, exclusive discounts & offers to use in your campaigns.
Commissions: 85% of the first month or 8.33% of first-year subscriptions
30-Day Cookie Length
Magix
Magix has been manufacturing photo, audio, & video software for close to 30 years now.
You might have heard of "Vegas Pro" or "Xara Designer Pro X" as they're some of the more popular products from this brand.
There are 4 Magix brands in total and you can promote all of them by joining the affiliate program. You can sign up either through Rakuten or Awin affiliate networks and earn up to 40% commissions.
The average order value is £90 (~$110) so that's around £36 (~$43) in commissions for affiliates. You also get access to advertising material and a dedicated affiliate manager if you need support.
40% Commissions
30-Day Cookie Length
Visme

Visme is an online designing tool and learning platform where you can create presentations, infographics, designs & video content.
It comes with free & paid templates, assets, and graphics to use in your designs. They also provide free educational content on many design subjects.
Visme has 4 pricing plans, and you can earn 25% lifetime recurring commissions on them:
Basic (free)
Personal ($29/month)
Business ($59/month)
Enterprise (negotiable)
Anyone can join their affiliate program, and once you do; you get access to your personal dashboard, marketing kit, and a dedicated affiliate manager.
The payments are made through PayPal each month when you've earned at least $20 for that month.
25% Commissions
60-Day Cookie Length
Colorcinch

Colorcinch is an online photo editing tool for converting your photos into "cartoonized" effects.
The software is free to use, but they also have a paid plan available. The paid plan gives you unlimited projects, more features, and access to all graphic collections.
The plan costs $59.88/year or 8.99/month, and you can earn 30% recurring commissions as long as your referrals stay as customers.
The affiliate program is on a platform called Rewardful which provides tracking & reporting for affiliates.
The payments are made through PayPal and are paid out monthly.
30% Commissions
90-Day Cookie Length
Snappa
Snappa is an online graphic design tool and it was created in 2015 after they saw small businesses struggling to create quality online graphics.
Thus, the tools are made to be quick & easy to use for people who are not designers.
You can use Snappa to create all kinds of graphics for social media, blogs, email, ads, and much more. They have a stock photo library and many pre-made templates for you to use.
The software is free to use with limited features and they're offering 3 pricing plans:
Starter (free)
Pro ($15/month)
Team ($30/month)
If you join their affiliate program, you can earn 40% recurring commissions and they last for as long as your referral is a customer.
To apply, you need to fill out an application with basic information, PayPal email, and your website or social media URL.
40% Commissions
30-Day Cookie Length
PixTeller

PixTeller is a free online tool for editing images and making animated video content.
You can create posters, flyers, banners, logos, animated gifs, wallpapers, and much more. When you register an account you also get access to a large template library.
Similar to other services, PixTeller too comes with paid plans giving you access to more features and templates.
They have 2 paid plans available:
Pro ($9/month)
Diamond ($19/month)
The pro plan gives you more features around the graphic editor and the diamond plan is more focused on improving the animation tools.
If you want to become an affiliate for PixTeller, it's free to do so and doesn't even have an approval process. You can earn generous 50% lifetime recurring commissions on all plan subscription sales.
You also have plenty of time to convert your customers with the 90-day cookie duration.
The payments are made via PayPal at the beginning of every month.
50% Commissions
90-Day Cookie Length
Shutterstock

Shutterstock is probably best-known for its amazing selection of high-resolution stock graphics such as images, videos, & audio.
Shutterstock also offers comprehensive design tools to edit all these graphics they provide.
The fact that they're a big authority brand will make your life as an affiliate a bit easier if you want to promote Shutterstock (since you don't have to do as much pre-selling). You could say they're like Adobe where their reputation already does the majority of work.
They have many paid plans available and the commission structures vary a bit depending on what service the customer purchases.
The monthly subscriptions can range from anything between $49 to $409 per month, and as an affiliate; you'll have a baseline of 20% commissions.
20%Commissions
30-Day Cookie Length
Easil
Easil is a drag & drop graphic design tool for individuals and teams of all sizes.
You can use their 1+ million stock images and a wide range of templates (social media posts, infographics, posters, menus, & animated GIFs) to create stunning visual content.
They also provide tutorials and educational content on their website so you can make the best out of their tools.
Easil has 4 subscription plans:
Basic (free)
Plus ($7.50/month)
Edge ($59/month)
Enterprise (custom)
You can earn 30% recurring commissions by promoting Easil. All new free accounts will also get access to the "Plus" plan for the first 30 days which should increase the chances of your referrals converting into customers.
The 90-day cookie duration will also give you plenty of time to get credited for the sales.
30% Commissions
90-Day Cookie Length
Stencil
Stencil is an easy-to-use online graphic design tool & image editor aimed at business owners, social media marketers, and bloggers.
They have a big selection of 1,350 templates, 5+ million royalty-free photos, and 3,1 million icons to use in your designs.
Subscription plan-wise there are 3 options to choose from:
Free
Pro ($15/month)
Unlimited ($20/month)
As an affiliate, you can earn 30% commissions on all sales, and luckily they're recurring too. This means your income can grow at a faster pace if people stay as customers for long periods (when compared to just single-time sales).
You're also provided a dashboard to track your performance and promotional material to use in your campaigns.
30% Commissions
Cookie Length: –
How To Start A Graphic Design Affiliate Website (& Make Money)
The best aspect of promoting these graphic design brands is definitely the ability to earn recurring commissions as they have a tendency to snowball your income fast.
I also believe the demand for these tools is not going anywhere, it's only going to increase if anything (as more people get access to the Internet & online business becomes more popular).
A good way to promote these tools would be on YouTube and/or your own website in the form of tutorials and answering people's questions about the specific tool you're promoting.
If this sounds interesting and something you'd want to get started on, I have just the perfect resource for you;
Get started building your graphic design website here.
It's free to get started and I personally used the same methods to build my websites.
I highly recommend you check it out.