Are you interested in making money with knives?
When you think about it, just about everyone owns a knife of some sort – be it a butter knife or one of those "Rambo" knives.
With so many different knives out there for different purposes, it's not a surprise that there is also a lot of money to be made with them.
Especially, when it comes to promoting them as an affiliate.
So today, I've gathered some of the best knife affiliate programs for you to join so you can start racking in those affiliate commissions. You could promote these programs on your blog, YouTube, social media, or whatever medium you may prefer.
You can also find a guide at the end of this post if you're not sure how to make money with these programs so look out for that.
Let's cut to the chase.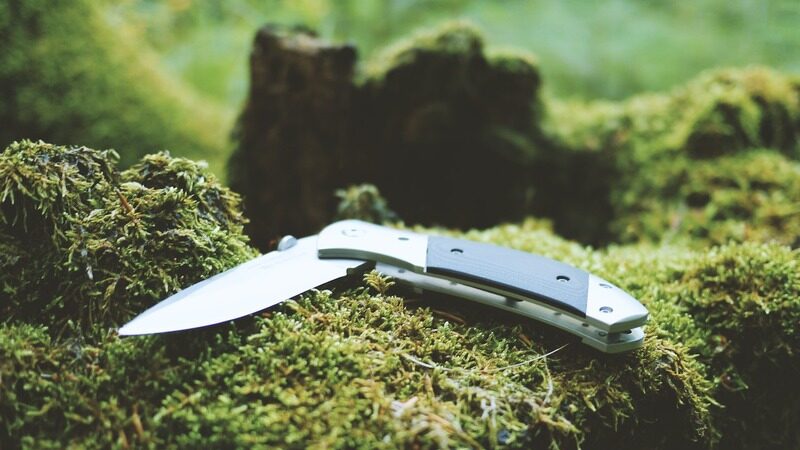 11 Knife Affiliate Programs To Promote
Leatherman
Buck Knives
The Old Timer
Blade City
SOG Knives
Forseti Steel
Damascus Knives Store
MegaKnife
Zwilling
Hocho Knife
FN Sharp
Leatherman
Leatherman doesn't need many introductions.
But just in case; they are a major brand of multi-tools and knives based in Oregon, US, and founded in 1983 by Timothy S. Leatherman & Steve Berliner.
They wanted to create a capable, easily portable hand tool with multiple functions. For example, some of these functions include pliers, wire strippers, saws, can openers, and knives – all in one tool.
Today, they sell these multi-function tools for various purposes such as hunting, gardening, fishing, camping, and many more.
Even though Leatherman tools are sold in over 90 countries, their own online store allows shipping only within the US, and this is something you should take note of as an affiliate (as you can only make sales from a US audience in this case).
You can become an affiliate for Leatherman by signing up at Ascend Partner where they offer you 5% commission rates and promotional material such as graphics, logos, and banners.
The starting commission rates aren't very high, so I'd probably focus more on promoting the $300- $400 tool sets to earn worthwhile commissions.
5% Commissions
45-Day Cookie Length
Buck Knives
Buck Knives has been making knives for over a century.
The first Buck knife was made in 1902 by Hoyt Buck himself and today they've grown into a widely recognized brand in the knife market.
They produce a wide variety of knives for hunting, cutlery, pocket knives, outdoors & fishing, and even limited edition collector's knives. You can also find an apparel and knife accessories section.
Their knife catalog has 166 different knives you could promote as an affiliate. They also have an interesting custom knife builder where you can choose the blade, handle, accessories, and engravings for the knife.
When it comes to promoting Buck Knives, you have to focus on US & Canadian audiences as they only provide shipping to those places.
The average order value is $120 which comes down to $12 commissions for affiliates with their 10% commission rates. Although, this depends on what you focus on promoting. If you focus on the higher-end items, your commissions could be higher.
You can find their affiliate program on the AvantLink platform which handles all the analytics, reporting, and payments for affiliates.
10% Commissions
30-Day Cookie Length
The Old Timer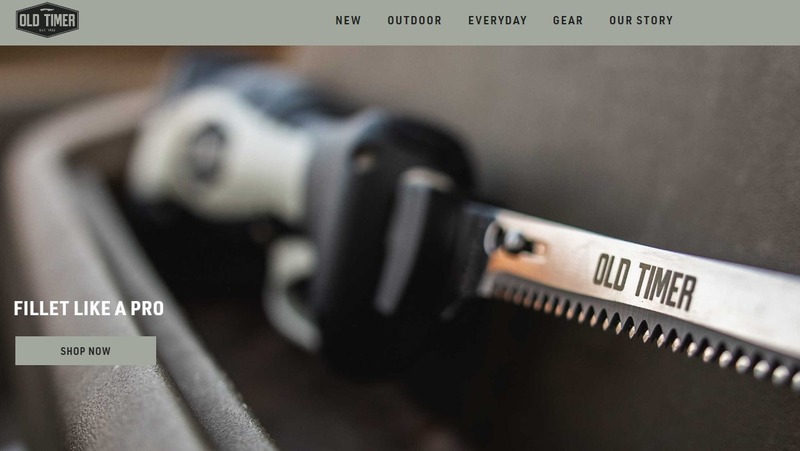 The Old Timer is a classic knife brand that has been around since 1958.
Their knives are designed with durability and comfort in mind. Each one is built with quality materials and expert craftsmanship to ensure they're going to last for generations.
At the time of writing this, they have more than 122+ knives available in their online store for outdoors, fishing, and everyday use.
The Old Timer offers shipping only within the US so as an affiliate, you have to make sure your traffic is from the US too before you start promoting this brand.
A positive aspect for the customers is how they offer free shipping on all orders.
You can become an affiliate for this brand through the AvantLink platform. They also provide an affiliate manager to help you if needed. Top-performing affiliates can also get a raise from 7% standard commission rates up to 10% (maybe even more if you negotiate well).
7-10%% Commissions
30-Day Cookie Length
Blade City
Blade City is a US-based online retailer for popular knife brands such as:
Spyderco
Benchmade
Broker
They have over 5,000 knives in their catalogs ranging from folding pocket knives to switchblades. They even have throwing knives and swords.
This online store focuses more on the pop-culture side of knives by providing replicas from popular games and anime shows.
Two clear benefits of promoting this brand are its vast product selection and a fast supply of new arrivals.
On contrary, they don't seem to do international shipping anymore so this limits your audience to the US only.
Their affiliate program is implemented on AvantLink and they will provide you with promotional material such as creative banners and content.
8-12% Commissions
28-Day Cookie Length
SOG Knives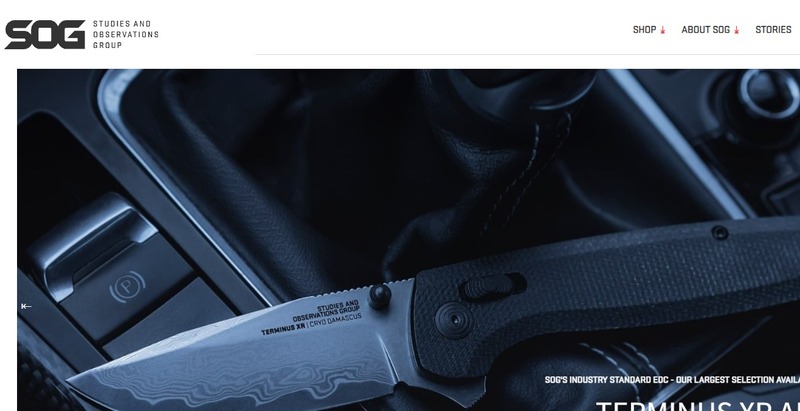 SOG Knives is a manufacturer of knives and tools founded in 1986 by Spencer Frazer and named in honor of a US special ops unit known as "MACV-SOG".
SOG produces a variety of knives, multi-tools, and gear for outdoor, tactical, and everyday use. Popular models include the SEAL Pup, Flash II, Trident, and PowerLock.
They offer free shipping on all orders but at this time only ship to domestic US addresses. Therefore, you have to focus on US audiences if you want to successfully promote this brand.
All products also get a lifetime guarantee so that is something you can use in your marketing efforts.
The average order size is $95 and with the 10% commission rates they offer, your cut would be around $9,5 per sale.
SOGs affiliate program is on AvantLink just like most of these knife brands seem to be.
10% Commissions
30-Day Cookie Length
Forseti Steel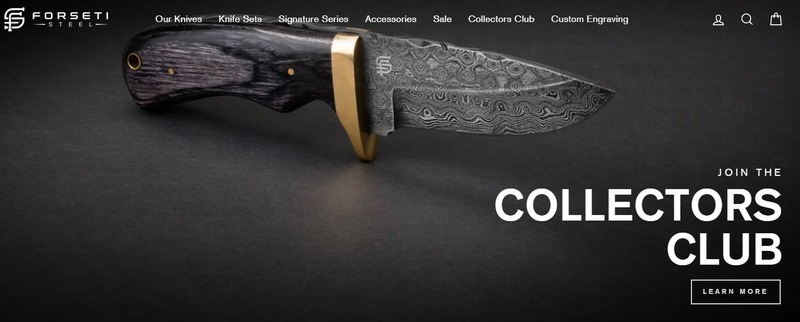 Forseti Steel is a company that specializes in hand-made Damascus steel knives.
All of their knives are hand-made and have unique water-like patterns due to the ancient & traditional way these knives are forged. No two knives are the same.
Their handcrafted knives include hunting, folding, kitchen, fixed blade knives, and many more. Custom engravings are also possible.
Forseti Steel offers worldwide shipping which gives you lots of room to promote this brand around the globe. People living in the US also get free shipping.
You can find their affiliate program on AvantLink and they offer tiered commission rates:
10% commissions – under $500 in monthly sales
15% commissions – $501-$2,000 in monthly sales
20% commissions – over $2,000 in monthly sales
The highest tier offers great rates for physical products so I can highly recommend this one.
10-20% Commissions
Cookie Length: –
Damascus Knives Store
Damascus Knives Store is a UK-based online store founded in 1984 and they sell hunting, kitchen, and pocket Damascus knives.
They have 26 different knives in their catalog and they offer worldwide shipping as well as a 30-day money-back guarantee.
Due to the low price point of products and commission rates, this may not be the most exciting option for affiliates to promote. But it's still an option you have available if there is some specific product you'd want to promote to your audience.
5% Commissions
Cookie Length: –
MegaKnife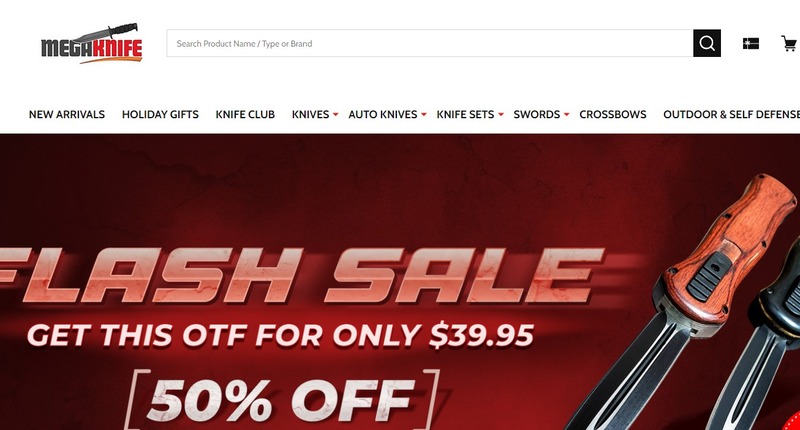 MegaKnife is a US-based online retailer of knives and tactical gear.
They have a wide variety of knives including CS:GO knives, throwing knives, pocket knives, medieval & fantasy knives, and many more.
When it comes to shipping, they don't provide international shipping anymore. You can only get products delivered within the US.
You can join their affiliate program through the Affiliatly platform. Unfortunately, they don't disclose commission rates or cookie durations.
Commissions: –
Cookie Length: –
Zwilling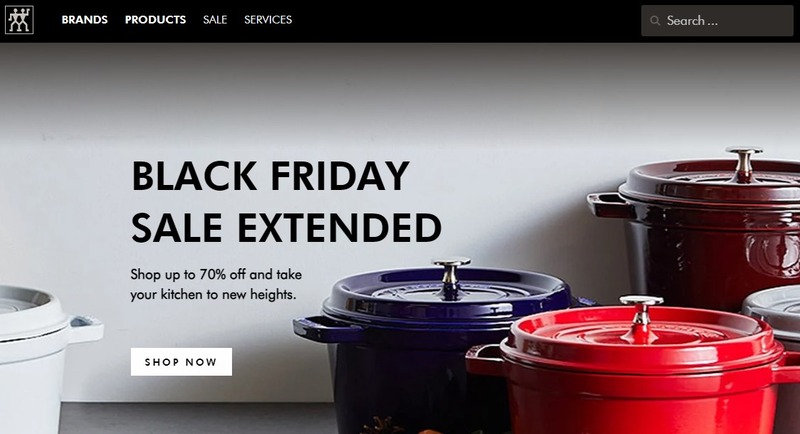 Zwilling is a German knife-making company founded in 1731 and it is one of the oldest manufacturers of kitchen knives. They are well-known for their innovative and high-quality kitchen knives, cookware, and flatware.
Promoting this brand could be a good choice if you are in a cooking or recipe niche as they have kitchen knives for pretty much all purposes.
Some drawbacks are the lack of international shipping (US shipping only) and fairly low 2% commission rates. Although, the high price point of some products can balance the low commission rates a bit.
2% Commissions
14-Day Cookie Length
Hocho Knife
Hocho Knife is an online store selling high-quality Japanese knives. Mainly for kitchen purposes.
They have more than 44+ brands and various knife types in their catalog. You can also find accessories such as knife bags and sharpeners.
This brand is an interesting choice for affiliates to promote for a few reasons.
Hocho Knife offers worldwide delivery straight from Japan so you can promote this brand to global audiences. They also have a fairly high average order value of $200 so you can expect to earn decent commissions with their 10% starting rates.
You can find their affiliate program on Affiliatly, which provides all the analytics, tracking, and reporting for affiliates along with support.
10% Commissions
30-Day Cookie Length
FN Sharp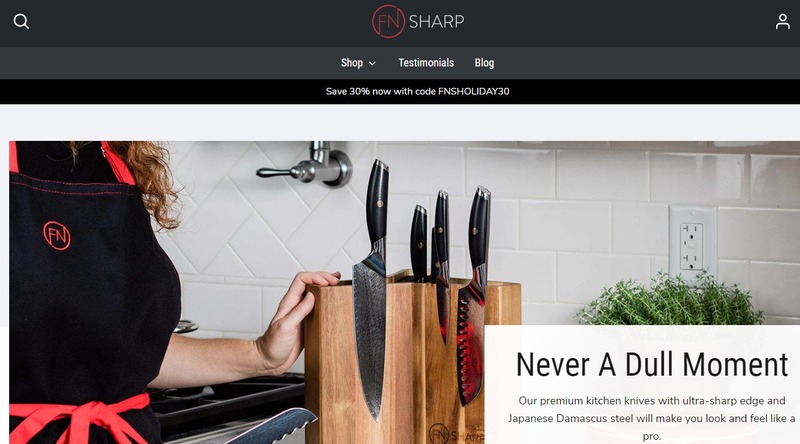 FN Sharp is another premium kitchen knife provider on this list.
They offer a range of high-quality kitchen knives crafted from Japanese "VG-10" steel and with extremely durable G10 composite handles.
These knife sets range from $260 to $660 and FN Sharp offers fantastic commission rates of 10-25% for affiliates. With their average order value of $400, your average commission would be $40-$100 per sale.
You can also find their affiliate program on both ShareASale and CJ networks so it's up to decide which you prefer.
FN Sharp is definitely one of the better options on this affiliate program list. I highly recommend this one.
10-25% Commissions
30-Day Cookie Length
How To Make Money With Knife Affiliate Marketing
When it comes to knives and making money with affiliate marketing, you have many options available.
You could start a YouTube channel – or;
One of the best ways to do it is on your own affiliate website which is doable by just anyone these days. Creating a website is not as hard as you may think, and with a few simple steps, you can be up and running today.
What you also need to decide is your niche – or in other words, your website topic.
Is your website going to be just about knives? or do you want to pair it with hunting? Fishing? Perhaps you have a passion for cooking?
Pick something you're interested in. All of them can make great money.
Once you've decided on your niche, it's time to start planning out the structure of your website. This includes deciding what type of content you will be creating and how often you will be posting it.
This, of course, varies on the niche you chose.
If your website topic is related to hunting, you could cover topics like:
Reviews of the knives you use while outdoors and hunting
How to sharpen your knife and keep it in good condition
How to start a fire with a knife
Safety tips about knives
These are just some ideas, but all of them present a chance for you to promote knives in the content using the above-mentioned affiliate programs.
Once you create enough of this content, what also happens is that you will start getting organic traffic (visitors) through search engines like Google and Bing.
This is the driving force of what will make you money.
If you wanted to make more money, you'd simply have to create more content to get more visitors (more clicks = more sales).
And that's it in a nutshell!
With these steps, you'll be well on your way to becoming a successful knife affiliate.
If this sounds interesting and you want a more detailed guide on how to do this properly, then head over here;
Start building your (knife) affiliate website for Free.
Make sure to check it out before you go.