Are you intrigued with the idea of starting a laser engraving business, but unsure if it's truly profitable?
Reports show that this niche is gaining traction due to the high demand for personalized items.
This guide will show practical steps on how to get started and earn in laser engraving.
Ready to turn your crafting passion into a money-making venture? Let's dive in!
Key Takeaways
Laser engraving is a profitable business idea due to the high demand for personalized items.
Popular laser engraving products include charcuterie boards, jewelry, leather wallets, compasses, wedding ring boxes, and many more.
You can sell your engraved products on platforms like Etsy, your own website, or through social media channels.
Starting a laser engraving business requires considering costs and profitability factors such as machine costs and ongoing expenses.
When buying a laser machine, consider factors like budget, size/power requirements, engraving area, software compatibility, ease of use, maintenance/support options, safety features, and reviews/recommendations from other users.
Laser engraving software allows you to design and customize products before they are engraved. Popular software programs include Adobe Illustrator and CorelDRAW.
10 Laser Engraving Business Ideas
Some popular laser engraving business ideas include charcuterie boards, jewelry, leather wallets, compasses, and wedding ring boxes.
Let's take a closer look at different things you can engrave and sell.
Charcuterie boards
A Charcuterie board is a top pick for laser engraving.
It's a special plate used to serve meats and cheese and people love it as it gives meals a fancy look. You can use the laser engraver to etch elegant designs or words on the board's surface.
This will add an extra touch of style to it making it unique and personalized. With every design being different, you can sell these boards at good prices on websites like Etsy or your own website.
Jewelry
Jewelry is a popular category for laser engraving because it allows for personalization and uniqueness.
With a laser engraver, you can create custom designs on items like rings, necklaces, bracelets, and pendants.
As a fun fact, I actually used to sell personalized jewelry with laser engravings in the past and I know there's a big market for it.
You can engrave names, initials, meaningful quotes, or even intricate patterns onto the jewelry piece. This adds value and makes the jewelry more special to the customer. Laser engraving on jewelry is precise and detailed, resulting in high-quality craftsmanship that customers appreciate.
Selling personalized engraved jewelry can be a profitable business idea as there is always a demand for unique and customized pieces.
Leather wallets
A leather wallet is a popular item to engrave and sell.
You can add personalized designs or names to make each wallet unique. This customization adds value and makes it an attractive product for customers.
Laser engraving allows for precise detailing on the leather surface creating a professional and high-quality finish. By offering engraved leather wallets, you can tap into the demand for personalized accessories while showcasing your creative skills as an entrepreneur in the laser engraving business.
Compasses
One unique idea for making money with laser engraving is to create personalized compasses.
Laser engraving allows you to add custom designs or text onto the compass face making it a truly special and meaningful gift.
With laser precision, you can create intricate details that will impress your customers. This type of engraved product can be sold online through platforms like Etsy where people are constantly looking for personalized and unique gifts.
The low overhead costs associated with laser engraving make this a profitable business venture worth considering.
Wedding ring boxes
A wedding ring box is a popular item that can be engraved with personalized designs and details.
You can create unique and beautiful wedding ring boxes for couples to cherish.
The precision of laser engraving allows for intricate patterns, names, or dates to be etched onto the box's surface. This makes it a perfect gift option for weddings or anniversaries.
By offering custom-engraved wedding ring boxes, you can tap into the demand for personalized gifts and add value to your laser engraving business.
Keychains
How about laser-engraved keychains?
Keychains serve a practical purpose, yet they also make a personal statement. By engraving a unique message, a name, or a symbol, your keychains can become special to your customers.
Imagine your clients, keys in hand, feeling connected to something more than just an everyday item.
Pet ID Tags
A cutesy paw print and their name in playful fonts would look splendid. Every pet parent would love having one.
Pet ID Tags, common yes, but when you add a dash of creativity, it refashions them to a whole new level.
Engraving a pet's name, a phone number, or a cute design ensures both functionality and style. It makes every pet more adorable while being safe.
Your customers will appreciate this attention to detail and care.
Coffee Mugs
Consider laser engraving ceramic coffee mugs.
A steaming cup serves not just warmth, but also a shot of inspiration with the right quote.
There's nothing like a beautiful coffee mug to start your day. Engraving a quote, an image, or a personal monogram can turn a plain mug into a thoughtful gift.
It also makes every sip of coffee a little more special.
Luggage Tags
Perhaps, tap into the travel industry.
Travelers love to add a personal touch to their luggage. Engraving names, addresses, or maps on these tags can make them unique and stylish. Plus, it helps locate luggage at the carousel easier. It's practical yet personal.
Travelers are sure to love this personal touch.
Guitar Picks
For every music lover, this could be a mini billboard of their passion.
It's not just a guitar pick, but a statement. Engrave a band's logo, a lyric, or the musician's name. It makes every strum special, personal.
Music lovers will find this about as exciting as their favorite chord.
Where to sell your Laser-engraved products?
You can sell your engraving products in many different places.
Here are some options:
Etsy: It's a popular online marketplace where you can create a shop and list your engraved products for sale.
Website: You can set up your own website to showcase and sell your engraved items. This gives you more control over the selling process.
Social Media: Utilize platforms like Facebook, Instagram, or Pinterest to promote and sell your engraved products. Share high-quality photos and engage with potential customers.
How to Make Money with Laser Engraving
Learn about the costs, profitability, and factors to consider when starting a laser engraving business.
Read on for all the tips and tricks.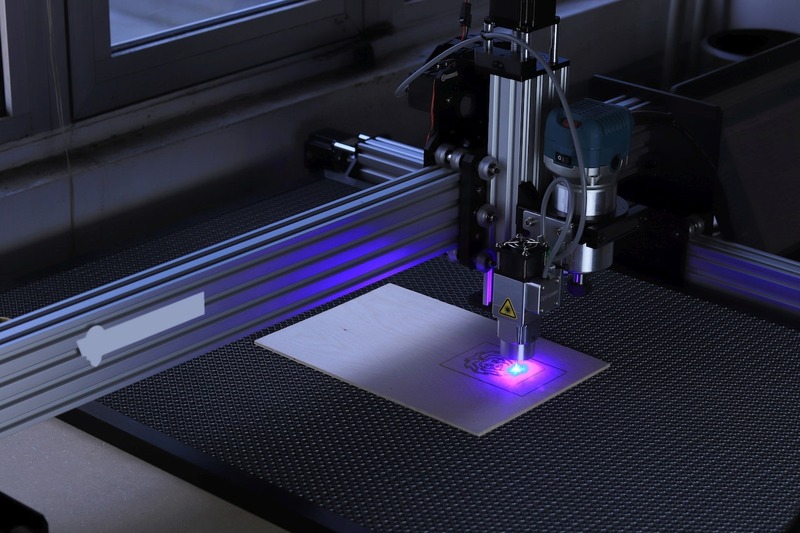 Costs and profitability of a laser engraving business
Starting a laser engraving business can be incredibly profitable due to the high demand for personalized items and low overhead costs.
However, it's important to consider both the startup costs and the ongoing expenses of running this type of business.
| Items | Estimated Costs |
| --- | --- |
| Laser Engraving Machine | Can vary greatly depending on the type and quality of the machine, but you can budget between $8,000 to $20,000. |
| Engraving Materials | These costs will depend on what you're engraving, but assume you'll spend several hundred dollars a month on materials like wood, metal, or glass. |
| Software | Many laser engravers come with software, but if not, anticipate spending between $100 to $500. |
| Marketing | Costs can vary depending on your marketing strategy, but digital marketing efforts such as social media advertising, email campaigns, or SEO could run from $500 to $2,000 per month. |
| Operating Costs | Include electricity, maintenance for your machine, and any additional costs such as renting a workspace or hiring employees. |
Profitability will largely depend on your ability to market and sell your products.
Platforms such as Etsy can be a lucrative marketplace for laser engraving offerings, from unique jewelry to personalized charcuterie boards.
The key is to create products that stand out and appeal to potential customers.
While you can create many product offerings for different customers, it's best to start with something specific before you expand to other niches.
With the right strategy, this business can be highly profitable with low overhead costs.
Some Factors to consider when buying a laser machine
Here are some factors to consider when buying a laser machine:
Budget: Determine how much you are willing to spend on a laser machine. Consider the upfront cost, as well as any additional costs such as maintenance and repairs.
Size and Power: Think about the size and power requirements of the laser machine. Consider what types of materials you plan to engrave and the size of the items you will be working with.
Engraving Area: Check the maximum engraving area that the machine can accommodate. Make sure it aligns with your specific needs for creating different-sized products.
Software Compatibility: Ensure that the laser machine is compatible with the software programs you plan to use for designing and controlling the engraving process.
Ease of Use: Look for a laser machine that is user-friendly and has intuitive controls. This will make it easier for you to operate and achieve the desired results.
Maintenance and Support: Research about maintenance requirements, availability of spare parts, and customer support offered by the manufacturer or seller.
Safety Features: Consider safety features such as emergency stop buttons, ventilation systems, and laser beam shielding to protect yourself while using the machine.
Reviews and Recommendations: Read reviews from users who have experience with different laser machine models. Seek recommendations from others in the industry who have successfully utilized laser engraving machines.
What About Laser engraving software?
Laser engraving software is an essential tool for running a successful laser engraving business.
This software allows you to design and customize your products before they are engraved.
It enables you to create designs, add text, and even import images or logos. You have complete control over the process and can ensure that each product meets your customers' unique requirements.
Some popular laser engraving software options include Adobe Illustrator, CorelDRAW, and LaserGRBL. These programs are user-friendly and offer a wide range of features to improve your creativity and productivity in the engraving process.
The right laser engraving software can also help streamline your workflow by automating certain tasks such as optimizing cutting paths or managing multiple machines simultaneously.
This saves you time and increases efficiency in producing high-quality engraved products.
Whether you are just starting out or have an established business, investing in good laser engraving software is crucial for maximizing profits and delivering exceptional custom-made items to your customers.
Pricing and promoting your engraving business
To price your engraving services, you need to consider factors like the complexity of the design, the material being engraved on, and your labor costs.
For example, you can charge per hour or per project.
When it comes to promoting your engraving business, you have many options.
You can use online platforms like Etsy, social media, and your own website to showcase your work and reach a wider audience. Make sure to include high-quality photos of your engraved products and provide detailed descriptions.
Taking advantage of search engine optimization (SEO) techniques can also help improve visibility in online searches (my guide at the end of this post covers this).
Want To Start A Laser-Engraving Website?
If you want to have your own website where you can talk about laser engraving, and even sell your own crafts, I have a detailed guide for you below.
Start a website about laser engraving for free.
Even if you don't sell your own crafts, just writing about laser engraving can bring tons of income your way in the form of display advertisements and affiliate marketing.
This is one way to monetize your passion if you don't have all the money to run a proper customer-based laser-engraving business yet.
The detailed guide above comes with step-by-step training, website hosting, SEO tools, and a community of like-minded individuals to help you build, manage, and scale your website.
Make sure to check it out before you go!