Ever wondered if you can make money on Temu?
Contrary to popular belief, this innovative and fast-growing online platform is more than just a marketplace; it's also an opportunity for passive income.
This blog post will provide you with insights and strategies to leverage the different features of Temu and start earning money from home!
Ready to dive in?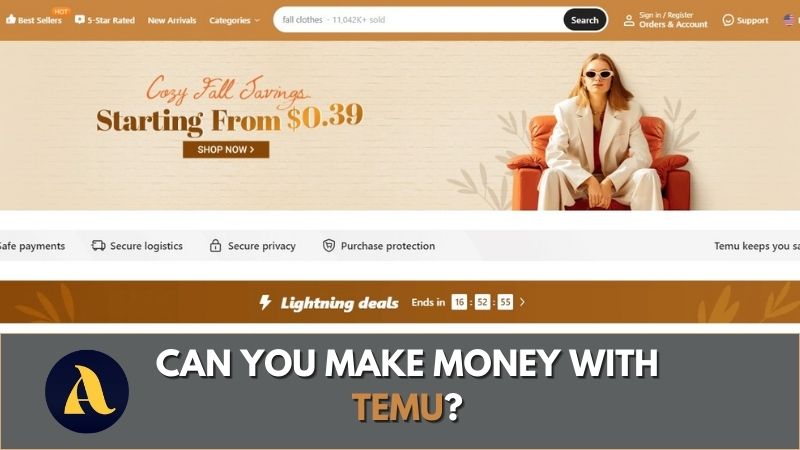 Key Takeaways
Temu offers multiple ways to earn money including the affiliate program, selling as a supplier, and dropshipping products.
Affiliates can earn up to 20% commissions and

$3 CPA rewards

when users download the Temu app.
Temu sellers have access to a large customer base that increases visibility and sales potential.
The only fees for sellers are transaction fees of 2-5% per successful sale.
3 Ways to Earn Money on Temu
Temu's Affiliate Program
The Temu Affiliate Program offers a profitable way to monetize your online presence.
You can join Temu's affiliate program and promote their vast products on your website, blog, or any social media platform.
If you want to learn more, I have a more detailed guide about affiliate marketing here.
But to explain it briefly;
Each time a user clicks on your affiliate link and makes a purchase through it, you'll earn a commission, which is a set % of the final product price (up to 20% on Temu).
This passive income generation method requires minimal investment from affiliates while providing considerable rewards. However, it does require some time and effort to get going.
With thousands of products to choose from across categories like electronics, fashion, home goods, and more – there is no limit to what you can recommend through this program.
And when it comes to getting paid; Temu allows smooth transactions via PayPal among other payment methods!
Promoting The Temu App
I also want to mention another lucrative aspect of Temu's affiliate program.
They offer a $3 reward for every Temu App download through your affiliate links.
This is surprisingly high for just getting people to download the app. They don't even have to buy anything for you to get rewarded.
So how would you incentivize people to download the app through your links?
When you get into the affiliate program, you can offer your referrals a chance to get a $100 coupon bundle and 50% off their first purchase if they download the Temu app via your affiliate link.
It's actually a good deal for people and after this, you'd only have to figure out how to get traffic to your affiliate links.
This could be done by blogging, YouTube, or creating content on social media platforms such as TikTok.
Below you can learn more about this method:
Selling as a Supplier
Selling as a supplier on Temu is a great way to generate income by offering your products to customers worldwide.
Whether you sell electronics, fashion items, or home goods, Temu provides a platform for you to showcase and sell your products without any listing fees.
As a supplier, you have the opportunity to reach potential customers who are already browsing and shopping on the platform. With the added benefits of marketing tools and resources provided by Temu, you can maximize your sales potential and increase your profits.
The main benefit is that Temu already has a sizable audience you can sell to. You don't have to attract customers from scratch which can be expensive.
You can easily withdraw your earnings through PayPal or other payment methods without any additional fees other than a transaction fee of 2-5% for each successful sale!
Dropshipping Products
Selling products dropshipped from Temu is another way to generate income without the hassle of managing inventory or shipping.
With dropshipping, you can choose from a wide range of products available on the platform and sell them directly to customers.
When a customer purchases a product from your store, the order is sent to the supplier who takes care of packaging and shipping it to the customer. This means that you don't have to worry about storage space or dealing with shipping logistics.
It's a convenient and cost-effective way to make money on Temu while offering customers an extensive selection of products.
However, some downsides include that dropshipping from Temu has slow delivery times and you can't add your own custom branding to the packaging (unless you work directly with the supplier).
Tips & Strategies For Temu Sellers To Maximize Earnings
If you intend to sell products as a supplier or dropshipper, below are some tips and strategies to consider:
Build a strong online presence: Create a professional profile and showcase your products in an attractive and engaging way.
Use high-quality images: High-resolution images that accurately represent your products can significantly impact your sales.
Write compelling product descriptions: Highlight the unique features and benefits of your products to attract potential buyers.
Offer competitive prices: Research the market to ensure your prices are competitive, considering factors like shipping costs and fees.
Leverage social media: Promote your Temu products on platforms like Instagram, Facebook, and Twitter to reach a wider audience.
Provide excellent customer service: Respond promptly to inquiries, address any issues or concerns, and strive for positive feedback from customers.
Optimize listings for search: Use relevant keywords in your titles and descriptions to improve visibility in Temu's search results.
Take advantage of promotional opportunities: Participate in Temu's marketing campaigns or special events to increase exposure for your products.
Cross-promote with other sellers: Collaborate with complementary sellers to promote each other's products and reach new customers.
Stay informed about trends and popular products: Regularly research current trends and adjust your inventory accordingly to capitalize on demand.
A Little Bit About The Benefits and Opportunities on Temu
Potential income levels
The potential income levels on Temu can vary depending on various factors such as the type of products you sell, your marketing strategies, and the demand for your offerings.
As a seller on Temu, you have the big opportunity to reach a large customer base and sell in a marketplace with a worldwide audience (that seems to be growing fast).
When you optimize your product listings, use marketing tools provided by Temu, and consistently meet customer expectations, you can increase your chances of making worthwhile income.
Generally, the products on this platform are not super expensive, but the large volume of customers (& potential dropshippers) can greatly increase your sales.
Flexibility and convenience
Earning money on Temu offers the flexibility and convenience that many individuals desire.
You can set your own hours, manage your inventory from anywhere, and fulfill orders at your own pace. This means you can earn money whenever it suits you best (but you should obviously keep your customers happy)!
On top of that, Temu provides sellers with tools and resources to streamline their business operations. With the ability to reach a large customer base online, selling on Temu offers convenience for those looking to make money through e-commerce.
Temu also presents an opportunity for individuals with limited resources to start their own business. As a seller on Temu, there are no upfront fees for listing products or maintaining an online presence. You only pay a transaction fee of 2-5% for successful sales.
This eliminates some financial barriers that often come with starting a new biz.
This means that even if you don't have an established audience or extensive marketing experience, you can still find success by selling on Temu's platform.
Access to a large customer base
The main benefit of selling on Temu is the access to a large existing customer base. This increases your chances of making sales and earning money.
With millions of users worldwide, Temu offers a vast pool of potential customers who are actively seeking products to purchase (& the platform is growing at a fast pace).
By listing your items on Temu, you can increase the visibility of your products by a large margin. This allows you to tap into new markets and expand your customer base beyond what you would typically reach through traditional selling methods.
If you're interested in more about the affiliate side of things, I have something for you below.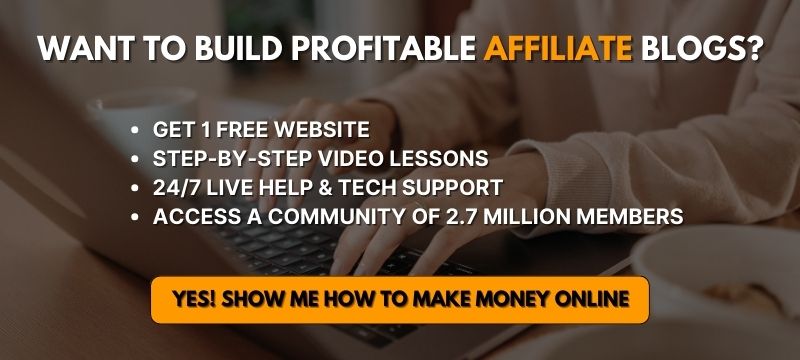 Want To Learn Affiliate Marketing (& Make Money)?
Now that you know more about Temu and that they have an affiliate program – what better way to put it all into use than starting your very own money-making affiliate blog?
I'd like to invite you to the same platform where I learned all the ropes myself:
Start building your affiliate website for free.
It comes with everything you need to succeed (how-to tutorials, tools, hosting, 24/7 support, and more) and of course, 2.7 million helpful affiliates who are ready to help you if you get stuck.
With some helping hands and dedication, you can be well on your way to earning affiliate commissions.
Make sure to check it out before you go.