Ever wondered how you can turn your creativity into cash with Vimeo?
With over 230 million registered users worldwide, Vimeo provides an influential platform for creators like you to earn money.
This blog will guide you through the ins and outs of monetizing your video content on this popular website.
Stick around; it's time to discover the potential of Vimeo for your pocket!
Key Takeaways
Vimeo offers monetization options such as Vimeo OTT, Vimeo Live Pay-Per-View, and Vimeo On Demand.
With Vimeo OTT, creators can distribute and monetize their videos across multiple platforms.
Vimeo Live Pay-Per-View allows creators to charge viewers to access live events on their channels.
Vimeo on Demand enables creators to sell access to their videos directly to their audience.
How to Monetize Videos on Vimeo
Vimeo OTT
Vimeo OTT is your all-in-one solution for sharing and making money from your videos.
This versatile platform puts you in the driver's seat and allows you to create your own branded apps and subscription services on several streaming platforms:
Android
iOS
Apple TV
Roku
Tizen, and more
With Vimeo OTT, you can give high-quality video experiences to your viewers without worrying about tech issues. It takes care of everything – from processing payments to customer support.
You can use this tool to share your unique content across the world. Whether through a website optimized for Video On Demand or an app.
In short, Vimeo OTT gives you an effortless distribution platform. It not only puts your work on display but also paves the way for new money-making opportunities.
Vimeo Live Pay-Per-View
Vimeo Live Pay-Per-View is one of the monetization options offered by Vimeo to creators.
This feature allows you to put a price tag on access to live events or special broadcasts on your channels.
It gives you a chance to earn from your exclusive content and connect with a loyal audience.
In a nutshell, Vimeo Live Pay-Per-View is a flexible and easy way for you to make money from your live events and serve exclusive content to viewers willing to pay. By using this feature, you're set to turn your Vimeo videos into cash while giving your audience a one-of-a-kind live experience.
Vimeo on Demand
Vimeo on Demand is a powerful tool for you to turn your content into cash through video-on-demand streaming.
With Vimeo on Demand, you can sell your videos straight to your viewers giving them the freedom to watch anytime, anywhere.
This feature provides an opportunity for you to earn money from your high-quality content by setting your own prices and keeping 90% of the revenue generated. Also, Vimeo on Demand dishes out plenty of options to distribute and promote your work.
This means you can reach more people and pump up your potential profits.
Comparing Vimeo and YouTube Monetization
Whether you're a starry-eyed amateur or a seasoned professional, the question of Vimeo vs YouTube for earning money is bound to show up.
Both platforms bring unique features to the table.
YouTube requires a minimum of 1,000 subscribers and 4,000 watch hours over the past year for monetization.
Vimeo doesn't tie you down with eligibility criteria, but you have to pay a monthly fee to enable the monetization of your videos. In theory, you can begin earning money from the get-go!
The revenue potential
While YouTube's monetization requires a potent mix of patience and hard work, Vimeo invites you to jump right into the earnings pool.
However, YouTube's significant user base does mean the potential for increased ad revenue and viewer donations. Yet when it comes to per-view earnings, paid content, and creative control, Vimeo unquestionably takes the cake.
Remember, the route you choose depends on your content and strategy.
For example, if you're creating video game content, you might be better off sticking with YouTube ad revenue, and if you're producing documentaries with multiple episodes, you might be better off with Vimeos paid content monetization options.
Other Ways to Make Money with Vimeo
Monetizing With Affiliate Marketing
Affiliate marketing has been a goldmine for online content creators and you could leverage it on Vimeo as well.
Here's how it works in a nutshell.
First, you team up with a business or brand that offers an affiliate program. Then, you share their products or services in your video content. Whenever a viewer clicks your unique affiliate link and makes a purchase, you earn a commission.
Essentially, you're a bridge connecting your audience to brands. And you're paid for every successful connection!
It may sound complex, but it's pretty straightforward.
Let's say you're a fitness guru who regularly posts workout videos. You could partner with a sports shoe company. Inside every video, you'd recommend these shoes to your viewers and provide an affiliate link for purchasing.
The beauty of this approach? It's all completely natural.
More than adding income flow, affiliate marketing bridges trust between you and your audience. If you stand behind a product, your viewers are more likely to do the same. It's a win-win situation.
Just make sure your affiliations align with your brand and audience. If they do, affiliate marketing can turn from a trickle of extra income into a full-time income and more.
Frequently Asked Questions About Vimeo
Can you make money with Vimeo?
Yes, video creators can earn money on Vimeo by setting up a VOD (Video On Demand) business and monetizing videos through pay-per-view among other monetization methods.
How do earnings from views work on Vimeo?
Videos on Vimeo generate income based on the number of views they receive in the pay-per-view model; more viewers translate to higher earnings.
What are some other ways to make money with Vimeo?
There are various strategies for generating income with Vimeo including setting up a lucrative VOD, accessing content monetization options similar to YouTube or Dailymotion, and offering viewer subscriptions.
Are there any requirements for video monetization on Vimeo?
While each method of making profits may have its own guidelines, generally speaking, good quality content is essential for any kind of content monetization or revenue generation initiative on platforms like Vimeo. You may also have to pay a monthly fee depending on your monetization method.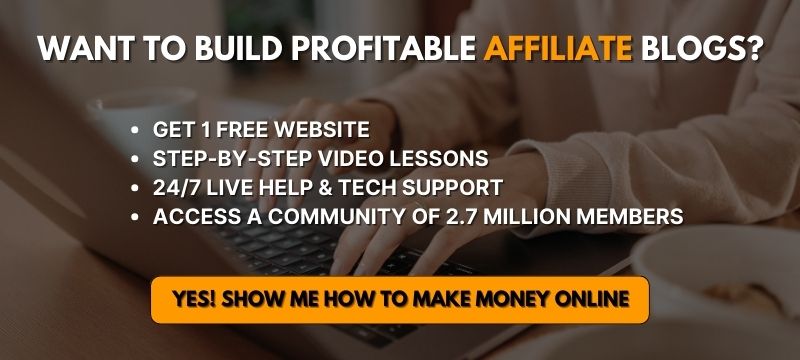 Want To Learn Affiliate Marketing (& Make Money)?
In the last section, I mentioned monetizing your videos with affiliate marketing.
If this sounds interesting and you'd want to learn more, I have a much more detailed guide for you below;
Start learning affiliate marketing by building simple websites.
It comes with everything you need to succeed (how-to tutorials, tools, hosting, 24/7 support, and more) and of course, 2.7 million helpful affiliates who are ready to help you.
With some helping hands and dedication, you can be well on your way to earning affiliate commissions.
Make sure to check it out before you go.