Are you interested in promoting metal detectors and sharing your passion with the world?
Today, I've scoured the Internet and gathered 6 metal detector affiliate programs you can start promoting to your audience and earn lucrative high-ticket affiliate commissions.
I've never owned a metal detector, but as someone who does affiliate marketing, I know a profitable niche when I see it.
These metal detectors are not the cheapest things in the world, and they are created for both hobbyists & professionals which means there's plenty of money to be made promoting them.
I even saw a few costing up to $13,000 so we are in the high-ticket space no doubt.
Below you'll find a list of metal detector brands to promote and resources if you want to start your own money-making website in this niche.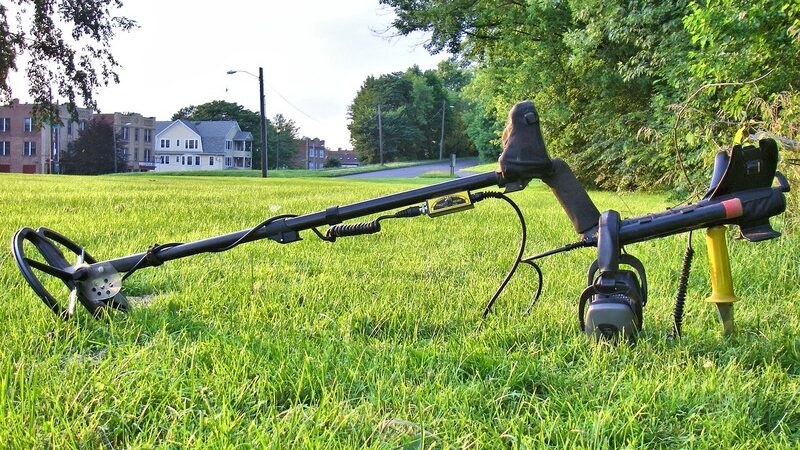 6 Metal Detector Affiliate Programs To Promote
Kellyco Detectors
Destination Gold Detectors
We Dig Metal Detectors
C.Scope Metal Detectors
Fort Bedford Metal Detectors
Amazon Associates
Kellyco Detectors
Kellyco Detectors has been serving customers for over 65 years, and today they're selling metal detectors for hobby, security, and commercial use.
In their online store, they're offering popular brands such as Garrett, Minelab, Nokta, and many more.
They also provide metal detectors for many different uses:
All-purpose metal detectors
Gold metal detectors
Underwater metal detectors
Relic metal detectors
Even though their FAQ says they're not shipping products internationally, this seems to have changed as you can calculate shipping costs and select different countries in the checkout process.
This is good news for affiliates since it means you can promote Kellyco products to international audiences and earn commissions.
You can become an affiliate either by filling out a form on their website or through the ShareASale affiliate network.
They're not disclosing their commission rates anywhere which is unfortunate. All we know is that they're offering tiered commission rates. If I had to guess, they're somewhere between 3-10% per sale.
Commissions: –
Cookie Length: –
Destination Gold Detectors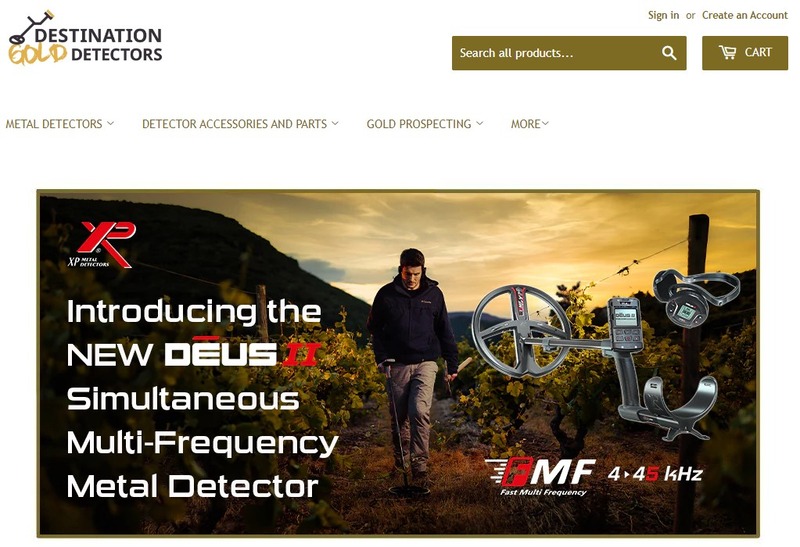 Destination Gold Detectors is a California-based online store specializing in providing metal & gold detectors along with accessories and parts.
They're a retailer for 10 popular metal detector brands so you can find quite an extensive product catalog here. They also have a separate gold prospecting category you could promote.
You can join their affiliate program through the Refersion network which provides all the payments, tracking, & reporting for affiliates.
They offer 5% commission rates for affiliates, and while it may sound low, the high price points and large product selection makes up for it.
Some of the metal detectors sold here go for up to $12,900, and with 5% commission rates your cut would be $645 per sale. Not bad if you ask me.
5% Commissions
30-Day Cookie Length
We Dig Metal Detectors
We Dig Metal Detectors is an online store created by Andy O'Neal, and he provides metal detectors for hobby & security purposes for beginners and experts alike.
In their product selection, you can find all the popular brands such as Nokta, Garrett, Minelab, Coiltek, and XP.
What catches my eye here are the bundles that come with everything you need to get started in metal detecting. Those would be interesting to promote and they're in a good price range for affiliates to earn decent commissions.
Although, they're shipping products only within the US so your audience has to reside there if you want to make any sales.
You can become an affiliate for this brand by creating an account on their website. However, something to note is that they're accepting affiliates only from the US and they don't disclose commission rates.
Commissions: –
Cookie Length: –
C.Scope Metal Detectors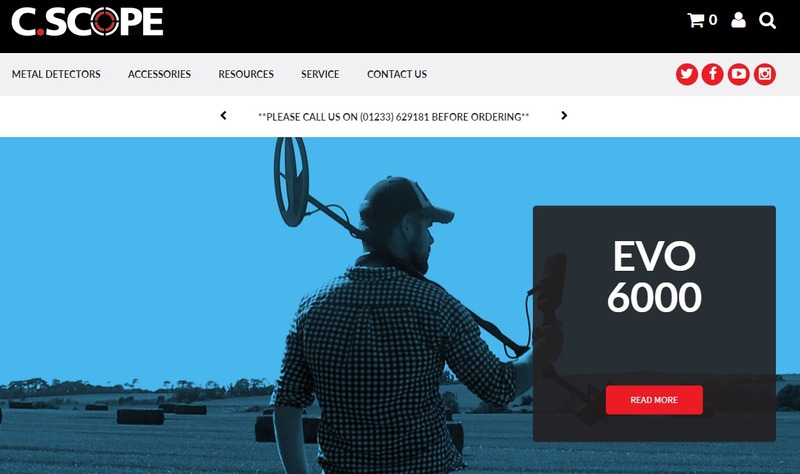 C.Scope is a UK-based designer and producer of metal detectors & accessories with over 40 years of experience.
They categorize their metal detectors as entry-level, professional, and beach detectors and their prices range between £199 and £650.
They offer 10% commissions so your commissions for selling one metal detector could be somewhere between £19.90 and £65 per sale.
Something to note is that they ship products only within the UK. Although you can still become an affiliate if you don't live there. You just have to make sure the audience you're promoting to resides in the UK.
You can become an affiliate for them through the PaidOnResults affiliate network.
10% Commissions
60-Day Cookie Length
Fort Bedford Metal Detectors
Fort Bedford Metal Detectors is an online store selling metal detectors and accessories. They were established in 2009 by Bob McGinnis and later sold to Keith Leppert.
They're selling products from 24 different brands, and when it comes to metal detectors, you can choose from 9 brands to promote.
These are Detector Pro, Fisher, Garrett, Nokta, Minelab, Teknetics, Tesoro, White's, and XP to name a few.
You get free shipping on all orders over $129 so that is always nice for your audience when promoting these products.
If you want to start promoting this brand, you need to create a free affiliate account on their website. Unfortunately, they don't disclose commission rates, so I can't say much about that.
Commissions: –
Cookie Length: –
Amazon Associates

It's a bit shame how there aren't more affiliate programs when it comes to metal detectors, so in this case, Amazon's affiliate program becomes a viable choice.
You'll find most of the popular metal detector brands in their selection, but the commission rates may be slightly lower when compared to dedicated metal detector stores.
However, people trust buying from Amazon and you also get credited for other items in the customer's cart (but the cookie only lasts 24 hours) so overall it's not a bad deal.
3-4% Commissions
1-Day Cookie Length
How To Make Money With Metal Detector Affiliate Marketing
If you already have an engaged audience waiting somewhere, you probably already know what to do next with these above-mentioned affiliate programs.
But if you're not quite sure how affiliate marketing works, and you'd like to learn how to make money promoting metal detectors, let me give you a short explanation.
Step 01: Start An Affiliate Website
Your first step is to establish your base of operations on a medium you prefer. It could be a website, YouTube channel, or even social media.
But I'd start with a website since it's cheap, easy to get started, and it's an asset you can sell at some point if you wish.
I'd name my website something related to metal detectors and just go with that.
Creating a website is the easy part these days as you don't need any coding or technical skills.
Step 02: Creating Content
Next, I'd start creating helpful content that answers common questions about metal detectors.
I would create beginner's guides, do product reviews, and perhaps give tips on where are good places to do metal detecting.
You could do this in the form of articles if you go with the website route, or you could do YouTube videos. Both would work with a niche like this.
The reason for creating content is to get traffic and build an engaged audience that will trust you and follow your recommendations.
Step 03: Making Money With The Traffic
When you publish content on your website or YouTube, you'll start getting traffic (visitors).
And once that happens, you can start making money with advertisements and affiliate programs such as the ones listed above.
You'd sign up with 1 or 2 affiliate programs, and then insert your affiliate links in the content you created. When people click on those links and buy products, you'd then earn affiliate commissions.
Step 04: Scaling The Content
At this point, increasing your earnings comes down to creating more content and optimizing your conversion rates.
You could keep creating the content yourself or you can start hiring other people to do the work for you.
That's pretty much it in a nutshell.
If this sounds interesting and something you'd want to do (successfully), then I have a more detailed guide for you here;
Start building your Metal Detector Affiliate Website for free.
Make sure to check it out before you go.