Plants have the power to captivate us with their stunning colors and refreshing scents.
But did you know they can also help you earn some extra cash?
Yep – the plant industry is a massive $17 billion business, and you can get a slice of the pie by promoting plants and gardening products as an affiliate.
Today, I've compiled a list of 10 plant affiliate programs that can help you grow your income. Whether you have a website, YouTube channel, email list, or social media following, you can promote these programs and earn commissions on every sale.
So if you're a plant enthusiast or just looking to diversify your affiliate marketing strategy, keep reading to discover some of the best plant affiliate programs out there.
Let's hop in.
10 Plant Affiliate Programs To Promote
Plants.com
Horti
Gardener's Supply Company
Best Plant Friend
NatureHills
Leaf & Clay
Lively Root
Leon & George
Bloombox Club
Succulents Box
Plants.com
Plants.com is an NYC-based online store with over 40 years of experience. They specialize in selling plants and offering expert advice and tips on plant care.
Their product catalog includes various plants from succulents to herbs to trees and many more. You can also find pet-friendly, air-purifying, and zodiac plants to name a few.
But what about their affiliate program?
As an affiliate, you can earn a 6% commission on your sales, which can add up quickly if you're able to drive a lot of traffic to their site. They offer a 10-day cookie, meaning that even if a customer doesn't buy right away, you'll still earn a commission if they return within 10 days and complete their purchase.
Now, 10 days is not much to write home about, but it's still better than the 24 hours offered by Amazon's affiliate program.
If you want to become an affiliate for Plants.com, you can do so through the Impact network. Once you're approved, you'll have access to marketing materials such as banners, text links, product images, videos, and other content.
6% Commissions
10-Day Cookie Duration
Horti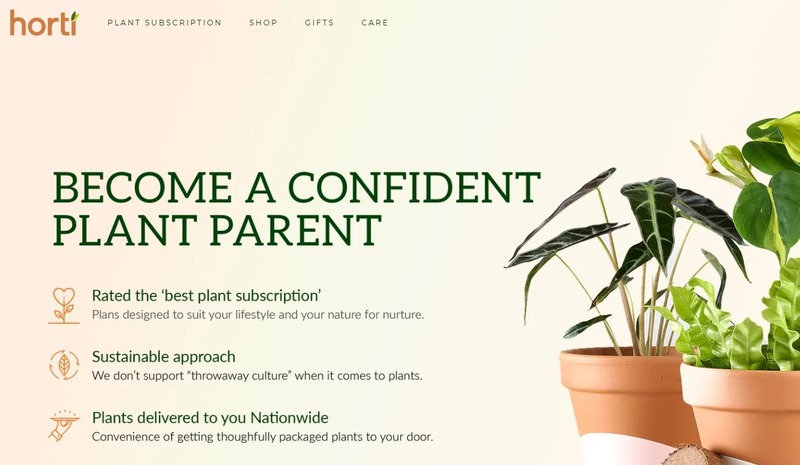 Horti is a plant subscription service that delivers plants directly to your doorstep.
They provide everything you need to create and care for your indoor garden, including tools and support to build your confidence in plant care. With Horti, you can enjoy the benefits of a thriving indoor garden without the hassle of finding and transporting plants yourself.
As an affiliate, you'll earn a 5% commission for every sale, plus bonuses throughout the year. Some subscription plans cost up to $500 and with the starting rates, your cut would be $25 per sale.
Horti's target audience are men and women between the ages of 25 and 45 who live in urban areas. If you have a blog or website that caters to this demographic, Horti's affiliate program is a perfect fit for you.
Joining Horti's affiliate program is easy and straightforward; the program is hosted on Awin (a popular affiliate network) where you can easily track your commissions and performance.
As an affiliate, you'll also have access to a wide range of banners, text links, and other promotional materials to help you promote Horti's products.
While this affiliate program offers an exciting opportunity to earn commissions, it's important to note that at this time, Horti only offers shipping within the US. Therefore, the program is not suitable for affiliates targeting audiences outside the US.
5% Commissions
30-Day Cookie Duration
Gardener's Supply Company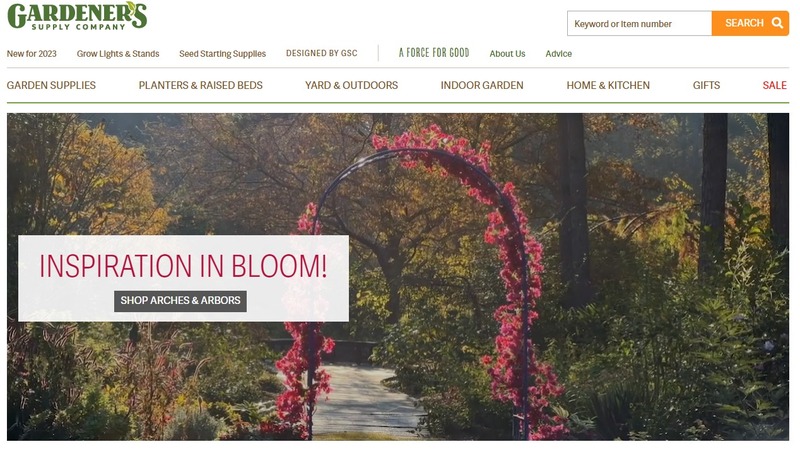 Gardener's Supply Company is based in Vermont and they provide an extensive range of gardening tools, supplies, outdoor décor, and more.
With a library of advice, excellent customer care, and a YouTube channel, they're dedicated to ensuring gardening enthusiasts have everything needed to pursue their passion.
As an affiliate, you can promote Gardener's Supply's products on your website or blog and earn a percentage of the sale for every customer who makes a purchase using your unique referral link.
The program offers 8% commission rates, as well as access to a range of promotional materials; banners, text links, and product feeds. There's also an affiliate network manager who can assist with your questions or concerns.
Note that Gardener's Supply does not ship to addresses outside of the U.S. and its territories, so this program is only available to affiliates with a US audience. Although, you can still become an affiliate even if you don't live there yourself.
8% Commissions
Cookie Duration: –
Best Plant Friend
Best Plant Friend is a sister brand to Succulents Box and they offer unique houseplants to help reduce stress and beautify your home or office.
What sets Best Plant Friend apart from other plant stores is their focus on providing a variety of services to their customers. In addition to offering plants, they also provide services such as a DIY potting areas, drought-tolerant landscaping, and big landscape houseplants.
One advantage of joining their affiliate program is the opportunity to promote a brand that offers high-quality, unique products, and services.
It's important to note that due to strict import and export regulations on rooted plants, Best Plant Friend is not able to offer international shipping outside of the continental United States.
You can still become an affiliate even if you don't live in the US though.
Commissions: –
Cookie Duration: –
Nature Hills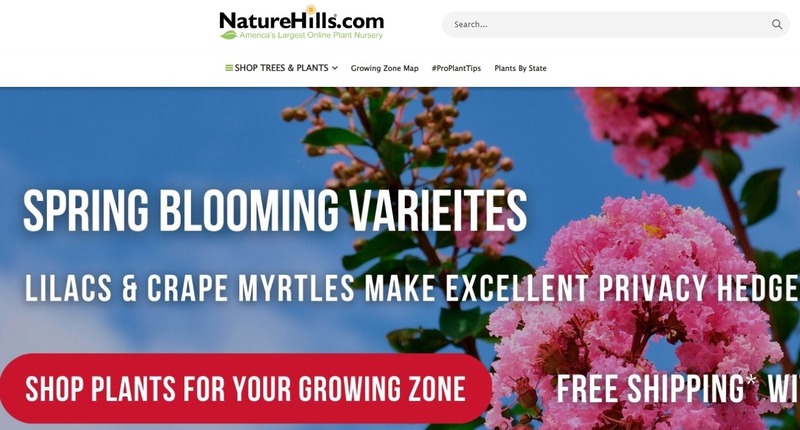 Nature Hills is an online plant nursery that provides a wide range of plants, trees, shrubs, and seeds.
Established over two decades ago, Nature Hills Nursery has grown to offer more than 10,000 items that are perfect for:
Gardening
Home Decorating
& Landscaping
They're the perfect choice for anyone looking to beautify their outdoor space or grow their own plants.
In addition to their impressive selection of plants and services, Nature Hills also offers an affiliate program.
This program allows affiliates to earn up to 12% commission on each sale, with an average order value of $185. This comes down to $22.2 per sale for affiliates.
The 30-day cookie duration ensures that affiliates will receive commissions on any sales made within a month of a customer clicking on their referral link.
Their affiliate program also includes consistently updated creatives, an affiliate newsletter, and performance incentives to help affiliates succeed. Additionally, a dedicated management team is available to provide support and answer any questions that affiliates may have.
12% Commissions
30-Day Cookie Duration
Leaf & Clay
Leaf & Clay is an online store that specializes in budget-friendly succulents, houseplants, and accessories. They offer a variety of packs with rare cultivars, aloe, echeveria, gasteria, and more.
They have a range of categories to choose from such as:
Easy Care
Pet-friendly
Rare specimens
Air-purifying
Low light
Bright light
As an affiliate, you can earn up to 10% commission on all sales, with an average order size of $40. This amounts to average commissions of $4 per sale.
It's not much, but if you can drive enough volume it can add up quickly.
The program has a 30-day cookie, which means that if someone clicks on your affiliate link and makes a purchase within 30 days, you will receive credit for the sale.
You'll also receive exclusive monthly newsletters with special promotions, content, and codes that you can adapt for your own marketing efforts. At the end of each month, you will be paid by Leaf & Clay via Paypal or Giftcard.
Something to note is that they only offer shipping within the US due to agricultural regulations. This means your audience has to reside there too if you want to make any sales.
10% Commissions
60-Day Cookie Duration
Lively Root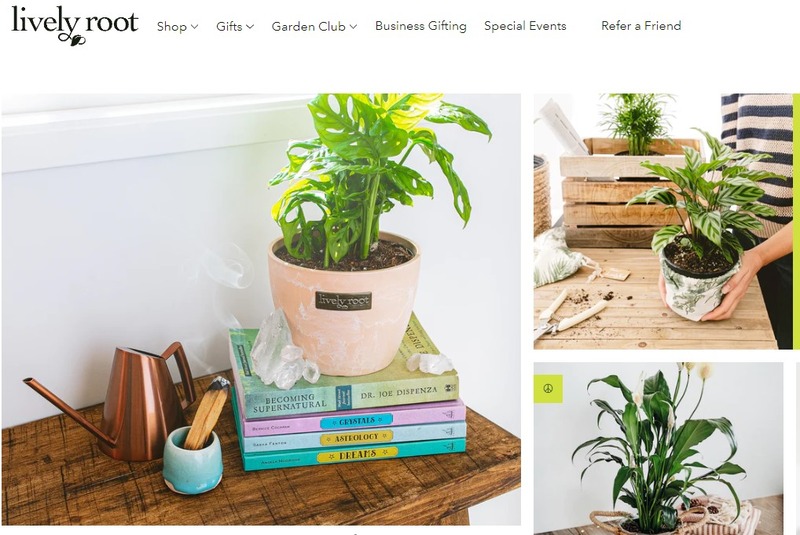 Lively Root is an online store that specializes in providing high-quality plants for customers across the United States.
They offer a wide selection of plants that are hand-selected, packed with care, and shipped fresh to your doorstep. Whether you are looking for indoor or outdoor plants, Lively Root has got you covered.
They also provide guidance and tips on how to care for your live plants, ensuring that you have the information you need to keep your plants healthy and happy.
Lively Root also offers an affiliate program with a 20% commission rate, which is an excellent rate for physical products, and definitely one of the highest rates on this list. By joining their program, you can earn a commission for every sale made through your unique referral link. They also provide banners and images for you to use.
At this time, there is no international shipping available.
20% Commissions
Cookie Duration: –
Leon & George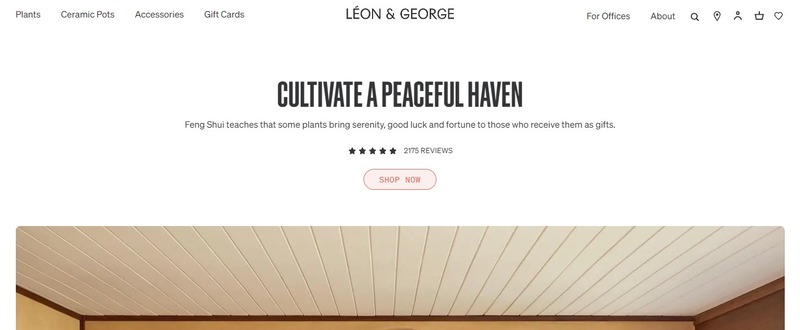 Leon & George is an online store that provides a one-stop shop for indoor plants and accessories.
They offer various hand-selected indoor plants and premium ceramic, wood, and bio-plastic pots, with worldwide delivery. Their online service also includes easy shopping and caring for house plants, with "Plant Doctor" support available for those without a green thumb.
With their affiliate program, you can earn a 10% commission on each sale generated through your unique referral link. And their 30-day cookie tracking ensures you'll receive credit for any sales made within a month of someone clicking on your link.
The affiliate program is open to all creators based in France, Belgium, Luxembourg, Germany, Spain, and Italy who have at least a blog, Instagram, TikTok, or YouTube account.
10% Commissions
30-Day Cookie Duration
Bloombox Club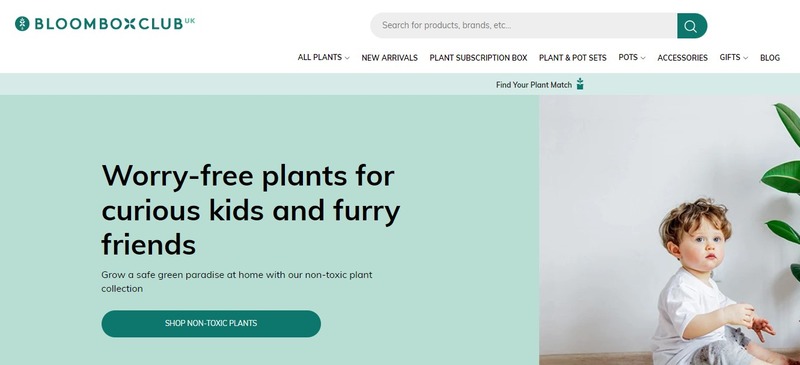 Bloombox Club is an online store that offers unique indoor plants, pots, and baskets delivered right to your doorstep.
Their plants are carefully selected for their rarity and their benefits to the environment, making them the perfect addition to any indoor space. They offer plant subscriptions, so you can receive a new plant every month, or you can choose from their range of rare houseplants, trailing plants, succulents, pots, and hanging baskets.
What sets Bloombox Club apart is their commitment to promoting health and well-being through plants.
They filter their plants by their health and well-being benefits, so you can pick the best plants for air purification, reducing stress, and boosting your mood. Not only do they provide unique and beneficial plants, but they also offer helpful care information on their blog, ensuring that your plants thrive in your home.
As an affiliate, you can earn 11% commissions on every sale you refer. Their program also offers a 30-day tracking cookie, so you can earn commissions on sales made up to a month after the initial referral.
11% Commissions
30-Day Cookie Duration
Succulents Box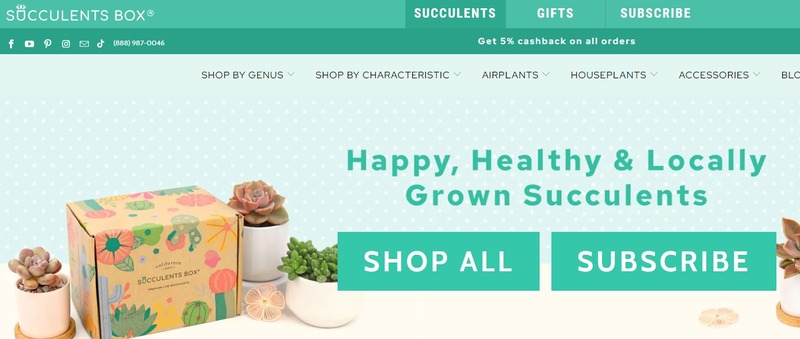 Founded in 2017 in California, Succulents Box offers over 300 different types of succulents from monthly subscription plans to customizable gift options.
The plants come in various sizes and styles, ranging from 2-10 inches and with different pot options such as no pot, plastic pot, or clay pot. Additionally, you can shop based on characteristics such as pet-friendly, winter hardy, indoor, cactus, and even weirdo succulents.
Their blog also provides care guides and helpful tips to keep your plants thriving.
Succulents Box also offers an affiliate program that is perfect for any plant enthusiast looking to share their passion with others.
With 10% commissions on all sales and a 30-day cookie, you can earn money while promoting the products you love. Payments are made at the end of every month via PayPal, making it easy and convenient for you to receive your earnings.
10% Commissions
30-Day Cookie Duration
How To Start An Affiliate Website Around Plants (& Make Money)
Starting an affiliate website around plants is a great way to combine your love for all things green with the opportunity to earn money online.
With the plant and flower growing sector in the United States alone reaching a whopping 17.08 billion U.S. dollars in 2022, there's never been a better time to get in on the action.
So, where do you even start?
The first step is choosing a domain name for your website.
Your domain name will be the first thing people see and remember about your website, so you want to make sure it's "brandable".
A brandable domain name is unique and memorable, and ideally reflects the topic or niche of your website. For example, if your website is about indoor gardening, you might choose a domain name like "IndoorGreenThumb.com" or "PlantGuru.com".
Those names are taken, but you get the idea.
NameCheap or GoDaddy are two great options for finding and registering your domain (make sure to get a ".com" domain).
Next, you'll need to set up your website and theme.
I highly recommend you choose WordPress as 43% of all websites use it. Most places allow a simple 1-click install for it and it's highly customizable.
One of the best themes for building an affiliate website is GeneratePress.
It's free, super fast, and you can customize it to look however you want. This website is built on GeneratePress too.
Once your website is up and running, it's time to start creating content.
Blog posts are a great place to start for beginners.
You can create how-to posts, buying guides, reviews, and listicles around gardening equipment and plants for example.
When you publish blog posts, you'll start getting free traffic (visitors) from search engines like Google. This is also called Search Engine Optimization (SEO).
Eventually, you can also branch out into YouTube videos and social media posts to reach a wider audience.
Finally, it's time to monetize your website.
The above-mentioned affiliate programs are an excellent way to earn commissions on products you recommend to your readers. Pick 1-2 programs that align with your interests, pay good commissions, and you think would be a good fit for your audience.
Display ads are another option to make money, but they require quite a bit of traffic before you earn anything worthwhile from them.
That's it in a nutshell!
Now, if this sparked your interest and you'd want a more detailed guide that hand holds you through the entire process;
Start building your Plant affiliate website for free.
It comes with video instructions and all the steps are outlined for building your very own money-making affiliate website.
Be sure to check it out!
With a little hard work and dedication, you can turn your love of plants into a lucrative online business.