Remote-controlled vehicles are simply fun.
With this type of fun, there's also plenty of commissions to be made promoting RC vehicles to beginners & hobbyists all the while sharing your love for the hobby.
Below I've gathered a list of popular affiliate programs for you to join and start promoting hot new RC cars, trucks, planes, helicopters, boats, and many more.
You can promote these products on your website, YouTube, social media, or whatever medium you prefer. I also left resources for you at the end of this post if you want to learn how to do all this.
Here are 10 RC vehicle affiliate programs for you.
10 RC Vehicle Affiliate Programs (Reviewed Below)
Amain Hobbies
Horizon Hobby
SoCal Hobbies
Redcat Racing
RC Envy
NitroTek
MakerFire
Genstattu
Bezgar
Amazon Associates
AMain Hobbies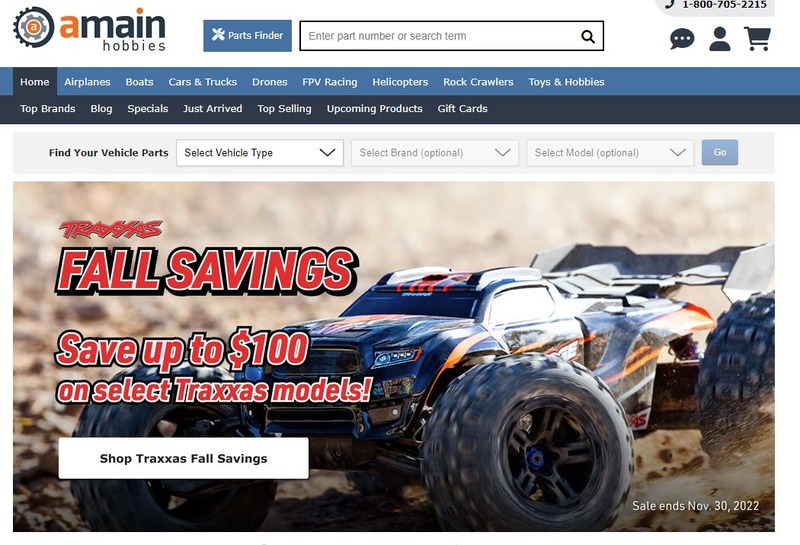 AMain Hobbies is an online store for RC planes, helicopters, drones, cars, and trucks.
It was established in 2004 by Kendall & Kelly Bennett, and today they ship over 3,000 orders a day and have 20+ years of experience in serving RC enthusiasts.
AMain Hobbies is a popular place to buy everything related to RC vehicles and your audience is surely going to love it too if you want to start promoting this brand.
They offer worldwide shipping allowing you to promote to different demographics around the globe. Customers residing in the US can also enjoy free shipping on orders over $99.
You can become an affiliate for AMain Hobbies through Avantlink where they offer you 5% commission rates on all sales and an additional 1% bonus for new customers.
5% Commissions
15-Day Cookie Length
Horizon Hobby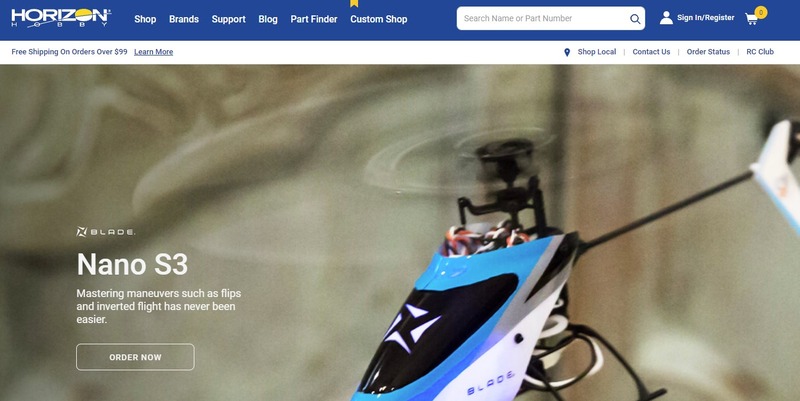 Horizon Hobby is another popular place to shop for RC products online.
They were established in 1985 and have today over 40,000 products in the RC catalog including cars & trucks, airplanes, helicopters, boats, and radio transmitter gear.
Customers can also build their own custom RC vehicles with their services. You can choose your own body style & color, upgrades, accessories, and electronics to use in your vehicle.
One downside of promoting Horizon Hobby is that they only ship products within the US & Canada. This limits your potential audiences to those two countries. Although, you can still become an affiliate even if you don't live there.
Their affiliate program is on the AvantLink platform and you can join it completely free.
3-5% Commissions
45-Day Cookie Length
SoCal Hobbies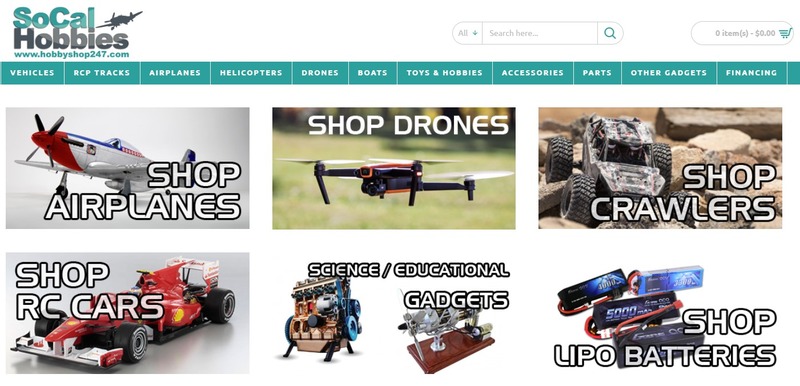 SoCal Hobbies is one of the leading suppliers of RC items in Southern California.
They're specializing in drones, RC cars, airplanes, batteries, parts, and unique RC models. They also provide RC item repair service.
The benefits of promoting SoCal Hobbies include a wide catalog of RC products and their worldwide shipping which allows you to promote this brand to different audiences around the globe.
You can become an affiliate for them by creating an affiliate account on their website and filling out a simple application. They'll ask for basic information about you and how you want to get paid.
The payment options include PayPal, cheque, and bank transfer.
You also get access to an affiliate manager to support you (if needed) and promotional material such as banners.
5% Commissions
45-Day Cookie Length
Redcat Racing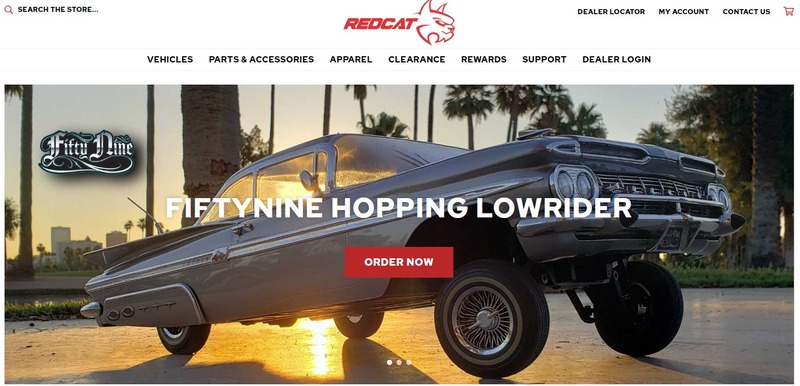 Redcat Racing was established in 2005 and they're focusing on providing a wide range of RC cars, parts & accessories, and apparel.
When it comes to RC cars they have:
Lowriders
Trucks
Buggies
Crawlers & Trail Trucks
On-road & Drifters
Short course & Truggies
The average price for these vehicles is around $150 to $900 and you could earn decent commissions by promoting them, especially the higher-end RC vehicles.
You can find their affiliate program on the GoAffPro platform.
5% Commissions
Cookie Length: –
RC Envy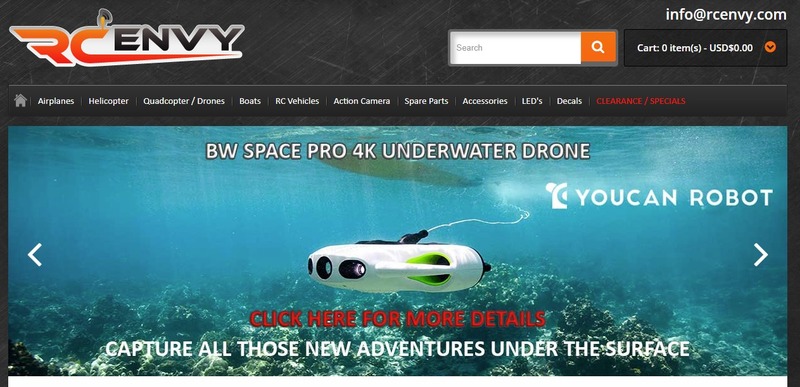 RC Envy is an authorized dealer for Redcat Racing, 3Racing, and MakerFire brands in Canada.
They offer top-quality airplanes, helicopters, drones, boats, RC cars, and spare parts along with great customer service.
A small drawback is that they offer all this only in the US & Canada so there is no international shipping, unfortunately. But as long as the majority of your audience resides in either country, you'll be fine promoting this brand.
You can become an affiliate for them by creating an affiliate account on their website.
8% Commissions
Cookie Length: –
Nitrotek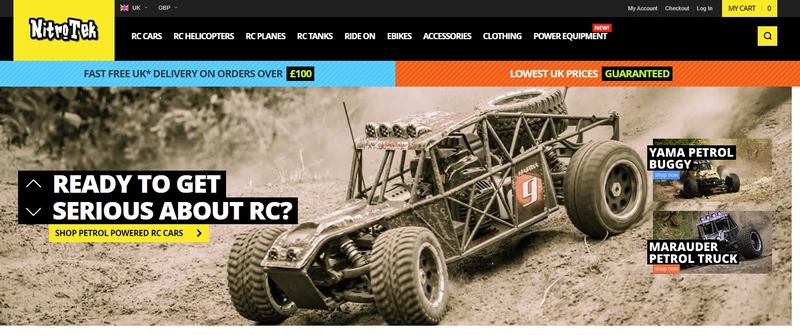 Nitrotek is a UK-based online store established in 2004 and they provide RC cars, helicopters, tanks, and planes aimed at all ages and experience levels.
They also pride themselves on having unique RC models that can't be bought elsewhere.
Nitroktek serves a worldwide audience, although you'll probably have an easier time making sales when you promote this brand to audiences residing in the EU due to cheaper shipping costs.
They're offering a bit higher commission rates than other brands at 10% and their minimum payout is £50. They can pay you through PayPal or check. Affiliates also receive promotional material when they get accepted into the program.
10% Commissions
30-Day Cookie Length
MakerFire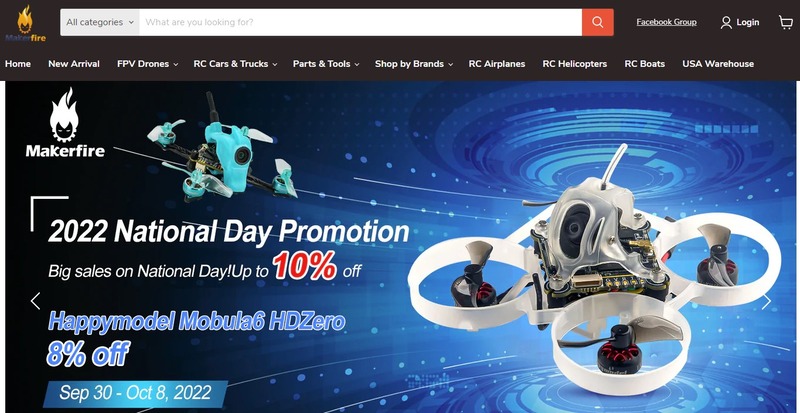 MakerFire is an online store where you can buy RC cars, racing drones & cars, airplanes, spare parts, and many more.
Affiliates benefit from their great product selection and worldwide shipping (although they can't ship batteries to all countries).
To become an affiliate, you have to create an account on their website. Once you get accepted, you'll receive banners and content to use in your marketing campaigns.
3-5% Commissions
Cookie Length: –
Genstattu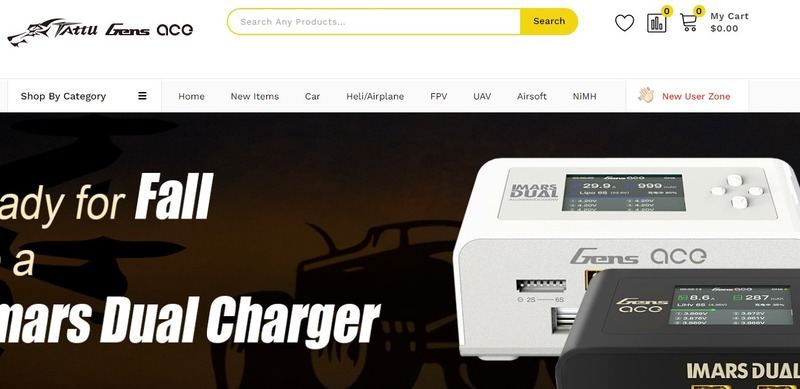 Genstattu sells professional Lipo battery packs for RC cars, heli/airplanes, FPV, UAV, and airsoft.
They are sharing more than 50% of the market for RC batteries in the US and this is where you can start promoting them.
You can find their affiliate program on the ShareASale network. They offer starting commission rates of 6% and if your total order value exceeds $30,000, you can start earning 8% commissions.
They also offer a long 60-day cookie during which you'll be credited for any sales made through your affiliate links.
6% Commissions
60-Day Cookie Length
Bezgar
Bezgar sells toy-grade and hobby-grade RC cars and spare parts.
In their online store, they have 10 RC cars to select from and these are their own brand name vehicles.
They're also serving a global audience through the Amazon marketplace. But when it comes to ordering directly from their online store, they only ship products within the US.
One strong aspect of promoting Bezgar is their high commission rates of 10% or 15% depending on the affiliate network you join. UpPromote offers 10% rates and through ShareASale, you can earn 15% commissions.
I would definitely stick to the ShareASale if they provide you with higher commissions.
Both networks will offer you banner ads and affiliate tools to aid you in marketing campaigns. Bezgar also runs occasional special coupons and deals to boost your sales.
10-15% % Commissions
60-Day Cookie Length
Amazon Associates

Amazon is not a specialty store around RC vehicles, but they still offer a great product selection.
People also trust buying from Amazon and they offer worldwide shipping, in that regard, it's a good choice for affiliates.
You also get credited for other items in the customer's cart which can result in unexpected income boosts every now and then.
3% Commissions
1-Day Cookie Length
How To Start An Affiliate Website Around RC Vehicles
RC vehicles is a great choice for a niche website.
The products are in a good price range for you to earn decent commissions. The niche also comes with a loyal audience that also spends lots of money on these products. And I bet the competition is not too bad either.
If you want to learn affiliate marketing and start promoting these above-mentioned affiliate programs to make money online, then I have just the right resource for you;
Start building your RC vehicle affiliate website for Free.
It comes with everything you need to make this work (step-by-step lessons, 24/7 support, and a helpful community).
You'd do well to check it out.