Are you interested in earning money with sim racing affiliate programs?
Today, I've gathered some of the best sim racing affiliate programs you can start promoting on your website, YouTube, or social media to earn outstanding commissions.
Sim racing is incredibly fun, and there is no limit on how much you can spend on all the gear (which makes it so lucrative for affiliates). Some high-end simulators can cost up to $15,000 and making even one sale would amount to massive commissions.
I've personally spent thousands on my rig so I know for fact this can be a wildly profitable venture for any aspiring affiliates who want to pursue this niche.
So much so that I've been thinking of getting into this niche myself.
Below you'll find popular sim racing brands to promote and I made sure to include resources if you want to start your own money-making affiliate website.
7 Sim Racing Affiliate Programs To Promote
Fanatec
Logitech
Sim-Lab
Digital-Motorsports
RSeat
Abruzzi
G-Performance
Fanatec

Fanatec is a brand name for the German manufacturer Endor AG and they were founded in 1997 by Thomas Jackermeier.
Fanatec provides high-end sim racing hardware for PC & consoles such as force feedback steering wheels, pedals, shifters, and complete cockpits.
They provide up to 15% commissions which are fantastic rates for physical products. You can expect to earn great commissions because most of these products can cost quite a bit ($250 to $2,000).
They ship products worldwide, but customers outside the EU may be charged VAT or customs fees. Despite that, there seems to be a fair amount of US customers so it's probably not going to affect your campaigns too much if your audience resides there.
If you want to become an affiliate for Fanatec, the joining happens by filling out a simple application on their website. Make sure you have some content on your website before applying (or whatever medium you prefer).
You also get promotional material and special offers to use in your campaigns.
Up to 15% Commissions
Cookie Length: –
Logitech
Logitech is a Swiss company founded in 1981, and chances are you've heard of them when it comes to PC peripherals.
As you can guess, they also sell entry-level sim racing gear and that makes Logitech a great option if you want to promote starter gear for beginners (such as G29 & G923 which I also happen to own).
When you join the Logitech affiliate program, you can start promoting all of Logitech's family of brands. What you should aim to promote is the Logitech G brand where all the gaming gear is sold (including sim racing gear).
The affiliate program is hosted on the Impact network which you can join for free. Basically, they provide all the payments, tracking, & reporting for affiliates.
The average order value for Logitech is $125, but it'll likely be higher if you only promote sim racing gear as they cost between $300-$400 for steering wheels.
4-10% Commissions
30-Day Cookie Length
Sim-Lab
Sim-Lab manufactures and sells high-quality sim racing hardware and electronics.
It was founded by Richard Schouteren in 2015 when he couldn't find the ultimate sim-racing cockpit without spending a fortune, so he decided to develop his own.
When it comes to products, Sim-Lab excels at providing cockpits, seats, and monitor mounting solutions. They also have a small steering wheel and display section with just 1-2 products, but they've put lots of effort into making them the very best they can be.
All these products have great price ranges ($100 to $2,500) and with commission rates of up to 12%, you have the opportunity to earn worthwhile high-ticket affiliate commissions.
Sim-Lab also offers worldwide shipping so you can promote this brand to different audiences across the globe.
Their affiliate program is hosted through Partnerize and it's free to join as always.
Up to 12% Commissions
30-Day Cookie Length
Digital-Motorsports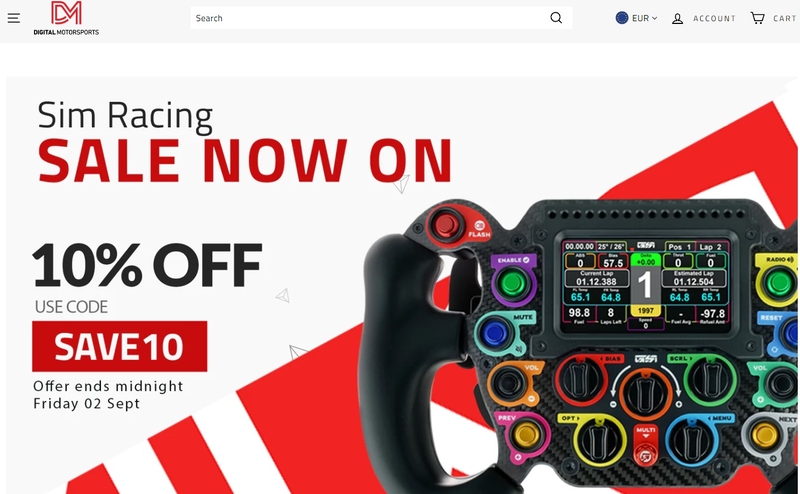 Digital-Motorsports was founded in 2018 in Ireland where they also operate the country's most advanced racing simulation center next to the Mondello Park racing circuit.
They are one of the leading sim racing stores serving a global audience and they're official distributors for Fanatec, Sim-Lab, Thrustmaster, and many more.
With more than 21 brand partners, the product selection is perhaps one of the largest you can find on any sim racing online store, and that makes this brand a solid choice to promote for affiliates.
They ship products worldwide which is another positive aspect since you can make sales from all types of traffic.
A small drawback is the fairly low commission rates of 1.5-3%, but the large product selection and high-ticket items make this store worthwhile to promote.
1.5-3% Commissions
Cookie Length: –
RSeat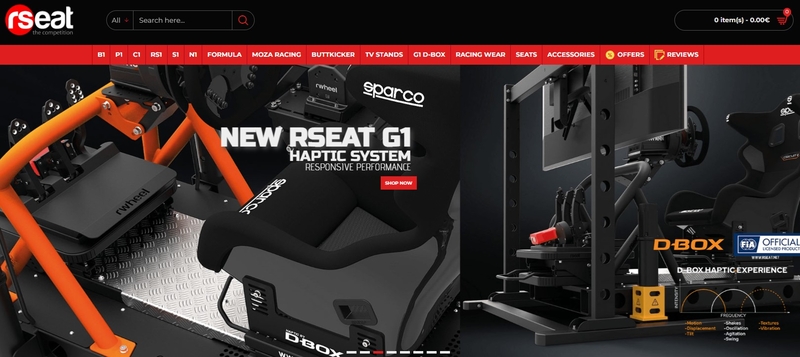 RSeat is an online store originating from France. They are specializing in providing sim racing cockpits, seats, mounting solutions, and racing wear like gloves and shoes.
In addition, you can find a small section of Moza direct drive racing steering wheels and pedals, but their emphasis is definitely on seats as their brand name suggests.
Something worth noting is that they only ship products within the EU so make sure your audience also resides there before you start promoting. Otherwise, you're not going to get any sales.
Also, you can still become an affiliate for them even if you don't live in the EU.
They're offering a small 2% commission rate, but the wide product selection and high price range can make up for it.
2% Commissions
Cookie Length: –
Abruzzi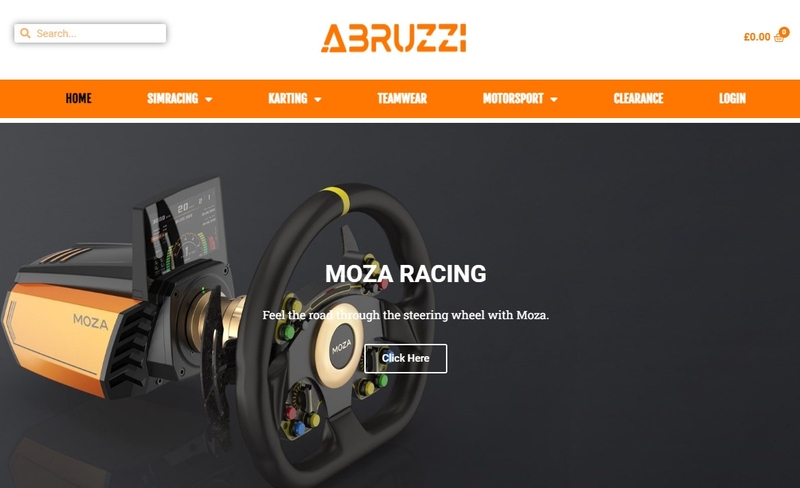 Abruzzi is a UK-based online store that sells sim racing, motorsport, and karting gear.
In their sim racing section, they're offering direct drive steering wheels, pedals, shifters, and cockpits from 7 different brands:
Moza
Simagic
Asetek
Simetik
Simforge
Simedal
Abruzzi
What makes Abruzzi worthwhile promoting is their slightly higher commission rates of 6% when compared to some other sim racing stores on this list.
You can pretty much promote many of the popular brands on Abruzzi and earn much higher commissions. The higher rates make a big difference, especially when promoting the more expensive items.
Abruzzi also ships products worldwide which is great.
You can become an affiliate for Abruzzi by filling out an application on their website. Once accepted, you get access to marketing materials and a helpful affiliate team to support you if needed.
6% Commissions
Cookie Length: –
G-Performance
G-Performance sells high-end sim racing equipment for beginners, intermediate, and professional racers.
They're based in Slovakia and have been serving a worldwide market since 2014 with their online store.
Some popular brands you can find on G-Performance are Ascher Racing, Cube Controls, Simucube, Aseteks, Sim-Lab, and many more.
When it comes to sim racing, their product categories include almost everything you may need in sim racing (wheels, pedals, shifters, cockpits, seats, & accessories, etc).
G-Performance also ships products worldwide so you can promote this brand to wide audiences across the globe.
2.5% Commissions
Cookie Length: –
How To Start A Sim Racing Affiliate Website (& Make Money)
Unless you already have a website, you may also be interested in learning how to start your own sim racing website so you can start making money with these above-mentioned affiliate programs.
As someone who is an avid sim racer, I've also been thinking of starting a website in this rather profitable and fun niche.
There are so many high-ticket products you could promote to earn big commissions and I don't think there is too much competition either.
So what would you actually talk about on a sim racing website if you wanted to make one?
I'd definitely cover topics like:
Beginner guides
Product reviews
Tips regarding hardware & games
I'd also do content related to virtual reality headsets and racing because that's been the most immersive stuff I've experienced so far with sim racing (& you could also promote the VR headsets).
Alongside a website, you could also start a YouTube channel related to sim racing, I think they would go well together and increase your earnings further.
If this sounds interesting and something you'd want to learn more about, I have just the right guide for you;
Start building your sim racing website for free.
I highly recommend you check it out before you go. It's the same place where I learned to build my sites.