In the realm of renewable energy, solar power reigns supreme.
With the demand for solar energy skyrocketing, affiliate programs in this sector are offering lucrative commissions and enjoying crazy high average order values of $4,000+ in many cases.
In this post, I've done the legwork and gathered 7 worthwhile solar energy affiliate programs that will help you illuminate your bank account. From renowned brands to emerging innovators, I've got you covered.
At the end you'll also find resources if you want to learn how to make money with these programs, so look out for that.
Without further ado, let's get started.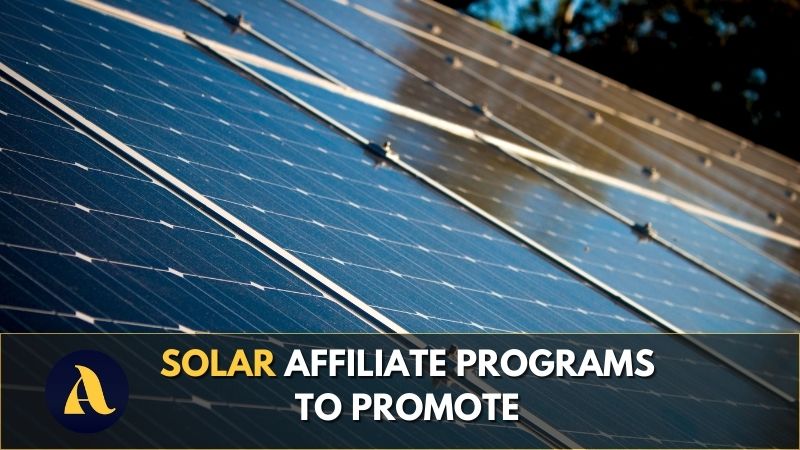 7 Best Solar Energy Affiliate Programs To Promote
A1 Solar Store
Soliom
Goal Zero
Sunstore
ShopSolar
CredibleSolar
Tesla
A1 Solar Store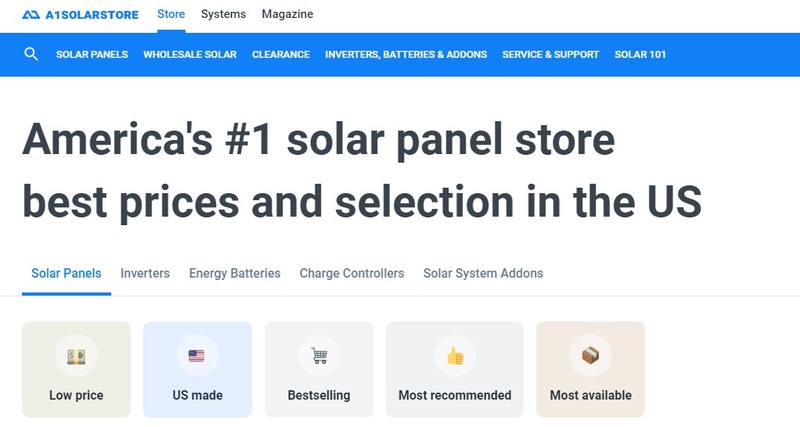 A1 Solar Store is a popular online retailer of solar energy products. They sell a wide range of solar panels, inverters, batteries, and other related accessories.
The company has a reputation for providing high-quality products and excellent customer service. They ship products to all 50 states in the United States so your audience should also reside within the states.
As an affiliate, you can earn 6% commissions on all sales generated through your unique affiliate links. For example, if you promote a solar panel that sells for $1,000, you will earn a commission of $60.
They also have a fairly long 180-day cookie duration which means you can get credited for the sales if they happen within that time period.
If you are interested in joining their affiliate program, you can visit their affiliate page and fill out a simple application.
Commission Rate: 6%
Cookie Duration: 180-Days
Affiliate Network: In-house
Soliom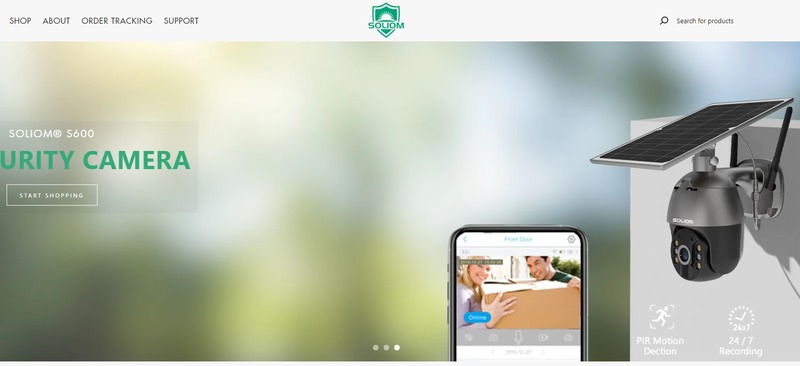 Soliom is a company that specializes in solar-powered security cameras.
Their cameras are designed to be easy to install and use, and they don't require any wiring or batteries. These cameras are also weatherproof and motion-activated, making them a great option for home security.
Soliom ships products worldwide. This means you can promote these products to worldwide audiences too.
When it comes to their affiliate program, you can earn a decent 8% commission on all sales generated through your affiliate links.
For example, if you promote a solar-powered security camera that sells for $200, you will earn a commission of $16. On top of this, they have a decent 90-day cookie duration.
Soliom also offers bonus commissions on featured products and a dedicated affiliate support team that is available to answer any questions you may have about the program.
Commission Rate: 8%
Cookie Duration: 90-Days
Affiliate Network: ShareASale
Goal Zero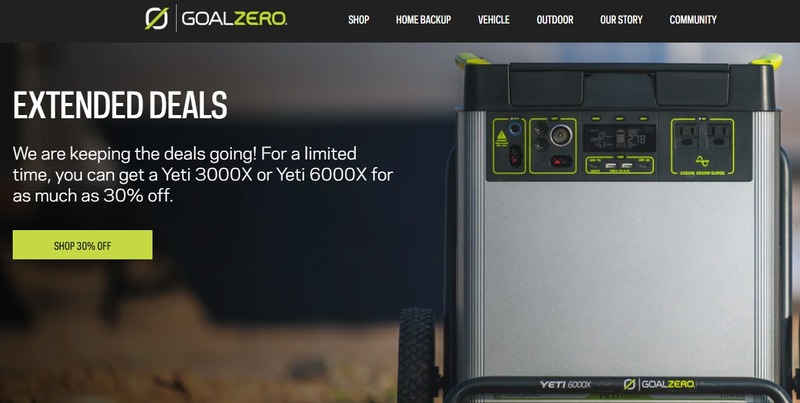 Goal Zero sells portable power stations, solar panels, and home backup systems. They have been in business since 2009 and are known for their high-quality products.
The Goal Zero Affiliate Program is a way for you to earn money by promoting Goal Zero products on your website, blog, or social media channels. When someone clicks on your affiliate link and makes a purchase, you will earn a 5% commission on the sale.
If you promote the Yeti 500X Portable Power Station, which sells for $499.95, you will earn a commission of $24.99 per sale.
Or the Nomad 20 Solar Panel, which sells for $149.95, you will earn $7.49 per sale.
Goal Zero has distributors across the globe so you can most likely promote this brand to multiple geo-locations.
To find the affiliate program, you have to scroll down to the bottom on their website and find the "Affiliate" section which takes you straight to the AscendPartner application.
Commission Rate: 5%
Cookie Duration: 14-Days
Affiliate Network: AscendPartner
Sunstore
Sunstore is a UK-based supplier of solar panel kits and other solar products for a variety of uses including leisure vehicles, homes, and businesses. They've been around since 2011.
In addition to solar panels, Sunstore also sells a range of other solar products such as:
Solar batteries
Solar inverters
Solar charge controllers
Solar mounting systems
Solar lighting
Solar water heating systems
Sunstore also offers a comprehensive range of installation services, so you can be sure that your solar system is installed correctly.
The Sunstore affiliate program is a way to earn money by promoting their solar products for 5% commissions on all your sales. For example, if you promote a solar panel kit that sells for £1,000, you will earn a commission of £50.
Commission Rate: 5%
Cookie Duration: 30-Days
Affiliate Network: In-house
ShopSolar
ShopSolar enables consumers to buy complete solar + storage solutions. They sell solar panels, batteries, inverters, and other components needed to install a solar power system. The company also offers a variety of solar panel kits, as well as mobile solar solutions for RVs and vans.
ShopSolar.com was founded in 2018 with the goal of making solar energy more accessible to homeowners and businesses. The company has since grown to become one of the leading online retailers of solar products in the United States.
The company offers consultation services to help customers determine their solar needs, and they also have a team of experts who can answer any questions about solar energy.
When it comes to their affiliate program, it's hosted on the Impact network and you can earn 6% commissions on all sales. The cookie duration is 15 days which is a bit short, but not from the worst end.
The average order value is $4,000+ which means you have a chance to earn high-ticket commissions by promoting this brand.
Commission Rate: 6%
Cookie Duration: 15-Days
Affiliate Network: Impact
CredibleSolar
CredibleSolar is a unique solar energy service that connects homeowners with pre-vetted solar installers. They've made a name for themselves by simplifying the solar buying process and providing homeowners with a hassle-free experience.
In addition, CredibleSolar also offers an affiliate program that allows anyone to earn money by promoting their services.
The carrot on the stick is that you'll earn a $1,000 commission for every referral that goes solar. There's potential for significant payouts if you can provide them with constant leads.
Commission Rate: $1,000 per sale
Cookie Duration: –
Affiliate Network: Refer-Pro
Tesla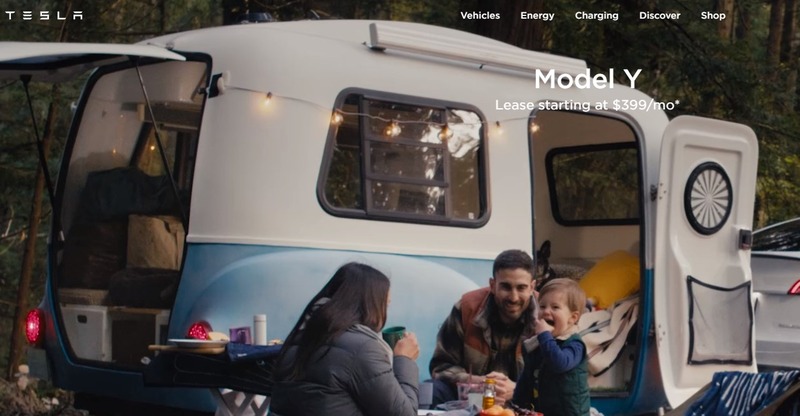 Tesla, a name synonymous with innovation and disruption, has ventured into the realm of solar energy with its Tesla Solar division.
Offering a comprehensive suite of solar products, Tesla Solar is committed to providing homeowners with clean, sustainable energy solutions.
The Tesla Solar affiliate program is a great opportunity for those who are passionate about renewable energy and want to earn credits by promoting Tesla Solar products.
At the time of writing this, there is no direct monetary compensation, but you can use these credits to charge your Tesla products.
Commission Rate: –
Cookie Duration: –
Affiliate Network: In-house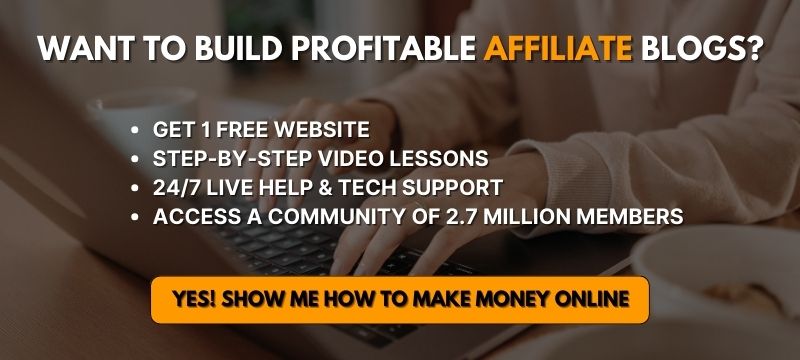 How To Start A Solar Affiliate Website (& Make Money)
Now that you know more about solar affiliate programs – what better way to put it all into use than starting your very own money-making affiliate blog, right?
I'd like to invite you to the same platform where I learned all the ropes myself:
Start building your Solar affiliate website for free.
It comes with everything you need to succeed (how-to tutorials, tools, hosting, 24/7 support, and more) and of course, 2.7 million helpful affiliates who are ready to help you.
With some helping hands and dedication, you can be well on your way to earning affiliate commissions.
Make sure to check it out before you go.