Are you looking for the best trampoline affiliate programs to join?
If so, I've gathered some of the top trampoline brands to promote on your website, YouTube, email, or social media (or whatever medium you may prefer).
The prices for trampolines can jump rather high (up to $32,000) so there's great potential for earning high-ticket commissions in this niche for affiliates.
At the end of this post, I'll also discuss how you can start promoting these programs (successfully) and where you can learn more for free.
Let's get started.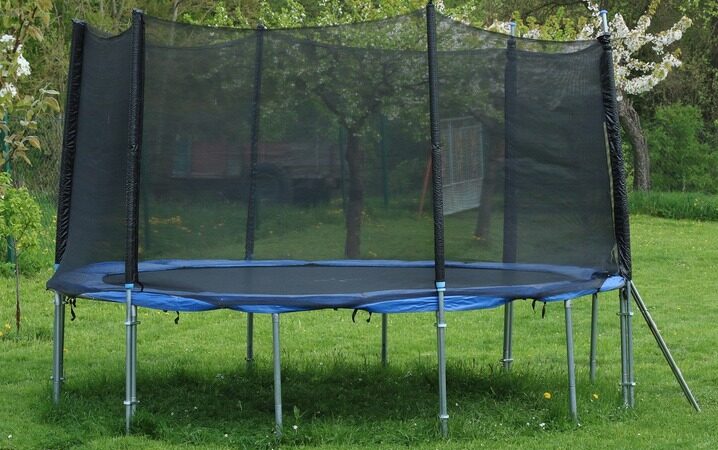 6 Trampoline Affiliate Programs To Promote
JumpSport
Zupapa
MaxAir Trampolines
Trampoline Parts And Supply
Trampoline Warehouse
Amazon
JumpSport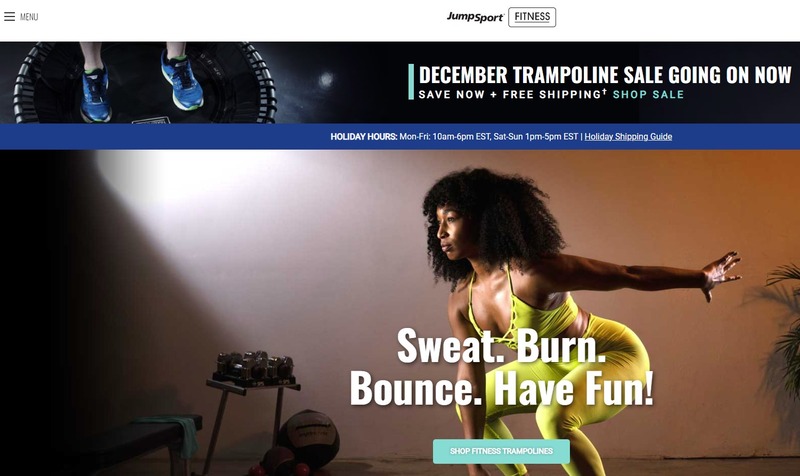 JumpSport was founded in 1995 by Mark & Valerie Publicover and they specialize in various trampolines and fitness products.
A fun fact is that they invented the trampoline safety enclosure 20 years ago which is widely used in many trampolines today.
But let's get back to their products which include:
Backyard trampolines
Fitness trampolines
Trampoline safety systems, parts, & accessories
Trampoline workout videos
When it comes to backyard trampolines, they have 6 different options available ranging from $1,499 – $2,999 in price. As an affiliate, you could earn decent commissions by promoting these.
One backyard trampoline sale could net you between $59.96 – $119.96 with 4% commissions.
The products have free shipping in the US and there is no international shipping at the time of writing. This means you can only promote this brand to US audiences.
Their affiliate program can be found on the ShareASale affiliate network. The average order size is $300 and you can earn 4-8% commissions on the products.
You also get dedicated affiliate support if you need help.
4-8% Commissions
30-Day Cookie Length
Zupapa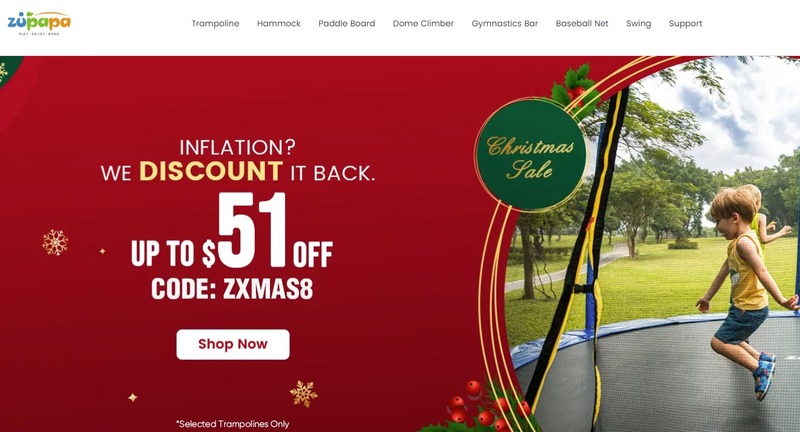 Zupapa is an online store that sells indoor and outdoor trampolines of various sizes as well as:
Hammocks
Paddleboards
Dome climbers
Gymnastic bars
Baseball nets and swings.
They were founded in 2011, and have since served more than 300,000 families. They also enjoy a great 4.8+ rating from verified reviews.
Many of their trampolines are designed for kids and come with safety features. Generally, they're priced between $500-$700 and can fetch decent commissions for affiliates.
You can also find a few fitness trampolines for adults in their product catalog and these are a bit cheaper at around ~$100.
Shipping is free within the US and just like JumpSport, they do not ship overseas meaning you have to stick to the US audiences when promoting this brand.
You can find their affiliate program on Awin and once you join, you'll get access to promotional material such as banners & creatives.
Commissions: –
30-Day Cookie Length
MaxAir Trampolines
Unlike previous brands on this list, MaxAir Trampolines is more focused on providing trampolines for athletes and stunt performers, although they have some options for families as well.
What makes their trampolines different is that they're designed to provide more airtime than other trampolines.
You'll also notice that these trampolines can cost more than $20,000, so we're definitely in the high-ticket space. Successfully making even one sale with their most expensive trampoline could amount to commissions of up to $2,629 for affiliates.
They're also the first brand on this list to provide international shipping, so you can promote this brand to worldwide audiences. But it also comes with a drawback that only people living in the US can become affiliates.
You can become an affiliate for MaxAir by registering a new affiliate account on their website.
5-8% Commissions
Cookie Length: –
Trampoline Parts And Supply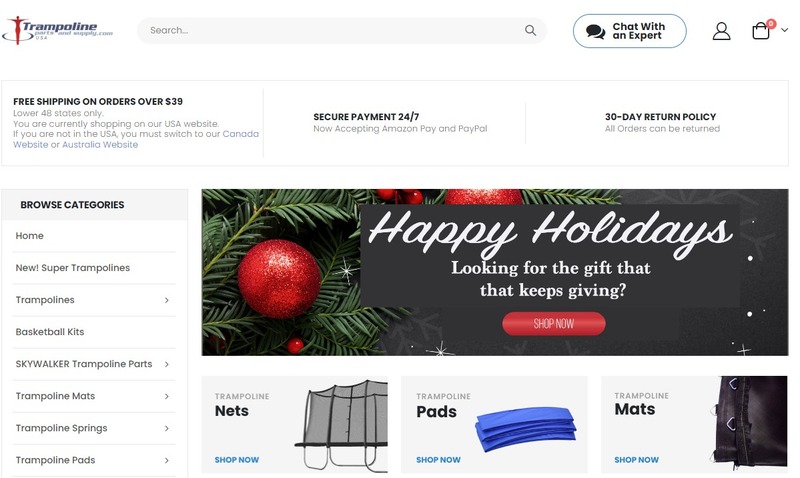 Trampoline Parts And Supply provides what its name suggests. They sell pretty much everything you may need when it comes to trampolines:
Trampolines
Enclosure kits
Springs
Replacement poles
Nets, pads, & mats, etc
Their product catalog is truly extensive, but a small drawback is that they only ship products within the US so it limits your potential audience as an affiliate.
You can join their affiliate program through VigLink and they offer you a decent 6% commission rate.
6% Commissions
Cookie Length: –
Trampoline Warehouse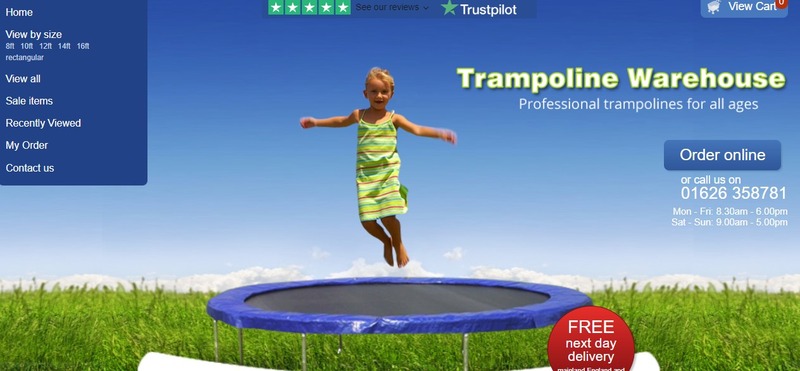 Trampoline Warehouse has over 10 years of experience in selling trampolines. They're owned by Artemis Home Ltd, a family-owned business based in the UK.
They have a selection of 31 trampolines with a variety of spring/size/weight combinations available and all the trampolines come with full safety enclosures and padding.
If your audience resides in England or Wales, they can get a free next-day delivery which you can use in your marketing.
Trampoline Warehouse has implemented its affiliate program on Awin where you can fill out an application to become an affiliate for this brand. They're not disclosing commission rates, unfortunately.
Commissions: –
30-Day Cookie Length
Amazon Associates

Amazon Associates is the affiliate program of the popular Amazon marketplace.
As you can probably tell, they're not a dedicated trampoline store, but it's still a valid choice for affiliates since they have a great selection of trampolines and other products.
Amazon also comes with the benefit that people trust buying from there and you also get credited for other items in the customer's cart.
They don't pay the highest commissions, but the sheer trust aspect makes it worthwhile to consider.
3% Commissions
1-Day Cookie Length
How To Promote Trampolines (Successfully)
Now that you know where to join trampoline affiliate programs, you may also be interested in knowing how to promote them so you can make money.
The first thing you need to decide is the platform you want to start with.
I'd choose between YouTube and your own website depending on whether you like being on camera or if you like to type. Both are valid options.
Next, you want to narrow down your niche since there are different trampolines for different audiences:
Trampolines for kids
Fitness trampolines
Professional indoor trampolines, etc
You should start with one sub-niche as shown above to get a laser-targeted audience with specific problems that you can solve. You can also expand to other sub-niches later.
After you've chosen your platform and niche, you want to start creating content to attract traffic and build an audience. Without traffic, you can't make money, so it's important.
The content you create should answer common problems your target audience has.
This could be anything from explaining what's the best beginner trampolines for X purpose or reviews of popular trampoline brands so your audience can make an educated purchase decision.
When you've published some content, you can start joining the above-mentioned affiliate programs to start monetizing your content with affiliate links (& make money).
From there on it's just about creating more content to scale your earnings.
That's it in a nutshell.
If this sparked your interest and you'd want to learn how to do all this using a website, I have a more detailed free guide for you here;
Start building your website in the trampoline niche.
I highly recommend you check it out before you go.