If you've never heard about Wealthy Affiliate; it's an online training platform and a community of 2.7 million people where you can learn skills to make money online with affiliate marketing.
They've been around for more than 18 years and have produced more success stories than any other course platform.
Discovering Wealthy Affiliate in 2018 was the turning point for me.
It's where I finally "cracked the code" and started earning money online.
Today in 2023, this year marks my 5-year anniversary of being a Wealthy Affiliate premium member – and;
I now run a small portfolio of passive income websites from the comfort of my home, and I still regard Wealthy Affiliate as one of the best courses around if you want to do the same.
With the learnings from WA, I recently also had my biggest day yet in commissions: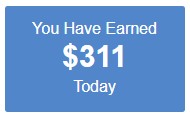 So with this review, I want to achieve 2 things:
Give you a peek inside WA and show what it's all about
Encourage you to start your own profitable affiliate website
I started in 2018 with zero experience, and I genuinely believe you too could make money with this method.
So if you're interested, keep reading to see what makes WA so special.
This review is fairly comprehensive (almost 7000 words) so if you don't have the time;
You can sign up for the Free Wealthy Affiliate Membership here and see it for yourself.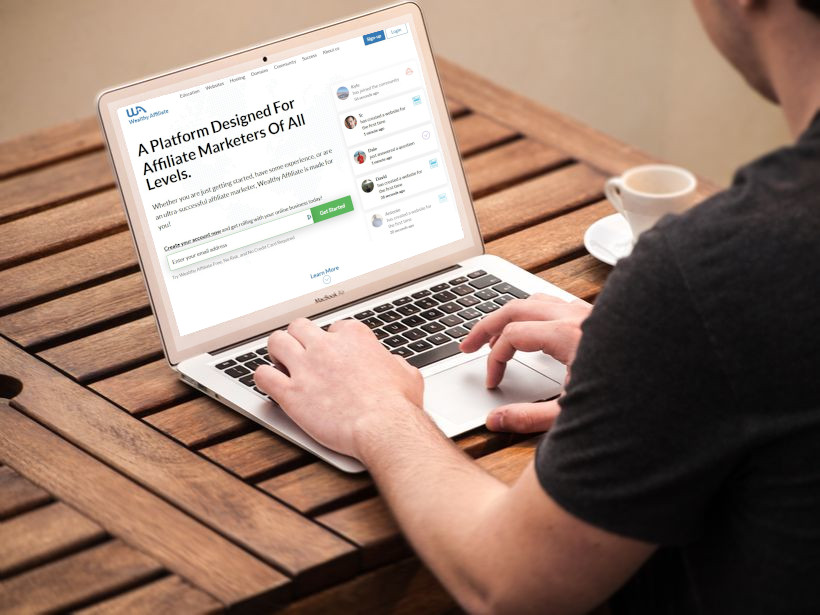 Now before we jump to the review itself, here's a quick summary of Wealthy Affiliate:
Wealthy Affiliate
$0 Starter Membership
Price

Training

Services

Value For Money
Wealthy Affiliate Quick Summary:
2 Main Courses (120+ Lessons)
300+ Hours of expert education live classes
1000+ Training Modules created by subject matter experts
Over 18 Years In Business and 2,700,000+ Community Members
The #1 Industry Leader In Affiliate Training Courses
24/7 tech support
1-On-1 Coaching
Free To Get Started
What Is Wealthy Affiliate (WA)?
Wealthy Affiliate is an affiliate training course, community, and hosting platform that has become one of the most popular learn-how-to-earn services online.
Over the years WA has evolved into a huge authority in the affiliate marketing space and they provide all the necessary tools and training to start your own online business.
What sets this service apart from other similar products is that they have been around for more than 18 years. Many rival products become outdated within 1-2 years, but Wealthy Affiliate's concept has proven to be truly evergreen.
What Do You Learn At Wealthy Affiliate (The Core Concept)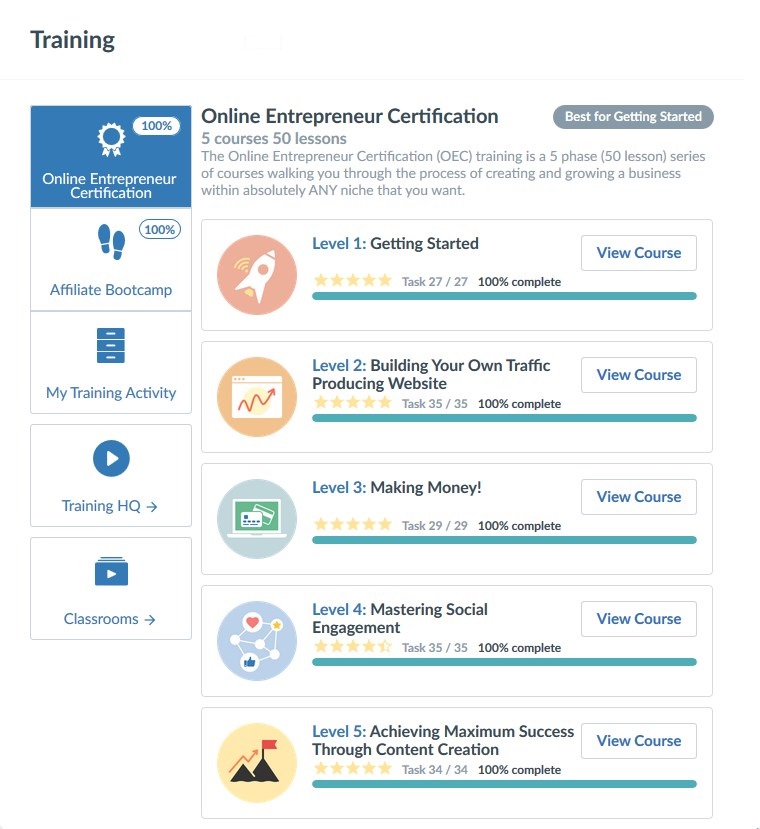 The main course will teach you how to build a blog-style website that earns income from affiliate commissions.
In practice, this means;
You'll build a website around a topic that interests you, then you'll write & publish articles related to the topic of your website.
The published articles will get ranked in search engines like Google and bring free traffic to your site.
Your articles will also contain affiliate links promoting specific products in your niche and when people click on those links and buy, you will earn affiliate commissions.
Build a website -> Write articles -> Add affiliate links -> Earn money
Sounds simple right?
It truly is — at least the very basics of it.
But naturally, there is a learning curve to all this.
Ultimately, you'll be building a sustainable long-term passive income online business that'll pay you for years to come even after you stop actively working on it.
What If You Don't Know Anything About Websites?
Anyone can create a website with the click of a button these days.
The bigger question is the topic of your website.
This is where many fresh affiliates get stuck.
You may feel like you're not particularly passionate about anything and you wouldn't have much to offer on your website – or you may feel reluctant to share your knowledge because you don't see yourself as an expert in anything.
I was in the same boat when I was choosing my first website topic so I can relate.
But the truth is, everyone has something to offer.
Think about topics that you would enjoy learning more about and researching. You might be surprised by what ideas come to mind when you start brainstorming.
It could be something as simple as a hobby or something you find interesting.
Most likely there are a few million others around the globe too that would find your "thing" interesting (& this typically means it's possible to make money off it).
Even if you don't feel like you're an expert in any particular field, you can still create a website that is helpful, informative, and engaging.
You don't need to be an expert to help others.
Almost all content pieces on the Internet are just opinions anyways. No one is going to shoot you down for sharing your own subjective experiences.
Wealthy Affiliate can help you choose a topic as well. In multiple ways even:
The training itself will go deep into helping you choose a "niche" for your website and how to find products to promote
The AI-powered niche finder is a new feature within Wealthy Affiliate that you can use to find profitable website niche ideas
The community and I are willing to help you too (you only need to ask).
What Do You Get With Wealthy Affiliate? (A Look Inside)
Wealthy Affiliate has thousands of guides on making money with:
Affiliate marketing
Social media marketing
Email & funnel marketing
Pay-Per-Click marketing
Copywriting
YouTube, and more.
Many of these guides are created by community members who have become subject matter experts in their respective fields and are now sharing their knowledge with the
WA community.
However, there are two official "main" training courses which are called:
The "Online Entrepreneur Certification" Course
The "Affiliate Bootcamp" Course
Next, I'll explain the differences between the two.
The "Online Entrepreneur Certification" Course
Levels: 5
Lessons: 50 in total (10 in each level)
Tasks: 165 (2-4 in each lesson)
Description: Learn to build an affiliate marketing business around any topic.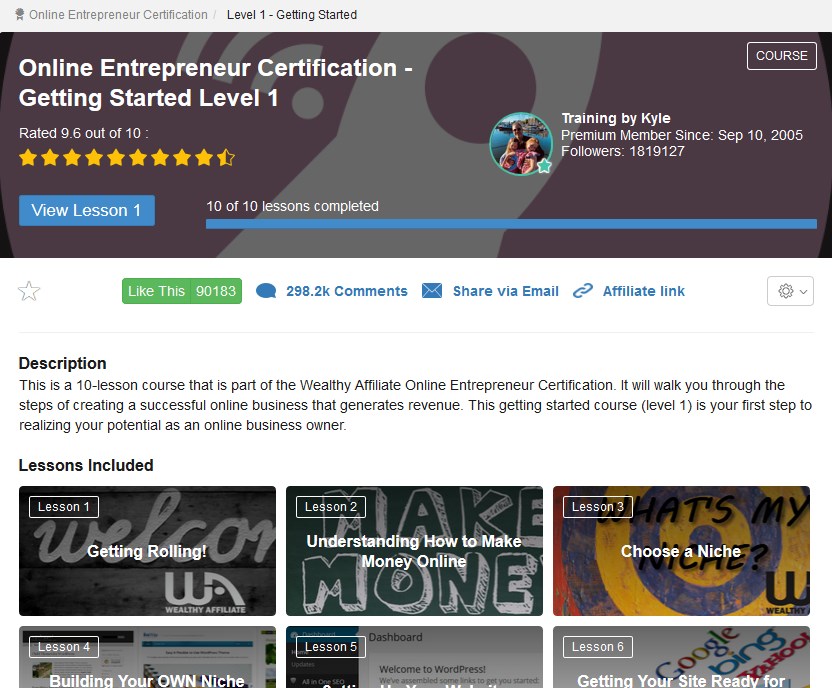 The "OEC" course is where every aspiring affiliate marketer starts their journey in Wealthy Affiliate.
The course handholds you through step-by-step instructions on how to create & grow an online business with the affiliate marketing business model.
You will learn all the ropes to start a money-making website around a subject you are interested in. It could be your hobby, passion, or something you want to learn more about.
This course is also where I started building my first affiliate site back in 2018, and on the very first day, I had my own website running which was focused on promoting computer peripherals.
The lessons are very action-centered and not just some theory.
They often contain a video for you to watch and a text part to read. At the end of every lesson, you are given a set of tasks to complete based on what you just learned.
You can move through the tasks at your own pace but be sure to digest the information and take action based on the tasks.
Don't skip through the tasks or you are set for failure.
You gradually move forward in the training by checking little boxes as you can see below.
Breakdown Of The Affiliate Lessons
Below is a breakdown of all the step-by-step lessons in the OEC course.
You can see what kind of topics they contain and I'll give you a brief summary of each one.
One great thing about the training is that it pushes you to take action on your business from the start. It very much resembles a "earn while you learn" model.
Level 1: Getting Started!
The first 10 lessons in level 1 are entirely free for anyone as long as you have a free starter account.
In this level, you'll learn the basics of affiliate marketing, how to choose a topic for your business, and you even get to build your free website.
These 10 lessons in Level 1 are completely free for anyone:

Getting Rolling!
Understanding How to Make Money Online
Choose a Niche
Building Your OWN Niche Website
Setting Up Your Website
Getting Your Site Ready for Search Engines
Creating Your Initial Website Content
Creating Custom Menus On Your Website
Understanding Keywords
Recap and What's Next
Level 2: Building Your Own Website
The second level is about making your website more professional and how to attract people to your site.
You'll learn keyword research and how to create search engine optimized (SEO) content. This teaches you to rank articles in Google so your website can start receiving free traffic (visitors).
Your Own Domain, Your Brand.
Move On Over, My Brand Has Arrived
Creating Keyword Rich Content
Setting Up A Domain Specific Email Account
The Traffic Breakdown
Making Use of Visuals
Understanding the Low Hanging Fruit
Making face as a real person
Amplifying Your Productivity
Boosting Your WA Ranks!
Level 3: Making Money!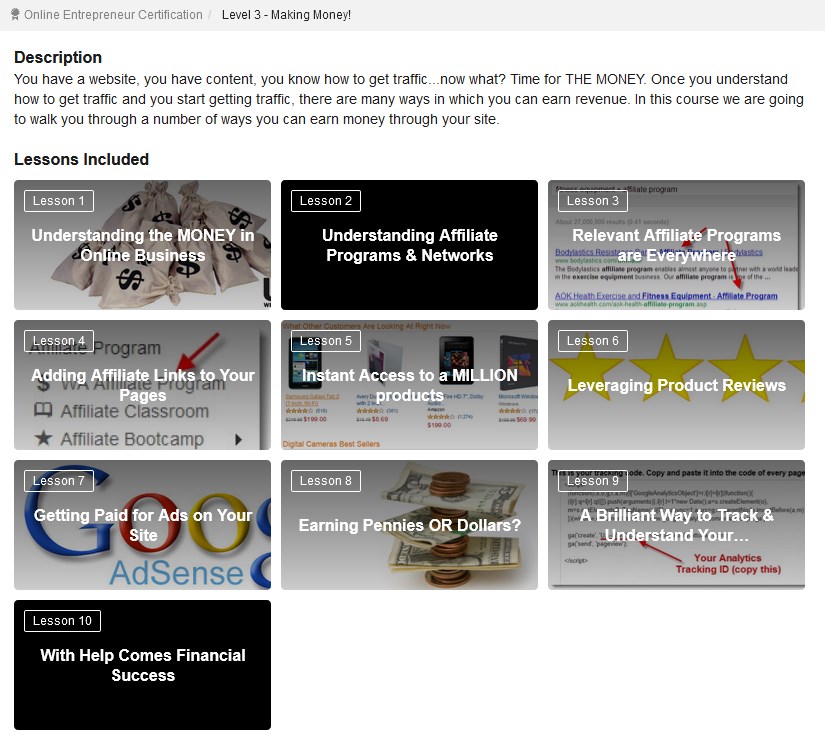 In level 3, you'll search affiliate programs related to your website topic and get access to your first affiliate links. You'll also learn to write product reviews and how to add your affiliate links so you can make money with the articles.
Additionally, you'll find out how Google Adsense works and how display ad revenue compares to affiliate revenue.
Understanding the MONEY in Online Business
Understanding Affiliate Programs & Networks
Relevant Affiliate Programs are Everywhere
Adding Affiliate Links to Your Pages
Instant Access to a MILLION products
Leveraging Product Reviews
Getting Paid for Ads on Your Site
Earning Pennies OR Dollars?
A Brilliant Way to Track & Understand Your Traffic
With Help Comes Financial Success
Level 4: Mastering Social Engagement
Level 4 is mainly about utilizing social media platforms like Facebook, Twitter, and Pinterest in your business. If you are not a huge fan of social media (like me), you are not required to use them in your business. Some people are handy with their social media so it's a good traffic source option for them.
What Does Social Engagement Mean to Your Business
Making Your Website a Place to Engage
Using Facebook the Right Way
Pinterest & the Visual Social Hemisphere
Incorporating a Sound Tweeting Campaign
[This Is Being Replaced]
The Benefit of Being Social at WA
Make Your Campaigns Social Branding Animals
Using the Wealthy Affiliate Social Community
You Cannot Be a Master of Everything
Level 5: Improving Content Creation
The last level covers a variety of topics but the main focus is on improving your content. Publishing high-quality articles is the bread and butter of your business as it's the core of attracting people to your website.
You'll learn how to write excellent articles that are engaging to the reader, and how to track and analyze your traffic.
Content is YOUR Business
Setting Up Google Webmaster Tools
Improving Indexing Times and Speeds
People need to read your content
A Year is a Short Period of Time, Yet BIG for Business
Writing Within a Devised Plan Architecture
Writing Your Content With Conversion Intent
Injecting Comments with Intent
Bing and Yahoo, They Are Still the 33%
Articulating a PLAN for the months and year ahead
Reviews of the "OEC-course" by Students
The "Affiliate Bootcamp" Course
Levels: 7
Lessons: 70 in total (10 in each level)
Tasks: 227 (2-4 in each lesson)
Description: Learn to make money with Wealthy Affiliate's affiliate program.
Affiliate Bootcamp is another major course inside Wealthy Affiliate and it focuses on teaching you how to start a website in the make money online niche by promoting Wealthy Affiliate.
Or you could apply the training to any affiliate program out there — it's not limited to promoting Wealthy Affiliate.
Newcomers are always referred to start with the OEC-course I showed earlier so they can attain skills, success, and credibility in another field before they start promoting Wealthy Affiliate IF they want.
There's this misconception going around that you're required to promote Wealthy Affiliate, but no – this is not true. However, many decide to do so after seeing positive results with the training. This is why Wealthy Affiliate is my flagship product on this website as well.
The beginning of both courses are roughly the same but in level 2, the routes start going in their own directions.
Level 1: What's included?
Here are the lessons listed in the first level of the training.
Just like the OEC-course, these 10 Lessons are Free:
Getting Started!
Choosing Your Direction
Building Your Website
A Website Look Around
Activating Your Plugins
Getting Your Website Ready for SEO
Your Initial Framework Of Content
Understanding the Keyword Research Process
Creating Thoughtful, Insightful Reviews
The Exciting Journey Has Begun
The first level is very similar to the OEC-course as you will be choosing a direction for your business and set-up your website ready for content.
Listing all the lessons would make this review way too long so I decided to just list the levels.
Here are the rest of the levels and what they are about:
Level 2: Content, Keywords, and Conversions
Level 3: Giving Your Site Social Value
Level 4: Get Visual, Get Aesthetic. Get a Brand Through Media
Level 5: Knowing Your Audiences & Catapulting Your Referrals
Level 6: Bing, Yahoo, & The Power of PPC
Level 7: How to Scale Successful PPC Campaigns
Reviews of the "Affiliate Bootcamp" Course by Students
What Else Does Wealthy Affiliate Offer?
As I've said, Wealthy Affiliate is a massive resource.
The two main courses I just covered are only the tip of the iceberg and it would be impossible to fit everything in this review.
Even so, I still want to show you some other features you may find interesting.
Weekly Live Webinars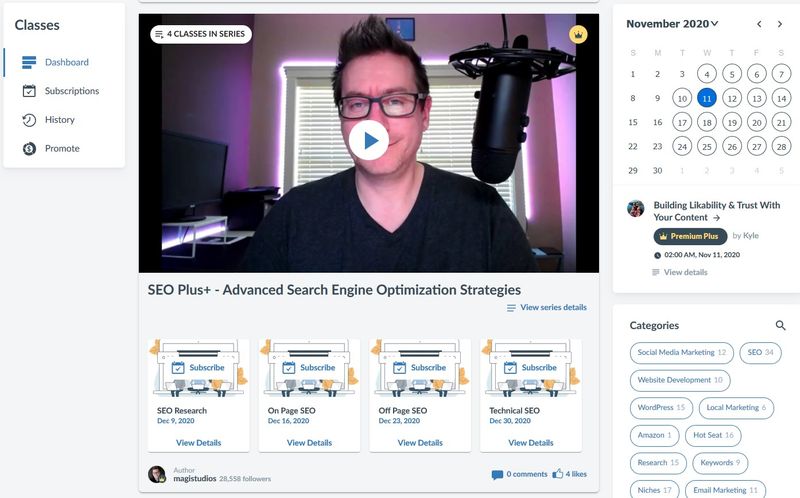 Live webinars are undoubtedly the most interesting aspect of WA.
Most other webinars have a bad habit of just being huge sales pitches trying to sell you crap but not the ones in WA.
Webinars in WA are pure practical education with Q&A at the end of every episode.
These "WAbinars" are hosted by Jay who is one of the leading members inside WA with huge knowledge of the industry. The webinar topics range from content creation to full-blown case studies of building affiliate websites from scratch.
Every webinar is around 1 hour long and there are literally hundreds of them to watch with each day bringing new ones. And if you miss a webinar, you can always watch a recording afterwards.
The Site Building Tools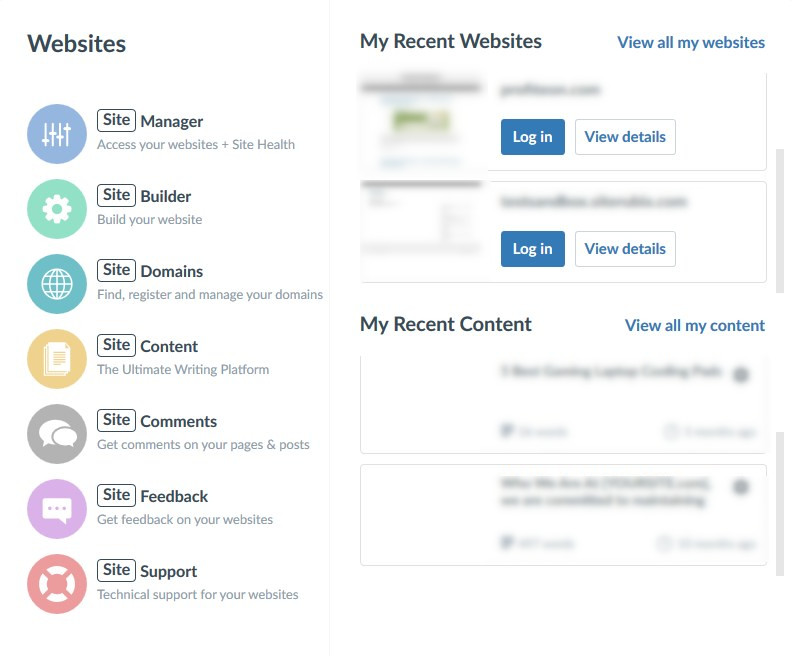 These are a series of tools to manage various aspects of your websites.
Now I'll briefly explain what they are and what they do.
SiteBuilder
Wealthy Affiliate offers free websites to all free and premium members with their SiteRubix WordPress site builder.
You can create your own website in just 30 seconds as long as you have a nice name figured out for your website.
It truly is that easy and happens with the click of a button.
Free members can host 1 website without any cost
Premium members can host up to 50 websites with the membership cost
In case you buy your own website domain (~$15/year), it can be easily hosted at WA (recommended for premium members).
A hosting plan outside of WA usually costs around $10 per month and per site which can get expensive quickly if you have many sites.
In Wealthy Affiliate, you can host up to 50 of your websites with the only cost being the premium membership (~$49/month for me currently) and that's value right there.
SiteManager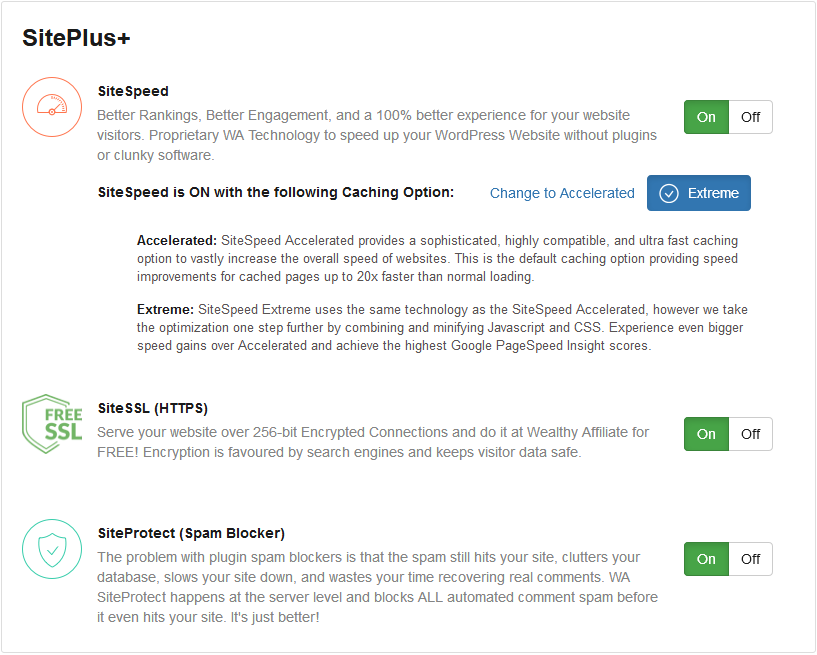 In the SiteManager, you can see all your hosted websites in one place.
You can see a quick summary of how your sites are doing and if there is something that needs your attention. There is also a meter that shows your site's health and how you can improve it.
Through SiteManager, you can also enable a speed boost for your website, HTTPS that increases security, and a spam blocker so your site won't be flooded with crap.
SiteDomains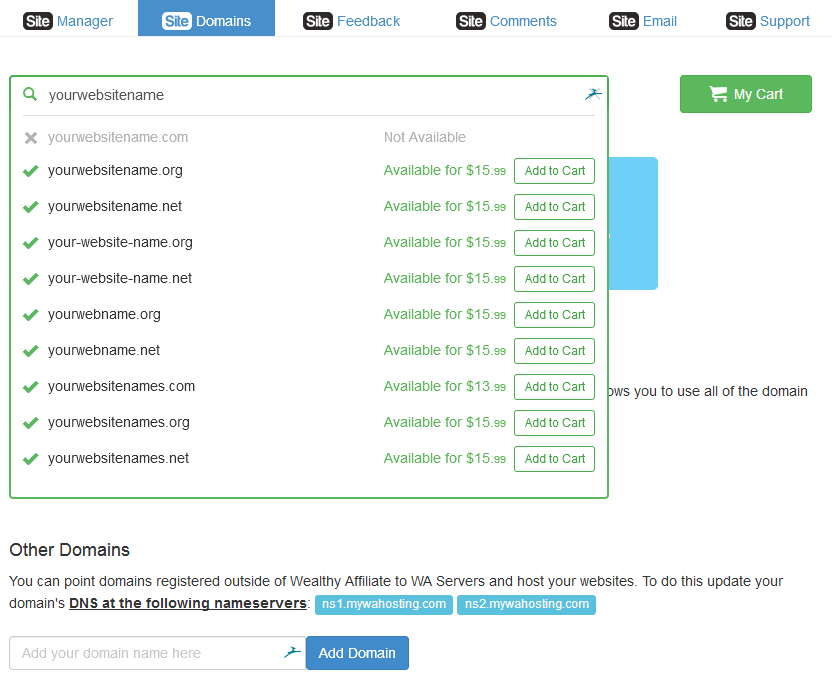 Here you can easily search for available domains and purchase a "name" for your website.
When you purchase a domain through Wealthy Affiliate you get:
Free backups and support
Free SSL encryption for security
Free speed boost
Free email box (name@yourwebsitename.com)
These features would cost you a big penny every month if you were to get them outside of Wealthy Affiliate.
SiteContent
This is WA's own writing platform which checks for grammar errors, gives you writing goals, and has templates for different articles.
The platform will also track your all-time words written and the number of published articles.
I don't really use SiteContent for writing anymore since there are better options but it's a great tool for beginners and many people craft their first articles ever with this tool.
SiteComments
SiteComments is a place where you can request comments for articles on your website.
This creates engagement on your website and has a positive impact on Google rankings.
The system works with a credit system where you give 2 comments and receive 1 credit. You can then use those credits to request comments from others.
It's great because they are not your typical "haha cool story bro" comments but genuine messages written by other WA members that add more depth to your articles and ultimately get you more conversions.
SiteFeedback
SiteFeedback works similarly to SiteComments with a credit system but this time you don't leave comments for other people's articles.
With SiteFeedback you can request other WA members to visit your website and they'll tell you how you can improve your website.
You can request feedback on things like your content or website design etc.
When you work a long time on your own site, you tend to become blind to things that hinder the user experience. So SiteFeedback is a great way to get feedback on problems you can't see for yourself.
SiteSupport
When something goes wrong with your website (happens 100% eventually), SiteSupport can most of the time fix the problem and FAST.
I have used SiteSupport a few times now and I got a reply from them in under 5 minutes. In both cases, my problems were fixed in 10 minutes, if that's not fast support I don't know what is.
Multiple Ways To Get Help With Your Business
The helpful community is the #1 reason to join Wealthy Affiliate.
There are simply no competitors out there who can offer the same kind of support and service.
A typical guru in this industry can charge up to $500 per hour for a consultation but in WA you can talk to successful entrepreneurs just for $49/month (& even free for 1 week).
The beginners benefit most from WA as the training and community will help you get started in the online business world even when you have zero experience in the field. People with more experience can also benefit from the training and bonding with other successful people inside WA.
Here are some ways you can get help inside WA…
24/7 Live Chat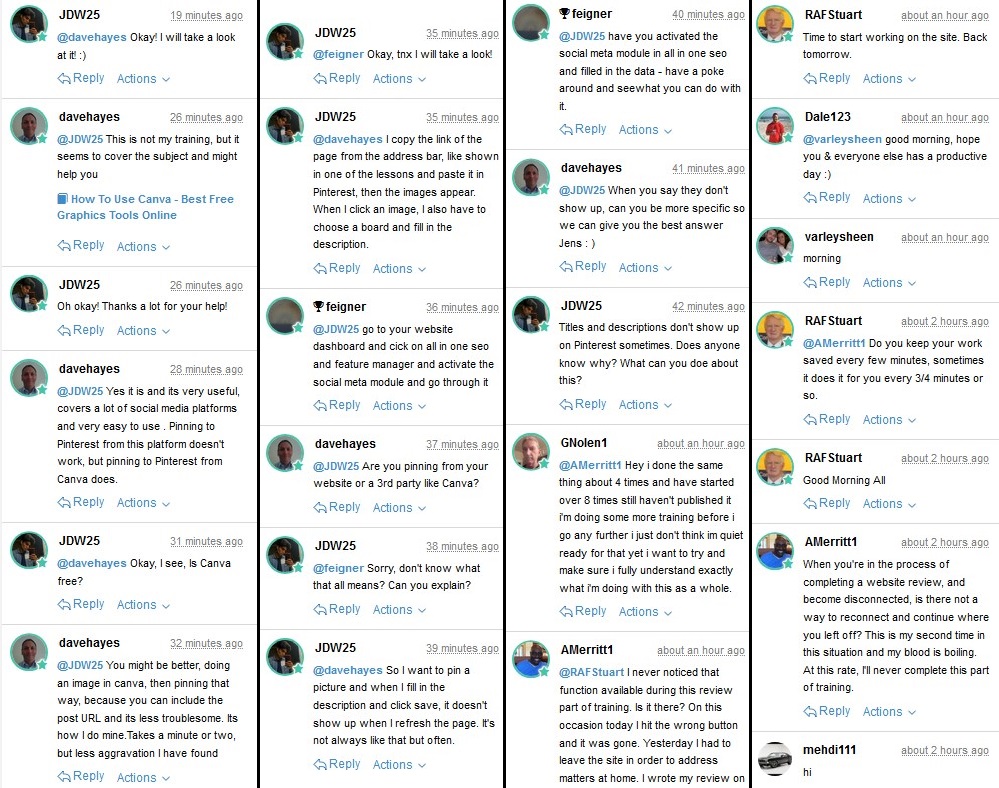 When you enter Wealthy Affiliate for the first time, you'll notice a live chat that runs 24/7 on the sidebar.
Here you can access affiliate marketers all around the world and you can ask anything that comes to your mind.
Want a burning question answered or need some help with your website? Just hop on the chat and people will help you.
13 Additional Classrooms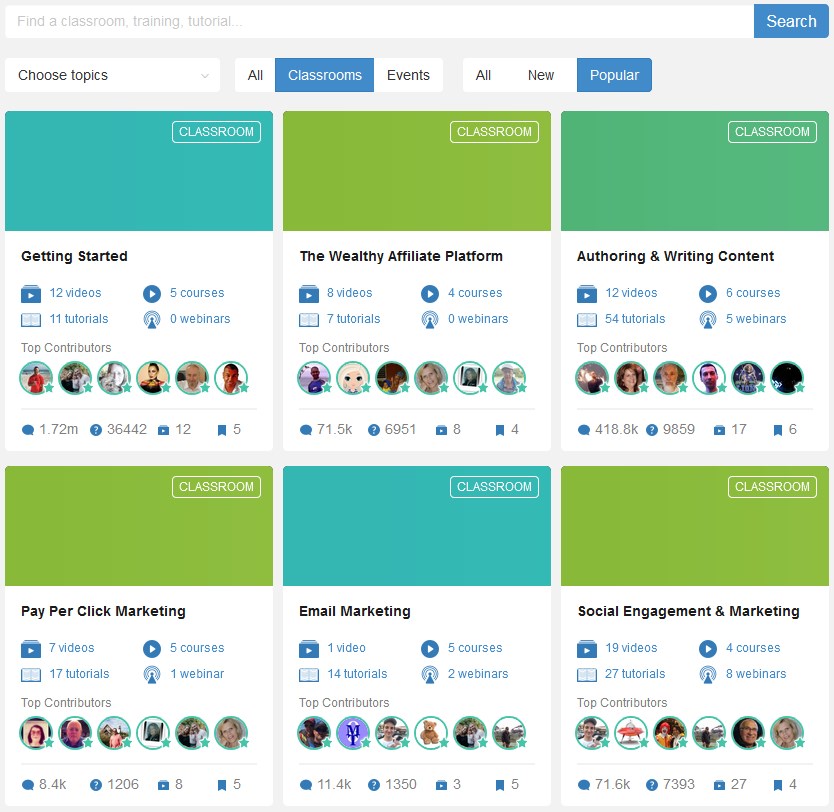 In addition to the two main courses — there are 13 different classrooms with hundreds of additional courses, guides, and training created by the community.
You can also post questions to these classrooms and people can then offer more in-depth answers if you were to compare it to the live chat.
It's a good way to ask something if you are not in a hurry. Just come back later and you'll have multiple answers to your question with different perspectives — kind of like a forum discussion.
Lesson Discussions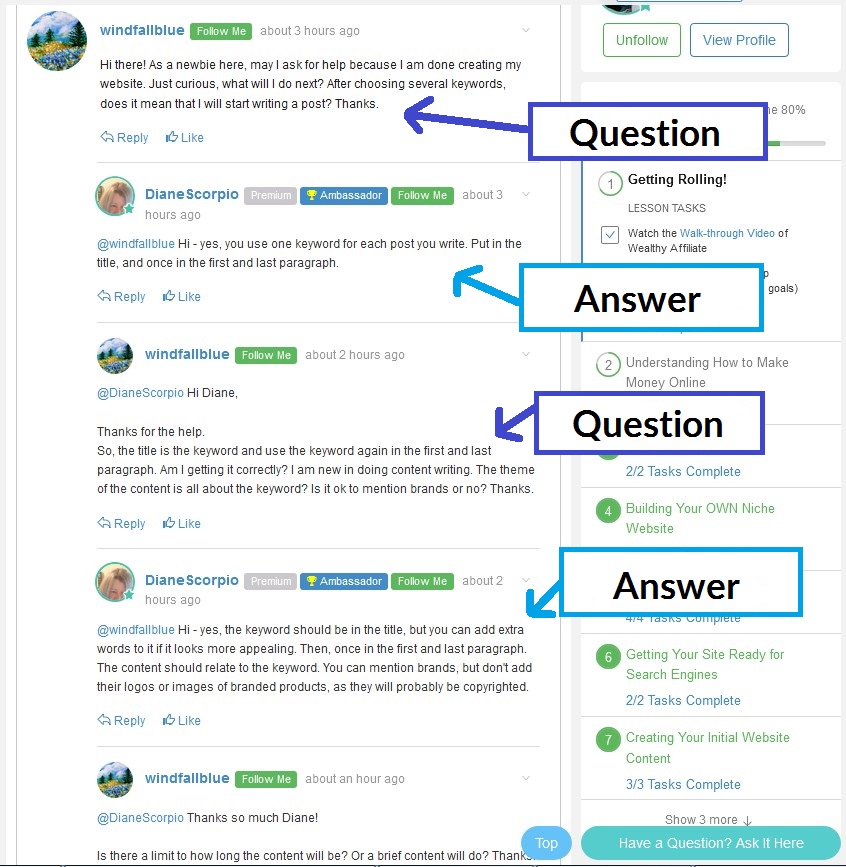 As you go through the training, you'll likely come up with questions related to the lesson at hand. You can then scroll down and see what others have discussed in the lesson and you can ask your own questions.
Other WA members or even the founder's Kyle or Carson will respond to your questions!
Wealthy Affiliate Blogs
The WA platform has its own internal blogging system where members can write & read full blog posts — kind of like on Facebook.
However, the blog post content in WA should strictly be about online businesses, the WA platform, or something else related to making money online. They are not meant for advertising your website or talking about your dog's birthday.
Many people share guides, stories about their first sale, motivational stuff, and monthly income reports. You can also post questions within these blog posts or ask for advice about your business. Hundreds of members can then offer their insight and help you.
Private Messages
If you don't want to ask something in a public manner, you can reach out to other members via 1-on-1 private messages.
I respond to PMs from my students daily, so if you join WA through my links — I'll be your 1-on-1 coach for as long as you are a member.
I've been running my online business for over 5 years now, so I can help you with most problems you might encounter.
How Long Does It Take Before You Start Making Money?
This is a good question often asked by beginner students.
There are many factors determining how long it takes before you start making sales.
People come from different backgrounds with different amounts of time available; some learn faster, some work slower, some only work 1 hour a day, and some have 16 hours a day dedicated to building their business.
One thing is for sure; the more time you dedicate, the faster you'll see results.
When you sign up for Wealthy Affiliate, you won't immediately get this automated system that magically summons money whenever you press the button.
What you do get is training and tools to make this system for you and that's why it depends a lot on your own effort.
The training teaches you a sustainable long-term strategy that utilizes a method called content marketing i.e SEO.
Brand new websites using this SEO (search engine optimization) method take a while to build up because Google doesn't really know yet what your site is about and where to rank its content.
If you follow the training properly, your timeline could look something like this:
Month 1: Website foundation is built, first articles published, you understand the basics of running this business
Month 3: First signs of organic traffic from search engines (possible first sales)
Month 6: Getting daily traffic and first affiliate sales
Month 12: Traffic growing each month and making consistent sales
Month 18: Anything is possible at this point, traffic keeps growing, a potential full-time income, optimizing sales pages for increased conversions.
Keep in mind that this is just an estimate because everything depends on how well you have done your homework (your selected niche, how well you executed tasks, how much effort you put in, the amount of content, etc).
I have seen some people go all-in and make a full-time income after 3 months. It's rare, but from time to time someone really dedicated pulls it off.
On the other hand, some people work on their websites for many years and still don't earn more than a couple hundred per month. These people are usually the ones who are not so serious about this and do not put in the required work which shows in their results.
This is not a get-rich-quick scheme and it's best to avoid joining if you are looking for one.
I know how frustrating it can be to work months on your site without seeing a return on your effort (I've been there, trust me). However, if you manage to stick with it for the first months, you are already further than most people and will likely see success eventually.
This is also one of the mental blocks you face in this business and it's what separates the winners from losers.
If anything, time will pass anyway whatever you decide so it's good to plant the seed now rather than never. In a few months, you have built something that pays you for the rest of your life.
Wealthy Affiliate Success Stories
Here are some blog posts from WA members who have followed the training and achieved results.
They are real people just like you and me, and most of them have started as complete beginners to affiliate marketing and thanks to WA they are now making money.
There are too many to list all of them but I hand-picked some highlights: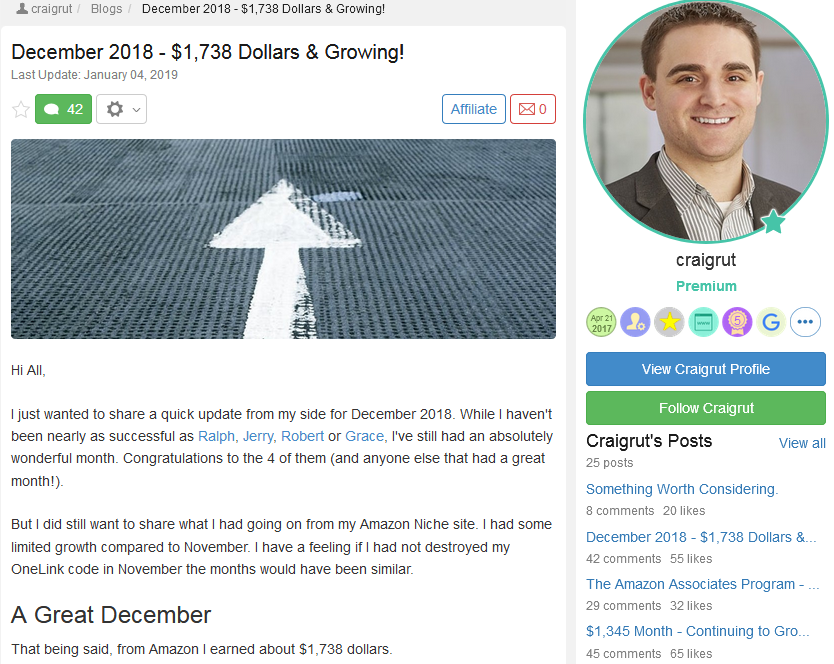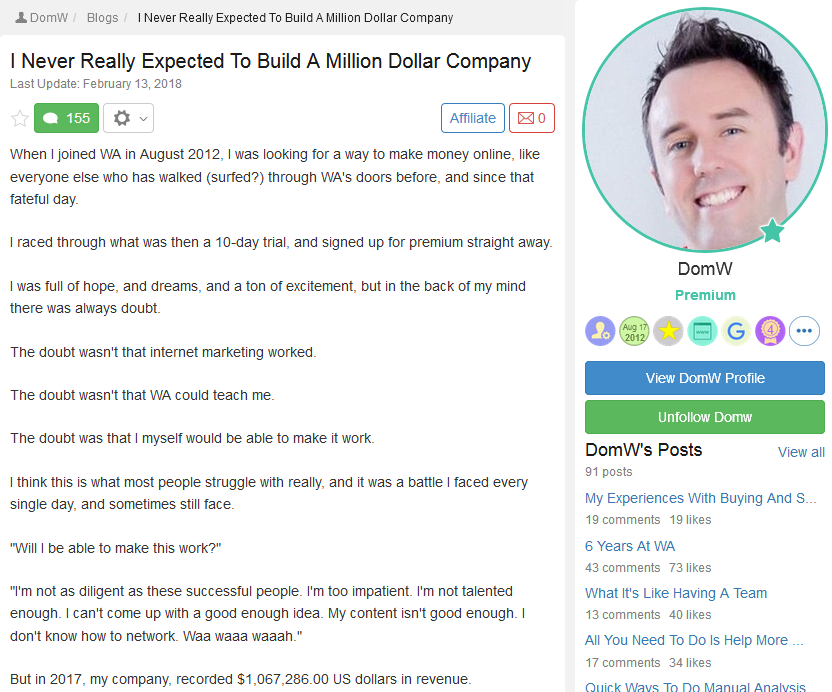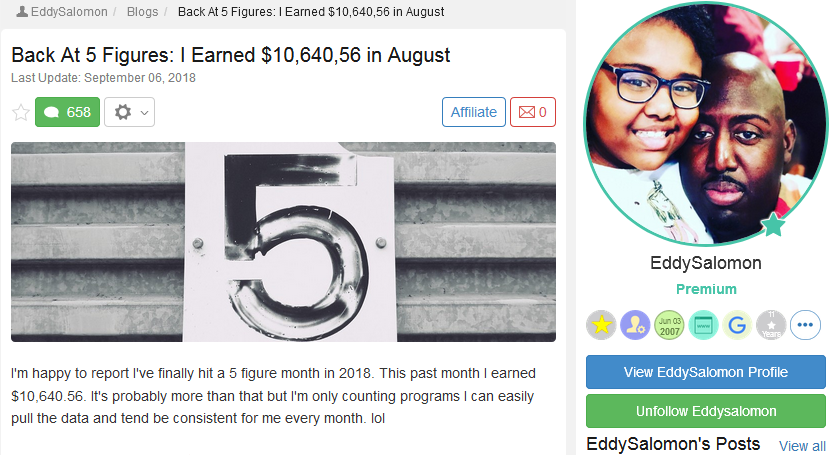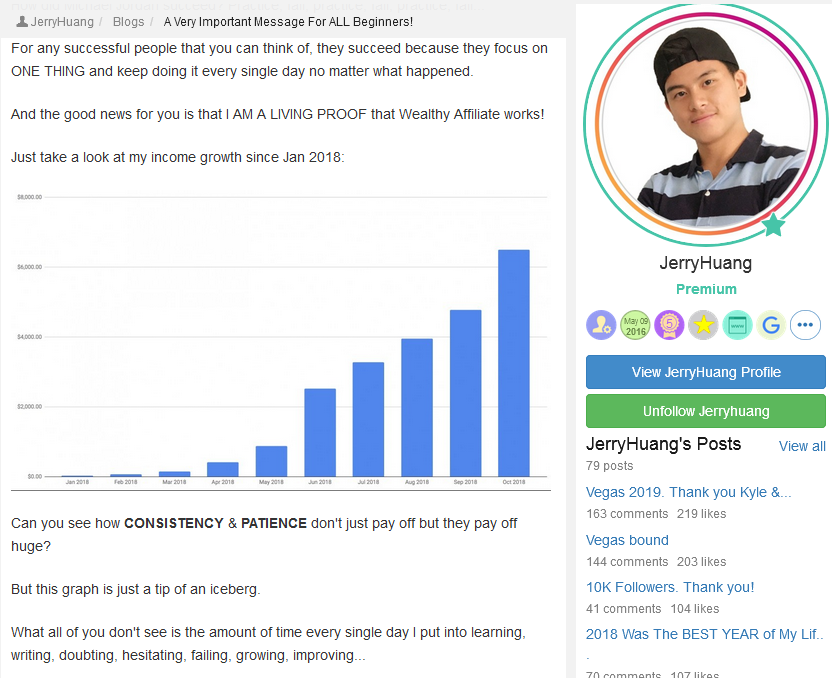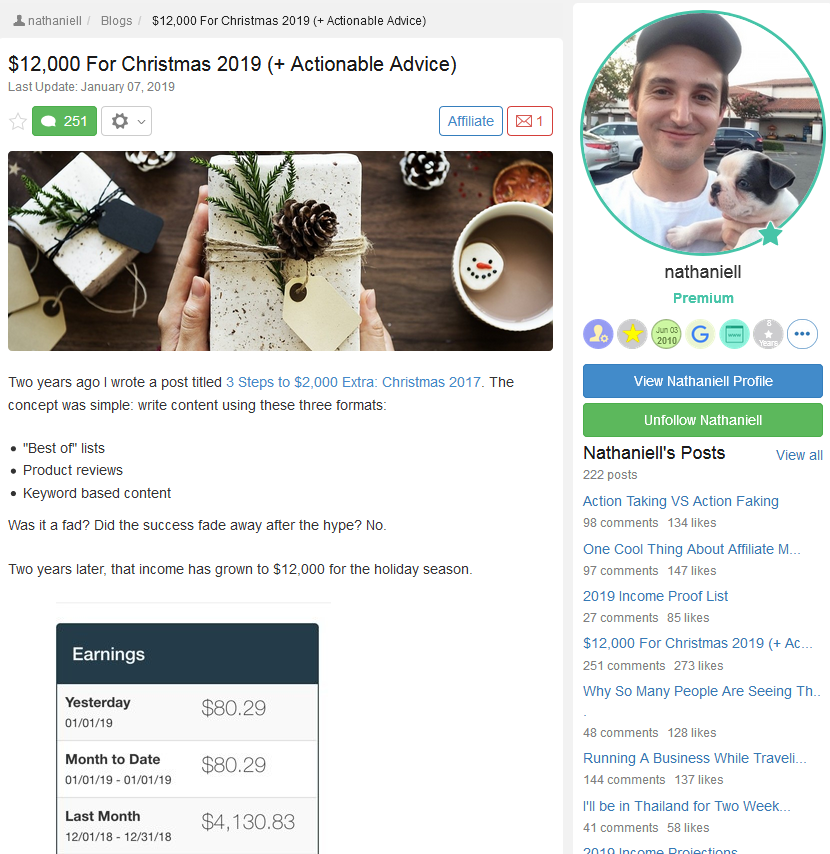 Wealthy Affiliate Complaints
Wealthy Affiliate is not perfect by any means.
Now is the time to address some of those problems.
Random & Unrelated Blog Posts
Wealthy Affiliate has this integrated blog system that allows members to browse & post blogs kind of like on Facebook. This brings some understandable problems.
These blog posts should be related to online businesses but some people tend to think WA is the same as Facebook.
Every day you can read how someone forgot to take their morning medicine or how their dog just had a birthday party. It doesn't really help your business much, right?
This is understandable though. Many beginners are just getting started with WA and they might not "get it" immediately.
At this point, it's just something you have to deal with and scroll past.
The "Unnecessary" Ambassador Program
Everyone inside Wealthy Affiliate has a number rank that indicates how active you are within the platform.
The most active members in the top 25 will receive an "ambassador" status which doesn't have any correlation to how successful someone's business is. It just means you spend all day long socializing in WA.
This also means some people pursue this status with the only reason of "showing off". There are exceptions of course but having an "ambassador" status doesn't mean you should follow their advice blindly.
Outdated Training Created By Members
Every day people in WA are creating guides and sharing their strategies on how to best make money with our websites.
This has been ongoing for over a decade which makes the place pretty unique.
Inevitably there is user-created content that is outdated by now and should be deleted.
The old content is being cleaned constantly but it's not uncommon to come across a blog post written many years ago that shares a strategy that might not work anymore.
Is Wealthy Affiliate Legit And Safe To Join?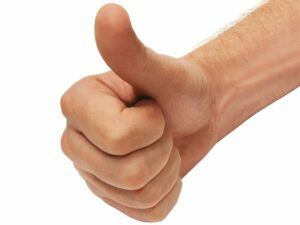 If you have ever bought one of those products promising to show you a "weird trick" that's supposed to make you $1,000's – you probably faced a big disappointment.
There's a lot of crap out there, and it's only natural to be skeptical about courses teaching money-making methods.
You may be wondering if Wealthy Affiliate is just another one of those scams, and I don't blame you for thinking so.
I can say it now, and I'm sure you'll realize it soon as well but; Wealthy Affiliate is far from a scam. Now, this is obviously not enough to convince you as any scammer could say the same thing.
Fortunately, I don't have to convince you.
Wealthy Affiliate is free to join so you can experience the platform yourself and see if it's a scam or not. And when you've finished all the free training, you can decide if you see any value in upgrading.
It's completely safe to create a free account. You don't even have to enter credit card details or anything.
I'm sure you will soon see what an amazing resource WA is and why over 2,700,000 people have joined the community.
How Much Does Wealthy Affiliate Cost?

You probably already want to know how much does all this stuff cost since Wealthy Affiliate seems to be a massive resource (which it is).
The pricing part is actually the best part of WA as it outshines any competitors out there.
You have 3 options available:
The Free Starter Membership
The Premium Membership
The Premium Plus+ Membership
Here's a rundown of how these membership plans work:
The Free Starter Membership
This is the free starter membership and I suggest you start your journey with this option.
You can stay as a free member for as long as you want and upgrade if you see any value in doing so.
There are some restrictions as a free member but you can still proceed with the training to the point where you have your own website and a solid understanding on how affiliate marketing works.
The Premium Membership ($49/month)
This is for those who want to unlock 95% of what Wealthy Affiliate has to offer and you're ready to put all your might into making money online.
You unlock all the main training courses, weekly live webinars, and community features. The only thing restricted in this plan are some of the live webinar classes that are reserved for the Premium Plus+ plan.
Honestly, the normal premium membership is more than enough to build a successful affiliate marketing business. With this plan, you also get a free ".com" domain name for the first year. You can use it to kickstart your affiliate business.
You will be billed $49 per month as long as you want to stay a member. You can easily cancel your membership whenever you want and if you do that, the account will return back to a free status after your month is up.
The Premium Plus+ Membership ($99/month)
The Premium Plus+ is a new addition to the membership plans and it's basically the same as the normal premium, but you unlock more live webinar classes and get a bit more of everything.
For example, the normal Premium plan allows you to host 3 sites, but with Premium Plus+, you can host 10 sites at Wealthy Affiliate.
With Premium Plus+, you get 2 free ".com" domains instead of just one.
I recommend the Premium Plus+ membership once you've been a normal member for a while and if you see an interesting live webinar class you want to watch.
The Yearly Premium Memberships
All membership plans come with annual payment options too.
This allows you to save money in the long run as you get a discount.
You will be getting exactly the same features as the monthly plans but it is paid yearly.
Comparison to the monthly Premium plan:
12 months x $49 per month = $588
1 Yearly Membership = $497
You will save = $91 (Basically a 2-month discount)
Comparison to the monthly Premium Plus+ plan:
12 months x $99 per month = $1,188
1 Yearly Membership = $697
You will save = $491!!
The savings in the annual Premium Plus+ plan are unreal!
Don't worry if you don't have the funds for annual plans yet, but once you get your new online business rolling, this will become the best long-term option for you.
But if you already have the funds to invest in a yearly plan, I would go for it because that means you will be committed to making this work for a full year.
It's no secret that online business takes time to build and those who have a full year to work on their online business usually stick for long enough to make it a successful journey.
If you are not quite sure yet, I would still recommend checking out the free membership and seeing for yourself if this is something you want to invest in — it's free after all.
Just remember that going yearly is the best self-investment you can ever make.
What If You Suddenly Want To Quit?
I truly want you to succeed with your website but sometimes life gets in the way or you may need a break — and that's totally OK.
As a free member, you don't have to cancel anything or delete your account since you won't be asked for your credit card details when you first sign up.
Simply stop logging into Wealthy Affiliate and you are done.
If you change your mind, you can just log in again and jump straight back to the action when you are ready.
In case you are a premium member and want to quit — all you have to do is cancel your membership.
Go to your Wealthy Affiliate dashboard and follow these instructions:
Click Your Portrait -> Account Settings -> Membership Tab ->Stop Billing & Cancel Membership.
After that, your account will have its membership status until your month is up and then it'll convert back to the free membership status.
I'll Help You Along The Way (1-on-1 Coaching)
Starting an online business is an overwhelming process where you'll have more questions than answers at hand.
At least that's how it was for me when I was starting out. I was stubborn and wanted to figure out everything by myself and that was like shooting myself in the leg.
My progress wasn't as fast because of that but I have learned my lesson.
I don't want you to repeat the same mistakes so I want to help you with any questions you might have.
There are two ways here to get my personal help:
1) Sign up for your free starter account through any of the links on this page and the 1-on-1 support will be available for the first 7-days on your free membership account.
I really encourage you to ask me questions during those 7 days, so I can help you get started with a blast.
2) By upgrading to the premium membership you will get my full 1-on-1 coaching and support as long as you have a premium status on your account.
My 1-on-1 coaching will include:
Guiding you to get started with the platform and how everything works
Answering questions you might have
Providing guidance along your journey
Giving feedback on your content and website
Helping you to make money with affiliate marketing
All you need to do is ask and I will help you.
When you join through the links on this page and make an account, you will get a welcome message from me. You can get in touch with me by replying to that message or you can click my profile and send a private message to me instead.
I'm online every day and I'll try to get back to your messages as fast as I can.
Let's see on the other side!