If you're new to affiliate marketing, you may have heard about "affiliate networks".
Today, I'd like to explain to you what affiliate networks are because I can see why it could be confusing to new affiliates.
There are dozens of similar words starting with "affiliate something" and they all have a different meaning.
What are affiliate networks?
Affiliate networks are intermediary platforms that connect publishers (affiliate marketers) with brands (merchants who sell products).
Publishers get access to a large selection of brands to promote
Merchants get more exposure and sales for their products
The affiliate network provides service to both parties and earns from fees.
There's more to affiliate networks than I can fit above, and in this post, I'll dive a bit deeper into the subject.
You'll learn the following:
Who should join an affiliate network
Pros and cons of affiliate networks (for both publishers and merchants)
How to join an affiliate network
Where to get proper training for affiliate marketing
Let's get started.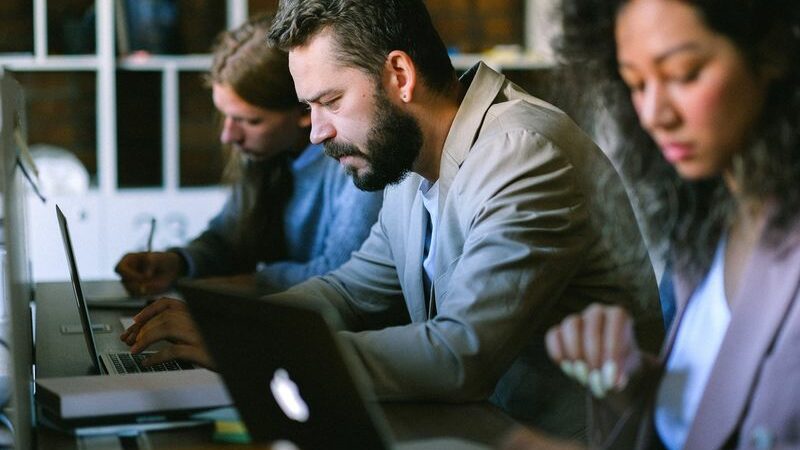 What Is Affiliate Marketing?
Before I even touch affiliate networks, you have to know the meaning of these two:
Affiliate marketing
Affiliate program
Affiliate Marketing
Affiliate marketing is a business model that allows you to promote products someone else has created and earn "affiliate commissions" from every successful sale.
You are given unique affiliate links that lead to the product sales page and if someone clicks through your link and buys a product, you'll earn a set % of the "final sale".
It's a straightforward online business anyone can start, and if you stick around to the end, I'll show you where you can get started for free if this sounds like something you'd want to do.
Affiliate Program
An affiliate program is the "system" that makes affiliate marketing possible.
On the surface, it's a program you can join to promote products as an affiliate.
But it's also a piece of software that handles:
Tracking of affiliate links
Analytics & sales reporting
Payments for affiliates
The main reason brands implement affiliate programs is so they can get more exposure and sales for their products.
Then aspiring affiliates like you can join the program to grab affiliate links and start promoting & earning.
Pretty much all affiliate programs come with a dashboard that shows different details of your performance like how many sales you have made and when you'll get paid, etc.
Affiliate programs are free to join 99% of the time so you can try affiliate marketing without risking losing money. Although, not investing money in your online business will make things unnecessarily hard.
You can check out my other post on the costs of affiliate marketing here:
What Is An Affiliate Network? (& Who It Benefits)
Now that you know a bit about affiliate marketing and affiliate programs, let's finally talk about affiliate networks.
In a nutshell, an affiliate network is a large collection of affiliate programs from different brands, all under one platform.
All 3 parties involved benefit greatly from affiliate networks:
For affiliates, these networks eliminate the hassle of registering for multiple affiliate programs when all the programs, payments, and tracking happens under one big platform.
You only have to register one account to access everything.
Brands benefit by getting access to a huge crowd of affiliates (like you) who are ready to promote their products. They also get to leverage the tracking, reporting, & payment software of the affiliate network.
This means they don't have to spend time & money on running their own independent affiliate program.
The affiliate network is providing a service to both parties and benefits greatly from all this in the form of fees and in some cases; taking a cut from every sale.
Who Should Join An Affiliate Network?
There are two types of people who benefit from affiliate networks the most:
Publishers (affiliate marketers)
Merchants (brands & product manufacturers)
Publishers as in typical affiliate marketers with websites will benefit greatly from joining affiliate networks.
You can find almost every imaginable category full of products from different brands that you can start promoting immediately upon joining.
The platform makes it easy to see what other affiliates are promoting and what is currently selling like hot cakes. Since there are so many different products, you'll definitely find new companies to promote and partner with.
Affiliate networks are a powerful tool for every affiliate marketer and there is no risk in joining one since they are free to join.
Merchants with their own products should also consider joining affiliate networks at some point so they can get their products in front of larger audiences (& to boost their sales).
All the necessary tools and support for affiliates are already provided by the affiliate network so you will save a big penny by using their services (instead of developing your own program).
A great example of the power of affiliates would be the Amazon marketplace. The reason Amazon grew to the heights where it currently sits is thanks to its affiliates.
Pros & Cons Of Affiliate Networks
Let's talk about the good and bad sides of affiliate networks.
I have divided the pros and cons of both publishers and merchants to make it less confusing.
Pros
Publishers:
Free to join
Thousands of products from different categories to promote
No need to register for every affiliate program individually
Information about the best-selling items and what others are promoting
Discover new products to promote and new companies to partner with
Tracking & payments happen under one platform
Merchants:
Increased sales
Gain exposure for your product and brand
Get feedback for your product from reviews written by affiliates
Support & management tools for your affiliate program
Cheaper than developing your own affiliate program
Cons
Publishers:
Harder to negotiate commission rates
Some networks have large amounts of low-quality products
The network may take fees or a cut from sales
Merchants:
Possible fee for getting your product listed
Affiliate network may take a cut from every sale
It's harder to work with individual affiliates
How To Join An Affiliate Network?
Step #1 – Choosing The Network
Joining an affiliate network is often an easy task for affiliates since they are free.
But depending on the network, some require you to apply and then you need to wait for approval.
For the sake of simplicity, I'm going to use ClickBank as an example to illustrate the process. It's one of the more popular affiliate networks out there.
Some other affiliate networks worth considering are:
ShareASale
Commission Junction
WarriorPlus
Amazon Associates (not really a network but worth mentioning)
JVZoo
Step #2 – Signing Up
The first step is to create an account so you can start familiarizing yourself with the dashboard inside.
You can easily do this by clicking "Start Here" on the main page.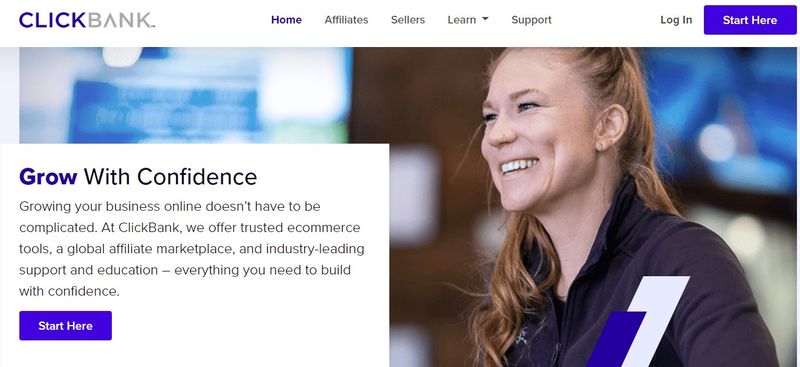 The next step is to fill in all your basic information and even though the next section says banking information, you are not required to enter your bank account number to continue.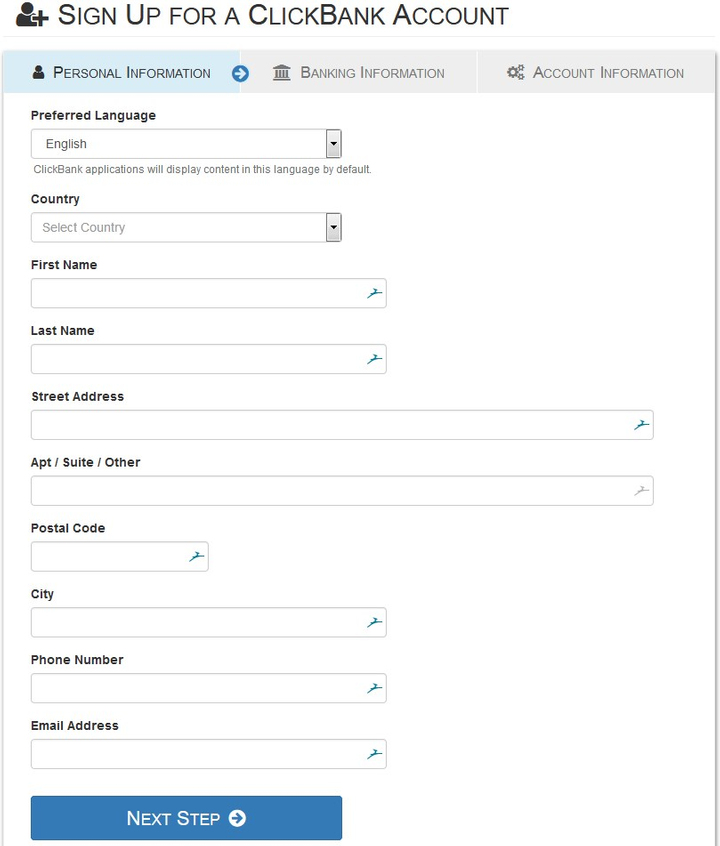 After that is done, all you need to do now is to choose an account name that's appropriate because the account name will show up on the product order page for customers (& sometimes in affiliate links).
You don't want your account name to be something that could turn the customer away.
Step #3 – Finding Offers To Promote
Now you are logged in and you should see a dashboard full of zeros since you haven't made any sales yet, but with a little guidance and effort, you will be able to change that.
You can click the "marketplace" button at the top to view all the categories and products that are available for you to promote.
As you can see below, there are categories for almost everything imaginable.
It's also a great way to find new interesting niches to build websites around.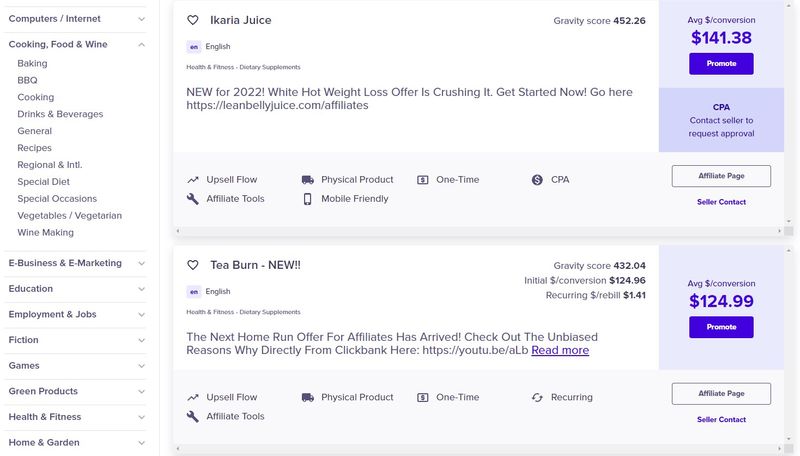 Just a quick note, since this is ClickBank, you will only see digital products because that's what this particular network is all about.
Now that you have access to your unique affiliate links, where do you actually promote your links to make some cash?
Let's find out.
Where to Promote Your Affiliate Links?
You have dozens of different methods to promote your affiliate links and some possible examples include; your website, social media, email lists, PPC campaigns, and eBooks.
The best way (in my opinion) is to promote affiliate links on your own website.
These days anyone can create a website in under a minute without any coding skills, everything is pretty much automated on that part.
So how would you promote the links on your website?
One great way is to write reviews about the products you are promoting and then placing affiliate links in the review so people can purchase the product.
When people buy through your links, you'll earn affiliate commissions. You can think of it as compensation for driving sales for the brand and providing an educated purchase decision for the customer.
Writing reviews like that require a bit of guidance & practice but I got your back covered on that.
How To Get Started With Affiliate Marketing (Properly)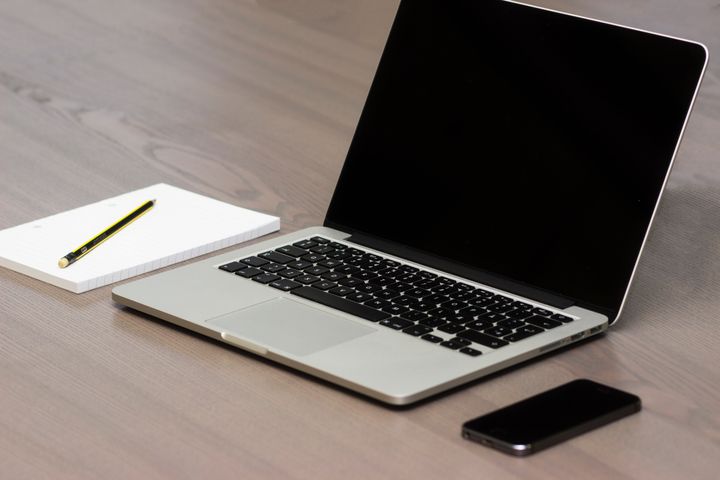 Affiliate marketing is a great online business to start for beginners and you can do it no matter who or where you are located.
The passive income and location freedom are probably the biggest motivators for people who get into affiliate marketing, and this is certainly possible for you too with the right tools and mindset.
If this sounds interesting and something you'd want to do (successfully), then make sure to check out the same place where I got started;
This free resource will get you started on building a thriving affiliate website.
I highly recommend you check it out.
Talk soon.