So you've finally joined some affiliate programs and got your hands on affiliate links.
Great.
But now you're faced with a problem.
Where to actually promote these links so you can earn that mystical online "moolah"?
You may be struggling to get traction to your affiliate links or even worse; you don't know where to begin with.
You're not alone.
But no worries, I've got you covered.
After reading this post, you'll not only know where to promote your affiliate links for the best results — but also;
I'll show you where you can get more help so you can finally start earning those affiliate commissions you've heard so much about.
Here are some topics I'll cover:
What are affiliate links (& where do you find them)?
13 Best places to promote your affiliate links (of course)
Where to put affiliate links on your website
How to get traffic to your affiliate links (to make money)
Tips for promoting your affiliate links
Let's get started.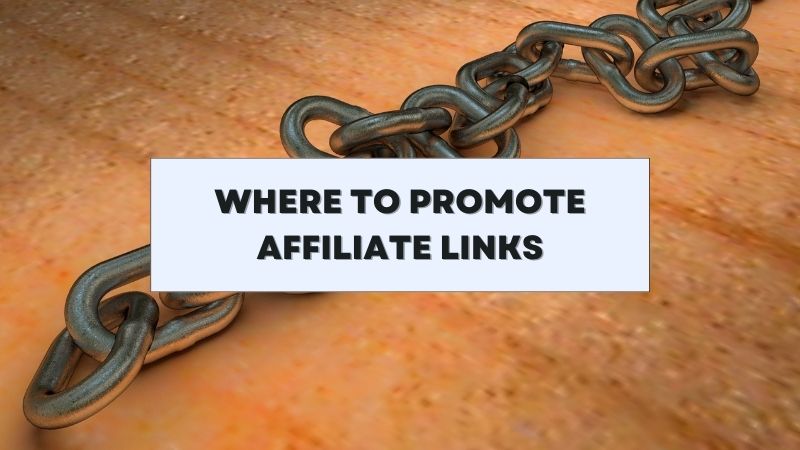 What Are Affiliate Links?
Affiliate links are unique tracking links.
When you join any affiliate program, you gain access to your unique affiliate links.
You can then use your very own affiliate links to promote products & get paid affiliate commissions (whenever a person clicks through your link and buys a product).
Affiliate links are used to track your metrics such as:
Clicks (to your affiliate link)
Sales (amount)
Commissions (your compensation)
And since affiliate links are unique for every person; the affiliate program knows to pay you for referring the sale (& not someone else).
You following? 🙂
Where To Find Your Affiliate Links?
Before you can start promoting products online with affiliate links…
You need to join either:
An affiliate program or
An affiliate network.
Here's a more in-depth explanation of affiliate networks.
But anyways;
You can find your affiliate links inside the affiliate program you join.
There's usually a dashboard where you can grab your link or sometimes you have to navigate to a specific product sales page to find it (if your affiliate program has many products).
You can then simply copy the affiliate link and paste it to wherever you intend to promote it (blog posts, social media, ads, etc).
If you have already joined an affiliate program and still can't find your affiliate links; I recommend doing a quick Google search. You can usually find videos and articles showing you where to find them in your chosen affiliate program.
What Do Affiliate Links Look Like?
Affiliate links are often ugly compared to "normal" links.
Here's an example of my ClickBank affiliate link for some random sewing machine product:
https://4d8b7avnw5fy2o1ghqo7mezj8v.hop.clickbank.net/
As you can see, it's a bunch of random numbers & letters. It's not beautiful and people may not trust clicking that.
Fortunately, some tools can cloak affiliate links and make them prettier such as:
After cloaking an affiliate link, the earlier link example could look like this:
https://affiliatist.com/sewing-machines
A much prettier & clickable right?
It would still redirect readers to the ugly affiliate link, but they wouldn't be able to tell until they click the link.
Should You Cloak Your Affiliate Links Before Promoting?
It's not always necessary.
But you may choose to do so if the link is really, I mean really ugly (like ClickBank affiliate links).
It's up to you to decide if people would have trust issues with ugly links.
The cloaking tool adds another layer of click tracking to your affiliate links so that's another benefit. But on contrary, Pinterest (& some others) will ban you if you post cloaked affiliate links on their platform (more about that later).
13 Best Places To Promote Affiliate Links
Now you know what affiliate links are and where you can find them, but where do you actually promote them to make money?
Below I share 13 places to promote your affiliate links for the best results (in semi-random order).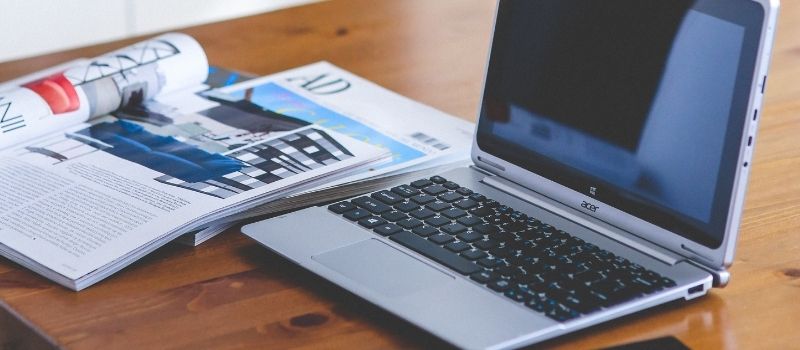 Important! You Need Traffic Before You Can Earn Anything With Affiliate Links
See how to build simple, yet profitable affiliate websites that get free traffic on auto-pilot.
100% Free Access
Beginner-Friendly Method
Step-by-Step Make Money Blueprint
Your Own Digital Products
Digital products (eBooks, online courses, lead magnets, etc) are great ways to share your affiliate links.
For example, if you have an eBook about "How to build a fence", you could insert affiliate links for the tools you talk about in the content.
Then someone who reads your eBook with the intent of building a fence could use your affiliate links to order the required tools to get the job done.
In most cases, you should:
Insert your affiliate links naturally in the content.
Avoid being "salesy" because people don't like to be sold to.
Remember: In affiliate marketing, you're recommending products, not selling.
Newsletters & Automated Email Sequences
Email marketing and affiliate marketing are like bread & butter.
Building an email list with an engaging audience is one of the best ways to promote products using affiliate links.
The key to a profitable list is to respect your audience and offer value in 80% of your emails and the remaining 20% you can use for promoting.
Don't spam your email list with one offer after another!
For example, I run an email list on this website and I'd say every ~7th email is a bit more promotional. The rest are pure informational content. (although I'm still tweaking & testing a lot).
Landing Pages & Sales Funnels
Another way to use affiliate links is on the "Thank you" page of landing pages & sales funnels.
For example, if you are running a simple 1-page website where people can give their email address in exchange for an eBook (or anything) — you can redirect them to an affiliate offer after they click to download your book.
Of course, your affiliate offer should be relevant to your original offer and something your audience would be interested in.
YouTube Video Description
YouTube videos are an underrated way of getting traffic to your affiliate links (mainly because people are scared of putting themselves out there).
Truth be told, you don't even have to record yourself to have a thriving YouTube channel these days. Anyone can run a "faceless" channel as they call it.
But anyways;
The hotspot for affiliate links on YouTube is in the video description.
You should insert the link as high as possible in the description because otherwise, people have to click "Show more" to see your affiliate link (& that would decrease clicks as you'd expect).
When you do this, remember to advertise the affiliate link in the video itself to drive more clicks (if possible).
Facebook
Facebook is sort of a "hit or miss", but I decided to include it anyways.
You can't promote affiliate links with Facebook ads, but you can do so on your own profile or business page (granted you provide actual value & not just spam links).
You can share direct affiliate links on Facebook Messenger as well.
If you already have a warm audience over there you could share affiliate links and make some sales.
It's still a bit of a grey area and instead of direct linking to affiliate offers; a better option would be to share a link to a landing page where your affiliate links are located.
Instagram
Instagram has two commonly used "hotspots" for affiliate links.
One is in your profile bio as seen below:

The other option is using Instagram Stories and more specifically the "swipe up" feature.
It works the same as it sounds; when you're watching an IG story you can swipe up and it will redirect you to an external link and this is where you can insert your affiliate link.
Although, the swipe-up feature requires you to have 10k followers before you can use it.
Twitter
I find it a bit amusing, but there has been an ongoing trend in a particular corner of Twitter to promote courses that teach you to promote… courses.
So as you can probably guess — yes, you can make a lot of money on Twitter by sharing affiliate links.
In fact, I find it to be one of the better social media platforms for that.
But as it is with most platforms, you need to build an engaging audience first before you can have any hopes of making sales.
Popular places to include your affiliate link are in your profile description and in the comment section of your own tweets.

Pinterest
Pinterest is a bit different since you don't "need" an audience over there to promote your affiliate links because it acts more like a search engine.
However, you still need to build pins and boards around your niche to get any traction.
And similar to Facebook; instead of posting your affiliate links directly to pins, you'll get better results if you use Pinterest to drive traffic to a landing page where your affiliate links are located.
NB: You can't use link cloaking tools on your affiliate links on Pinterest or you will get banned! All links have to be in their original form.
Your Own Website (The Best Option)
Posting affiliate links on your own website is the best option out of all.
In fact, a website is a must-have if you want to have any form of sustainable long-term success with affiliate marketing.
I don't know if you noticed, but the things I mentioned on this list are all components of a successful online business and your own website is at the center of it.
Almost everything on this list is something you can use to drive traffic to your website where most of your affiliate links should be.
If you're just direct linking affiliate offers to one social media platform, you're leaving so much money on the table and reaching only a fraction of what's possible with affiliate marketing.
Fortunately, anyone can create a website without tech skills these days.
Don't believe me?
What if I told you that you can have your own modern website running in the next 5 minutes?
If you're serious about making money with affiliate marketing, don't let another second go by without having a proper base of operations.
It honestly doesn't get any easier than this, go ahead and try it:
In the next section, I want to show where you should use affiliate links on your website.
Where To Put Affiliate Links On Your Website?
Resource Page
Many websites have dedicated "money" pages filled with affiliate links.
This can be a page where you list your top recommended tools or products.
Then you can drive traffic to this money page from all the blog posts on your website (or from social media platforms, email, digital products, etc).
I don't have a proper "resource" page on this website yet, but for the sake of an example; this is one of my "money" pages with affiliate links.
It also makes your website a lot "cleaner" when your affiliate links are dedicated to a few pages only (although not necessary).
Blog Post Comments
When someone comments on your blog post, you can promote products in your reply to them.
Of course, you should only do it if it makes sense and helps the reader who commented.
And once again, don't make it sound salesy — do it like you would recommend it to your best friend.
The most effective form of persuasion is one that isn't even perceived as persuasion.
Banners
Another way to promote affiliate links is through banner ads.
There are many spots on your website where you can insert banner ads with affiliate links:
Sidebar
Header & footer
Content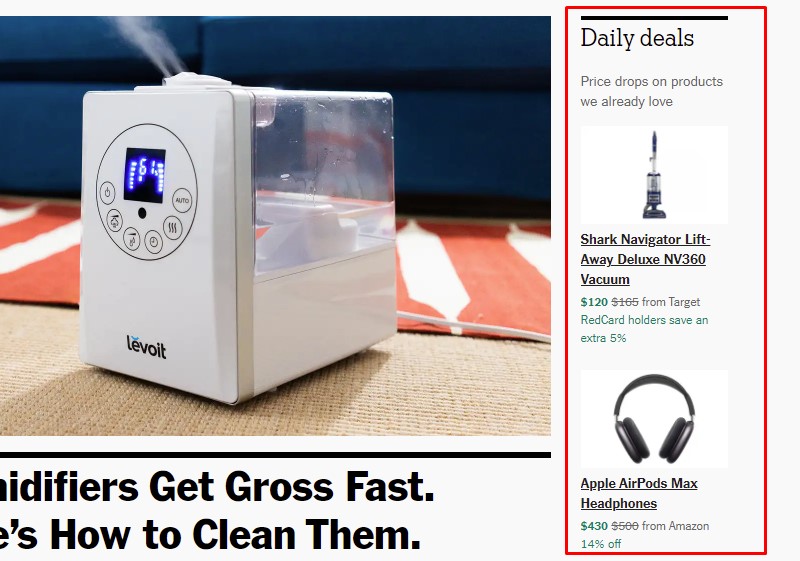 Although, I would only do this when your website is already ranking well and getting traffic. If you add banners with affiliate links too early to every page on your website, it could have a negative effect on Google's eyes and hurt your SEO.
Google may see your site as a mere "bridge" page to affiliate offers.
The last thing you want to do is overdo it because it can make your site look like one big sales promotion (& people don't like that). If you want to use banners, try to keep them tasteful & clean.
You may have noticed I don't even have a sidebar to put banners on this page because I want people to focus on the content.
Blog Posts
Blog posts are the best place for your affiliate links.
Why?
In blog posts, you get the opportunity to properly tell your readers why should they trust you and your recommendations.
Blog posts also get ranked on Google and they bring free traffic to your website. And as you may know, without traffic you can't make sales.
The opportunities are endless when it comes to blog posts and sharing affiliate links.
Here are some popular blog post types to include your affiliate links in:
Product reviews
Listicles
Info articles
Product Reviews
It just makes sense to insert affiliate links in your product reviews.
You provide value for the reader by giving your opinion about a product and then you have the opportunity to recommend it using affiliate links.
Simple and effective.
Just don't be the person who copies product descriptions from the product sales page and slaps the blog post full of affiliate links. It doesn't work these days anymore.
Listicles
These are your "Best X for Y" posts — for example:
5 Best Lures For Catching Trout
Listicles are… well, a list of items — and the benefit is that you can insert an affiliate link for every item on the list.
Under every item, you should have a "mini-review" where you tell a bit about the product. You can also link to individual product reviews in listicles if people want to learn more about the product.
Info Articles
These are your tutorials or how-to articles and surprisingly; they also have an opportunity for you to insert affiliate links.
While the primary purpose of these is to inform and not to sell — they can still be used in a subtle way to earn affiliate commissions.
To make this work, I'd take a look at info articles that are already ranking well and getting traffic. Then I'd look through the content to find opportunities where I could add an affiliate link or two.
For example, if it was a blog post about "how to build a fence" (once again), I could find a section where I talk about tools and insert affiliate links for those.
Want A Great Guide On Amazon Affiliate Marketing?
Get access to the same strategies used by the pros & see how they're promoting affiliate links and earning a full-time income with Amazon.
How To Get Traffic To Your Affiliate Links (To Make Money)?
This depends on what platform you're using, but let's assume it's your website (since it's the best option).
There are only really two ways to get traffic (to your affiliate links):
Paid traffic
Free traffic
Paid traffic means you buy ad space from platforms like (Facebook, Google, Bing, etc) and direct the traffic to a piece of content on your website.
And no, you should not promote your affiliate links on ad spots by direct linking to affiliate offers (it almost never converts well and it's an easy way to get banned).
When you do paid ads right, it can be incredibly profitable.
But it's not something I'd recommend for beginners with a small budget. If you have no idea what you're doing, you'll lose money with like 98% chance.
When I was a beginner I tried to shortcut my way to success with paid ads and ended up losing $800 lol. That's why I don't recommend it.
Your best bet to get traffic (whether you're a beginner or not) is to use free traffic sources like SEO.
I'm not going to get into explaining SEO since it is a deep subject, but if you want to learn it you can get started for free here.
Another way to get free traffic is to grow an audience on social media platforms and link to your website.
4 Tips For Promoting Your Affiliate Links
Here are some quick-fire tips to keep in mind.
Only Share Affiliate Links When It's Relevant
You don't want to be seen as someone who only cares about the affiliate commissions.
Try to genuinely help people and share your affiliate link only when it helps someone solve a problem.
Not Revealing The Product Name Increases CTR
This may seem a bit annoying for the reader (so use sparingly), but it really works wonders when you need to make it count.
When you don't mention the name of the product or service you're promoting, you'll get more clicks to your affiliate links.
Here's a practical example:
I learned affiliate marketing and built my portfolio of passive income websites using this awesome service.
It works exceptionally well on email messages because readers can't see the URL preview (unlike here on my website).
Use Passive Language To Promote
You don't want to use language like "Go buy this" or "This is the best product ever you should get it too!!"
Instead, you should use passive language when promoting because it comes off as more authentic and trustworthy.
A very random example: "I was recently looking for new sofas and after researching for like 3 hours, most people seemed to recommend this one (affiliate link) because of how comfy and affordable it is.
Diversify Your Affiliate Link Locations
Succeeding with affiliate marketing is all about diversifying your income streams.
You don't want to rely on just one affiliate link location, but you also don't want to be spammy.
I personally diversify my affiliate links by having them on multiple locations on my website, emails, & digital products. But I also have websites in entirely different niches to diversify my whole online business.
That way I'm not doomed if one income stream shuts down.
I usually have one flagship product I promote on each website, but it doesn't hurt to sign up for many affiliate programs. Diversifying is the key.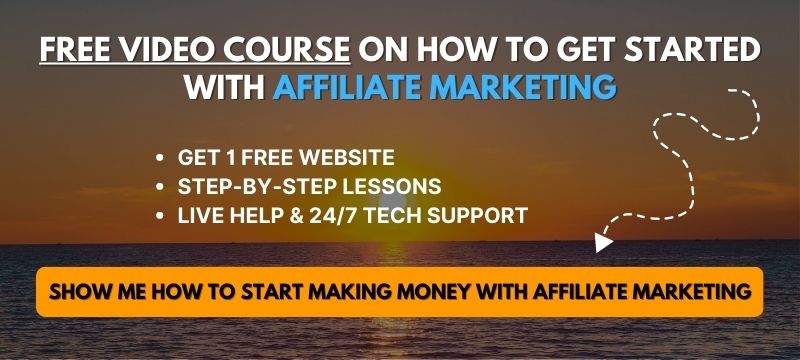 Where Do You Go From Here?
You should now hopefully have a good understanding of what affiliate links are and where to promote them for the best results.
As you saw, having a website is a must-have if you want to properly make money with affiliate links.
If you don't have one yet;
I'd like to give you a personal invite below to the same platform where I learned how to build simple affiliate websites. It comes with everything you need to succeed.
Thanks for reading this post, and let me know below if there's something on your mind.