Are you looking for ways to make money in the art niche?
If so, look no further than my list of 12 art affiliate programs.
Whether you're a blogger, YouTuber, or social media influencer, you can promote these programs to your art-loving audience and get rewarded in the form of affiliate commissions.
Below you can find a wide range of companies selling art & craft supplies, glassware, fine art, kids' subscription boxes, online courses, and even cutting machines and heat presses.
The art niche is huge, and there should be something for everyone here.
Ready to dive in? Let's go.
I also have a dedicated post for embroidery if you're into it:
12 Art Affiliate Programs To Promote
Blick
Jackson's art
Arteza
Art Discount
CreativeLive
JFR Glass
Cricut
Displate
Zatista
Draw Store
KidArtLit
A Cherry On Top
Blick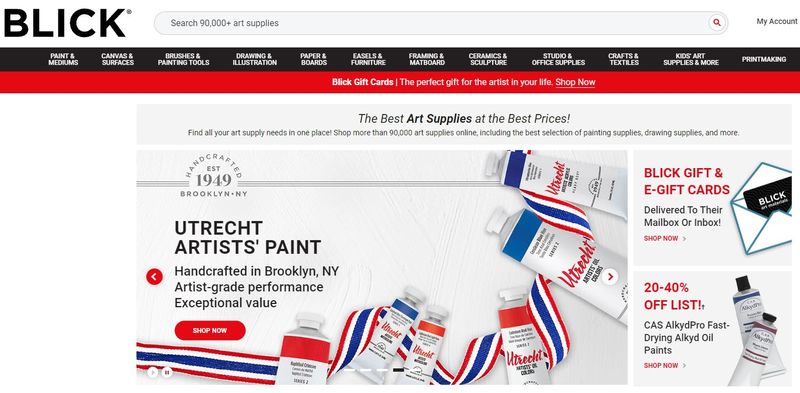 Blick is one of the oldest providers of art supplies in the US with its roots going back as far as 1911.
They sell drawing supplies, paint, crafts, framing, ceramics, and much more. Pretty much everything a student, artist, or art teacher would need in their work.
Their affiliate program is hosted on the CJ affiliate network which you can join for free. Also, Blick accepts all affiliates into their program no matter how small or big you are.
They offer 10% commissions on every sale made through your affiliate links and you have a 24-hour cookie duration to be credited for the sales.
You also get some promotional banners to use in your campaigns.
Jackson's Art
Jackson's Art is a UK-based online store founded in 2000 that sells art materials to artists worldwide.
These art materials include brushes, surfaces, colors, and studio equipment to name a few.
Their affiliate program is aimed exclusively at artists or people who are active in art. If you have a blog, YouTube channel, or a social media account and your audience would be interested in buying art materials, this is something you could join.
They offer 5% commissions for each sale and new customers receive a 10% discount which you could use to incentive people to buy through your links.
When you make sales, you earn store credit which you can use to buy products on Jackson's Art or you can have it paid out to your PayPal or bank account in real currency.
Arteza

Arteza is an online store created by Carolina Arevalo and they sell art & crafts supplies related to painting, drawing, quilting, and claying.
They describe their products to be affordable yet high-quality and the tools are aimed at novice & expert artists.
Their affiliate program is on the ShareASale network and as an affiliate, you can earn up to 5-15% commissions (with a 30-day cookie duration).
Joining is free and you're provided with banner and video links, coupon codes & special offers to use in your campaigns.
Art Discount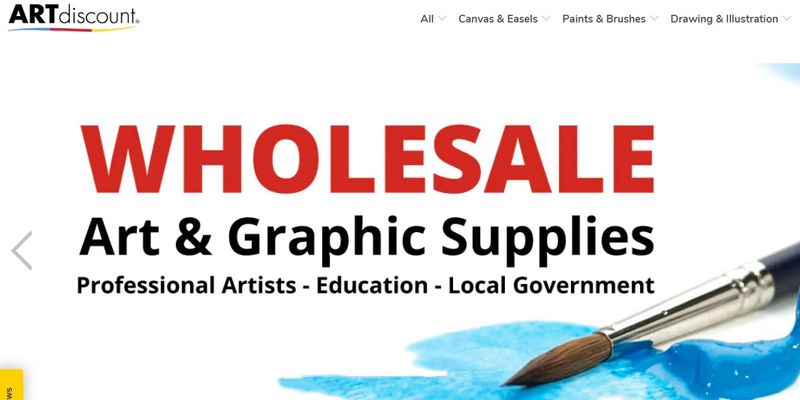 Art Discount has 100 years of history behind it and they sell wholesale art supplies for amateurs, professionals, & commercial users throughout the UK.
Some of these art supplies include canvases, papers, paint sets, drawing equipment, & accessories.
Their affiliate program is for people who have a blog, social media account, or a YouTube channel whose audience would be interested in buying art supplies.
As an affiliate, you can earn 5% commissions by promoting their products and you can get paid via store credit, PayPal, or bank transfer.
They have a 30-day cookie duration and you get access to promotional graphics & images to aid your promotional efforts.
CreativeLive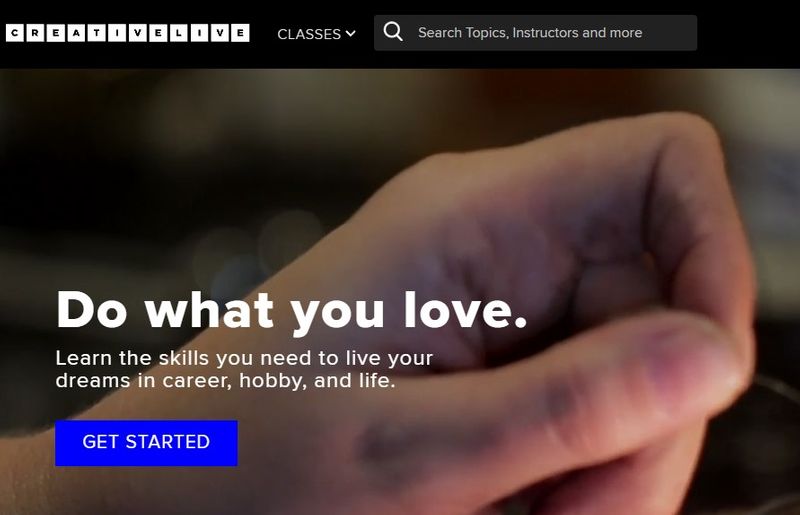 CreativeLive is a subscription service that provides online classes to develop your creative skills in:
Art
Design
Craft & DIY
Marketing
Business & entrepreneurship.
The service was started in 2010 by Chase Jarvis and Craig Swanson, and today they have over 2,000+ classes ranging from fundamentals to advanced levels.
The paid plans start from $39 per month, and since this is a subscription service; you can earn lucrative recurring commissions by promoting this program.
Their affiliate program is on the ShareASale network and they offer you generous 30% commissions. You have a cookie period of 30-days for people to convert into customers.
ShareASale also provides real-time tracking & reporting for you to use and a dedicated affiliate manager if you need help.
JFR Glass

JFR Glass is an online store created by Jared F.Rosenacker and he sells handmade drinkware & custom glass art.
His company is based in Austin Texas in the US and each glass sold on his website is handblown.
If you want to promote his products, you can join the affiliate program on ShareASale and earn $10 per sale.
Something to note is that customers outside the US have to buy the products through his Etsy store. If you want to promote to international audiences, you may also want to join Etsy's affiliate program to do that.
Cricut

Cricut sells cutting machines and heat presses for your DIY projects ranging from cards to fashion to home decor.
Here's a short explanation of how it works:
You use an app on your phone to connect to the machines
You design your DIY project on the app
You load the materials into the machine
And then you watch the machine do its magic.
For example, with the heat press machine, you could design your own custom t-shirts.
What makes this worthwhile promoting is the solid brand behind it and the opportunity to earn high-ticket commissions.
The machines cost quite a bit (~$450) and also require materials that can amount to large commissions for affiliates.
Their affiliate program is on ShareASale and you can earn respectable 25% commissions for each sale. The cookie length is 5-days which is "okay".
Once you fill out the application form, your site will be reviewed before you get access to all the links and promotional banners.
Displate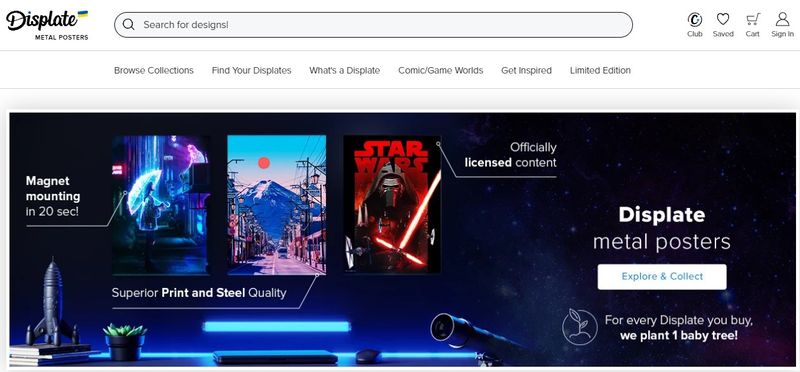 Displate sells customizable metal posters designed by artists.
They have over 1.5 million designs to choose from so there's definitely something for everyone. They also ship products to over 50 countries making this brand easy to promote to worldwide audiences.
You're also doing a good thing partnering up with them since they plant 1 tree for each purchased displate.
When you join their affiliate program, you can earn up to 25% commissions (with a 30-day cookie length). The posters can cost up to ~$133 so there are decent commissions to be made here.
Zatista
Zatista is an online art gallery where you can buy quality artwork from established artists who are handpicked by curators.
They sell original art, paintings, & fine art photography. Every piece comes with an authenticity certificate and is signed by the artist.
I do have to say that promoting this store looks extremely lucrative to me. The art looks sublime and you have the opportunity to earn ridiculously high commissions as some art pieces cost up to ~$10,000.
Their affiliate program is on the ShareASale affiliate network and you can earn 8% commission rates which is not bad considering how much the art can cost.
Their average order size is $500 and you have a plentiful 120-day cookie duration to convert your audience into customers.
Draw Store
Draw Store is a provider of high-quality art & design supplies for artists, designers, architects & illustrators.
If your audience would enjoy quality products for a fraction of their regular prices and 100% free shipping, then this could be worthwhile to join and promote.
As an affiliate, you get to earn 10% commissions on all sales and the usual average order size is $50 here.
Their affiliate program is on ShareASale which is easy & free to join. You have a 30-day cookie duration and you're also provided custom coupons and personalized support from a member of Draw Store.
KidArtLit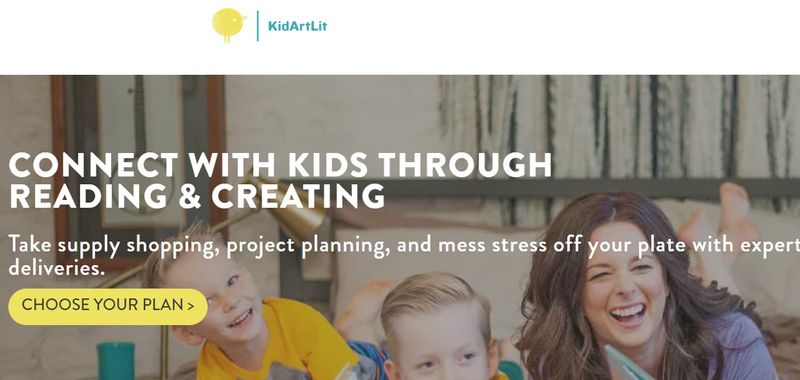 KidArtLit is a monthly subscription box designed for kids 3-8 years old. Each month the kids receive curated picture books and themed art kits to give them fun creative projects.
If your audience consists of lots of parents, then this could be a good match for you.
As an affiliate, you earn a flat rate of $7-14 per sale depending on what subscription box they choose and the membership length.
They also provide you with special coupons and you may receive review boxes of the products.
A Cherry On Top
A Cherry On Top is an online retailer for crafting & scrapbooking supplies run by a small family-owned business.
Their products include paper crafts, art supplies, needlecrafts, school & office supplies, and much more.
You can find their affiliate program on the ShareASale affiliate network and they offer 4% commissions (with a 30-day cookie) at the time of writing this.
How To Find More Art Affiliate Programs?
This list was my rather small compilation of art affiliate programs.
Believe me when I say; there are thousands of them around the Internet if you know where to look.
If you're not satisfied with this list and want to find more of them, I suggest you take a look at my other post where I share my methods:
How To Start An Affiliate Website Around Art
If you already have an art-related blog or YouTube channel with an engaged audience, then you probably already know what to do with these 12 art affiliate programs.
But if you're entirely new to affiliate marketing and this list sparked an inspiration inside you, I have just the right place for you;
Check this out if you want to make money with art affiliate programs.
---