You're probably interested to hear if you can make any money with Profit Pusher — right?
You may have bills piling up or maybe a health issue prevents you from working and some extra cash could really come in handy.
You're not alone.
So let's go see together and find out if Profit Pusher is legit & worth getting.
Okay?
By the way, I'm not affiliated with Profit Pusher in any way.
I have actually already reviewed a few products from the same creator who made Profit Pusher and I have to admit; I wasn't too impressed.
In this Profit Pusher review, you'll learn:
What is Profit Pusher?
How does it work (if at all)?
How much does it really cost
Can you make any money with it?
Is it a scam?
I would also like to show you a worthwhile alternative that I've been using since 2018 to make money online if you decide Profit Pusher is not for you.
Alright.
Let's dive in.
Profit Pusher Review Summary
$27 + $559
Earning Potential

User Experience

Ease Of Use
Profit Pusher TLDR;
A web page creator that comes with pre-made ad campaigns
Misleading sales page
Expensive upsells ($559)
Ineffective traffic generation method
Copy-pasted content from another product (Commission Blaster)
The created websites are just bridge pages filled with promotions and have zero value for readers.
What Is Profit Pusher?
Profit Pusher is a system that allows you to create web pages (which you do not own) with pre-made affiliate promotions and banner ads.
The system also comes with "done-for-you" ad campaigns that you're supposed to share on social media to get traffic to your website (& make sales).
These ad campaigns and the whole social media sharing method is a direct copy-paste from another product called Commission Blaster (which I recently reviewed and was immensely disappointed).
Profit Pusher and Commission Blaster (& dozen others) are created by someone called Richard Williams who is a serial product creator.
His 19 products have an average rating of 2.5 out of 5 and Profit Pusher isn't exactly pushing that any higher.
To give you an idea of what I mean, here are 3 different products from this person and their sales pages:
As you can see, he keeps creating new products one after another and just tweaks the sales pages a little.
Why?
In my opinion, these products are so low-quality that they lack any longevity and people would quickly catch on and that'd mean no more sales for the creator.
How Much Does It Really Cost?
This product costs $27 (but you can get it for $14 when you try to exit the site) and is a 97% discount from the "original" price of $997 — can you imagine.
It's one heck of a discount for sure.
Although I'm fairly sure the product has never been sold at $997 price.
There's also a fake timer on the sales page that indicates when the price rises: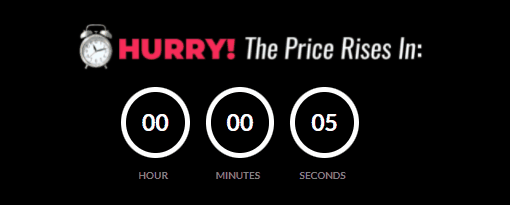 And as you'd expect; $27 is not the only cost this product has in store for you.
After you buy the product, you are hit with 5 different upsells AND downsells.
You are offered the following:
Profit Pusher Unlimited $29 ($17 downsell)
Autopilot Edition $39 ($27 downsell)
DFY Edition $197 ($97 downsell)
Reseller Edition $197 ($97 downsell)
Mega Bundle $97 ($77 downsell)
In total, you can expect to pay $559 to unlock the whole product.
Are these upsells worth it?
I haven't bought any of the upsells, but judging by what I've seen so far; I wouldn't have high hopes for them.
You do have a 30-day money-back guarantee if you end up buying anything. That's one of the few positive aspects here.
How Does Profit Pusher Work?
I'll start by saying there's no proper training material inside the product.
If you go into this as a complete beginner, you can expect to be confused and lost.
Let me now show you how this is supposed to work.
I have split this into 2 parts to make it easier to understand.
Part 1: Creating your website
Create a website
Setup your website
Choose 5 niches to include on your website
Choose products to promote on your website
Choose your #1 product recommendation
Add banners, social media channels, and autoresponder to sidebar
Step 01: Create A Website
You start off by choosing a URL name for your website.
As you can see above, you are creating your web pages under the "pushersite.com" domain so you are not even given your own subdomain.
This brings many practical issues and I'll talk about them more later.
You also have to insert your ClickBank ID here so all the products on your "website" will automatically have your affiliate links on them.
Creating a ClickBank account is free though.
Step 02: Setup Your Website
In this section, you can change your:
Site name
ClickBank ID
Support Email
Welcome, about, & disclaimer texts
And you also have minor customizability options like adding a logo & favicon, changing theme colors & fonts.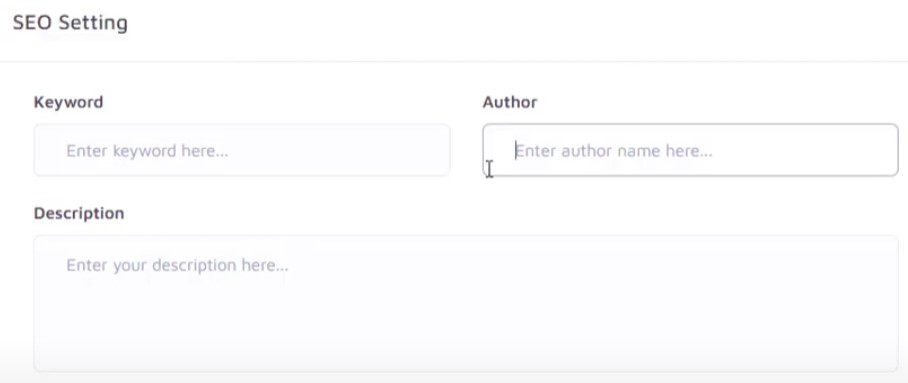 Lastly, there are SEO settings and a script box for analytics & tracking.
The option for tracking is cool and all, but the SEO settings are useless because there is no way this site is going to rank on Google when you can't add more content to the site.
Step 03: Choose Your Niches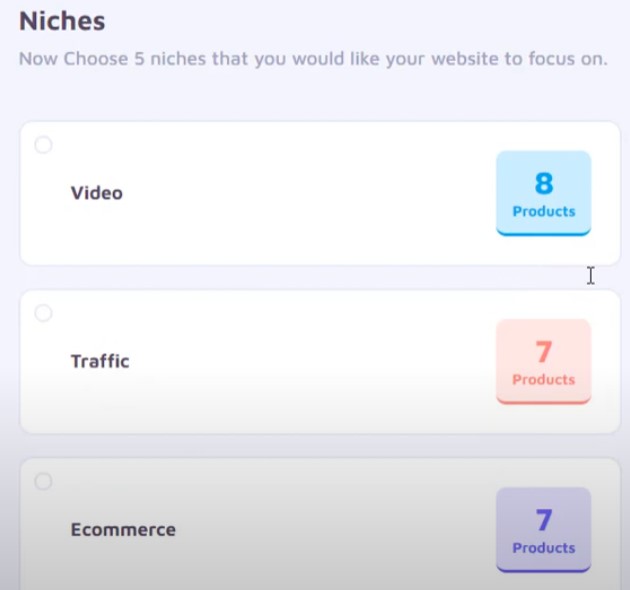 Here you have to choose 5 niches that you'd like your website to focus on.
You can choose from the following "niches":
Video (8 products)
Affiliate (7 products)
Traffic (7 products)
Make Money (7 products)
Ecommerce (7 products)
Funnel (8 products)
Tool (7 products)
Basically, the niches you choose are placed on the navigation bar on your website as pages and they have product listings with your affiliate links.
Step 04: Choose Products To Promote
After choosing your niches, you have the option to choose what products you promote on the niche pages.
The products are automatically pulled from marketplaces like ClickBank, JVZoo, and WarriorPlus depending on what niches you chose earlier.
The ClickBank products will automatically have your affiliate link if you inserted it at the beginning. The products that are from JVZoo and WarriorPlus will require you to sign up to them and add your affiliate links manually to your products.
You can also give star ratings to the products that appear on your site.
Step 05: Choose Your #1 Product Recommendation
Then you have to pick your #1 recommended product for each niche and this will appear at the top of your product listings.
You can add your own mini-review and you can also add your own (or someone else's) YouTube video review for that product and it will appear on your site.
Step 06: Add Banners And Social URLs
Next, you have to choose banners for your header and sidebar.
These will also promote products and have your affiliate links in them.
On top of that, you get to add your social media channels like YouTube to the sidebar if you have one. You can also add your autoresponder code to collect email addresses from your sidebar.
And that's pretty much it, your website is now created and the next part is about sharing your website to get traffic.
Part 2: Sharing Your Website
This is the copy-pasted part from the other product called Commission Blaster.
I'll briefly go over it and show (again) how it's supposed to work.
Choose a niche from a list
Create an ad from pre-made headlines, CTA's & images
Preview & edit
Share on 30 social media platforms
Step 01: Choose Your Niche From A List
First, you have to choose a niche from a list:
Make Money
Affiliate
Internet Marketing
Basically, these will have pre-made headlines, call-to-actions & images you can use to create your ad campaign.
Step 02: Create An Ad Campaign
Then you have to choose a question for your ad campaign:

A call-to-action to the question:
And finally an ad image:
Step 03: Preview & Edit
Here you can edit your ad campaign and upload your own images if you want.
The end result looks something like this: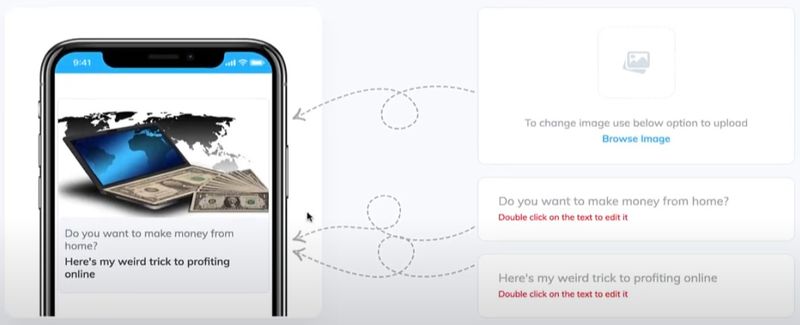 Step 04: Share Your Ad Campaign
Once you have your ad campaign created, it's time to share it on social media.
The funny thing is that you're expected to sign up for 30 different social media platforms and that is obviously going to take you a long time.
Another problem is that you probably don't have any form of audience (the prerequisite for making sales) on these platforms to whom you could promote your new promotion-filled website.
Can You Make Money With Profit Pusher?
The big question; does this method work and can you make money?
The only way I can see someone making sales from this is if you already have an audience to promote for.
So yeah you could make some lucky sales if you know what you're doing.
But even if you had an audience, this would probably be the best way to lose your face and get rid of your followers — I kid you not.
Let me explain why I think so (rant incoming).
For starters, the site doesn't have ANY content that would provide value for your readers.
It's a mere bridge page filled with affiliate promotions and people will 100% see through that.
The site can't even rank on Google (to get free visitors) because the content is so thin, salesy, and you even CAN'T add any more content to it.
If you visited such a site, would your first reaction be to buy something? Probably not because the first impression you'd get is that the site owner is desperately trying to sell you something.
Moreover, since every Profit Pusher customer will use the same domain to create their web page;
It's going to be slow
If the site crashes, everyone crashes
You lack customizability.
Then there's the fact that you don't even own the site.
You are at the mercy of the site owner and since he is a serial product creator, he'll probably just shut it down at some point when it doesn't generate him any more sales.
In short, your "business" can be shut down overnight.
Also, the way you are supposed to get traffic to the site is a joke.
They expect you to separately sign up for 30 different social media platforms where you could share your website and get free traffic (it's going to take ages to signup).
And since you probably start fresh and don't have an audience on social media; you're not going to get traffic or sales.
The whole problem of advertising your (promotion-filled) website on social media is that people don't go there to buy stuff. People go there to wind down and see what their friends are up to.
Even if someone happened to click over to your website, the first impression would be a disappointment; a slow site, zero content, full of sales pitches, and overall nothing of value for the reader.
There is also no training for beginners so once you buy the product you're left clueless.
Well, the expensive upsells may have some level of training but I wouldn't have high hopes for the quality.
As much as I'd love this product to be good, it's sadly not.
Is Profit Pusher Legit?
My verdict for this product is going to be the same as for Commission Blaster.
Profit Pusher has small improvements over Commission Blaster but it doesn't matter much when both products are far away from anything worth using (in my opinion).
It's not a complete scam because you get some value for your money but it's damn close to one when you see what they promise on the sales page.
Here's my humble summary of Profit Pusher:
Misleading sales page

Exaggerated income claims
Expensive upsells ($559)
Copy-pasted content from another product
Ineffective traffic generation method
Your website is just a bridge page filled with promotions and zero value
Beginners (& even seasoned pros) would have a hard time getting any sales using a system like this.
The charade of a "website" you're building inside this product is essentially filled with affiliate promotions and offers zero value for any visitors — it's a mere bridge page that you can't even customize to be better.
I would stay away from this product and look for better alternatives which there are plenty of.
Do This Instead To Make Money
I know it's tough to try one product after another in hopes of making money online.
You're not alone — most of us have been in your shoes.
I want you to know that it's entirely possible for you to make great money online with the right training (which I'd like to show you now).
You've probably heard that before and you're thinking;
Why would this one be any different?
You don't have to trust my word because you can see it for yourself and draw your own conclusions. Here it is for you:
Free video training course on getting started with affiliate marketing.
It's the same course I used to build a small portfolio of passive income websites for myself. I got started in 2018 with zero experience and I'm confident you can make it work as well.
Thanks for reading my Profit Pusher review.
I'll leave you to it.