Ever glanced at your digital wallet and wondered how to make it fatter?
Maybe you've toyed with joining a crypto affiliate program, but the choices left you puzzled.
Well, this article features some of the best crypto affiliate programs, just for you.
We'll go through their standout features, commission rates, and qualifications to help you find your perfect fit.
Ready to dive into the world of crypto?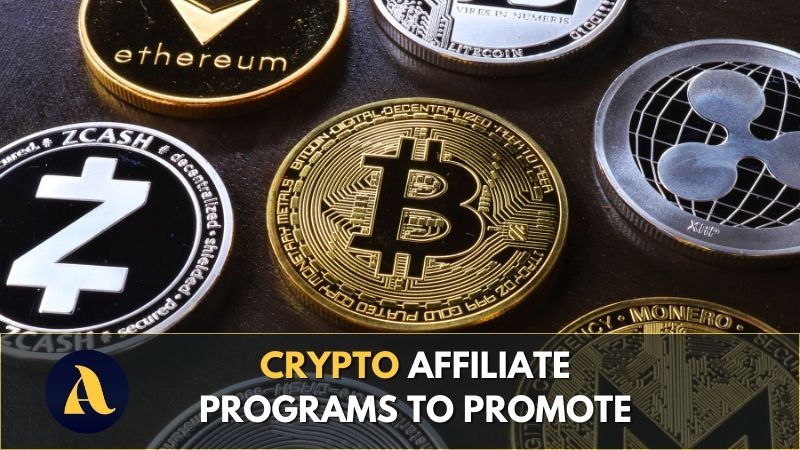 How Do Crypto Affiliate Programs Work?
How does one transform their platform into a revenue-generating machine with crypto affiliate programs?
Let's take a look.
When you join a crypto affiliate program, the crypto company gives you a unique affiliate link.
You share this link on your blog, social media posts, videos – basically, any platform where you connect with people. This link is your magic money-maker. Each time someone clicks on it, signs up, or makes a trade with the crypto company, you get a commission.
How much you earn depends on the program terms.
Some programs offer a flat rate per referred user. Others offer a share of the referred user's trading fees. Some programs even offer a tiered structure, where the more users you refer, the higher your earnings.
The best part? You don't need to be a crypto expert or have a large following to get started. As long as you have a platform and an audience interested in crypto, you can monetize it through crypto affiliate programs.
10 Crypto Affiliate Programs To Promote
Binance
Bybit
Coinbase
Crypto.com
CEX
OKX
MEXC
Ledger
Phemex
Kucoin
Binance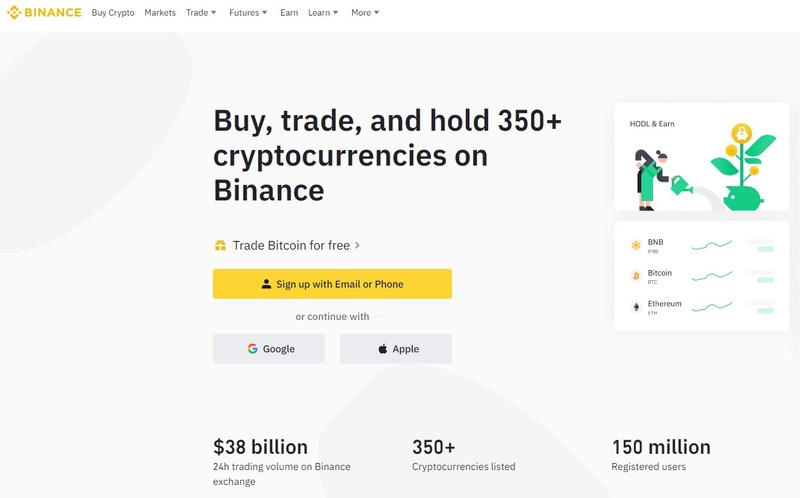 Binance – it's a name synonymous with the world of cryptocurrency.
Having emerged as a dominant platform in the global crypto space, Binance is much more than a mere digital asset exchange. It offers an ecosystem where users can trade, invest, and even earn cryptocurrencies.
But let's not forget about Binance's secret weapon — its stellar affiliate program!
If harnessing the potential of a crypto behemoth sounds appealing to you, the Binance affiliate program is where it's at. This program stands out with its competitive commission rates and exclusive benefits:
Spot Commissions: With Binance, you can earn spot commission rates of 40-50%. Each time a referral performs a spot trade, you get a hefty share.
Future Commissions: And it doesn't stop at spot trades. Your referrals' futures trades get you a 30% commission.
Binance Pool Commissions: Dabble in the Binance Pool, and you're in for a 30% commission. It's another avenue to keep your earnings ticking.
Getting started with the Binance affiliate program is a breeze. With just 5,000 followers on social media or 500 members in a trading community, you can open pathways to consistent income.
Commission Rate: 40-50%
Cookie Duration: –
Affiliate Network: In-house
Bybit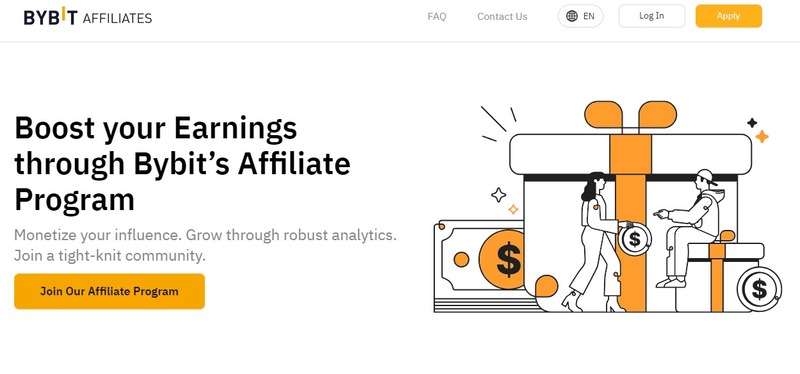 Venture into the realm of cryptocurrency, and a name you will often hear is Bybit.
This platform was launched in 2018 and has experienced fast growth up to 1.6 million users. With a sharp focus on leveraged trading, Bybit offers spot, futures, and options trading facilities.
But where Bybit truly shines is in its affiliate program! Let's delve into the specifics.
This program impresses with its promise of lifetime commissions. Every trade your referral makes can earn you meaty commissions, and there's no expiration — the profits keep rolling in for the entire duration your referral stays with Bybit.
Signing up for Bybit's affiliate program is straightforward. Simply fill in a quick questionnaire about you and your strategies for promoting Bybit. Wait for a day, and you're likely to see your application greenlit!
Income streams from Bybit are as diverse as they are attractive.
You can earn up to 50% commissions from spot, futures and options trades. But it doesn't stop there. A cool 5% commission could come your way from Bybit product sales. And if you have sub-affiliates under you, that's another 10% commission in your pocket whenever they make trades!
Commission Rate: Up to 50%
Cookie Duration: –
Affiliate Network: In-house
Coinbase
Coinbase has etched its name as a hallmark of reliability.
Ever since its start in 2012, it has been a go-to platform for both seasoned and budding crypto enthusiasts. Its commitment to transparency, user-friendly interface, and secure environment have helped it soar in popularity and credibility.
Once your application is waved through, a world of promotional aids and tracking features awaits you. Managed professionally by Impact network, this program promises real-time reporting, diversity in payment methods, and reliable payouts.
Eager to cash in on your referral's trading activity? Coinbase enables you to bag 50% of your referrals' trading fees for the first three months. The limited nature of these commissions is not the best, but the rates are competitive and the platform is easy for beginners.
You can convert your profits into local currency, pay comfortably via PayPal or bank transfer, and watch your earnings grow.
Coinbase also lets you leverage custom landing page tools to finely tune your campaigns and draw on deep links to directly guide your audiences to relevant products or services.
While the limited commission timeframe might not seem as flashy as some others, the brand value of Coinbase can work wonders. When the platform you're affiliated with rings a bell of trust, higher user conversions naturally follow.
Commission Rate: 50%
Cookie Duration: –
Affiliate Network: Impact
Crypto.com
Crypto.com was established in 2016, and this powerhouse has gathered over 10 million customers, earning its title as the fastest-growing crypto app worldwide.
Most of it is thanks to partnerships with renowned brands like UFC, Formula 1, and Paris Saint-Germain. This also means well-performing affiliates have a chance to attend VIP experiences with these brands.
The affiliate program runs on a hybrid commission model designed to cater to your preferences. You can opt for long-term recurring commissions for steady income or choose a one-time payment when referrals make their first transactions.
How much exactly is hard to say since they don't disclose these rates anywhere.
One thing I managed to gather is that the cookie duration is a basic 30-day period. This means if a user you referred joins within a month of clicking your link, you still get credited.
To sum it up, Crypto.com stands out for its flexibility, user engagement, and grand opportunities for affiliates.
Commission Rate: –
Cookie Duration: 30 days
Affiliate Network: In-house
CEX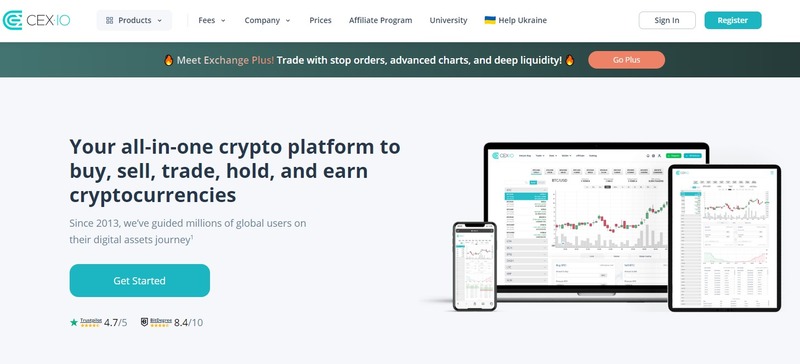 Stepping into the spotlight next, we have CEX.IO – a well-established platform in the global cryptocurrency market since 2013.
With a dedicated user base, a variety of trading options, and an intuitive interface, CEX.IO is well-regarded as a reliable and convenient trading platform suitable for all – from newbies to hardcore crypto investors.
CEX piques interest by offering immediate returns. All qualifying trades and purchases completed by your referrals earn you a decent 30% in affiliate fees – credited instantly. Furthermore, these earned rewards can be conveniently received to your Visa or Mastercard in USD.
Promoting CEX.IO doesn't require elusive tricks, thanks to the program's range of promotional materials at your disposal. Their affiliate cookies also last for 30 days, allowing you to claim a share even if the user delays their sign-up after clicking your link.
Moreover, the dedicated affiliate manager ensures that all your queries and concerns are addressed. They provide personalized support to boost your marketing efforts and potential earning growth.
CEX.IO offers lifetime referral rewards, meaning as long as your referrals keep trading you keep earning!
Getting started is straightforward. All it takes is having an account on CEX.IO to embark on your journey as an affiliate.
Commission Rate: 30%
Cookie Duration: 30 days
Affiliate Network: In-house
OKX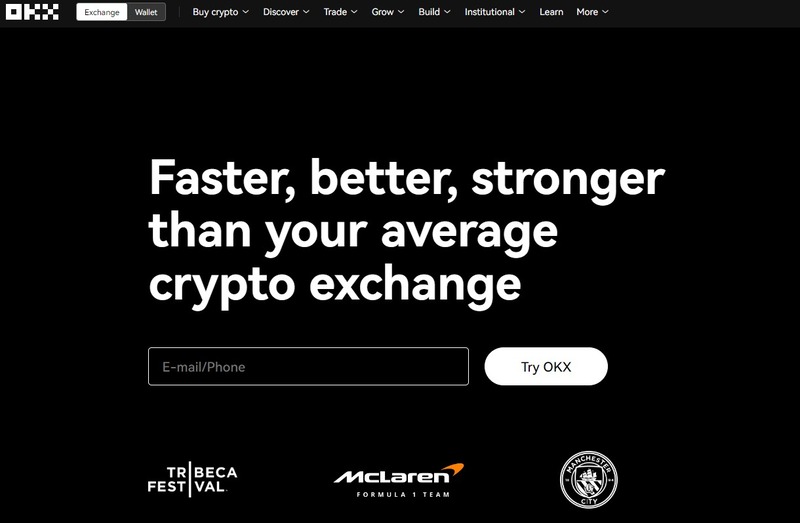 OKX stands as a reliable platform in the hyper-competitive cryptocurrency industry. Known for timely transactions and robust security, it has surged in credibility among digital currency enthusiasts.
It offers everything from spot trading to futures and options trading among other things, all the necessities you'd expect from a proper crypto exchange.
OKX makes a compelling case with its affiliate program. With commissions rising to as high as 50% in USDT, when users sign up via your affiliate link and trade, you can earn a portion of the fees in commissions.
Fascinatingly, you and your invitees could also unlock "Mystery Boxes" that hold up to $10,000 and also stand a chance to win a share of up to $2,000,000 in trading competitions!
OKX never leaves affiliates in the lurch, thanks to a dedicated 24/7 support system paired with an account manager relationship. Interacting with invitees is also possible through one-on-one or group chats.
Becoming an affiliate is flexible – either fill out their application form or simply invite 10 eligible users and you can skip the application review.
Post-approval, OKX makes monthly assessments about affiliates.
They adjust affiliates' commission rates based on invitee's monthly trading volume and the number of new invitees per month.
Failing to meet your current level's criteria thrice leads to a downgrade. However, worry not! For new affiliates, there's a 5-month protection period, during which the commission rate won't take a hit below what was earned in the first month.
Commission Rate: 50%
Cookie Duration: –
Affiliate Network: In-house
MEXC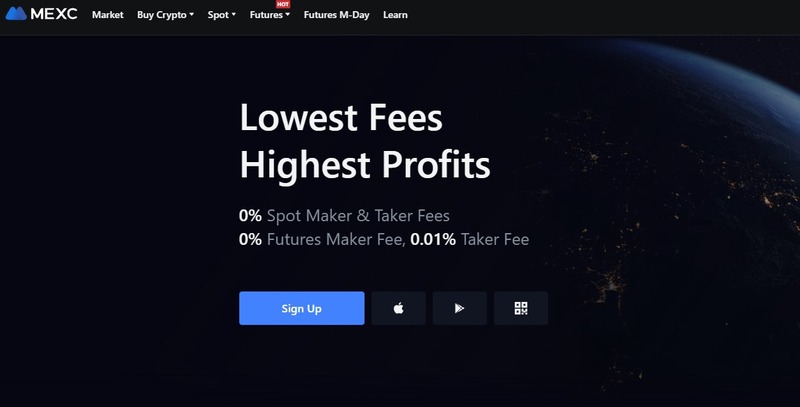 MEXC has quickly become a name synonymous with smooth and secure digital currency trading after its launch in 2018.
From its user-centered design to lightning-fast execution speeds and low trading fees, it's no surprise why MEXC has turned heads in the crypto industry.
As a MEXC affiliate, you stand a chance to earn a whopping 50% on your referral's trading fees. And the rewards roll over to your sub-affiliates too. You can earn 10% on what your sub-affiliates generate. This cascading earning model ensures that your profiting capacity is not confined to just your direct referrals.
Joining their affiliate program is simple. All you need to do is fill out an application on the affiliate page.
But MEXC is not just looking for any affiliates.
They seek active collaboration with "Key Opinion Leaders" (KOLs) and content creators. Individuals who breathe life into MEXC's mission and values and properly promote the trading platform will be prioritized.
Commission Rate: 50%
Cookie Duration: –
Affiliate Network: In-house
Ledger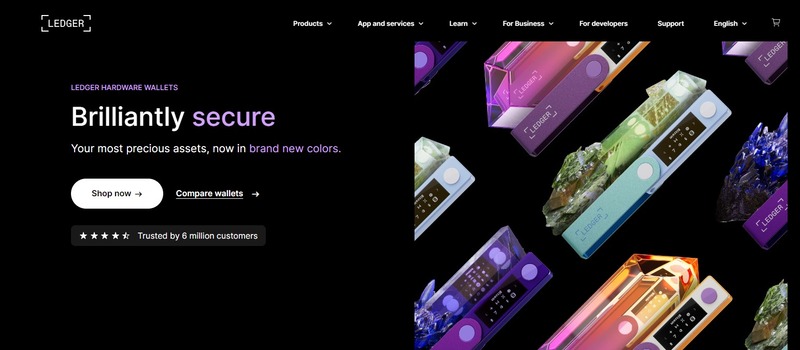 Ledger has nestled itself as the go-to solution for the security of digital assets.
Established in 2015, the company has consistently upgraded its offerings to safeguard users from the ever-evolving threats in the crypto world. Ledger Nano S & Nano X are best-in-class hardware wallets and you have the ability to promote them as an affiliate.
The Ledger Affiliate Program allows affiliates to access a unique referral link and invite their audience to shop for Ledger's world-leading products.
Signing up is a breeze – a three-minute form filling followed by identity confirmation gets the ball rolling. And just like that, your personalized dashboard sprouts your affiliate link – ready for sharing!
Each successful sale via your ​affiliate​ link earns you a hefty 10% commission — in Bitcoins.
But that's just the beginning. The partnership opens a treasure trove of perks: free Ledger devices, invites to exclusive Ledger events, sponsorship opportunities, and community giveaways.
You also access a range of promotional instruments – banner creatives, links, videos – to augment your marketing efforts (with the help of a dedicated support team).
Commission Rate: 10%
Cookie Duration: –
Affiliate Network: In-house
Phemex
Phemex was launched in 2019 by a group of former Wall Street investors and traders.
In short, it's a cryptocurrency and derivatives trading platform. And just by getting others to sign up and trade using your affiliate link, you can bag a handsome commission of 30-50% on all their trading fees.
You also earn an additional 10% commission from the networks of your sub-affiliates.
You can freely convert your commissions into xPT, thus getting yourself a stake in Phemex's promising token.
Your invitees are lined up for a carrot on the stick too – when they sign up through your link, they get up to 100 million Phemex Token Airdrop plus $60 in welcome rewards!
If you have a social media presence or are an active community member, you can apply to be a Phemex affiliate. Your application will be reviewed within a day.
Commission Rate: 30-50%
Cookie Duration: –
Affiliate Network: In-house
KuCoin
KuCoin has emerged as a trustworthy platform since its beginning in 2013. The platform offers a myriad of services such as spot and derivative trading, lending, staking, and more.
But, KuCoin is not just about being an outstanding exchange – it also houses a rewarding Affiliate Program.
By referring people to KuCoin, the program lets you earn up to 60% of your referrals' trading fees in commissions. That could escalate your earnings quite swiftly, considering KuCoin's extensive trading options.
You also get to earn commission from your sub-affiliates. If your referrals turn into KuCoin affiliates themselves, a portion of their earnings trickles down to you.
Becoming a part of this program is straightforward. Individuals with a reasonably active community, media influence, or similar resources can apply to be a KuCoin affiliate. Once you have a referral link, earning becomes as simple as having users sign up via your link and make trades.
Commission Rate: 60%
Cookie Duration: –
Affiliate Network: In-house
Frequently Asked Questions
What is a Crypto Affiliate Program?
A crypto affiliate program is an arrangement where a cryptocurrency platform pays out commissions or rewards to affiliates (individuals or entities) for referring new customers or users.
How do I earn from a Crypto Affiliate Program?
When you become an affiliate, you'll get a unique referral link. You'll earn commissions when people sign up or make transactions on the crypto platform using your link.
How much can I earn from a Crypto Affiliate Program?
Earnings can depend on the specifics of the program, the transaction volume of your referrals, and whether you earn from sub-affiliates. Earnings can range from a small percentage to more than 50% of transaction fees.
Are Crypto Affiliate Programs legit?
Yes, affiliate programs run by reputable crypto platforms like KuCoin, Ledger, and Phemex are legitimate and can be a reliable way to earn income.
Who can become a Crypto Affiliate?
Anyone. However, those with an established audience like bloggers, influencers, or community leaders usually find more success due to the ready audience for their referral links. Some programs may have specific eligibility requirements and you should check each individually.
Where can I start a Crypto Affiliate website?
Platforms like Wealthy Affiliate (more about this below) can help you start a crypto affiliate website even if you have no coding skills. They provide hosting, website building, and SEO tools.
How To Start A Crypto Affiliate Website
Starting a crypto affiliate journey has never been easier.
If you're keen on exploring the crypto niche and are wondering where to begin, I have a detailed guide for you:
Start building your crypto affiliate website for free.
It comes with step-by-step training, website hosting, SEO tools, and a community of like-minded affiliates to help you build, manage, and scale your affiliate website.
Once you have the foundation up, you can consider partnering with the above-mentioned reputable crypto platforms. Their affiliate programs can funnel steady income your way.
Check it out before you go!