Are you interested in promoting & making money with all things related to dancing?
Although dancing might sound like a cheap and fun thing to do (which it can be), the fact is that there's big money involved in teaching, clothing, and dancing equipment.
This brings great opportunities for aspiring affiliates (like you) to monetize their website, social media, or YouTube channel with affiliate marketing all the while doing what you love the most.
Today, I've done the legwork for you by finding & researching 10 worthwhile dancing affiliate programs you can join and start promoting to earn some very generous commissions.
At the end of this post, you'll also find resources if affiliate marketing is something you'd want to get started with so you can build your own (dance) affiliate website.
Without further ado; below you can find a list of various dance-related affiliate programs including online dance courses, clothing, dancing gear, & much more.
10 Dance Affiliate Programs To Promote
Open Dance Academy
X-Pole
Pole Fitness Dancing
Passion 4 Dancing
Dance Ranch
Wedding Dance Tutorial
Dancing For Birth
Danzia
LupitPole
I Love Dance Shoes
Open Dance Academy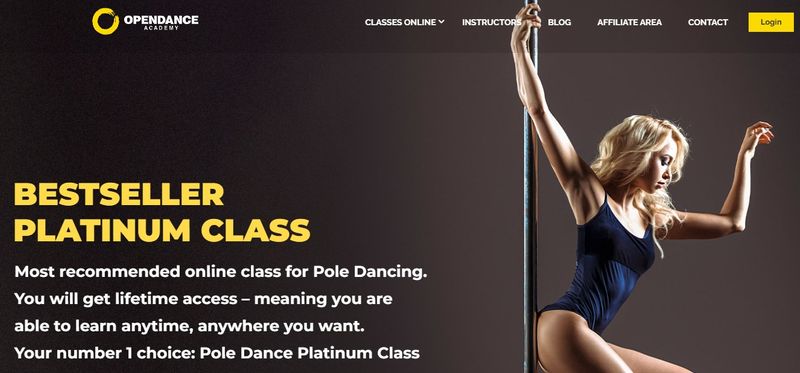 Open Dance Academy offers online pole dancing classes for all skill levels.
The lessons are in video format and you get to learn from real professionals and world champions. You can start learning from the lessons at your own pace whether at home or in the gym with friends.
Currently, they have 27 courses available and prices range from $40 to $350 per course. You have the opportunity to earn some decent commissions here, especially by promoting the higher-end products.
If you want to become an affiliate, you can fill out an application on their website where they ask for basic stuff like payment details and how are you going to promote them.
They pay 20% commissions on all course purchases made through your affiliate links. New customers also get a 10% discount if they use your link so that's something you can use to incentive people to buy.
The commissions are paid via PayPal and you also get access to promotional material such as banners, images, and video content.
20% Commissions
Cookie Length: –
X-Pole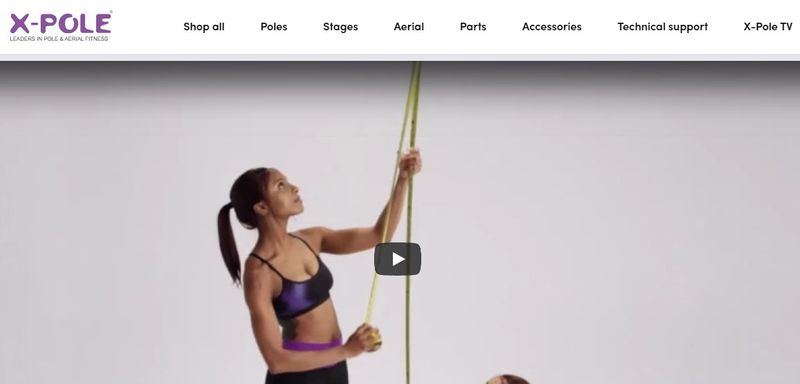 X-Pole was founded in 2004 and is one of the leading pole and aerial equipment suppliers across the globe.
In their online store, you can find poles, stages, aerial equipment, spare parts, & accessories. Basically everything you need to get started in pole dancing.
They also have a subscription service called X-Pole TV where you can learn pole dancing online. You get access to a library of over 1,000 video tutorials taught by professional instructors.
You can become an affiliate for them by filling out an application on their website. It's free and you also get access to a bunch of promotional material once you get accepted.
X-Pole doesn't pay percentage-based commissions at the moment. They pay a flat rate depending on the type of product the customer buys:
Sport pole – $20 commission
Expert pole – $30 commission
Stages – $70 commission
Pole Fitness Dancing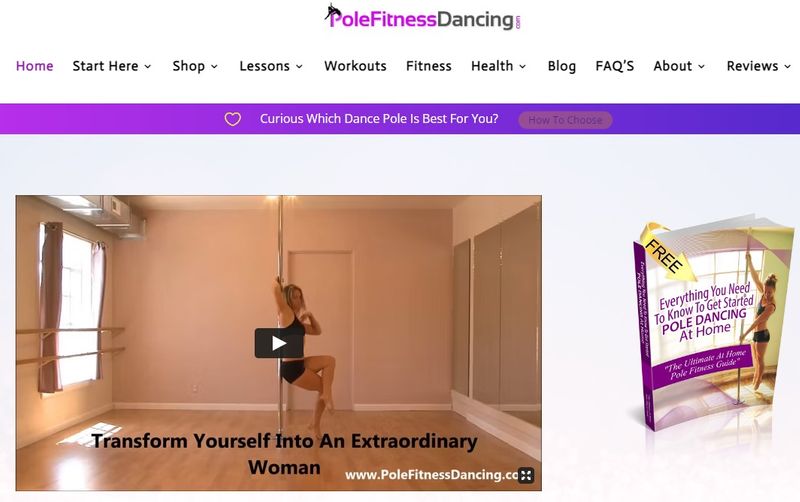 Pole Fitness Dancing is a supply store for pole dancing equipment & clothing, a resource for learning pole dancing online, and also a blog.
It was founded by Danna Rossi who is a certified pole dance teacher. The online lessons are aimed at everyday women who want to get into shape in the comfort of their homes.
Although they're running an online store, the affiliate program is only available for pole dancing lessons at this time.
You can promote their products by joining the ClickBank affiliate network which handles the payments, tracking, & reporting for affiliates.
Currently, the course costs $47 and you can earn 75% commissions on all sales made through your links. With this price structure, you can make $35.25 for each sale.
75% Commissions
Cookie Length: –
Passion 4 Dancing
Passion 4 Dancing is a subscription service for learning how to ballroom dance online.
It was founded in 2009 by Leon Turetsky who is a professional dance instructor and runs Leon's Dance Center in Boston MA.
The online course teaches all the most popular Latin & ballroom dances (21 dances currently available) with 300+ HD videos and new dance lessons coming every month.
The membership costs $197 for a yearly plan and you can earn 35% commissions per sale and 25% on any upsells. Your cut would be at least $68.95 for one sale.
What makes this product lucrative to promote is the chance to earn recurring commissions from the yearly subscription renewals.
You can apply to the affiliate program on their website and you must wait to get approved first before you can start promoting.
35% Commissions
60-Day Cookie Length
Dance Ranch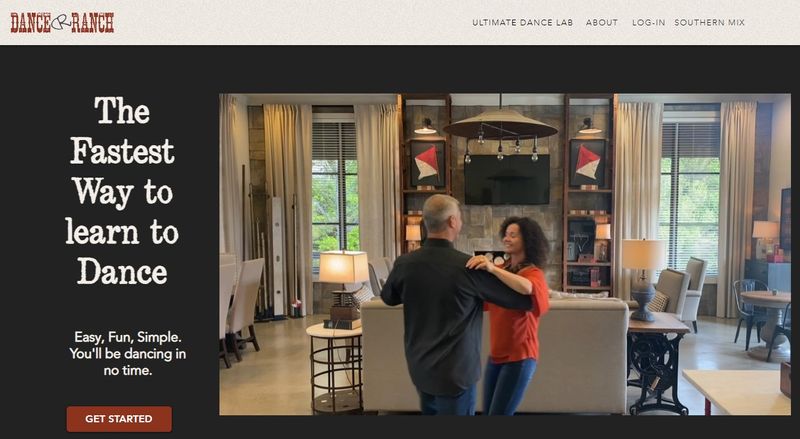 Dance Ranch is an online course for learning couples dancing at home for social, wedding, or special events.
The course is created by Walt Steve Edwards who is a professional dance instructor and has taught couples dancing for 30 years.
In the course, you can learn 6 different dances:
Night Club 2
Cha Cha
Waltz
Two-Step
West Coast Swing
& East Coast Swing
Overall, there are 200+ lesson videos and you also get tons of extra content such as choreographies, wedding extras, and tips & tricks.
This course costs $997 making it a "high-ticket" product for affiliates and you can expect to earn great commissions by promoting it.
You can apply to the affiliate program directly on the website and they pay a generous 10% commission for each sale. This means you can earn $100 for each sale, not bad!
10% Commissions
60-Day Cookie Length
Wedding Dance Tutorial
Wedding Dance Tutorial is an online course for beginners who want to impress their guests on the wedding dance floor.
The course was created by Anthony Auffret who has taught dance classes and workshops around the globe since 2004.
As a member, you get access to 25+ lessons and 1.5 hours of video material. The course also comes with a 7-day free trial which makes it a bit easier to promote.
The customers have 3 payment plans to choose from:
Bronze – $49.95/month (access to all the video tutorials)
Silver – $199 single payment (2-month access to video tutorials, led by a choreographer, submit videos of progress for feedback)
Gold – $697 single payment (access to tutorials until the wedding day, led by Anthony + direct access to him, regular feedback)
When you become an affiliate, you can earn 30% commissions on all 3 plans including possible monthly renewals.
One huge minus of this program is that it costs $10 to sign up as an affiliate. It's a somewhat unethical practice in the industry so make sure to research the company thoroughly if you intend to promote this product.
30% Commissions
Cookie Length: –
NB: Costs $10 to sign up.
Dancing For Birth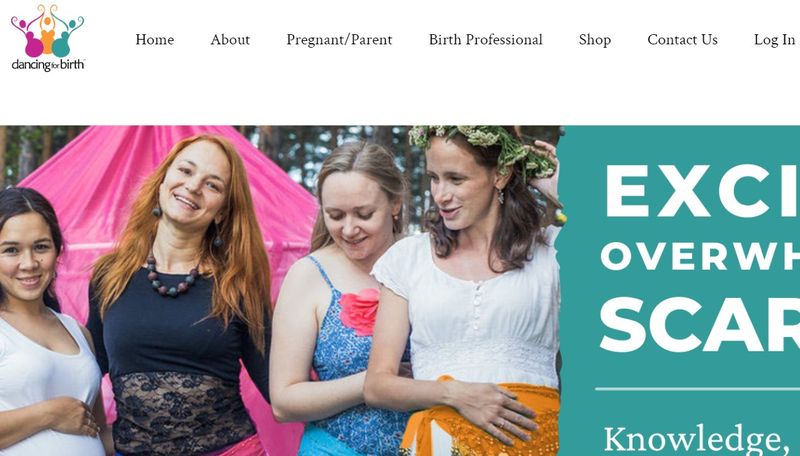 Dancing For Birth is an all-in-one class for pregnancy, postpartum fitness, & education. In short, it teaches simple dance moves for an easier birth.
Now, this is something I haven't seen before so I had to include it in the list for its uniqueness.
Dancing For Birth was founded by Stephanie Larson in the US in the early 2000s and their teachings are proven to decrease labor pain and improve birth satisfaction.
The weekly classes can be attended in-person or virtually online.
You can join their affiliate program directly on their website and earn 10% commissions on all registration fees. These registration options range from $279 to $499 so you can expect to earn ~$28-$50 per sale.
10% Commissions
90-Day Cookie Length
Danzia
Danzia is a US-based online store selling dancewear, dance costumes, & other dance supplies and solutions.
All the products are categorized by dance and music genres so it makes looking for products easy. The products are mainly for women and children, but there are some for men as well.
Their affiliate program is on the ShareASale network and you can join them for free and start earning 6% commissions on all purchases made through your affiliate links.
You're also provided promotional material once you get accepted into the program.
6% Commissions
7-Day Cookie Length
LupitPole
LupitPole is an online store that sells high-quality pole dancing equipment such as:
Home, stage, studio, & competition poles
Crash mats
Grip pads
& Aerial equipment.
The company was founded by Jani Stepec & Iztok Vodicar and they're headquartered in Slovenia.
What makes this a worthwhile option for affiliates is the possibility to earn high-ticket commissions. Some of the poles cost over $1,000 and you can earn 10% commissions with their affiliate program.
A small drawback would be that the minimum payout is $500 so you'd need to be established before you can receive consistent payments each month.
You can join their affiliate program by making an account on their website and you'll be accepted once your website is approved.
10% Commissions
30-Day Cookie Length
I Love Dance Shoes

I Love Dance Shoes is a Canadian online store that sells men's & women's dance shoes for beginners and experts.
They have shoes for:
Salsa
Ballroom
Latin dance
Argentine Tango
& Swing, and many more.
As an affiliate, you can earn 10% commissions by promoting these products. Some of these shoes can cost quite a bit so there are decent commissions to be made here.
The customers also get a $10 discount when they use your affiliate link so that's something you can use to get people to buy through your links.
The registration for their affiliate program happens on their website and it's completely free. You just have to wait 1-2 business days for approval and you're good to go.
10% Commissions
Cookie Length: –
How To Start An Affiliate Website Around Dancing
Dancing is a versatile niche where you have tons of angles & verticals you could focus on as an affiliate.
For example, you could create dance tutorials and tips around some specific dance genre and promote online dance courses. Or you could simply review dance clothing & gear and use affiliate links to promote those specific products.
You could even do both if that's your cup of tea.
What makes this niche so good is certainly the combination of high-ticket products and recurring commission structures. There's some big money to be made in this niche.
If you have a website, YouTube channel, or social media, you probably already know what to do next with these 10 dance affiliate programs.
But if not, I'd like to show you where to get started if you want to promote these programs (successfully) using the affiliate website route;
Start your very own dance website and make money.
---