Have you seen the Bitcoin prices recently?
In just one month the price has jumped from ~$10k to ~$18k — that's a nearly all-time high record.
I'm sure some people right now are popping the Dom Pérignon and having the best time.
Since Bitcoin is bubbling at the moment, there is no better time to bring you my EarnCrypto review; a site that allows you to earn almost every cryptocurrency ever created.
It sounds good on the paper, but let's find out how legit it really is and if it's worth getting into.
Let's start with the basics.
What Is EarnCrypto?
EarnCrypto is a typical GPT-site (get-paid-to) but instead of getting paid in money or gift cards, you can get paid in your chosen cryptocurrency.
Currently, there are 68 currencies to choose from, and over 200 that are to be integrated when enough people vote for them.
How do you earn these cryptocurrencies then?
As I said that it is a typical GPT-site, so you will be doing simple tasks such as:
Filling surveys
Downloading apps
Watching videos
Playing games
Data entry jobs
Completing offers, etc.
I will go into more detail on these later.
According to the site's about page, it is currently in early beta development which I find a bit weird since it has been out for 7 years already. If I had to guess, they have forgotten to change that.
Anyways, their goal was to create a site where anyone can earn and get their first experience with cryptocurrencies without spending real money — and that's indeed what you can do.
The site is free to join and available in every country.
How Can You Start Earning Cryptocurrencies?
Getting started with EarnCrypto is rather simple and fast.
Below I will run you through the process and show you the different earning methods available.
Step 01 – Registering An Account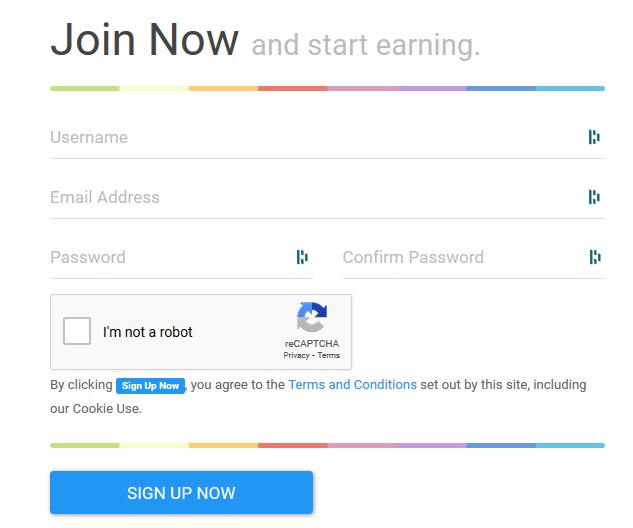 Here you simply fill out your username, email address, and password to get started.
Remember to not use VPNs or proxies when using any rewards site because you will get banned for doing that.
Also, only use one device to access EarnCrypto. Completing offers from multiple IP-addresses will also get you banned.
Step 02 – Selecting Your Main Currency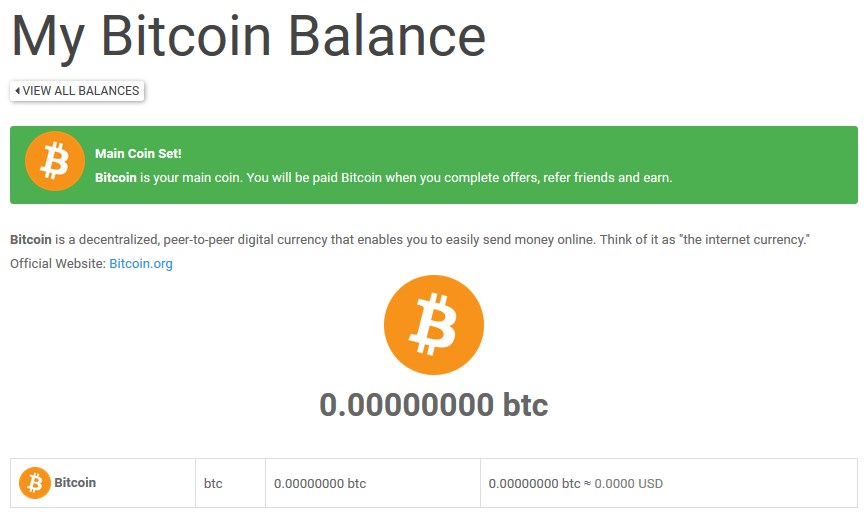 Next, you have to select the main cryptocurrency that you will be earning from completing different tasks and offers.
There are quite many to choose from, so if you don't know what to select; Bitcoin is a reliable choice.
You can always change the main currency later if you want.
Step 03 – Start Earning
Now that you have an account and main currency selected, you can start earning with the various methods the site is offering.
Below I'm going to go through the different methods and what you should know about them.
Offer Walls
Offer walls have a wide variety of tasks to complete for points. These tasks can include anything from completing surveys, installing mobile phone apps, watching videos with ads, trying out free trials of products, and even gambling.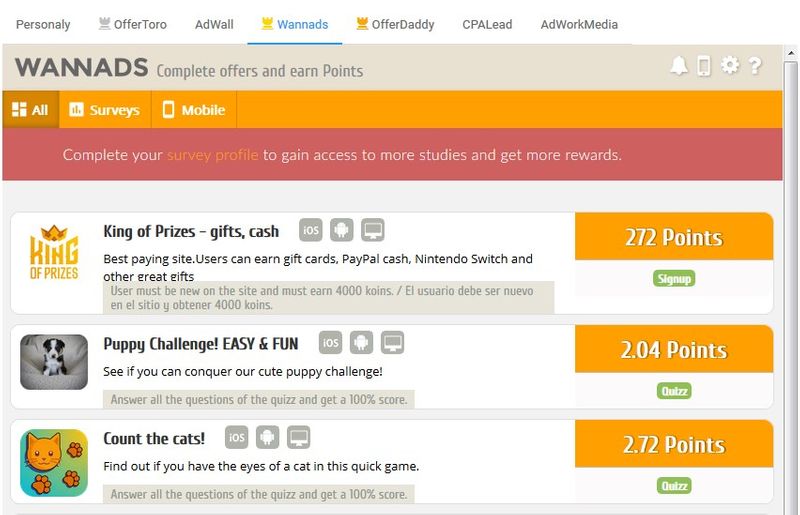 EarnCrypto has 7 widely-known offer walls available.
These offers are provided by 3rd-party market research companies that EarnCrypto has partnered with.
Whenever you complete an offer, you and EarnCrypto will get paid by the market research company.
Each offer wall has 10-50 tasks and they all provide a different amount of points. Typically, one task can earn you anywhere between 1-1000 points.
As you complete the offers, the points are converted into the currency you selected.
For example, I selected Bitcoin as my currency, so each point for me is worth 0.0000005 Bitcoin.
If you are wondering why there are so many zeros, it's because just one Bitcoin is currently worth $18k and each point is worth around 9 cents.
Something worth noting is that some tasks offering high points may require you to spend money before you earn the points. It's not ideal to do those if you are looking to earn cryptocurrencies.
Also, pay attention to the free trials as they might start billing you if you do not cancel them before the trial runs out.
Surveys
Surveys are provided by market research companies who want to collect a particular group's personal/economic habits or opinions about specific products or services. They will basically reward you for taking the time to answer questions.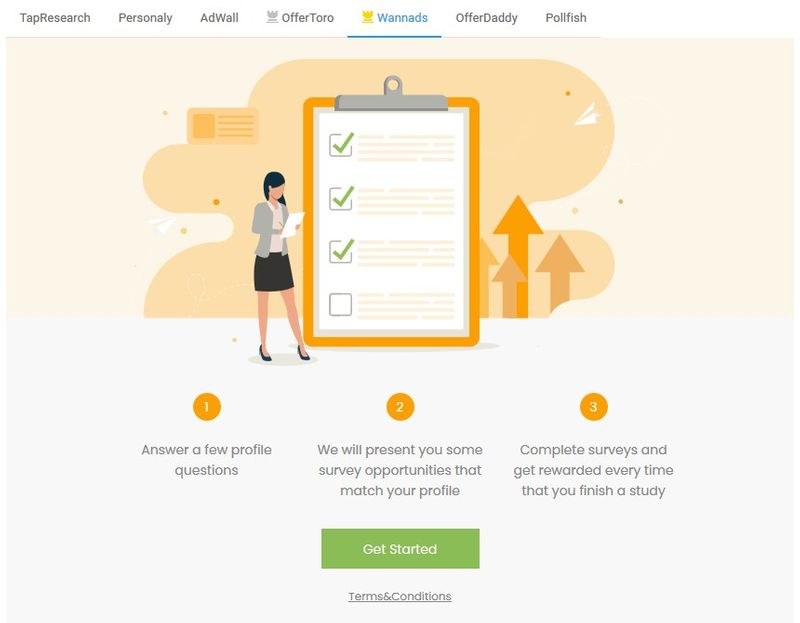 There are also 7 survey providers in EarnCrypto.
If you have never done surveys before, here's how they work;
When you choose a survey provider, you will be asked personal and financial questions to determine if there are any suitable surveys for you. If there are; you will be taken to the actual survey and then you have to answer some more questions about some specific subject.
The questions are typically answered with simple tick-boxes, but sometimes you may have to type your answer. Once you are done, you will receive your points once the market research company approves your survey. This can be instant or delayed.
Surveys typically take anywhere between 5 to 60 minutes, and the more effort it takes the more points it usually rewards.
You can earn around 5-50 points per survey on EarnCrypto.
Jobs

These are an interesting aspect of EarnCrypto as people can post custom jobs that almost anyone can complete.
The jobs that are currently listed require you to sign up for another GPT-sites using the job posters referral link.
I would say these are a fairly easy way to earn some points, but at the moment there are just three of them.
Data Entry

Here you can earn points by doing some data entry work on a platform called Type Is Money.
The idea is simple; type what you see inside the red-lined box. These are typically names, addresses, phone numbers, etc.
You earn something called PP where 200 PP is equal to 1 point. As long as you earn over 10 PP, you will get credited the next day.
It's a decent way to earn points, but my god it's repetitive.
Sometimes you might also encounter problems if a name has a special character that your keyboard may not have (as it happened to me).
Also, it only seems to work with the Google Chrome browser.
Watching Videos
HideoutTV and OfferToro Videos allow you to watch videos and earn points.
It's quite a passive way to earn, but the amount of points you get is not much.
You can simply put the videos to play in the background without even looking at them. These video platforms have never worked for me so I can't say much about them.
The Referral Program
The referral program is another way to earn passively and this can earn you the most if you have an audience whom to promote.
If you don't know how referral programs work; you share your unique referral link and when people join through that link, they become your referrals and you earn 10% commissions from every offer they complete.
For example, if your referral completes an offer that rewards 100 points, you would receive 10 points without doing anything.
Many people are earning a full-time income with referral programs and it is actually very similar to what I'm doing with my online business. If you would like to do the same, you can learn more here.
How Can You Get Paid?
When you have collected enough points, it's time to withdraw your earnings.
And since we are dealing with cryptocurrencies, you would need a crypto wallet where you store the currency.
The minimum withdrawal with Bitcoin is 0.0010000 BTC and with the current rate, it translates to 18 dollars.
The transaction fee is 0.0001000 BTC = $1.82
Withdrawals are processed within 7 days, which is pretty slow compared to many competitors.
I have to say the minimum withdrawals, transaction fees, and processing times are not the best I have seen.
You may get better rates with a lesser-known currency though.
Is EarnCrypto Legit?
I do think they are legit, but some areas need improvement.
For starters, it can take up to 7 days to get your withdrawal request processed. Sometimes they apparently "forget" and you need to email customer support to get the process moving again.
Some people have also said that they sent multiple customer support tickets and didn't receive an answer for a long time, but eventually they got paid though.
The site's front-page does have a live feed showing that around 5-10 payments are processed per day, so at least they are doing something.
There are certainly many people completing offers inside the platform, but maybe the minimum withdrawals are just so high that not too many people are reaching the threshold every day.
It's hard to tell what is at fault here since there aren't too many user reviews.
Overall, I think you will get paid eventually if you read and follow the rules. New users often have to build trust before they are whitelisted. That's something I have learned over reviewing many GPT-sites.
Is It Worth Joining?
If you want to get a feeling of what is it like to own some cryptocurrencies without spending real-life money, then it could be worth a shot.
You have to grind the offers for a while though since the minimum withdrawal thresholds are quite high ($18 for BTC).
You could also benefit (or lose) from the fluctuating prices of cryptocurrencies.
Overall, I'm not a huge fan of the high minimum withdrawal threshold, high fees, and long payment processing.
It's worth saying that you won't make a lot of money with any GPT-site on that matter.
It's supplement cash at best, and quite grindy and repetitive to be honest, at least in my opinion.
That's also the reason why I don't spend my time with these sites anymore because my time is better spent on better-paying methods. If you feel the same, I have an alternative for you.
See How I Make Money Online
If you are tired of the hassle that comes with completing offers and the general low earning potential of GPT-sites, then you may be interested in my method — it's not with rewards sites though.
I do something called affiliate marketing.
It may sound intimidating and hard to do, but trust me; it's not.
I create simple websites that go on generating me passive income even when the initial work is done.
The method is flexible and can earn a full-time income when done correctly.
If that sounds interesting, you can see this video training course that has everything you need to get started. It's free to join, so you don't have much to lose.
I started with the same course in 2018 as a complete beginner, and I'm still a member because it's that good.
That's all from me.
Thanks for reading my EarnCrypto review, and if you have any questions you can ask them below.
See you soon.