Is your wallet empty but you are drooling over those cool CS:GO skins?
GamerMine says they have a way for you to earn these digital items for free by completing simple surveys and offers on their site.
Sounds like a good deal to any gamer but how realistic this really is?
In this GamerMine review, I am going to find out if GamerMine is a legit platform to earn side-cash and if it's worth your time to sign up.
In this post, you will learn:
What is GamerMine (& how does it work)
Is GamerMine legit?
How much can you earn
How can you get paid
Is it worth joining?
I am also going to show you how I personally make money online rather passively that leaves me time and money to spend on my hobbies (as I happen to be a gamer myself).
Let's find out if GamerMine is really as good as it sounds.
GamerMine Review Summary
$0
Earning Potential

Payment Systems

User Experience

Amount Of Task Providers
GamerMine TLDR;
Earn gold by completing surveys and offers (& by playing Steam games)
Safe and well-maintained platform to earn + instant withdrawals
A very engaging site with MMO-aspects (inventory system, buffs, level system, XP)
Rewards users with better earnings who put in the effort to level their account
Can be time-consuming and grindy with low earning potential.
What Is GamerMine?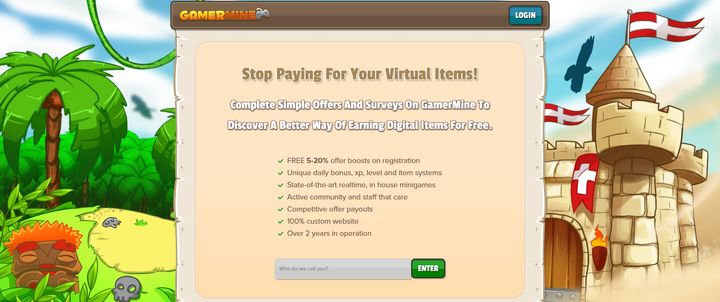 GamerMine is a GPT-site (Get-Paid-To) where you can earn side-cash and rewards by completing various tasks.
These tasks include:
Doing surveys (get paid to give your opinion)
Completing offers (downloading apps, signing up for free trials, etc.)
Watching videos
And even gaming
The site was created in July 2017 by a small team of website designers and developers who are also gamers.
The first thing you notice on the site is that it is 100% custom made, which makes it very personalized and allows them to implement unique systems into the site.
One unique aspect is the inventory system where you can collect buff items that give you temporary boosts increasing your earnings from offers for a while.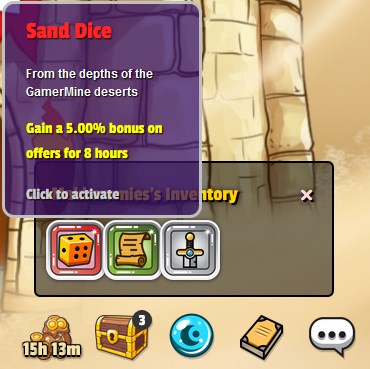 Another one is the leveling and XP system but more about that later.
Is GamerMine Legit?
The site is only 3 years old and not very known (at the time of writing this), so it is only natural to be skeptical since there are so many reward site scams out there such as Earn2Flex and WiredBucks.
But so far, GamerMine is a legit rewards site that is known for providing a safe and well-maintained platform to earn online.
You can usually tell from angry customer feedback when users have not received their funds, and I haven't seen any complaints about GamerMine in that regard — and I hope it stays that way.
The staff has also provided screenshots of their processed withdraws as proof since they are aware that some other platforms have run away with their users' funds.
Additionally, the staff has said themselves that they really do care and are dedicated to improving the platform based on user opinions, which is good to hear.
How Do You Get Started With GamerMine?
Getting started with GamerMine is fast.
You simply enter a name, and you are inside.
I still recommend that once inside, you enter your email address and create a password in your profile immediately. This allows you to log in at a later time and is required before you can cash out your earnings.
Once you do that, you just need to head over to your email and activate your account by simply pressing the verifying link that was sent to you.
What's Available & How Much Can You Earn?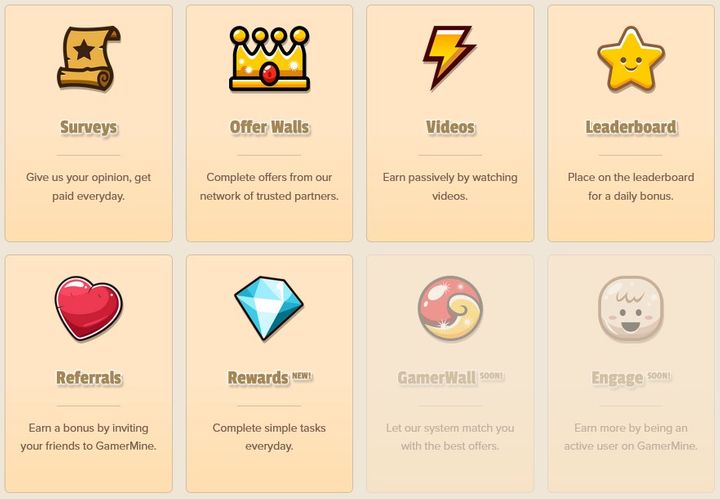 Now I'm going to go through what kind of earning methods does GamerMine have available and what kind of earning potential comes with each method.
Typical to most GPT-sites, GamerMine also has its own currency called gold.
Currently, 1,000 Gold is equal to $1.00
01: Surveys
Pretty much every GPT-site has surveys available, and in these, you first have to give some personal information about yourself, and then you will be given matching surveys to fill out.
You basically have to tick answer boxes or sometimes write your opinion about whatever the survey is asking for. Once you are done, you will be rewarded with gold in GamerMine.
GamerMine has four survey providers available with two of them locked until you earn 5,000 gold.
These two locked survey providers have higher-paying surveys, and I think it is a good thing that they are "gold locked". High-paying surveys are usually limited in quantity, and this system rewards those who put in the effort to reach that point.
How much gold can you earn with surveys then?
The "normal" surveys without entry-restrictions can reward you anywhere between 63 – 1711 gold per survey, but this can vary depending on where you live in the world.
The "premium" surveys can pay up to 4,000 gold or more.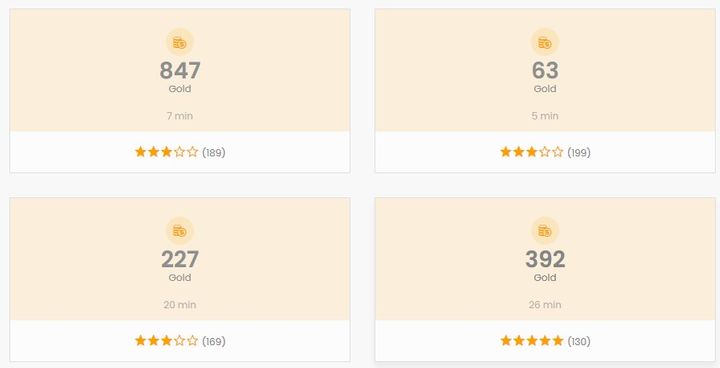 Something worth noting is that the people living in the US often have the most surveys available to them. Some developing countries might not have any at all.
02: Offer Walls
In offer walls, you can find many different tasks to complete.
These can include surveys, mobile phone app installs, signing up for free trials, or playing games to a certain point, and even spending money on online casinos.
Offer walls also come with their set of problems which I'm going to talk about soon.
GamerMine has 12 offer walls from well-known providers, with 2 of them also locked behind gold requirements.
You will most likely find the highest paying methods in the offer wall section but there is a catch.
These offers that reward you 5,000 – 20,000 gold almost always require you to spend real money before you receive the gold.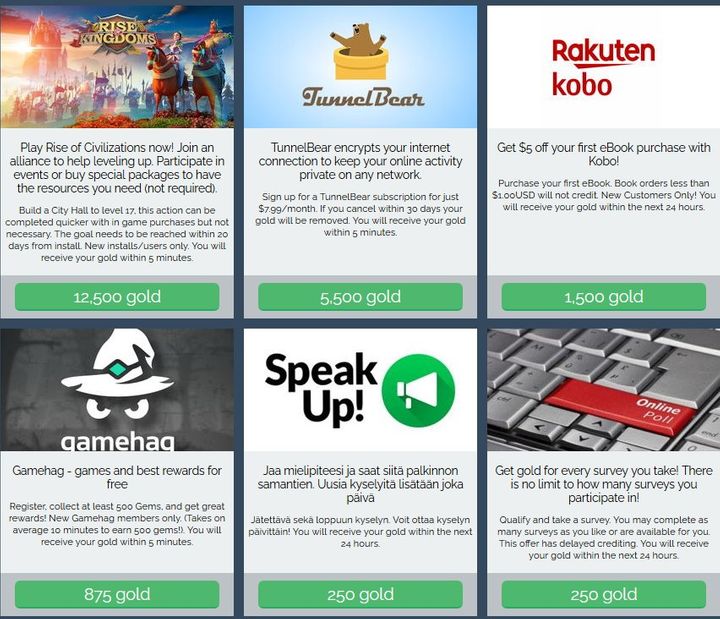 Another problem with offers are the free trials that start charging you after the free trial ends. People often forget to cancel the trial, and you basically lose the earnings you might have earned from that task.
If you are going to do offers, it is crucial that you read the requirements for gold compensation and that you remember to cancel any trials before you get billed.
The earning potential for offers per task can range from anywhere between 63 gold up to 20,000 gold.
03: Videos
Watching videos with ads is a passive way to generate gold in GamerMine.
It's not the fastest way when compared to surveys or offers, but you can pretty much leave the video in the background muted, and you will generate gold automatically.
GamerMine has two video platform partners called Hideout.tv and VideoFox.
Hideout.tv has 12 different channels in different categories that you can watch to earn gold. You will earn 5 gold per 3 ads.

Unfortunately, I can't test this further because the opportunity is not available in my country.
VideoFox is also available to the people in the US only, so I can't say much about it except that you earn 10 gold per 20 minutes of watching.
04: Rewards By Gaming
Now, this is a pretty neat system in GamerMine that I haven't seen elsewhere.
You can earn daily gold passively by advertising GamerMine in your Steam name and avatar. You can also earn gold semi-actively based on your 2-week playtime on supported games.
The gold earning rates for these are:
50 Gold/day for including GamerMine in your Steam name
25 Gold/day for uploading GamerMine avatar
50 Gold/day for playing popular game titles
Here are the supported games:

The downside of this method is that you will be a walking advertisement poster where ever you go, but if you can put up with it, it's a decent way to earn passive gold.
I can imagine that if you combine this with watching videos and filling surveys the gold starts to add up quickly.
05: Dice & Coin Flip Gambling
There is one thing I find a bit weird about GamerMine.
Their brand is focused on gamers, but the site doesn't have any games.
I wouldn't call dice & coin flip gambling real "games" but that's what we have here.
Both games are very simple.
In the dice game, you first choose the gold amount to bet. Then you choose to roll either under 49 or over 51 with both having a 49% chance of winning. By winning you double your bet, and if you lose, you lose the bet.
The coin flip game is something you play against another player. First, you insert the gold amount to bet, and then you have to choose either gold or red coin. This creates a game room where someone can join and flip a coin with you for the gold amount you chose at the start.

It's a simple 50/50 coin flip game, and there is not much else to it.
Are these two "games" good ways to earn gold?
Well, I would say no since you have the chance to lose gold. Gambling is fun though, and you will receive XP from these activities, which I will explain next.
Level System & Daily Rewards
GamerMine resembles a traditional MMO-game to some extent with its 100% custom made site.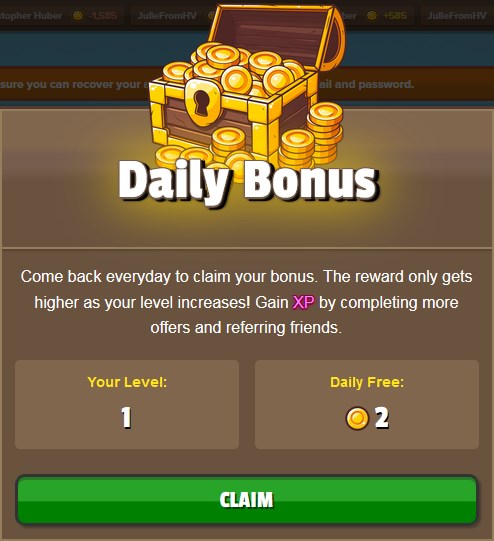 It has a level system, daily rewards, and even an inventory to hold your buff items.
When you complete offers, claim dailies and play minigames you receive XP (experience) which is required to level up.
A higher level will grant you more gold from daily rewards, offers, and your referrals. You will also receive a chat badge representing your level.
Here you can see the levels, XP requirements, and how much your earnings will increase as you level up:

The XP you gain from activities is roughly equal to the amount of gold you gain. For example, if you get 100 gold from an offer completion, you would also receive roughly 100 XP.
The Referral Program
GamerMine also has a referral program that allows you to earn gold somewhat passively.
It works by sharing your unique referral link, and if people join through that link, they will receive exclusive bonus items to get started, and you will earn 5% of their offer completions for life.
How it works in practice is that if your referral completes an offer and earns 1,000 gold, you would receive 50 gold from that (the referral won't lose any gold).
To make use of the referral program effectively, you would have to have an audience (social media following, a website, or an email list, etc.) to promote your referral link.
The commission structure in GamerMine is unique in a way that your referral earnings will increase as you level up with XP.
The 5% commissions you receive as a bronze level is not much, but as a diamond level, you would receive 15% commissions from your referrals, which is starting to be much more competitive when comparing to other GPT-sites.
It takes a while to get to that level though.
Here are the levels and referral commission percentages:
Bronze – 5% commissions
Silver – 7% commissions
Gold – 9% commissions
Platinum – 10% commissions
Diamond – 15% commissions
How Can You Get Paid In GamerMine?
At the moment, you can get paid in cryptocurrencies or through PayPal.
There are also options to get paid in Amazon gift cards, and Lootbear or OPSkins, which are digital marketplaces to trade CS:GO skins. However, these are under maintenance and not available at the time of writing this.
The great thing about GamerMine is that all payments are processed instantly once your account is whitelisted. You need to earn $10 before you are whitelisted.
If you are not whitelisted, your cash out request goes through a manual review, which is usually processed in under 24 hours.
There are minimum withdrawals and small fees when requesting a cashout:
PayPal
Minimum withdrawal – 500 Gold
Fee – 250 Gold
Bitcoin
Minimum withdrawal – 1,000 Gold
Fee – 1,000 Gold
Ethereum
Minimum withdrawal – 1,000 Gold
Fee – 30 Gold
If you are interested in getting paid cryptocurrencies, then you would need to create a crypto wallet. Fortunately, Coinbase offers one for completely free.
The interesting aspect of getting paid in cryptocurrencies is that their price fluctuates constantly and you could benefit from it, or the opposite.
Are There Any Customer Complaints?
There weren't many complaints that I could find.
Some minor complaints were about lack of games despite being a "gaming" site, and I do agree with this one.
Another complaint that stood out was that withdraws weren't actually instant for some people.
As it turns out, you need to reach $10 in withdraws before your account is whitelisted for instant automatic withdraws. Before that, your withdraws go through a manual review process, which can take some time, but typically they have been processed in under 24 hours.
The manual reviews weren't always in place, but recently they have started doing that due to so many bots abusing the withdrawal system.
Pros & Cons Of GamerMine:
PRO: A Very Engaging Site
As a said before, this site works a lot like MMO-game, and those types of games are often very engaging.
You have an inventory, buffs, level system, XP, and even gold-locked "content" as in premium task providers, which grant better gold earning methods.
These additions make the "grind" more enjoyable compared to other GPT-sites.
The more time and effort you put into this site, the more you will be rewarded, and that's what I like about GamerMine.
PRO: Instant Withdrawals
Instant withdrawals are something to value.
I have reviewed GPT-sites where the users have to wait a week before their withdrawals are processed, and that is simply an awful user experience.
Despite having to earn $10 before you are whitelisted for automatic instant withdrawals, their manual review process is generally very fast, most of the time under 24 hours.
PRO: Passive Gold Earning Methods
I especially like how GamerMine has more than one way to earn passive gold.
The referral program starts with rather low commissions of 5%, but once you reach the diamond level, you can get 15% commissions that are starting to look much more competitive against other GPT-sites.
Even if you don't have an audience to take advantage of the referral program, you can earn up to 125 gold/day by just advertising GamerMine in your Steam name and avatar, and by playing supported games.
CON: Only Two "Games" Available
You would think a site that is branded for gamers would have some games available, but that's not the case, unfortunately.
Sure, there are two gambling games called dice & coin flip if you want to call those "games".
I think it would be a good addition to add some games that do not include the potential to lose your earnings.
CON: Can Be Time-Consuming
The problem with GPT-sites is that they can be very time-consuming and grindy at times, and there is not really a way around it.
Earning those few gold coins can be a real hassle sometimes. You might get disconnected in the middle of a survey or declined altogether. Sometimes you have to play a game to a certain level and you couldn't care less about the game.
It can definitely become a frustrating experience that leads me to…
CON: Limited Earning Potential
While you are spending a lot of time grinding and finding tasks with the best gold/time ratio, you are most of the time still rewarded with cents instead of dollars.
All that time-consuming grind is not very profitable nor rewarding.
It's a problem with every GPT-site though.
They are not the best opportunities to earn a full-time income or even a part-time income. Just side-cash at best.
Is It Worth Joining GamerMine?
If you are fine with the limited earning potential and time-consuming nature of GPT-sites, then it is worth joining for sure.
GamerMine offers some awesome engaging ways to make the grind more enjoyable, and it is a trusted platform that is known for providing a safe platform to earn.
And once you reach the $10 mark, your account is whitelisted for automatic instant withdrawals making the cash-out process effortless.
It will definitely take you some hard work before you can spend your earned money on those digital items like CS:GO skins.
I have used rewards sites in the past, but I don't find them to be worth my time these days. You may feel otherwise and have different motives though.
I felt like I was working way too hard for very little returns.
Not only did the tasks and games stop being fun, but I was also getting paid cents per hour while doing so.
And that's what these sites are aimed for; to earn a few extra bucks each month.
Back then I felt like my time was better spent on better-paying opportunities. If you feel that way as well, I have a worthwhile solution you should check out.
Do This To Earn Dollars Instead Of Cents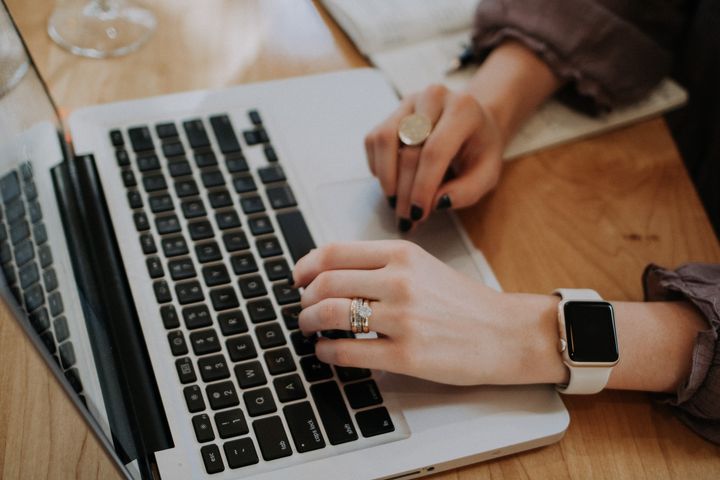 Now, before you head out to signup for GamerMine, I want to show you the method I use to make money online as I promised at the beginning of this post — it's not with rewards sites though.
I do something called affiliate marketing.
In short; I create simple websites that generate me money passively each month without much attention from me once the work is done.
You don't need any coding or other special skills to do that.
If that sounds interesting and is something you'd like to try out;
I have a free affiliate training course you can take to get started.
Thanks again for reading my GamerMine review, and I hope you learned something new.
Feel free to drop any comments, and I will gladly answer them.
Talk soon.