Welcome to read my WiredBucks Review!
Let me guess.
Someone tried to invite you to join this platform, or you saw a social media post saying how you can earn $200 in a single day or something along those lines.
I'm glad you decided to do some research first because the Internet is full of seemingly good opportunities like WiredBucks.
Today I'm going to show you what WiredBucks is really about, and whether it is a scam or legit way to earn money online.
In this post, you're going to learn the following:
What is WiredBucks?
Is it legit?
Problems I found
Can you make any money
How this site really works
I also want to show you how I personally make money online from the comfort of my home, alright?
Let's see what WiredBucks is all about.
WiredBucks Review Summary
$0
Earning Potential

Payment Systems

User Experience

Time For Money
Is WiredBucks Legit?
WiredBucks is not a legit earning site, and I do not recommend joining since your personal information might be at risk. The site belongs to a scam network where they create the same platform under many domain names. This makes it hard for the authorities to bring down the site.
No one has received money when they have requested a cashout
The owner of the site is unknown
The support is not answering messages
The site uses fake payment proofs
What Is WiredBucks?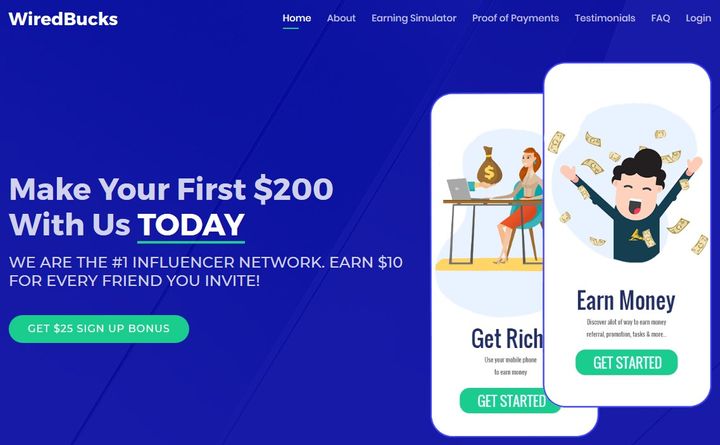 WiredBucks is claiming to be the #1 influencer network where you can earn up to $200 on your first day by simply inviting your friends to the platform. Other ways of earning include making promotional posts to social media and answering surveys.
It sure seems an easy way to make money online when you take a look at the earning potential here:
$10 for every friend referred
$2 for every click on your referral link
$50 per YouTube video
$30 per survey (3 available)
$20 for downloading apps
$10 for Instagram, Twitter, and Facebook posts
Now, if you did all these in a single day, you would be totaling a little over $200, but doesn't that sound a little too good to be true for so little work?
That's a lot of money to pay for a single user that has posted a few social media posts.
I wonder where WiredBucks gets all this money to pay since the platform is free to join, and there are not any paid services inside?
Let's see how legit they really are.
Is WiredBucks Legit?
I understand how opportunities like this can seem like the answer to someone who is financially in a tough spot.
WiredBucks knows this, and that's why they are using such language to lure people into their platform because they know it resonates with those people.
However, WiredBucks is not the answer to any financial problems because it is not legit, unfortunately.
The site belongs to a scam network that is known for not paying their users.
They create the same platform under many domain names, which makes it hard, if not impossible to bring down the scam network.
When one scam site is brought down, 50 more are running the same scam.
I have reviewed some of these sites already, and I feel like I'm only scratching the surface:
In the rest of the post, I'm going to go through some proof that this truly is a scam site.
Red Flags Of WiredBucks
#1 – The Domain Age
There is one easy way to tell if you are dealing with a potential scam site.
It's the age of the site.
I have noticed that most sites belonging to this scam network say that they've been around since 2015, but when you check the domain age, you can see they are not even 1 year old.
Now, WiredBucks doesn't directly mention 2015 anywhere, but they are claiming to be #1 influencer network. Surely they've been around for many years if they've achieved such a title?
See for yourself:
Surprise surprise… the site is a little over 2 months old. Who would have guessed?
How about the payment proofs then, surely people have made those sums, right?
Let's see about that.
#2 – Fake Payment Proofs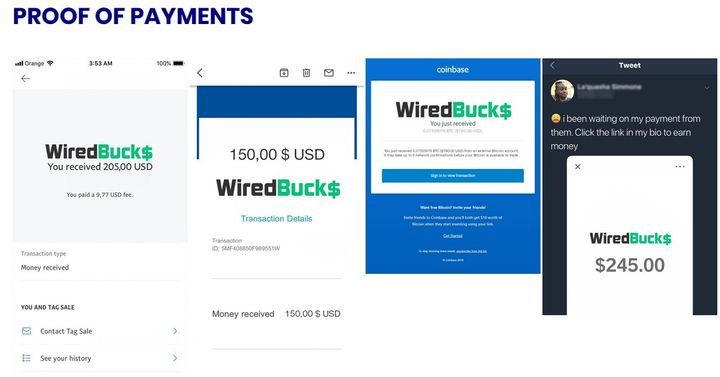 At first sight, these might look legit, but they are not.
Let's take the tweet on the right as an example.
First of all, why is she even making a sad face if she has just received $245 in payments?
I think the more realistic reason is that the image is edited.
Here you can see the same tweet from other sites belonging to the scam network that I've been talking about:
All these sites use faked and cycled payment proofs.
The sole reason for these fake payment proofs is that the site would appear more legit and authoritative.
If one of the payment proofs is fake, you can bet all of them are.
#3 – Unknown Owner
Since WiredBucks is calling themselves the #1 influencer network, how come we have no idea who is the owner behind the site?
Surely the owner would want to step forward and introduce him/herself for creating such a thriving platform.
I don't think that is going to happen…
This is usually always the case with scammy sites. The owner doesn't want to be associated with the site because there is something to hide.
If this site was actually legit, I'm sure the owner would have no problem coming forward.
#4 – Copy & Paste Clone Sites
I have gathered some images from the sites belonging to the scam network, and I would like to show you what they look like.
This is not a complete list, but you can see how they all have the same promises.
"#1 influencer network"
"Earn $200-$500 today"
"Earn $10-$30 for every friend you refer"
Here's the list:
CashForShare
JustEarn
KashTree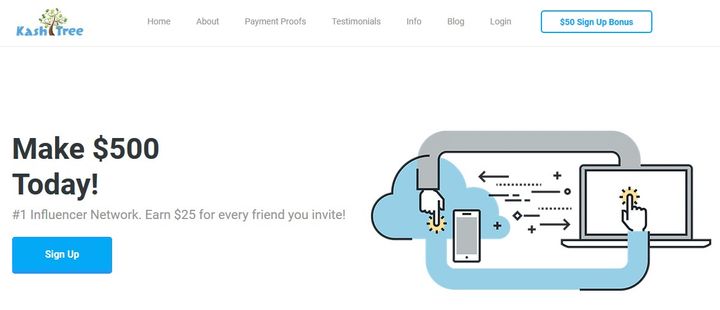 JustOG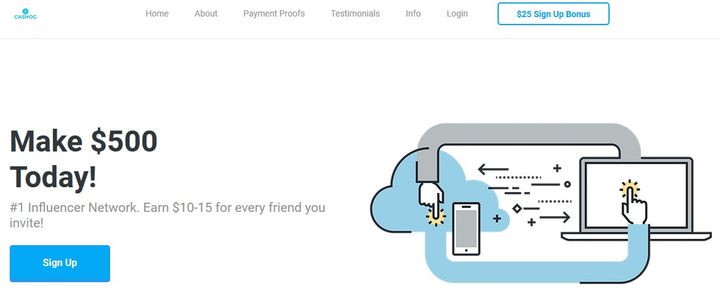 Tap2Earn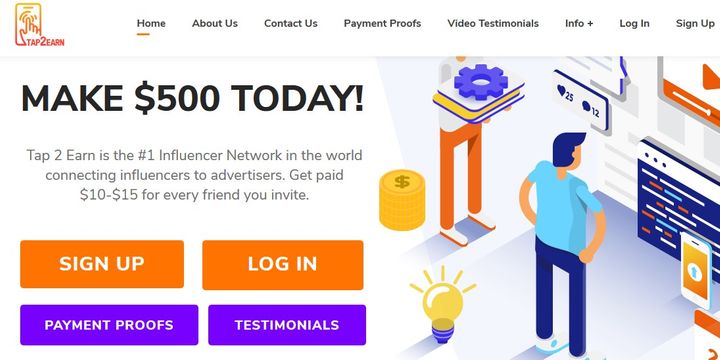 Click4Kash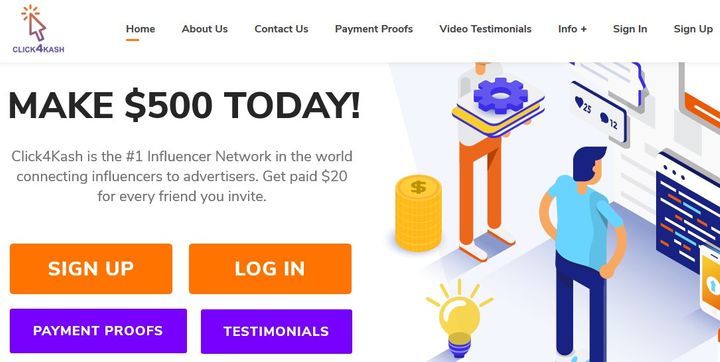 Tap2Cash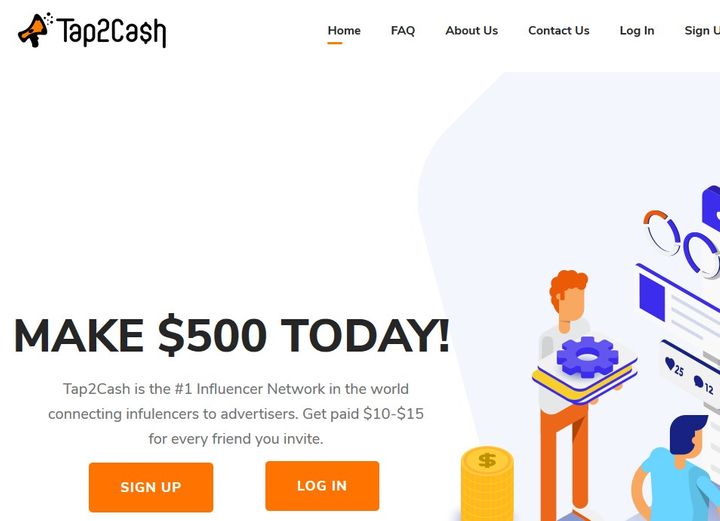 Can You Make Any Money With WiredBucks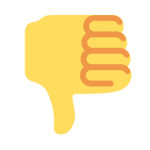 It's not possible to make any money with WiredBucks.
Let me explain what happens.
When you refer your friends to the platform or complete any other task that rewards money, your earnings number does go up, but the problems start when you want to cashout the money.
When you do request a cashout, you are placed into a 30-day manual review process where they check if you have used any fraudulent methods to cheat their system.
The thing is that even if you didn't cheat, your cashout request will be declined, or it will be postponed indefinitely.
The manual review process is so long for the sole reason that you would forget that you even requested a cashout. It's just another trick.
No one has received any money from WiredBucks or the other sites belonging to the same scam network.
It's the number one complaint you will hear from someone who has joined these scam sites.
How Does WiredBucks Really Work
You might be thinking why are they scamming people, and how do they benefit from this?
Let me explain how the scam works.
There are basically two parts to how this works.
Part 01 – The Traffic
The first part is all about luring people into joining by promising huge payouts for little work.
When people join, they are instructed to post promotional posts to social media since this is supposed to reward them a lot of money per promotional post. And on top of that, you get $10 for every person who joins.
Those huge payouts are the carrot on the stick, and people are willingly advertising this opportunity for free on social media.
WiredBucks doesn't have to do any advertising themselves because the users do this for free.
Here's a traffic metric for one of the scam sites, and you can see what kind of chain reaction those promised payouts can cause.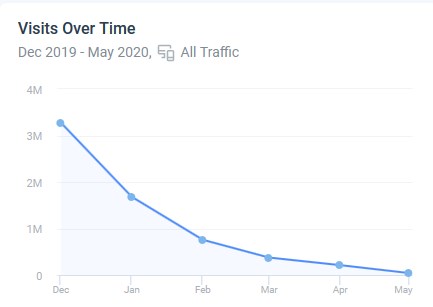 That's close to 3.3M monthly visits per month at peak.
You can also see how the trend died when the scam was revealed.
Part 02 – Making Money
So, how does all this traffic make money for WiredBucks?
The first earning method for them is the banner advertisements on the site. WiredBucks makes money whenever someone clicks on the ads.
The second method is the offer wall inside the platform.

These surveys are provided by 3rd-party market research companies, and whenever a user completes a survey, the market research companies pay WiredBucks a small amount.
In any legit rewards site, you would receive part of that money, but since this is a scam site, WiredBucks keeps all the money for themselves what they receive from market research companies.
People who join these platforms basically advertise and work for free to make WiredBucks money without receiving anything in return.
A Legit Alternative For Making Money Online
I hate to see scam networks take advantage of people, but fortunately, there are legit ways to make money online.
I promised to show how I personally make money online, so here it is.
I do something called affiliate marketing.
It's easy to get started, and anyone can do it to the point of reaching a full-time income if you commit to it.
This free 7-day affiliate training course will show you exactly how to get started in the best possible way for beginners.
Hopefully, my WiredBucks review was helpful, and you learned something today.
Feel free to drop comments below, and I'll gladly answer them.
I'll leave you to it.