It is time to review yet another influencer marketing network that I came across lately.
Since you seem to be doing some research, you are probably wondering if you can really earn $500 in a single day as an influencer with Click4Kash like they are promising.
It sounds appealing for sure.
But is Click4Kash legit? What if it's a scam?
That's why I have decided to show you whether this is a legit platform to earn money from or if it's just a scam ready to suck your soul.
I'll go through the following topics:
What is the site all about
Is Click4Kash legit?
Problems I found
Can you make any money with it
How Does Click4Kash really work
I also want to show you my preferred method for making money online that actually works, sounds good?
Let's see what Click4Kash is all about.
Click4Kash Review Summary
$0
Earning Potential

Payment Systems

User Experience

Time For Money
Is Click4Kash Legit?
Click4Kash is not legit because it belongs to a known scam network. I recommend staying away since your personal information might be at risk.
People are not getting paid
Payment proofs are fake
The owner is unknown
There are many lies about their past
The site is only 7 months old despite being called the "#1 influencer network"
What Is Click4Kash?
Click4Kash is claiming to be the number one influencer marketing network in the world where you can start making money online with social media.
In simpler terms, it's a GPT-site (Get-Paid-To) where you get paid for completing simple tasks.
How it works, in this case, is that you are supposed to get paid for:
Inviting your friends to the platform ($25 for every referral & $2 for every link click)
Creating promotional posts on YouTube, Instagram, Facebook, and Twitter ($10-$50 per post)
Completing offers ($40 per offer)
On top of that, you'll receive a $50 sign up bonus.
It sure looks like an easy way to make lots of money with little work. Could something like this really work?
Let me tell you:
No, it won't work for a few reasons.
Remember how the front page said that everyone can earn $500 a day?
That is an awful lot of money to pay for a single user, no matter how well the company is doing financially. And for what work? A couple of social media posts that also bring in new people who need to be paid hundreds of dollars.
The platform is free to join, and there aren't even any paid services inside that would enable such high payouts.
Where is all the money coming from to pay for the users?
It's not the first time I see a site like this, so let me show you what is really going on.
Is Click4Kash Legit?
Even though the site might look credible at first glance, it is far from legitimate.
Click4Kash is part of a larger scam network that consists of many similar sites claiming to be the "#1 influencer network" for making money with social media.
What makes Click4Kash a 100% scam is that they don't pay when a user requests cash out for their earnings.
Every site belonging to the same scam circle is known for not paying.
They are also likely collecting your personal information, including passwords and email addresses for selling purposes.
I don't recommend signing up, at least not with your real information. If you already signed up and are using the same password elsewhere, I suggest you change your password immediately.
To show you that Click4Kash really is a scam, here are two other similar scam sites called Tap2Earn and Tap2Cash.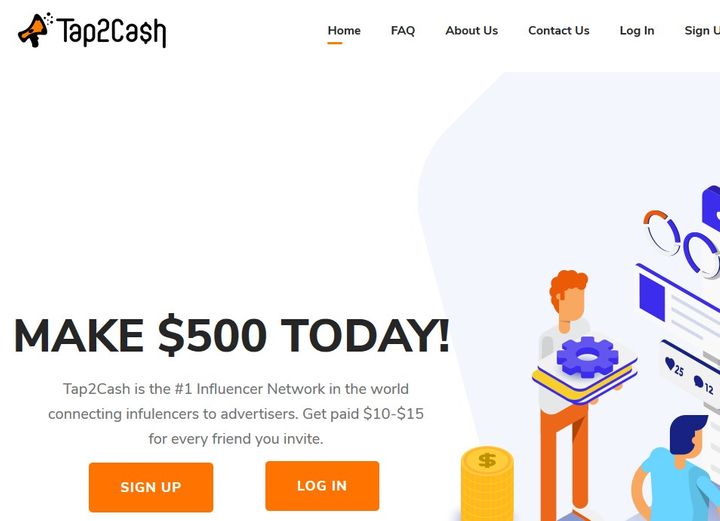 As you can see, the site design is identical to Click4Kash, and they are also "#1 influencer network" and are promising $500 a day.
There are dozens of similar sites following the same formula, and I have already reviewed some of them:
KashTree
ShareCash
Tap2Earn
CashForShare
Earn2Flex
JustEarn
CashOG
All of these are scams, and I recommend you stay away from them.
In the rest of the post, I'm going to show you more proof that this truly is a scam site.
Red Flags Of Click4Kash
#1 -The Website Age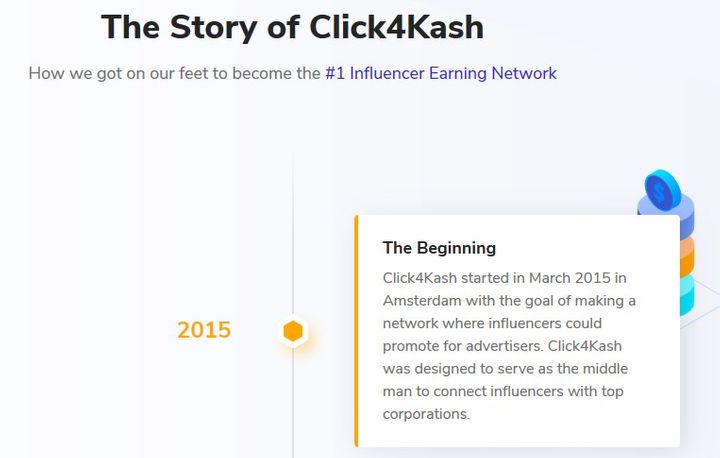 There is a rather simple way to check if a site is lying about their past.
Here you can see how they are saying that they've been in the business since 2015 and what they have achieved during those years.
Well, let's see how true that is by checking the website age.

Surprise, surprise…
The site is only 7 months old at the time of writing this.
Quite an achievement to become the #1 influencer network in such a short time isn't it?
Jokes aside, they are lying about their past, and it was to be expected since I have seen the other similar scam sites using the same layout and phrases.
And when there is one lie, there is usually 10 more.
#2 – Fake Payment Proofs
Now that we know the site is only 7 months old, we can take a look at the so-called payment proofs which are also faked.
Take a look at the dates on these images: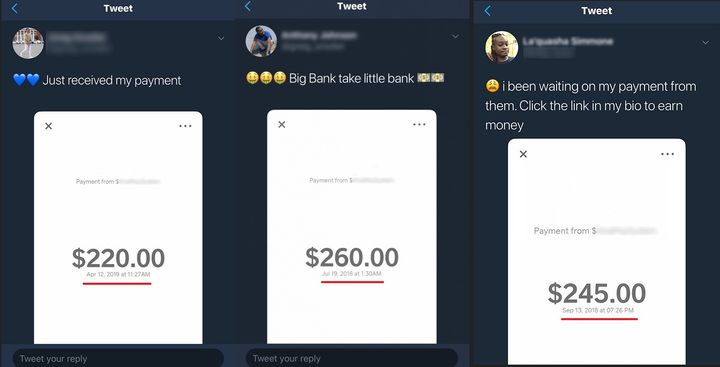 As you can see, the images are from 2018 and 2019, meaning they have been taken when the whole site didn't even exist yet.
And the one on the far right I have seen like 5 times already on other scams.
What I have seen is that they are cycling fake payment proofs between their sites so at least for me it is pretty easy to check and tell if something is fake or not.
The only purpose of these images is to create a sense of credibility, and desire in the customer.
#3 – Contradicting Terms & Privacy Policy
This is also related to the website age.
The terms and privacy policy pages are last updated in 2018 and early 2019 when the site didn't even exist yet.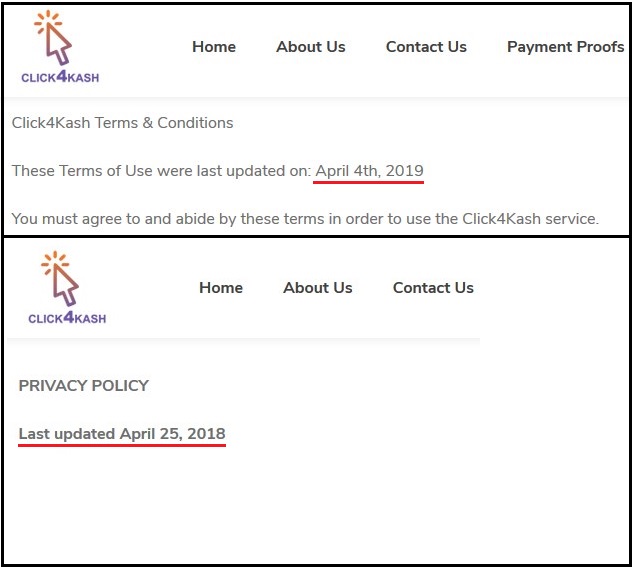 It's just a small hint that these pages have just been copied over from another site, probably belonging to the same scam circle.
#4 – Contact Address
First of all, the contact address here belongs to a completely different company.
Secondly, the same address is used in another scam site called Tap2Earn.
This is just another way for them to appear more authoritative than they are.
#5 – No Idea Who The Owner Is
It's no big surprise that we have no idea who the owner of this site is.
Usually, when there is something wrong with a product, the owner doesn't want to be associated with the product at all.
It's the same with Click4Kash. The owner doesn't want to introduce him/herself because he would end up in jail pretty fast for running quite a large scam network.
#6 – The Social Media Accounts
Half of these social media accounts don't even exist, probably because they have been banned.
And here we get back to the age thing again as we see the YouTube channel: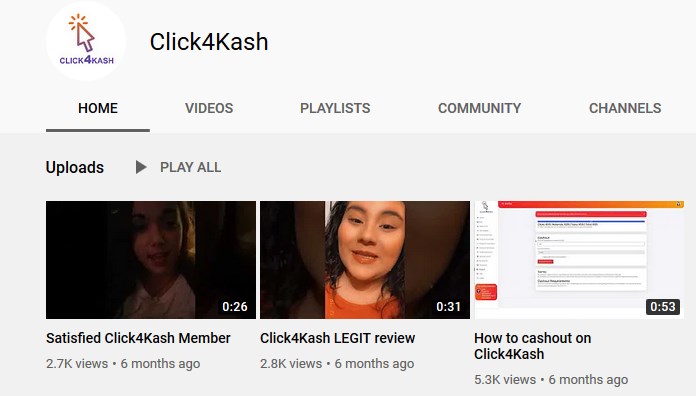 There are only 3 videos and they are just 6 months old, and as you probably remember, Click4Kash is only 7 months old.
If this site was actually 5 years old like they are claiming, you would expect there to be more content on their YouTube channel, but there is not.
#7 – Other Similar Scam Sites
I have made a small list of these scam sites just for you to see what they look like.
They all have the same promises and claims:
"#1 influencer marketing network"
"Earn $200-$500 Today!"
"Get $10-$30 for every friend invited"
Here are a small fraction of the sites:
CashForShare
JustEarn
KashTree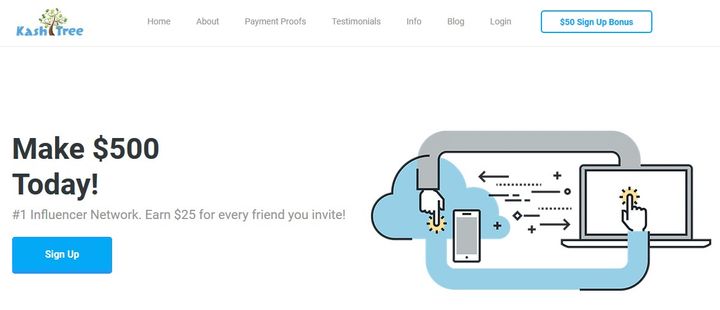 JustOG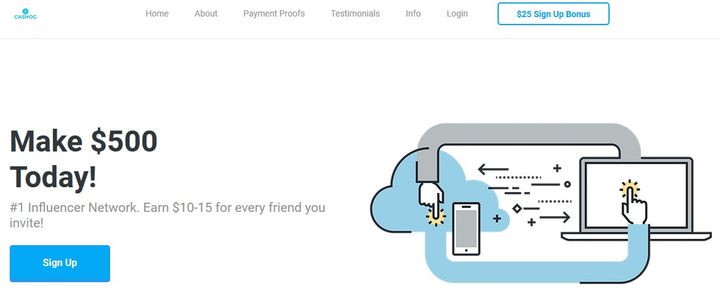 Can You Make Money With Click4Kash?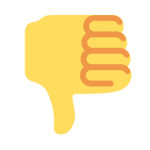 I understand how lucrative these kinds of sites are with their over-hyped income claims, but sadly most of them are scams.
They know huge income claims will resonate with people who are financially in a tough spot, and they are only doing it for their own gain.
So, if it's not obvious yet, the answer is no; you can't make money with Click4Kash because it is a scam.
When you try to cash out your earnings, you are placed into a 30-day manual review process. At the end of it, you will be disqualified, or the process will be postponed indefinitely.
Why is the review process so long?
The main reason is that you would forget that you even tried to cash out your earnings.
It also makes the scam live longer since people won't immediately call out the scam because they are clinging to the hope of receiving the money someday.
How Does Click4Kash Really Work?
You might be thinking, how are they benefiting from scamming people?
I can explain that.
Step 01 – Attracting Users
The huge income claims only have one purpose, and that is to attract people to join the platform.
And as you might remember, you are supposed to get paid $25 for every friend you invite to the platform.
This means people are basically advertising the platform for free on social media.
Who wouldn't like to earn $500 in a single day? That would solve many real-life problems for many people.
It naturally attracts interest among people.
So, what's the point of getting all these people to join?
Step 02 – Making Money With The Users
The first method for making money with all the users is banner ads on the site.
When people click on these advertisements, the owner is making money.
The second method is the offer wall inside the platform, and it looks like this:
These offers are provided by 3rd-party market research companies.
When people complete these offers, the market research companies are paying the owner of Click4Kash.
In any legitimate rewards site, you would receive part of those profits, but since this is a scam site, they are keeping all the profits for themselves.
Lastly, there is the collecting & selling of user data.
They pretty much create an avatar of you with all the personal information and possibly your passwords & emails included.
This kind of information is usually sold on black markets, but who knows, even the big companies in today's world are collecting our data and selling it.
But yeah that's how the owner is making money with this scam.
Do This To Earn Money Online
Now, it would be irresponsible for me to not show you some legit alternatives to making money online. I don't want you to fall into another scam.
If you are looking to make some side cash (at best) then I would recommend these rewards sites:
But if you want to do something that actually pays dollars instead of cents, and has the potential to make you a full-time income…
Then I suggest you try out this amazing video training course that is free to join. I highly credit it for teaching me everything about running my own online business.
After 5 years, I'm still a member of that course, and I'm willing to help you 1-on-1 if you decide to join.
Thanks for reading my Click4Kash review, and I hope it was helpful.
Feel free to ask comment below, and I'll gladly answer them.
Talk soon.