Thanks for dropping by to read my Use2Earn review. Yep, it's another influencer platform again.
You are here probably wondering if you can really earn $500 in a single day with the site as they promise.
The opportunity sounds very tempting, especially if you have bills to pay or other urgent need for money. It is a lot of money after all so:
In this review, I'm going to show you:
What is Use2Earn
Is it legit?
How does it really work
Can you make any money with it
I also want to show you the way I make money online, and how you can get started with the same method for free.
Well, let's find out if Use2Earn is a legit way to earn money or just a scam.
What Is Use2Earn?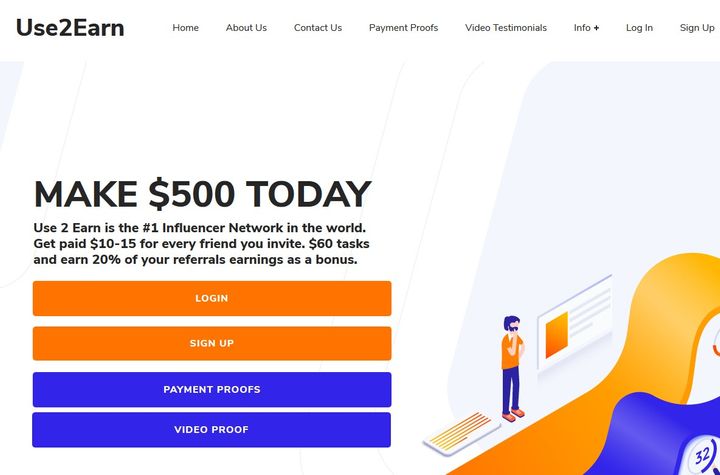 Use2Earn is a so-called influencer network where you are supposed to earn money when you refer people to the platform and complete simple tasks.
At first sight, it resembles a GPT-site (get-paid-to) just like the popular Swagbucks or Surveyjunkies, but with the difference of huge income claims.
They say you get paid $10-15 for every person you invite and $60 per task completed. On top of that, you will receive $25 for free when you signup.
That is a lot of money to owe for a single user from the get-go.
I wonder where they get the money to pay since it is a free platform to join, and there are no paid services inside.
Something is not right.
When you compare these numbers to the most popular GPT-sites I just mentioned, it just doesn't add up.
For example, Surveyjunkies pay $1.50 per referral signup, so how come a rather unknown Use2Earn can pay up to $15 per referral. It's unheard of.
Another example, A typical payout for a single task in any GPT-site is around $1, but these guys are promising up to $60 per task.
Even "premium" tasks do not pay that much. The average of those is around $5 per task.
Then there is the big claim on the front page "Make $500 Today".
I have been making money online for over two years now and I've reviewed many earning opportunities during that time. I can say for 100% certainty that making $500 on your first day as a complete beginner is not possible.
Is Use2Earn Legit?
I understand how Use2Earn can look like a life-saver when you need some urgent money.
The site looks very legit, and they even have payment proofs and video testimonials showing that it should work.
However, when you start looking for small details you will notice that not everything seems to be in place.
I have gathered a list of these small details that will show you how legit the opportunity really is.
After you see these, you can make up your own mind about Use2Earn.
Red Flags Of Use2Earn
#1 – The Platform Doesn't Even Exist
Probably the first thing that makes you question the whole site happens when you try to sign up.
When you press "sign-up", you are taken to a completely different site called CloutShout as you can see below.
All the core information, payment proofs, testimonials seem to be the same as Use2Earn but the layout is a bit different.
Really makes you question what's the point of this? They never mentioned having to sign up to a completely different site?
It seems Use2Earn is simply a bridge site to CloutShout.
#2 – Founding Date Is A Lie
Their "About" page tells us that Use2Earn has been around since 2015, so let's check how true that is.
We can do that by checking the website's domain age using a handy tool.
As you might have expected, the founding date is a lie as you can see below:

Both Use2Earn and CloutShout are under one year old at the time of writing this.
The whole story on the about page is just a big lie.
And that leads me to…
#3 – Faked Payment Proofs
Now that we know the site is merely 10 months old, we can check how legit the payment proofs are.
Well, they are not… See the dates on these payment proofs:
These "proofs" are from the time when the whole site didn't even exist yet.
Faking payment proofs is a common stunt pulled off by scam artists but they always seem to forget to edit the dates. Good for us I guess.
#5 – Awful Terms & Conditions
If you are still not sure whether this is a scam or not, I have something more to show you.
When you sign up to any service, you have to accept terms & conditions. Use2Earn has some interesting terms to say the least.
Here is a snippet from their terms & conditions page:
It says:
If you are under the age of ninety-nine (99), you are not allowed to use the Use 2 Earn Sites and Features nor our Services.
Why would they put this in their terms you might ask?
Let me tell you. It's so they don't have to pay you. Simple as that.
Pretty bad deal to the customers if you ask me.
#6 – No Social Media Presence
The site also has social media icons linking to their profiles, and you would think a "#1 influencer network" would have active profiles and following but nope.
Those links lead nowhere and Use2Earn doesn't have any social media profiles.
The links are there just so they would appear more legit than they are.
The phone number on top of the page is also a fake one.
#7 – Why Are They Reviewing Keto Pills?
Something I found a bit funny is that at the bottom of the page there is a link to a keto pill review.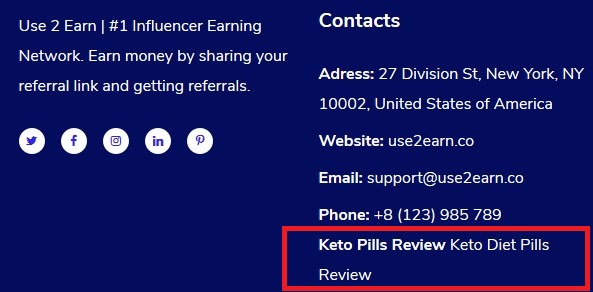 What does this have anything to do with you making money. It's more like they want you to spend money.
It's completely unrelated to the whole point of the site.
Can you imagine if you opened Facebook and the first thing that pops up is Mark Zuckerberg reviewing keto pills? Me neither.
#8 – Other Similar Cloned Sites
I want to show you a "final straw" of what I'm talking about.
I have seen many similar scams like Use2Earn in the past and I'm quite familiar with how the scam works.
It's a wide scam network that is doing this. To give you an idea, here are some sites belonging to the scam network. You can easily see the resemblance:
They all have the same layout, same promises, same lies, and there is a damn fleet of these sites.
All taking advantage of the people.
How Does Use2Earn Really Work?
After glancing at all the red flags this site has, you are probably wondering why are they doing this?
Would you be surprised if I said the motive is money?
Yes, earning money is the motive, and the owner gets to earn it, not the user.
I know how the scam works and I can explain it to you. Here goes.
It all starts by attracting people to the platform with huge income claims, and it definitely works because people want to earn lots of money with little work.
People who join are then guided to advertise the platform in their social media in hopes of earning $10 for every person who joins through their links.
What is really happening is that people are just advertising the platform for free (probably without realizing it). And people do join because they obviously want to know if it's true what is offered.
Now, how does the owner earn money with all of this traffic?
Advertisements
The site has some ads and the owner earns a few cents whenever someone clicks on these ads.
It might not sound much but when you have a ton of people coming to the site it adds up to a lot.
Especially since this is not their only scam site running ads.
The Offer Wall
Inside the platform, you can find an offer wall where you are supposed to earn $60 for completing tasks (which is not true).
These tasks are provided by 3rd-party market research companies who will pay the owner whenever a user completes a task.
In any legit GPT-site, you would rightfully receive part of those profits since you are the one who completed the task. But as you might have guessed, Use2Earn is a scam and you won't receive your share of the money.
Selling Your Data
Now, this is the worst part.
What these scam sites are most likely doing is that they are collecting your personal information and selling to 3rd-parties.
This may include your name, email, passwords, payment information, and other sensitive data that may be used to hijack your accounts.
Many people use the same passwords over multiple sites, and these scammers know it.
What Can You Do?
If you have already made an account, then I suggest you log in the last time and delete your personal information from your profile.
I also highly recommend you change your password on other sites if you have a bad habit of using the same password everywhere. You may lose your accounts if you don't.
Can You Make Any Money With Use2Earn?
If you did read the red flags, you can probably already guess that you can't make money with Use2Earn, unfortunately.
You or someone else may argue that their earnings number is going up when they complete tasks (which is true), so how can it be a scam?
The problems start when you try to cash out those earnings.
You are placed into this 30-day manual review process where they check if you have done any fraudulent activity to earn your money. Whether you did or not, it does not matter. You will be declined either way.
No one has received their money when they've tried to cash out.
Let me tell you, every legit site can typically manage manual reviews in under 24 hours. The only reason this one is 30-days is so the scam would have a longer life-span.
A Legit Money-Making Method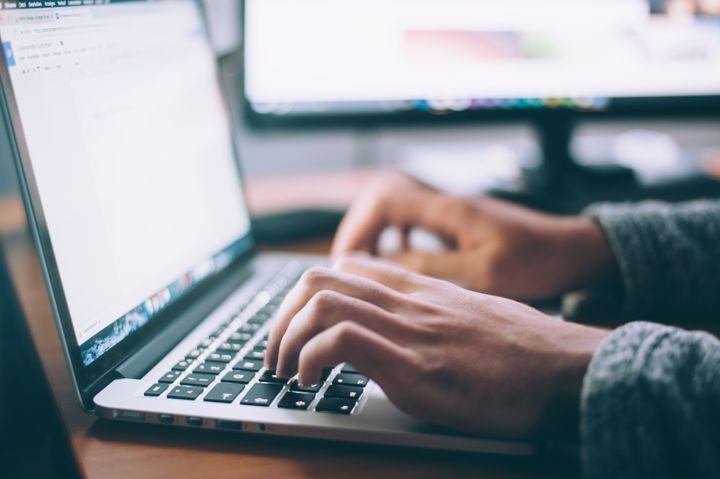 Use2Earn is a disappointment for sure, but I have gathered some legit methods, so you can actually get started on something that works.
If you are looking to make some side-cash (at best), then I would suggest these GPT-sites that are known to be legit:
But in case you want to get started with something that has the potential for a full-time income, then you need to start an online business.
This free video training course has been my top recommendation for the past 5 years and it's the same one that I got started with.
Thanks again for reading my Use2Earn review, and I hope it was helpful.
Feel free to ask any questions below, and I will be sure to answer them.
Talk soon.