Are you interested in promoting horse-related products & earning commissions?
If you're a blogger, influencer, or YouTuber (or if you want to become one), the horse niche comes with great opportunities to earn high-ticket commissions with affiliate marketing.
Good affiliate programs can be challenging to find, so today I got my hands dirty and gathered 12 horse affiliate programs for you to join. I hope you find new hot products to promote and new brands to partner with.
At the end of this post, I also share resources if you want to start your very own money-making horse blog so look out for that.
The 12 Best Horse Affiliate Programs To Promote In 2023
Just Riding
Corro
Adams Horse Supply
PinkEquine
Horse
E3 Live For Horses
Easy Horse Training
State Line Tack
Breeches
Horse Saddle Shop
BioEquine
Equestrian Coach
Just Riding

Just Riding is a family-run online store selling premium equestrian products for men, women, and kids. You can even buy horses through their website!
Their office and warehouse are based in Poland, but they also have a satellite office in the UK.
What's interesting is that their family has been breeding horses for sports & recreation dating as far back as the 1400s so they certainly have the experience to run a horse business.
It's a positive selling point you could mention when promoting their products.
They pay 5% commissions on sales made through your affiliate links. They also have an interesting system where you can earn a further 2.5% commission on every recurring purchase made by that same customer within the next 18 months.
Their average order value is $300 which is a lot higher than many regular clothing stores so you can expect to earn decent commissions by promoting their products.
5% Commissions (2.5% for recurring purchases)
Cookie Length: –
Corro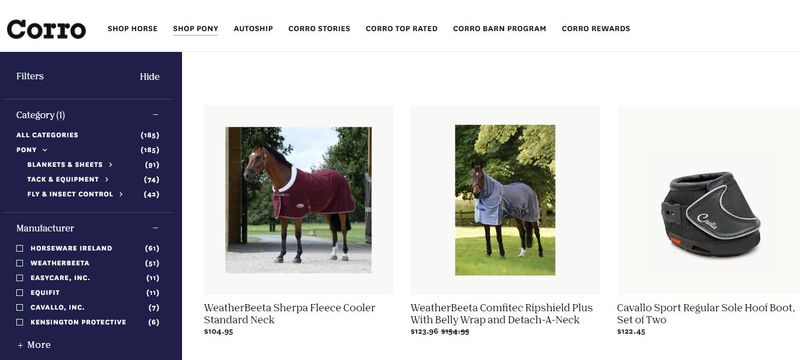 Corro is a US-based online store that sells various supplies for horses and ponies.
While the majority of products are for horses, they also sell riding gear and equestrian products for riders.
They also have a handy auto-ship feature for ordering horse care products so you never run out of supplies due to forgetting to order them. This is something you could mention in your promotional campaigns.
Their affiliate program is on the ShareASale affiliate network and it's easy and free to join.
Corro offers 10% commissions on all sales which is a lot higher than what you'd typically get from the Amazon Associates affiliate program.
Their cookie duration is 45-days where the sale must happen for you to be credited. The best-performing affiliates can earn gift cards, free products, and shoutouts on social media.
You can also incentive people to buy through your links with the 10% discount which people get on their first order.
Something else you can mention in your campaigns is the various rewards programs Corro has in place for repeat customers.
10% Commissions
45-Day Cookie Length
Adams Horse Supply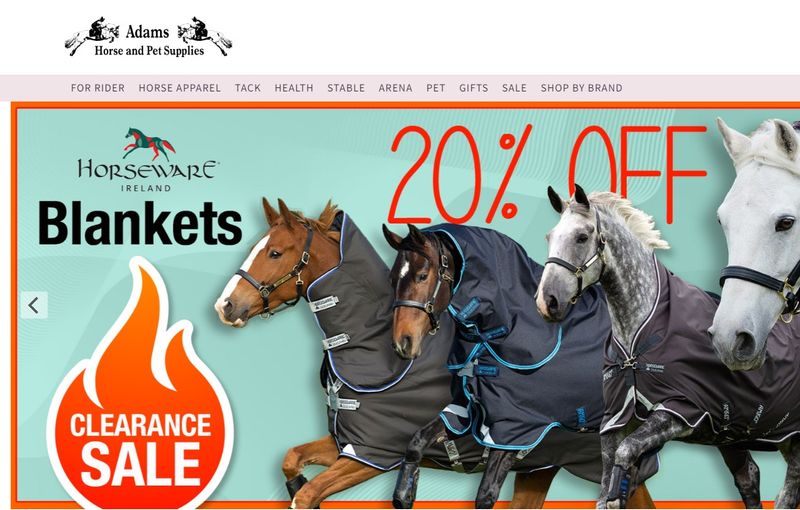 Adams Horse Supply is a US-based small town business that sells high-quality horse & pet supplies.
The company was started in 1998 by Merance Adams. She started offering horse supplies after ordering products from a big-name tack shop and being disappointed in the service. She knew she could do better and that's exactly what she did.
All products on their website are tested and used before they start selling them. This is so they can help and educate their customers on choosing the best products for their situation.
As an affiliate, you can earn 5% commissions on all first sales, and 2% for any subsequent sales from the same customer for one year.
When you get accepted into the program you're also provided promotional banners to use in your campaigns.
5% Commissions (2% for recurring purchases)
Cookie Length: –
Pink Equine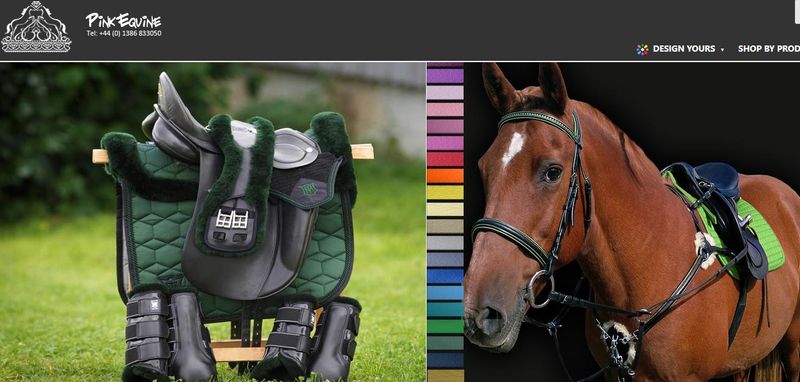 Pink Equine sells horse riding equipment that is custom-made according to your specifications.
This is done with a handy tool on their website that allows you to customize the style, colors, and size of almost any product to your liking.
Pink Equine is a UK-based company and they were founded in 2007 with the goal of providing quality horse tack with a modern look and feel.
They offer commissions up to 10% and you have the possibility of negotiating better rates if you perform well.
The average order value is over $100 so you can expect to earn decent commissions. They also have a long 90-day cookie period which gives your audience plenty of time to convert into customers (& for you to be credited for the sales).
10% Commissions
90-Day Cookie Length
Horse
Horse.com is the largest online retailer of horse-related products worldwide.
They sell various horse products and equipment such as blankets, sheets, footwear, western & English tack, supplements, and much more.
The company's roots go back as far as 1976 when they were called Country Supply. In 2005, they were acquired by TABcom and were rebranded to Horse.com as we know it today.
Their affiliate program is managed through the Pepperjam affiliate network which you can join for free.
Unfortunately, they haven't listed their commission rates but if they follow the industry standards, I'd say they are somewhere between 5-10% per sale.
Their average order value is $75 and you get access to constantly updated promotional banners and offers when you sign up as an affiliate.
Commissions: not disclosed
30-Day Cookie Length
E3 Live For Horses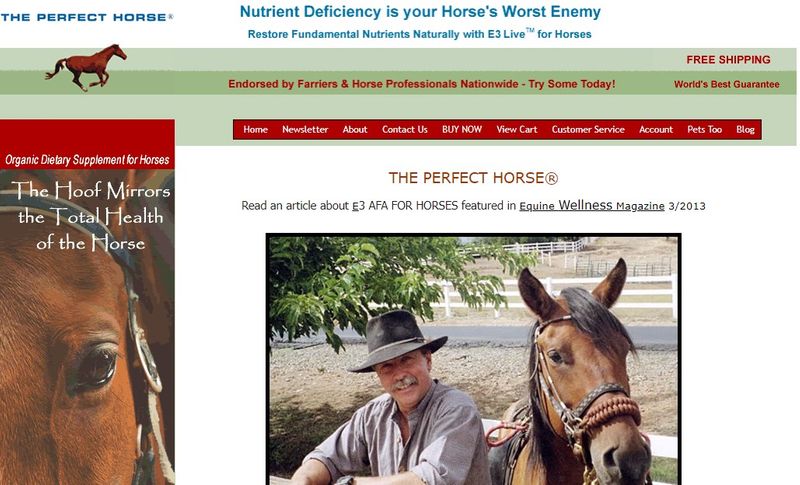 E3 Live For Horses is an online store selling supplements for horse hoof problems. They also sell supplements for cats, dogs, and other pets.
The company was founded by Wayne Blevins who has done multiple case studies on curing hoof problems with his supplements. Today, the brand enjoys a significant customer base.
As an affiliate, you can earn 20% commissions on all retail sales and you'll be paid once you reach the $100 threshold.
Once you get in, you'll be provided with banners and help (if needed) to get started.
20% Commissions
Cookie Length: –
Easy Horse Training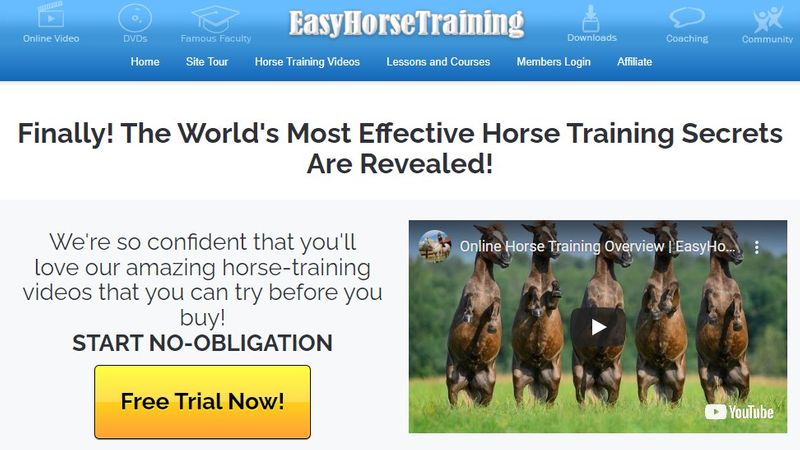 Easy Horse Training is a website that provides online horse training courses.
These courses are about:
Fundamentals of horse training
Problem-behavior solutions
Advanced horse psychology & communication
Natural horsemanship
As an affiliate, you can earn a whopping 50% commission for each sale. And to aid your efforts, they're offering a free trial for new members which makes getting new customers a lot easier.
The minimum payout is $100 and the payments are made every month. You also get access to real-time statistics and reports within their affiliate program.
50% Commissions
Cookie Length: –
State Line Tack
State Line Tack is a UK-based online store that sells horse tack and supplies for horses, riders, and stables.
They were founded in 1980 and at that time offered the largest selection of horse supplies in the UK. Today, they're a subsidiary of TABcom which also owns horse.com and other pet-related brands.
Similar to Horse.com, State Line Tack also hosts their affiliate program with the Pepperjam network. As an affiliate, you can earn 6-10% commissions and you have a 30-day cookie duration.
You're also provided promotional material once you sign up.
6-10% Commissions
30-Day Cookie Length
Breeches
Breeches is one of the biggest manufacturers of riding breeches in the world.
Over the years they've expanded to many areas including equestrian apparel, horse tack, horse blankets and equipment, and many more.
They've been around since 1992 and have built a loyal customer base who love their products. They offer unmatched customer service, guaranteed satisfaction, and free shipping within the US.
Their affiliate program is on ShareASale and Commission Junction networks and it's up to you which you want to join as both are free (I'd prefer ShareASale).
As an affiliate, you can earn up to 12% commissions which is a bit higher than some other competing brands. You can earn great commissions by promoting Breeches.
The cookie duration is the usual 30-days here.
12% Commissions
30-Day Cookie Length
Horse Saddle Shop
Horse Saddle Shop is a US-based company that sells quality saddles (as you'd expect). They also sell used saddles, tack, boots, and gifts & toys.
They're a family-owned business and the online store was created in 2000 by Chuck Klockow. Although, the roots of the business go as far as 1986 when his wife's father had a small tack store. Horse Saddle Shop is the online version of that legacy.
Promoting Horse Saddle Shop is easy & free since their affiliate program is on the ShareASale affiliate network.
if you have an equine-related website, you can earn 5% commissions on your sales. The average order value is an amazing $650 so you can expect to earn worthwhile commissions by promoting their products.
5% Commissions
Cookie Length: –
BioEquine

BioEquine is an online store that sells horse & pet supplements.
This small business is run by Lynne who has 60 years of horsemanship skills and her supplement products are made in a specialty mill that has earned many certifications and awards.
They like to keep things simple as they focus only on offering two supplements:
Natural Digestive Support ($65 – $490)
Extra Strength Joint Supplement ($200 – $580)
They also pride their products to be:
Food-grade
Sugar-free
Non-GMO
Therapeutic
Natural & raw
Their affiliate program pays 10% commissions for each sale you refer. And as you can see the products can cost up to $580 so you can make great money by promoting their supplements.
10% Commissions
Cookie Length: –
Equestrian Coach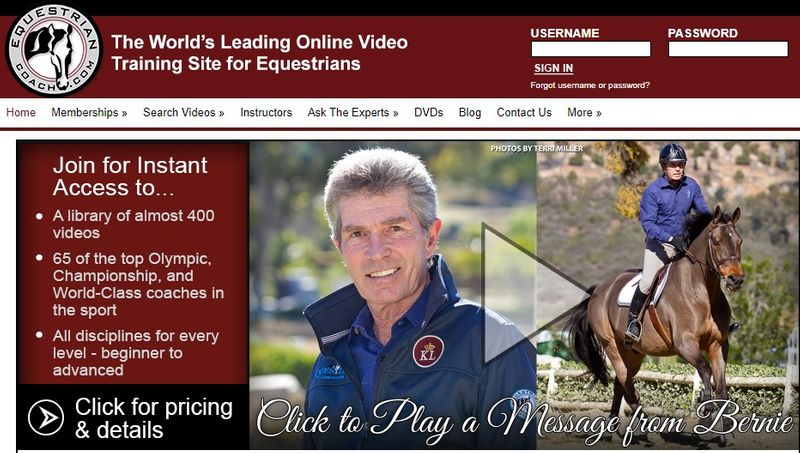 Equestrian Coach is a subscription service that offers online video instructions for equestrians.
They have a library of almost 400 training videos and you'll learn from 65 of the top Olympic championship and coaches in the sport.
The courses are aimed at everyone from beginners to advanced.
You can earn 10% commissions by promoting this service and since they operate a monthly subscription model, you get to taste the best type of reward there is; recurring commissions.
Promoting subscription services like Equestrian Coach can snowball your income really fast since recurring commissions stack up over time.
What's also great is that their cookie lasts 90 days so you have plenty of time to convert potential customers.
It's free to join this program and the payments are paid via check or PayPal. You can also offer a 10% discount for new members to incentive them to join.
10% Commissions
90-Day Cookie Length
Start Your Money-Making Horse Blog
There you go – 12 horse affiliate programs you can start promoting today if you have a blog, social media, or YouTube channel (or anything of the sort).
This niche is a real "goldmine" for those who are passionate about horses and want to make their hobby into an affiliate business. I realized this potential when I saw saddles being sold for $5,695 and a pair of riding boots were on sale for half a grand.
Of course, you're not required to promote those expensive products and they may not even be the best option out there, but it goes to show how much money moves in the equine industry (& you can get a piece of it).
After all, equestrians are passionate people and willing to spend lots of money caring for their horses.
According to American Horse Council, the horse industry contributes $122 billion annually to the US economy alone. With your horse blog, you could not only tap into this huge US market but also the even bigger global horse market.
The horse niche comes with many angles for you to pursue as well.
For example, you could focus on creating content for parents with kids who want to get into horse riding. You could give beginner tips and show what equipment would be good for a first-timer.
Another idea would be to create a horse blog where you review horse-related products and help people make educated purchase decisions. This is where you could promote those high-ticket products I mentioned earlier.
No matter what route you take, all of them can make great money.
If this sounds interesting and you'd want to start your profitable horse blog, check out the free beginner-friendly course below that has all the step-by-step instructions laid out for you.
I will show you the same place I used to build my portfolio of sites so I can highly recommend it.