It seems automation & artificial intelligence are not only increasing their presence in the manufacturing industry but also in the affiliate marketing scene.
Every week I see a new automation/bot tool available for affiliate marketing but are they really worth it?
I have reviewed a few of them in the past but so far I haven't encountered anything mind-blowing but maybe this one is different.
Today I'm going to reveal if it's possible to earn thousands of dollars per day using this automated bot software and also answer the question you might be wondering; is Affiliate Bots 2.0 a scam?
Alright, ready to get started?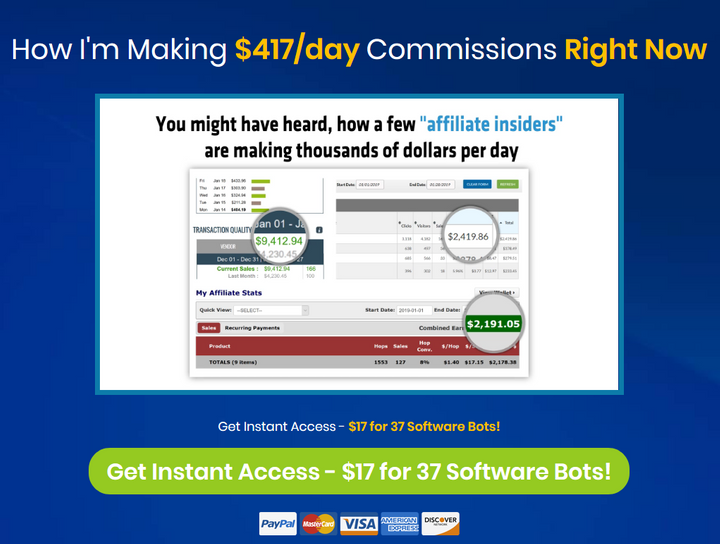 ---
Affiliate Bots 2.0 Review Summary
Product Name: Affiliate Bots 2.0
Owners: "Chris X"
Product Type: Affiliate Marketing Bot Software
Price: $17
Summary: Affiliate Bots 2.0 is a collection of automated software bots designed to assist you in your affiliate marketing business. In reality, the bots are not as "automated" as you might think and some of them do not work as advertised. "Automated" in many of the tools equals "done-for-you" templates which are used by thousands of other people meaning they are not very effective. The PDF guides teach unethical black hat SEO methods which are not a surprise when taking into account the nature of this product. A newbie affiliate marketer most likely won't achieve similar results as Chris by following this product's guidelines. The wide range of tools overcomplicates the affiliate marketing process if a beginner were to start a business with this product.
Rating: 4/10
Recommended: No
---
What Is Affiliate Bots 2.0?
Affiliate Bots 2.0 is a collection of automated software bots designed to help you make money with affiliate marketing.
The sales pitch highlights how these bots automatically:
Choose an affiliate program
Get traffic
Make huge commissions
& Much more
The product gives you the impression that you don't have to do anything by yourself to earn money which is not true in the slightest.
Let me get this straight; I have never seen and never will see a bot that makes you successful at affiliate marketing. There's only so much a bot can do and it's not much.
With that said, let's get back to the product itself.
The product launch was in February 2019 and it's version 2 of the previous Affiliate Bots 1.0 which again is formerly known as Affiliate Titan 3.
This new version adds 17 new bots to the collection.
All these three products are presumably made by Chris X which might be a pen name.
However, Chris personally speaks on many of the videos related to Affiliate Bots so kudos to him for showing some authenticity. I say this because many ClickBank product creators don't want to be associated with their products and it usually shows in the product quality.
Let's take a closer look at the product.
Closer Look At Affiliate Bots 2.0
So far we know this product is supposed to automate your affiliate marketing efforts but how well does it actually do that?
Here's what's coming up next:
What does the product include
Problems I found
Are bots needed in affiliate marketing?
Who benefits from this product
What Do You Get With Affiliate Bots 2.0?
This product has many tools in one package so I'm going to list them all with a small explanation of what the tool does.
You can then judge if any of them would be useful in your own business and after that I'm going to provide my own opinion on these tools.
Tools and Bots:
CB 250 – Displays the top 250 CB affiliate programs
Warrior50 – Finds the top 50 affiliate programs on Warriorplus
Hosting Affiliate Bot – Shows top affiliate programs for hosting niche
The Launch Pulse – Flags profitable product launches in the coming 30 days
King Of The Zoo – Finds hot JVZoo offers
King Of The Zon –  Displays top 200 newest and hottest products on Amazon
Website Widgets – Increases the conversions with popups on any website
1Click Video Pages – Automatically create sales videos from templates
1Click Affiliate Software – Creates a prewritten sales copy based on your keywords
Rapid Website Builder – Landing page templates
Auto Affiliate Ads 2.0 – Helps to create various banner ads
Domainaveli – Finds premium domain names for your website
Dropaveli tool – Finds expired domain names
AI Search Engine – Traffic & competition research tool
Banner Bot – Creates banners
Rapid Rank Video Software – Automatic video creation software
FlipDB – Displays hundreds of websites from Flippa
ResellDB – Database of all the top resell right sites
Automail Software – Autoresponder for email lists
IM Affiliate Bot – Shows affiliate programs in the Internet marketing niche
Video Material:
15 training videos on how to use the tools (length ranging between 10-20 minutes)
PDF's:
35-Page General guide – What is affiliate marketing and how to use the tools
8-Page Google SEO Guide
10-Page YouTube SEO Guide
7-Page Email Marketing Guide
The Major Problem With These Guides
There is one major drawback that caught my eye in these guides.
You are guided to buy backlinks from Fiverr which is a sure–proof method to get your website penalized by Google (i.e black hat SEO tactic).
I don't approve of this kind of SEO methods when the target audience is partly catered toward beginners. Teaching black hat SEO tactics for beginners is unethical as it will backfire on them eventually and causes their possible income source to disappear.
It's better to build your online business on an ethical base because that will bring income for many years to come without having to fear Google penalties.
Let's move on…
Are Bots Necessary In Affiliate Marketing?
Definitely not, in worst case scenario you make affiliate marketing more complicated than it actually is. I say this with beginners in mind since they might see "automation" products like these as answers for their financial problems.
Automation is possible to some degree in affiliate marketing but I would never use a bot to create content for the audience.
Making money with affiliate marketing is very reliant on trust-factors and bots just aren't good at replicating trust.
With that said, there are definitely good and bad ways to use bots in online business and Affiliate Bots 2.0 offers a mixture of both.
Although some of the tools are handy, I see a big chunk of these bots a bit useless or not working as advertised.
For example, there are multiple different tools to check the top affiliate programs in their respective networks but what's the point of using a tool when you can go to the actual website and sort the list by popular or however you want?
The "AI Search Engine" Is A Bit Misleading

This search engine was presented as the ultimate traffic tool that provides you with free buyer traffic for your website but oh boy is it misleading.
All this search engine does is that it summarizes what methods these top 100k websites are using to get traffic to their site and how they are monetizing.
How does this help you get free traffic to your site? Well, it doesn't.
I guess that you are supposed to use this search engine to check if popular sites have an advertising page or an email list. Then you could contact those sites and pay to get featured on their advertising page or send an affiliate offer to their email list.
However, that doesn't seem very free and automated method, does it? Maybe I'm just blind and missing something here.
This quote is from the sales video:
"Simply enter a keyword to see all the key data… Then start getting 16 types of targeted traffic."
Only if it worked that easily… but no, eyeballing how other sites are getting traffic doesn't magically transfer them to your site.
The commonly used traffic methods aren't a secret either so you are not getting your hands on some juicy secrets by observing popular sites.
Who Is Affiliate Bots 2.0 For?
I believe someone who already has affiliate marketing experience in their back pocket might find some of the tools useful.
In contrast, I believe this is not a good option for beginners because automation systems like this will make the starting experience confusing and overcomplicated.
Also, I didn't like the methods that were taught in the PDF-guides as it contained unethical black hat SEO tactics.
Pros Of Affiliate Bots 2.0
#1 – Many Services In One Package
You really do get a lot when you buy this product.
The product has many tools catered for different purposes and I think the arsenal will keep growing bigger in time as long as Chris keeps working on this project.
There's a good chance that at least a few of the tools will be useful for an already established affiliate marketer. It's hard to miss with so many tools in one package.
#2 – Low Cost
The price of this product is very affordable compared to how many tools you actually receive for the money.
There's a good chance that you might find one or two useful tools to use in your business for a very low price.
You won't go bankrupt (hopefully) by testing out this product yourself.
#3 – Money-Back Guarantee
If you are not happy with the product, you can always ask for a refund since this is a ClickBank product.
You don't have to worry about not getting your money back as ClickBank is a trusted affiliate network.
#4 – Customer Service
Apparently, their customer service has been appraised for being good.
I don't have personal experience with their customer service but I'm going to trust the good feedback from others on this.
Cons Of Affiliate Bots 2.0
#1 – Money Claims Are Overhyped
Chris obviously makes a lot of money with affiliate marketing and isn't afraid to show his earnings but it doesn't mean you are going to get similar results with this product.
Even less likely if you are a complete beginner to affiliate marketing.
Chris has been in the affiliate marketing game since 2006 so I have a small gut feeling that the commissions he shows are not solely earned by using affiliate bots 2.0.
His experience plays a major role in the commission amounts for sure. It goes to show that affiliate marketing works but this product is not the sole answer for similar success.
#2 – Oversaturated Templates
Products promising automation and done-for-you systems usually have one problem in common; The fact that thousands of other people are using the exact same templates over and over.
Good luck trying to stand out from the crowd. Not going to work.
Search engines especially hate duplicate content and copied websites like that fly straight to the trash bin in their algorithms.
#3 – Some Bots Are Not Worth It
Maybe not everyone agrees but I don't see much value in the tools that check the top affiliate programs in specific affiliate networks.
It would be a different story if the tool actually displayed affiliate programs from around the Internet, not just limited to affiliate networks.
In addition to that, I'm not a fan of the tools that offer complete templates to use or that 1 Click Affiliate software that creates a sales copy based on your inserted keywords.
The tool outputs a horrifying sales copy full of grammar errors because the bot just isn't smart enough to fix the incorrect spelling.
#4 – Unethical SEO Practices
I don't recommend unethical SEO practices taught in this product's guide for anyone who wants to keep their business around.
I already mentioned it earlier but buying backlinks from Fiverr is not the correct way to boost your ranks in the search engines. It's eventually going to backfire and kill your business for good.
Although, I probably shouldn't be surprised to find such practices in a product that focuses on automation and bots.
Sometimes the ice is very thin when bots are used to game the system or when they are used to ethically ease your workload.
This product happens to be a mixture of both.
Is Affiliate Bots 2.0 A Scam?
Affiliate Bots 2.0 is not a scam. You get a working collection of tools for your money.
I understand the concern though, the product is rather cheap and the sales video claims are a bit over the top.
The cheap price comes from rather "simple" tools and as I have already discussed, I don't see much value in some of them.
The sales pitch is somewhat misleading and I don't believe you can achieve similar figures by solely using this product's tools or training IF you are a complete beginner to affiliate marketing.
I have seen the same pattern before in many other affiliate marketing guides; you are often told what you can do but never how to do it.
However, that is going to change in the next section.
You Don't Need Bots To Win At Affiliate Marketing
The traditional and ethical way of doing affiliate marketing is still the way to go. You shouldn't try to overcomplicate things or game the system with bots.
Affiliate marketing can earn you full-time income and more but why would you want to build your business with shady practices? It's going to kill your business eventually.
When you ethically build your business and focus on helping people, you will earn money for many years to come without having to fear penalties.
At least that's how I operate my affiliate marketing business.
What if you don't know where to get proper training? I've got your back covered.
I highly credit this free to join beginner-friendly affiliate marketing course for teaching me everything I need to know about running an online business.
It's a community of over 1,800,000 affiliates who are ready to help each other succeed in affiliate marketing.
Be sure to contact me on the training platform or in the comments below if you need any help to get started.
Thanks again for reading my Affiliate Bots 2.0 Review.
Talk to you later.