Have you ever heard of "little known secrets" that allow you to make thousands of dollars online?
I have and they rarely live up to their promises.
eCom Profit Sniper is one such product that is willing to let you in on these secrets and I'm going to find out if this one delivers.
The owner is apparently making $40k per month with this system but I wonder why is he so willing to give away his secrets for such a low price?
Let's find out what this secret is and answer the question; is eCom Profit Sniper a scam?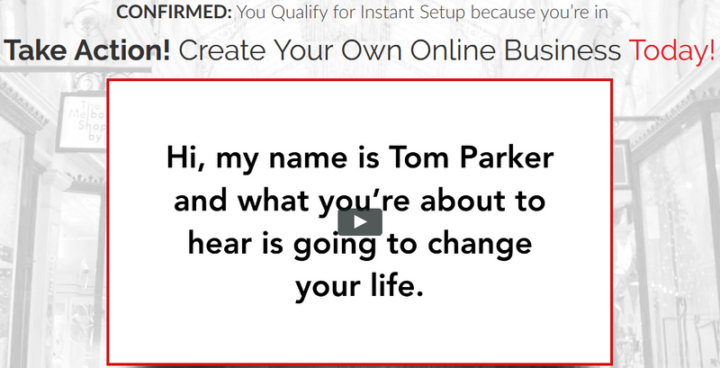 ---
eCom Profit Sniper Review Summary
Product Name: eCom Profit Sniper
Owners: "Tom Parker"
Product Type: Dropshipping training course
Price: $37 + upsells totaling up to $800
Summary: eCom Profit Sniper is a very basic video training course on setting up your own Shopify store and how to make money using the dropshipping business model. Important parts like traffic acquisition are locked behind expensive paywalls and because of the high additional costs, I can't recommend this product for beginners. Free alternatives can be easily found around the web.
Rating: 1/10
Recommended: No
---
What Is eCom Profit Sniper?
eCom Profit Sniper is a training course that shows how to set up your own Shopify online store and make money using the dropshipping business model.
That was the little known secret and I'm not very impressed.
Just so you know, there are over 800,000 Shopify merchants who know about this method. It's a good way to make money and definitely not a secret.
The product was released in January 2018 and is made by a guy called "Tom Parker" whose real identity remains secret since there are no pictures or other information available about him.
Most likely it's just a pen name.
The sales video itself was hyped up for sure to the point where it started to become misleading.
This claim you can throw straight to the trash bin;

"Working 20 minutes each day to reach $500k at the end of the year"
This is extremely unrealistic and unattainable with just 20 minutes of work each day especially if you are new to dropshipping.
Dropshipping requires some real work hours to reach anywhere near $500k and most people never get there.
On top of that, I guarantee you won't make your product price back within the first 10 minutes, that's just not going to happen.
If you are a beginner, I would say you are lucky to make a sale after two weeks of drop shipping. After all, there is a learning curve to any business.
What is Drop Shipping?
Dropshipping is a way to sell goods around the world on your online store, which you can run from the comfort of your home without having to own or ship the products yourself.
This is how the process works in a nutshell:
A visitor lands on your online store and buys a product
The order is forwarded to a supplier (who has the actual products)
The supplier ships the product to your customer
You keep the leftover profits that were used to buy the product from the supplier
You are basically selling the product on your online store at a higher price than you are paying for the supplier.
You are the one who determines product prices on your store so you can set the profit margins yourself.
All this is possible by using these three platforms that tie the process together:
Shopify
AliExpress
Oberlo
#1 Shopify
Shopify is the number one platform to build your online store when you either want to sell your own products or start a dropshipping business.
As a platform, Shopify is like WordPress but the emphasis is more on building an online store rather than blogging.
Simply put, the Shopify online store is just a normal website but it comes with features to make transactions.
#2 AliExpress
AliExpress is probably the most common platform to find suppliers for the products you want to sell/dropship in your online store.
It's a popular platform because many parts of the dropshipping process can be automated using a tool called Oberlo ( I'll talk about this next).
#3 Oberlo
Oberlo is a tool you get for free when you set up a Shopify store and it lets you automate many aspects of the dropshipping process.
For example, this is how Oberlo simplifies the buying process:
Customer buys a product through your Shopify store and you get notified
Oberlo automatically opens up AliExpress and the product page
Adds it to your cart
Fills the customer's shipping details
All you need to do is click the buy button and the product gets sent to the customer
Without Oberlo, dropshipping would be a very time-consuming and frustrating process.
Closer Look At eCom Profit Sniper
So this product is about setting up your own Shopify store but how good the training actually is and does it help you to make any money?
Here's what is coming up next:
What do you get?
How does it work?
How much does it really cost?
Who is it for?
Alternatives
What Do You Get With eCom Profit Sniper?
The starting price gives you video training on:
How to set up your own Shopify store
How to select products to dropship
Adding Oberlo extension and products for your store
How to use a Facebook page, do posts and add Facebook Pixel
All this is very basic training and you could simply find the same information for free.
Both Shopify and Oberlo have very extensive guides on how to start dropshipping business and their guides do not even cost anything.
The first upsell is called Premium eCom package for $197 and it has 6 training videos about:
Tools
Apps/extensions/websites
Buyer persona & SEO
Extra ranking factors
The second upsell is Target Traffic Booster and it costs $196 and includes the following:
Facebook traffic
Google traffic
YouTube traffic
Traffic is the most important aspect of any online business and you can't make any money without it.
You know what? This product doesn't teach you about getting proper traffic unless you are willing to pay $196 for extra training.
I can tell you that it's not worth to pay such ridiculous sums for something you can find for free if you do your research.
Overall, It's like a roadblock for beginners once they finish the initial training and you are lured to spend more money to continue. Not good.
How Does The eCom Profit Sniper Work?
Here are all the video training lessons listed you get with $37 and I will tell you my perspective on these steps.
Step #1 – Introduction:
Lesson 1: Shopify Setup
Lesson 2: Image Hunting
Lesson 3: Settings Note Slides
Lesson 4: Shopify Settings in Action
Lesson 5: Theme Notes Slides
Lesson 6: Theme Settings in Action
These are the absolute basics that guide you to set up your online store, find royalty-free images and how to choose the right settings.
Step #2 – Categories and Products:
Lesson 1: Category Selection Slide
Lesson 2: Product Finding
This is basically choosing your target audience and what products you want to dropship in your Shopify store.
It's one of the most important aspects to consider because you need to understand what your target audience wants and how you can keep the business profitable for yourself.
The learning curve takes a spike here because for beginners it's often a trial and error process before they hit a home run and start profiting.
Step #3 – Adding Collections and Products:
Lesson 1: Adding Oberlo Extension
Lesson 2: AliPay and Oberlo
Lesson 3: Collection Creation
Lesson 4: Adding Products
Here you learn to set up the Oberlo extension which automates many aspects of the dropshipping process.
Oberlo is also used to select which products you want to import to your store.
Step #4 – Facebook:
​​​​​​​Lesson 1: Facebook Page
Lesson 2: Facebook Post
Lesson 3: Facebook Pixel
The last videos are about creating a Facebook page for your online store and how to make posts to drive traffic for your offers.
That's all you get for the initial price and to be honest it leaves you naked on the streets because the training doesn't include better traffic generation methods.
Driving traffic with Facebook posts is a bad and inefficient method these days. Back in the days, it was possible but the gears have shifted and today Facebook doesn't give a crap about your site — even less about dropshippers.
Online stores rely mainly on paid ads to get traffic and it's not something beginners always have a budget for.
A good starting point would be to have around $500-1000 to experiment on paid ads and figure out what works the best.
Needless to say that inexperienced person can burn up cash on ads very quickly and it's something that has its learning curve as well.
How Much Does eCom Profit Sniper Really Cost?
In the end, this product is way too expensive for the value it offers.
Here's a small summary you can expect to pay for the full product and other additional costs.
Starting price $37
Premium eCom Package $197
Target traffic Booster $196
Shopify $29/mo
Paid ads $500-1000
Who Is The eCom Profit Sniper For?
Someone who wants a very basic guide to set up a Shopify store might benefit from this but there are just better alternatives out there.
Don't expect to have any meaningful results since this is barely a setup guide rather than hand-holding to success.
eCom Profit Sniper Alternatives
You can get very far just by reading Shopify's drop shopping guide which is free and pretty comprehensive already.
YouTube is another great resource for dropshipping guides and there people are willing to teach you with their own faces shown, unlike this product's owner.
Pros Of eCom Profit Sniper
#1 – Basic Training
The training is in a video from so it's easy to follow but in the end, it is very basic and doesn't lead you very far.
Personally, I just used YouTube to learn everything for free and it was enough.
#2 – Refund Policy
This product is sold in ClickBank so you are eligible for money-back guarantee for 60-days.
Cons Of eCom Profit Sniper
#1 – You Don't Learn About Traffic Unless You Pay More
I don't like how the most important part of making money is locked behind a paywall and the price for it is way too high.
These days you won't get very far in terms of traffic by just posting on your Facebook page.
I would personally just look elsewhere for training on traffic obtaining methods.
#2 – Unknown Owner
It doesn't surprise me that the owner doesn't want to be associated with this product as this is something I see almost every time with low-quality products.
It sure doesn't add to the credibility of this product.
#3 – Fake Testimonials and Income Proof
Since this product already has some questionable aspects, I don't believe the sales video testimonials are real. It wouldn't be the first time I see hired spokespersons from Fiverr.
Here the owner shows his "income proof" but the numbers are questionable.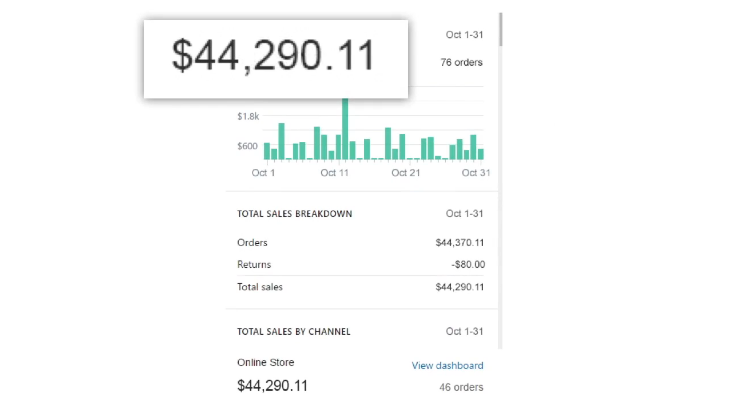 Well, first of all, this is not net profit so the owner is not making "$44k per month" like mentioned. It's revenue.
Spending $50k on ads and products is not how you earn $44k.
What I'm saying is that we have no idea what the expenses are here, the image doesn't show this.
Other points worth mentioning:
The top shows 76 orders and the bottom 46 but the revenue is still the same.
$44k earned from 46 orders means the product price for one item is close to $1000 but the returned item shows a price tag of $80. In general, dropship items are not so expensive if they are sourced from China — which they usually are.
The graph just doesn't add up.
#4 – The Product Is Over-hyped And Misleading
The sales video sold you a completely different image than what you get with the actual product and it doesn't live up to its promises.
20 minutes of work per day is only realistic when you have already hired staff to manage customer support, product research, and all other aspects of the business.
Even then it's unlikely to spend that little time working on a dropshipping business.
I know because I run my own dropshipping business and in the beginning, I spent more than 10 hours every day to make it work.
Is eCom Profit Sniper A Scam?
The product is not a scam but all you get is the very basics of setting up a store and not much else.
The traffic obtaining methods which are the key component to earning money is purposely locked behind high paywalls to make the owner and affiliates more money.
Once you have your store running, you are left without any further guidance and that's why I don't see this as a good option for beginners to start their business.
There is no support or community behind this which are also key elements to achieving success.
After all, this product feels like it has been made to serve the owner and affiliates rather than people who want to start a business.
Another Way To Make Money Online
Dropshipping is not the only way to make money online and there are cheaper alternatives out there.
Affiliate marketing, which I personally do has way cheaper start-up costs and you are not required to spend thousands on paid ads to get traffic.
Both affiliate marketing and dropshipping are sort of similar since both are dealing with websites.
However, in affiliate marketing you don't have to deal with customer support, returns, broken or lost items.
In case you are interested in the affiliate marketing path, you can check out my recommended training course.
Thanks for reading my review and I'll leave you to it.